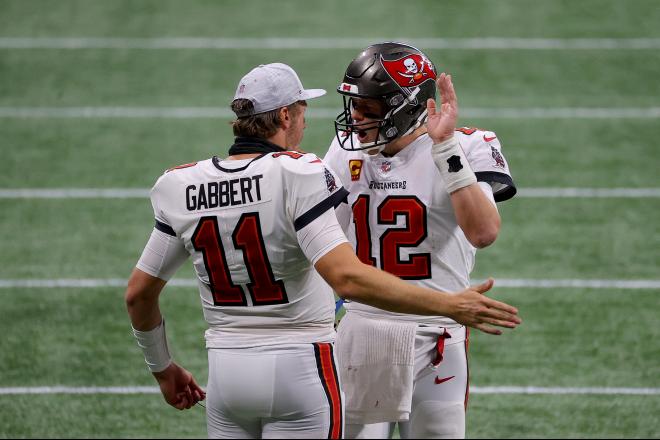 R.C. Fischer
FFM
18 February 2022
The New Tampa Bay Buccaneers QB for 2022 (you won't believe it)?
I just wanted to get a quick note out on news that's starting to break in various places – that the Tampa Bay Buccaneers may be ready to go with Blaine Gabbert as their starting QB in 2022.
Now, if you've seen any rumblings on this already, or when you do, you'd be inclined to dismiss the news as nonsense…or some random offseason chatter…or some Buccaneer gamesmanship in the QB market. It's not out of the question that any and all of those are the right reactions.
But…
Let me remind us all of something Bruce Arians said in May of 2021, about Blaine Gabbert:
"I'll be honest with you, I'd be excited to take Blaine Gabbert and go to war, because I love Blaine Gabbert," Arians said. "I think he's the most underrated player in the NFL."
Couple things to keep in mind here…
 -- Bruce Arians does not usually 'fool around' with his words. He's telling you exactly what he thinks, just like he told us all how great Jameis Winston was…and he went with him (when it was controversial to)…for a year.
If Arians wants to go with Gabbert…no one is talking him out of it. AND if they try to pooh-pooh it, that will only make him double-down on it.
 -- The Bucs don't have a ton of available options at QB. Aside from the fantasyland that the media lives in where between 13-19 QBs will be traded this offseason. No…Kyler Murray is not being traded to the Bucs, no matter how many articles they write about it.
Names like Winston, Trubisky, Mariota await in free agency.
By the time the Bucs are drafting this year, all the top QBs will be gone (and there is only one good one anyway…Pickett) and if they slyly draft sleeper-talent Bailey Zappe day three…Gabbert would probably still be the bridge QB. I think they'll not draft a serious QB and go Gabbert-Trask…unless a miracle QB falls their way.
Kyle Trask looked terrible in the preseason, but he was a rookie and can grow…he's not a terrible QB prospect. They did take him #64 overall in 2021. They could use 2022 as a bridge from Gabbert-to-Trask midseason 2022 or to start 2023.
-- Gabbert was/is an NFL bust, especially right away with JAX, but he's hung around the league for 10 seasons, getting better as he's gone – not great, but better.
24 TDs/24 INTs for Jacksonville in three seasons/28 games…with Comp Pct.'s in the low 50s.
26 TDs/23 INTs in random appearances since JAX, with SF-ARI-TEN-TB…with Comp Pct.'s nearing 60%.
2 TDs/0 INT in 27 random pass attempt appearances for Bruce Arians, behind Brady.
 -- Gabbert can run a little bit…6'4"/234…4.61 40-time, 6.84 three-cone. If he starts, he might be a mini-surprise runner. In three with the 49ers, in random appearances, he averaged 23.1, 28.8. and 16.4 rushing yards per game (2015-2017).
He's clocked two 70+ yard rushing games in his last 18 starts.
 -- If Gabbert really gets the push…then he'll have some kind of value for FF, especially Superflex/2-QB, and more so in 4pts per pass TD leagues.
I'm not saying he's the must get player of the Dynasty offseason – just noting, most will look past this as a joke. In deeper/DEEPER leagues, if you freely grab him and throw on the bench/last roster spot…who knows what heat he might get to trade off or even use (SF/2-QB).
The cost is zero right now…
The ROI in a few months might be something? If you have nothing to lose, this is something to consider.
RC