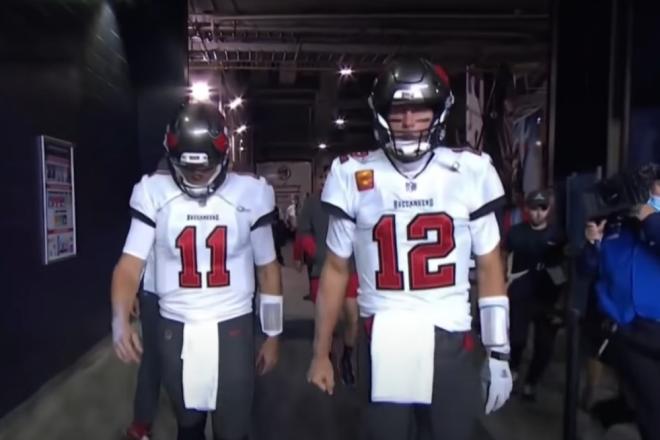 R.C. Fischer
FFM
09 February 2022
Every postseason we go through every team/division, head-to-head/tournament style, casting our vote for the team's and each division's Offensive Player of the Year, Rookie of the Year, Defensive Player of the Year, Coach of the Year…sending the divisional winners to a conference battle to get down to the final two (AFC and NFC) for the 'Super Bowl' of each award.
Our voting process and methodology and reasoning is usually quite different from the NFL's and typically at least half If not all) our winners are not the NFL's voted winners.
Come along for the division-by-division ride, and then to the conference finals, and then to the ultimate final to find out who our 2021 winners are…a new piece posted each day of early February, and the finals happen right before the NFL has their awards night.
OK, here we go…the Conference Finals to determine the 'Super Bowl' matchups to name the ultimate FFM winners for 2021 season:
Offensive Player of the Year
QB Tom Brady, TB
QB Aaron Rodgers, GB
WR Cooper Kupp, LAR
QB Jalen Hurts, PHI
We can eliminate Hurts right away; he doesn't belong among these names for a 2021 award. But I'm not as flippant on quickly casting anyone else out among Brady-Rodgers-Kupp. Let's eliminate a QB and have the winning QB go on to face Kupp…
Brady or Rodgers? Arguments either way but I'm going to go with Tom Brady…the better stats, the same regular season record, played all 17 games, but most importantly…down the stretch Brady lost WRs, RBs, and OLs – and he had to carry the team with a lot of riffraff, and he did. No disrespect to Rodgers.
Brady or Kupp? Kupp's 2021 season was CRAZY! So Amazing what Kupp did…nearly 2,000 yards, led all WRs in TD catches and 100+ yard games. But if you were building a team for JUST 2021 and had to choose between Brady or Kupp…who would you pick? You'd pick Brady, and so will I here.
WINNER = Tom Brady moves onto the 'Super Bowl' final.
Rookie of the Year
TE Kyle Pitts, ATL
CB Eric Stokes, GB
RB Elijah Mitchell, SF
LB Micah Parsons, DAL
Micah Parsons was the better defensive player than a very good Eric Stokes, easy Parsons pick there.
I like Elijah Mitchell, but Kyle Pitts was much more impactful…just from the way defenses played him. Watching Atlanta games, Pitts got the same defensive attention Tyreek Hill did…from game one, from play one. That's stunning for a rookie.
Parsons or Pitts? Well, I respect the heck out of Pitts…but he didn't blow up the stat sheets like we all expected, in part because he was so covered up. But Parsons DID fill the stat sheets. A guy who played middle linebacker his whole college career…then switched to an edge rusher on the fly in-season, and landed 13.0 sacks, 20.0 TFLs, and 30.0 QB hits.
What Kyle Pitts is to the TE position…Parsons is to linebacking/defense, a freak.
WINNER = Micah Parsons moves onto the 'Super Bowl' final.
Defensive Player of the Year
LB Demario Davis, NO
CB Rasul Douglas, GB
DT Aaron Donald, LAR
LB Micah Parsons, DAL
Can Parsons repeat a victory here…the DPOY of the NFC? Let's see…
When I look to see who is the best contender to pit against Parsons for this award, I love and respect the season's Demario Davis and Rasul Douglas had, but you have to give it up to Aaron Donald among them -- Donald had a career high in total tackles on top of his always great pass rush tallies.
Donald and Parsons had similar sack and TFL tallies, but Donald doing so as a DT or 3-4 scheme DE is so radical that I can't fully describe how difficult that is to give it justice here…so, all I can do is advance Donald onto the finals.
WINNER = Aaron Donald moves onto the 'Super Bowl' final.
Coach of the Year
D-C Dennis Allen, NO
D-C Joe Barry, GB
HC Sean McVay, LAR
O-C Kellen moore, DAL
Kellen Moore is the first one out…hot start to the season, and then faded off towards the end. The Dallas defense whacked some bad teams to puff numbers.
The two D-Cs had great seasons, but you have to give it up to Sean McVay…he made the move to switch to Matt Stafford, and it worked – a division title and a regenerated offense. McVay had his third D-C in three years and the defense was top notch again. On the grandest scale, McVay's decisions on and off the field worked out as he expected, maybe better (with me doubting him all the way).
WINNER = Sean McVay moves onto the 'Super Bowl' final.