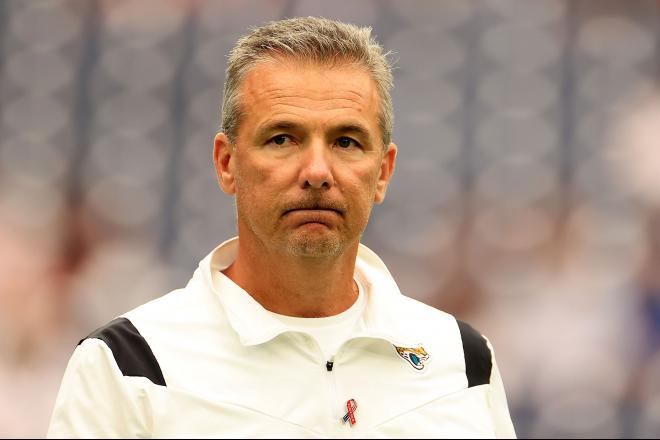 R.C. Fischer
FFM
07 February 2022
Every postseason we go through every team/division, head-to-head/tournament style, casting our vote for the team's and each division's Offensive Player of the Year, Rookie of the Year, Defensive Player of the Year, Coach of the Year…sending the divisional winners to a conference battle to get down to the final two (AFC and NFC) for the 'Super Bowl' of each award.
Our voting process and methodology and reasoning is usually quite different from the NFL's and typically at least half If not all) our winners are not the NFL's voted winners.
Come along for the division-by-division ride, and then to the conference finals, and then to the ultimate final to find out who our 2021 winners are…a new piece posted each day of early February, and the finals happen right before the NFL has their awards night.
OK, here we go…
--AFC SOUTH--
Offensive Player of the Year
TEN = Derrick Henry, TEN
IND = Jonathan Taylor, IND
HOU = Davis Mills, HOU
JAX = James Robinson, JAX
Davis Mills was the best of bad Houston options, so he's not a contender here. Brandin Cooks neither.
James Robinson was OK, but that whole Jacksonville thing was a nightmare.
It's between Jon Taylor and D Henry, and before you say, "You gotta give it to Taylor!" I am thinking in terms of MOST VALUABLE right up there with PRODUCTION. And, to me, Derrick Henry changes the game like no other RB does…not even Jonathan Taylor. JT is good, but Indy was 'meh'. When Henry was healthy, the Titans were the best team in football. For that reason…
WINNER = Derrick Henry moves on to the AFC divisional finals.
Rookie of the Year
TEN = DB Elijah Molden, TEN
IND = DL Kwity Paye, IND
HOU = Davis Mills, HOU
JAX = Trevor Lawrence, JAX
It's not Lawrence…he was a mess, a near-bust draft pick honestly. But whatever happens from here, he's not a ROY candidate, not at all…and it shows how bad that draft turned out to be by JAX.
Kwity Paye played a lot, but you wouldn't know it. Barely produced…whereas Elijah Molden played 16 games, started 7 and had a real impact.
But you have to give this to Davis Mills. After his first two starts/three appearances, Mills had 14 TDs/5 INTs and completed near 70% of his passes. He was as good/better than Mac Jones, especially considering the chaos and players (and terrible O-Line) around him.
WINNER = Davis Mills moves on to the AFC divisional finals.
Defensive Player of the Year
TEN = DT Jeffrey Simmons, TEN
IND = LB Darius Leonard, IND
HOU = CB Tavierre Thomas, HOU
JAX = DE Josh Allen, JAX
Tavierre Thomas was a find, a solid CB who started all season and had nice cover ratings/metrics for a not-terrible Houston pass defense – but he's not the top defender in this division. Nor was Josh Allen…a disappointing season, but was the guy offenses worried the most about.
It's between Leonard and Simmons, and Leonard had nice numbers again…but not as nice as he's had before. The Indy group struggled covering the TEs. Leonard had 0.0 sacks this season…career lows in sacks, TFLs. His 8 forced fumbles are huge, but I have to say…Jeffrey Simmons was a disruptor, a difference maker on the interior. I respect Leonard's game, but Simmons was scarier this season. A nudge to Simmons.
WINNER = Jeffrey Simmons moves on to the AFC divisional finals.
Coach of the Year
TEN = Mike Vrabel, TEN
IND = Matt Eberflus, IND
HOU = David Culley, HOU
JAX = Urban Meyer, JAX
David Culley…hey, the Texans fought hard in most games and were in a lot of games despite their awful talent. But Culley can't win.
Matt Eberflus? The Colts defense was really very good this season, without star talent off the edge or at corner. Eberflus was good, a future NFL head coach…but Mike Vrabel's job in the 2021 season is worthy of winning this whole thing. Earning the #1 seed without Henry half the season…stunning. 2021 proved the Titans success the past few years had nothing to do with Arthur Smith. The Titans got better with Smith gone. It's all Vrabel, we can only deduce. Sensational job.
Oh, why is Urban Smith on here? Obviously not for a good job, but should he get a vote for becoming the most infamous head coach in NFL history…the most lauded then humongous failure on and off the field in such a short period of time? He's going to be a historical reference for the next 100 years; he was so bad. Won't we remember Meyer's 2021 more than Vrabel's? Who says 'Coach of the Year' means the best coach? Could I make it 'most notorious?
Made you think for a second, huh?
WINNER = Mike Vrabel moves on to the AFC divisional finals.