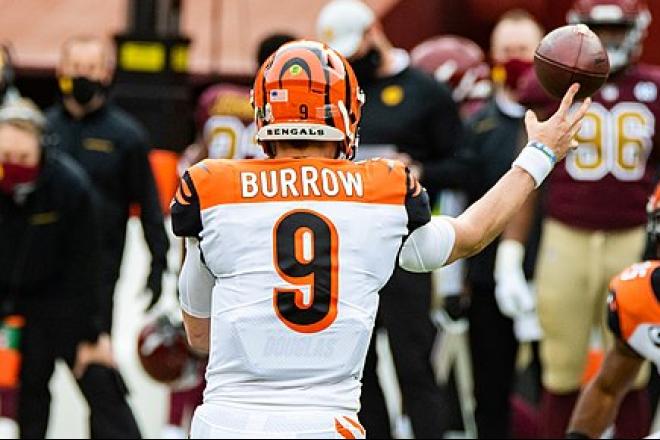 R.C. Fischer
FFM
03 February 2022
For the second time this month, I typed the headline description with the Bengals listed first/with more points than the listed second Chiefs. Who woulda thunk it? What's more improbable? The Bengals going to the Super Bowl or the Chiefs blowing the postseason again? Or the Chiefs blowing two big, early leads to ultimately lose to Cincy twice in a month…in playoff level games?
This Bengals-Chiefs 2021 games/situation is a great microcosm for the problem with the NFL media/us fans…and we're all susceptible to it – this outcome is more seen as 'dumb luck Bengals win, and the Chiefs somehow BLOWING it'.
The way it should be seen…
1) The Chiefs have been regressing for two years despite having Mahomes-Tyreek-Kelce and a good defense, and this 2021 Chiefs team was the worst of the last four seasons of good teams/good runs to the playoffs and…
2) The Bengals are just better in most phases of the game than the Chiefs. And if you don't think so, you're brainwashed. You're so assuming the Chiefs are beyond great and the Bengals aren't/can't be that it doesn't feel like the Bengals deserve to win/beat the Chiefs – but they just did so…twice…in HUGE spots/games.
I'm as susceptible to the NFL brainwashing as anyone, but I should know better. I've been running around since Week 16 saying 'the Bengals might be the best team in the AFC'. When Cincy hosted KC Week 17, I made the case/picked Cincy for a straight up underdog win…saying a big win here would prove my growing theory that Cincy was the best team in the AFC.
When Cincy won that Week 17 game, I celebrated my own genius…but when the Bengals went to Tennessee for the divisional playoff, I first called for the outright upset by Cincy…but later in the week I backed off and thought 'just take Cincy plus the points' – but take Tennessee for the win because it's too much, too soon for Cincy. Even though I was saying Cincy was the best AFC team still…I couldn't bring myself to pull the trigger on calling for an outright win over the BYE week Titans.
Conference finals against the Chiefs…I again made my pitch for the Bengals as the best team in the AFC – but then picked KC to win (but take Cincy +pts) because I COULDN'T believe the Bengals could/would really run the gauntlet. Me, their (suddenly) biggest fan for weeks…and I couldn't believe they were going to win the rematch against the Chiefs. I thought 'their luck is going to run out'…again, brainwashed/scared to pick against 'the emotion'. I had the right analysis/football intuition (the Bengals as the best overall team in the AFC), but I still couldn't believe they'd actually make it through. They did.
And if you told me the Week 17 game would begin, quickly, with a 14-0 lead in favor of KC and then that the Conference playoff would start out 21-3 Chiefs right away – there's no way I would've foresaw or predicted the Bengals winning either game, for sure not both…not with that kind of deficit.
The fact that the Bengals came back from huge deficits early, twice, in such HUGE games against Kansas City…it means they are the far superior team. Had Cincy taken 14–18-point leads, and KC roared back to beat them twice, we'd all think – man, Mahomes is the greatest…who can beat the Chiefs with their firepower? But Cincy is the one who has the two methodical comebacks, and we comb over the game looking for a suspect/lucky play that turned the tide for the Bengals.
The obvious is staring us in the face and we can't accept it because our minds get programmed on football things…all the media coverage, all the fawning praise, all the TV games was for the Chiefs. KC played in six primetime regular season games…the Bengals just one…just a TNF game that every team gets at least one of.
We're all brainwashed by football coverage -- we can't see/accept the obvious right in front of our faces.
People are saying the Bengals are 'lucky' because of this play or that play in Week 17 or the Conference playoffs. They're saying this to help reconcile the brainwashing. ONLY the Bengals were lucky…so lucky that they won…twice. It's our football coping mechanism. We want to hold onto the brainwashing, where it's nice and comfortable -- our minds STILL have us believe that KC is the better team over Cincinnati.
Not only do we not give Cincinnati credit…we won't take KC to task for their failures. I'll bet next year's Super Bowl odds will have KC as the AFC favorite, even if the Bengals beatdown the Rams. We're a bizarre lot, us football 'fans'.
I'm not going to pick apart the key plays or coaching decisions from this game. More I will say four things I walk away thinking from this game…
1) Joe Burrow is better than Patrick Mahomes.
Pat is more pleasing to the eye and cooler, and great…but Burrow is now the better NFL QB. Sorry. Burrow has looked better/played better than Mahomes twice in a month in HUGE spots. Not just because they won…because I have two functioning eyes.
Many reading this won't go there either…some don't buy Burrow > Mahomes or Bengals > Chiefs. I say, again, you're brainwashed to be pro-KC and that the Bengals are meaningless (because they have been for like 30+ years).
In college, Joe Burrow had the single greatest season a college football QB ever had, considering the output, wins, and level of competition played. Patrick Mahomes failed to get Texas Tech to even a bowl game his final year of college play. BUT…Mahomes had that really cool no-look pass that one time that Cris Collinsworth raves about and Mahomes is on every other football commercial, so…ipso facto…he's better than Burrow.  
2) Coaching is mostly meaningless in the NFL…it's more of a problem creator than a solution/improvement mechanism.
I mean, Zac Taylor just outcoached your golden boy Andy Reid and his empty red jacketed sidekick Eric Bieniemy. How is that possible? Well, one of the teams had Joe Burrow.
Coaching genius goes as far as who your QB is. You can get all excited about Brian Daboll, but you'll be disappointed in a year if he rolls with Daniel Jones in 2022. If Zac Taylor got the #1 pick the Jameis Winston year…he'd have been fired in two seasons. Bill Belichick and Kyle Shanahan are better than most, and in an even battle…maybe coaching is the difference, but when Bill has Cam/Mac and Sean has Josh, the Bills are winning the division.
Going into this year, Zac Taylor would probably have been ranked #31-32 among all coaches in the league by the media/fans. Now what do you have to say for yourself?
But because we're brainwashed football beings – no one is trying to poach Bengals assistants away for head coaching jobs. Why not?
We'll all agree…'Taylor is lucky he has Burrow'. But then how are we not screaming that Andy Reid is 'lucky he has Mahomes'? I know why – we're all happily brainwashed.
3) If you're a fan or owner of a currently awful team…you can turn it around in two years – just like the Bengals.
All you need is (a) an elite QB, and (b) have a killer offseason of under the radar signings, especially on defense.
The Bengals GM deserves a special award for his work in free agency this past offseason…and how many times did we (FFM) point that out from March to October+?
Here's the thing…you might know the name of the Chiefs GM (and at least one of his assistants has been hired away to be a GM this offseason) – but I guarantee (99%) you don't know the name of the Bengals GM. It's a trick question…they don't have a GM. The owner (Mike Brown) is the Jerry Jones-like owner.
An NFL team without a GM is about to win the Super Bowl after being a +15000 preseason odds team to win it, with a 6.5 over/under win total expectation. So, why are you all worked up about your team hiring or firing whatever GM?
Head coaches and GMs matter little to an NFL team's success…the lesson it took me a decade of study to learn from being a fan to becoming a 'pro' in football study. Everything they do is random. The Bengals had an amazing offseason in 2021…which means they'll likely follow that up with a total disaster in 2022 and ruin the momentum.
It was Tom Brady, not Bill Belichick. Nothing against Belichick, who I think is the best coach in the NFL. Gimme Brady, you can have your pick of coaches. You can win with Zac Taylor, but Taylor can't win without Burrow.
4) How come no one is complaining that Patrick Mahomes is in too many commercials, and maybe that's why his team is fading off every year since the Super Bowl?
Of all the football predictions I'll make in 2022, or ever, the following one will be a lock: Joe Burrow is going to be IN A TON of commercials next year/next decade.
Aaron Rodgers is going to get canceled by our 'woke' overlord elites. Baker Mayfield has run his course. It's now Burrow time. The NFL is getting ready to go all-in on Burrow, as they should. AND THEN we'll be properly brainwashed to accept the Bengals as the best team in the AFC…only when Jake from State Farm says it, and when Troy Aikman 'likes' this Burrow kid, and when Tony Romo does his vaudeville act around Burrow's greatness on key televised games – then you will accept what was true a month ago – Burrow is better than Mahomes, and the Bengals are the best team in the AFC…for now.
What about in 2022? I don't know, let me see free agency, the draft, and any QB trades that happen. As long as Burrow is there, the Bengals are as legit as the Chiefs or any other team. Just like Mahomes has carried KC…Burrow will the Bengals, and Burrow is better than Mahomes.
Can the Bengals really beat the Rams for the Super Bowl? The question is already the problem. It's the same brainwashed mindset…the same wrong thinking. Why is it not asked – Can the Rams really beat the Bengals?
2022…I am committed more than ever to deprogramming all of us.
Longer time FFMers, you thought I opened your eyes to the NFL the past few years/decade? You ain't seen nothing yet…
Our biggest Fantasy Football management problem is this brainwashing. The echo chamber. The false narratives. The 'no one else in the mainstream is saying that, so I'm reticent to believe it' thinking has to go. I'm going to make you hate the football establishment…or hate me, one or the other. I'm willing to drive you crazy, run you off, think me a fool -- in hopes of saving you from the NFL Scientology-like hive mind grip it has on us…and I'm still falling for the traps too.  
If I can save just one person…
Nahhh, who am I kidding? I need your support. Maybe, I'll just use 2022 as the year I turn 'babyface' and go full-on pro-mainstream…and thus I'll just write about how I like all the teams and all the coaches and all the draft picks. That will be fun.
Let's go, establishment! Whoops, that's a typo. Sorry, I am still working on my new 'good guy' transformation…Let's go Rams! I meant.
Seriously, I pray to God the Bengals win this whole thing. It's going to be such an upheaval to the order of proper football society…even if just a blip…a snack for us dissidents who love watching the establishment burn.
Put on the glasses and wake up and call for the Bengals outright win (I'm talking to myself here too!)! *Warning: explicit language 1-2x: https://youtu.be/-mm4mLsCAyI
Anyway, in summary…the Bengals beat the Chiefs in a very entertaining game.
Fantasy Player Notes…
 -- I don't know why I am so fascinated by this, but I am…
HUGE game for KC, obviously, and Jerick McKinnon (12-65-0, 3-30-0/4) was the obvious go-to/desired back for the Chiefs…again. Clyde Edwards-Helaire (6-36-0, 1-4-0/2) is becoming the new Charcandrick West.
McKinnon and Darrel Williams (who played all of 2 snaps) are both free agents now. What if the Chiefs give a good deal to McKinnon to return? Much less to Williams as well? Where does CEH stand for 2022…a backup on the Chiefs?
When Tyreek Hill was thought to be in legal danger a couple drafts ago, the Chiefs big answer to fill that gap (if it became one) was to trade up for Mecole Hardman. https://youtu.be/_asNhzXq72w
When the Chiefs were on top of the world a couple drafts ago, Super Bowl champs, with their #32 pick they could've done any number of brilliant things with the pick to help cement the great team they had. They could've drafted Trevon Diggs (eventual pick #51 overall) or Kyle Dugger (#37) or Antoine Winfield (#45) or OG Robert Hunt (#39) or WR Michael Pittman (#34) or even Jonathan Taylor (#41)..but they were celebrated for taking CEH, and now it's a totally wasted pick…like the Mecole pick prior.
The Chiefs are killing themselves in bad personnel decisions since they drafted Patrick Mahomes…and it's a drag on this franchise. But no one will say it…in fact, teams are hiring away their personnel department assistants under the KC GM because…'Chiefs' (because 'brainwashing')…the Bears think they got a real winner by stealing Ryan Poles to be the GM, but did they? Landing Mahomes has helped cover over a ton of gaffes early rounds in the draft since by the personnel department and GM...but the lack of putting talent around Mahomes is starting to catch up to them -- this team regressing every year since the Super Bowl title.
 -- All during this Bengals hot streak on offense, from Week 16 on through the playoffs, one thing has stood out to me on Burrow's 'preferences' for targeting – it's Ja'Marr Chase (6-54-1/9) as the clear #1 in his heart. And either teams aren't willing to defend it as such…or they can't stop it…because Chase is mostly open and/or is seen in one-on-one coverage too often.
Since Week 16 (minus Week 18 where Burrow didn't play and Chase was in for 5 plays), Ja'Marr has averaged: 7.6 rec. (9.8 targets), 134.0 rec. yards, 5.6 yards rushing, and 0.8 TDs per game (26.4 PPR PPG). He was boosted by his Week 17 KC game with 266 yards and 3 TDs, but he also has four 100+ yard games in his last 5 full games…it wasn't all just one great game pulling everything.
Prior to the hot streak, Chase has somewhat disappeared for a 7-game stretch averaging 40.6 rec. yards per game.
Is Ja'Marr just 'on a roll'? Will teams make more effort to shut him down in 2022? All legit discussions, but WRs are usually shut down by the offense/play calling or QB more than anything…I don't think that's going anywhere in 2022.
During the Chase hot streak (Week 16 on, minus Week 18), Tee Higgins (6-103-0/10) has averaged 5.8 rec. (8.2 targets), 93.0 yards, 0.40 TDs per game (19.9 PPR PPG). All season, and during the Chase hot streak, Higgins has quietly pushed WR1 PPR numbers as well. He has 95 or more yards receiving in six of his last 9 games. Higgins hit 95 or more yards receiving 7 times this season (including playoffs)…same amount as Deebo Samuel did this season (incl. playoffs). Diontae Johnson hit that level 5 times this season, while Stefon Diggs hit that level just two times this season…just pulling some random comparisons.
Still, just watching the games/tape – Chase is the Bengals/Burrow's #1 look right now…Tee gets good spillover targeting and should benefit from being the Chase alternative if defenses go overboard to try to shut Ja'Marr down in 2022.
Tyler Boyd (4-19-0/6) has become 'the loser' in the targeting battle but is a WR3 nonetheless…4 TDs in his last 6 games is tied with Chase (4) and better than Higgins (2) in that stretch.
 -- Using that '95 or more yards' marker referenced a moment ago, would you be surprised to learn Tyreek Hill (7-78-1/10) only hit that mark 4 times in 20 games played this season? It's criminal. It's not Tyreek's fault.
Would you be surprised to know that in the team's biggest game, in a dogfight, playing with Patrick Mahomes…Tyreek had only two targets and no catches in the 2nd-half (1 target) + overtime (1 target).
How can you project Tyreek above Ja'Marr in 2022 for FF? Or will teams do to Ja'Marr what they do to Tyreek in 2022 (constant double and triple teaming)?
How any team could take Eric Bieniemy seriously as an offensive mind is inconceivable.
 -- C.J. Uzomah (0-0-0/2) left the game early with a knee injury. I feared the worst, but it's 'just' a sprained MCL. He might be OK for the Super Bowl, but not likely 100%.
CJU is a free agent for 2022. I thought Cincy might move on, upgrade the TE position in the 2022 offseason, and they might…but Zac Taylor is talking a big game on how important CJU is to the team on the field and off. Maybe he will be the starting TE for Cincy again in 2022?
During the Cincy hot streak from Week 16, ignoring this game, CJU has averaged 5.5 catches on 6.8 targets per game in that span – that's TE1 level targeting/catch counts.
I'm very interested in the Bengals starting TE for FF purposes in 2022…but how excited will I be if it's Uzomah, again?
 -- Does anyone in the football media want to give the Bengals defense the credit they are due? They totally shutdown Patrick Mahomes (26-39 for 275 yards, 3 TDs/2 INTs) in the toughest/clutch spots all 2nd-half AGAIN. They did it to Mahomes that way back in Week 17 as well.
The Chiefs racked up 478 yards vs. the Steelers in round one of the playoffs. They poured 552 yards on the Bills in the divisional playoffs. Cincy held the Chiefs to 375 yards total in an OT game here.
Mahomes has averaged 267 passing yards per game in the two Bengals matchups this season – well below his norms/expectations.
Is anyone mentioning the Bengals D-C for open head coaching jobs? Does anyone even know his name?
The Bengals added Trey Hendrickson, Mike Hilton, Chidobe Awuzie, Larry Ogunjobi with nary a peep or congratulations from the media/analysts. They were too busy writing Russell Wilson and Deshaun Watson trade rumors and 'best fit' articles to notice what was happening with the Bengals in free agency.
Snap Counts of Interest:
54 = McKinnon
13 = CEH
02 = D Will
68 = Chase
60 = Higgins
48 = Boyd
65 = Tyreek
48 = Demarcus Rob
42 = Pringle
32 = Hardman