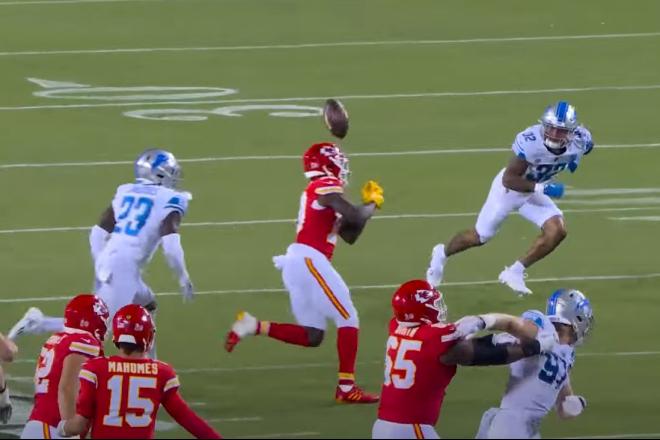 R.C. Fischer
FFM
08 September 2023
2023 Week 1 Game Report: Lions 21, Chiefs 20 (Dynasty/Fantasy Analysis)
Game Overview...
That was definitely one of the worst games I've seen the Chiefs play in a long time...on offense. Detroit wasn't doing anything super-special on defense...it was KC just so dead at wide receiver and tight end that they handed the game over to the Lions.
Dan Campbell should, and deserves to, take this win and use it to the max to build his team's confidence... a confidence which should now be off-the-charts. But deep down, he has to know -- they lucked out. Detroit played like an intimidated (by the moment/stage) team here to start, but the early gutsy fake punt and then four hundred drops by the Chiefs (one of them for a gift pick-six) handed the Lions a narrow victory.
You know what teams don't go for fake punts within their own 20-yard line? Teams that 'know' they're better than the other team. That successful fake punt changed everything for the momentum in that game -- all credit to Coach Campbell, but they did not outplay the Chiefs...a really bad (performing) Chiefs team at that, but credit the Lions -- they did win the game.
And I'm not downing the Lions -- they are definitely going to win the NFC North (barring a Goff injury), but they were not great here...they're not ready to take down all the big boys yet. Maybe in another year. I'm so happy for Dan Campbell that things are finally going his way with this team -- he deserves it, he earned this moment.  
On the other hand, Andy Reid probably isn't lamenting the loss like you'd think -- he's half mad at the sloppy loss but more so he has to feel anxiety all post-game, feeling more like he saw a ghost...because he now has to wonder if the Chiefs are going to fall from the tippy top because they have no legit wide receivers.
Think of the cc-KCO (copycat Kansas City Offense) teams out there that are going to copy the KC 2022 offensive plan, which is an offense that features: heavy WR rotations and is led by the tight end. The two new teams doing the cc-KCO in 2023 are NYG and Washington. Whoever you think is the best WR on the Chiefs (think of who you would say that is, for a moment)...that WR would not start for Washington...or New York (either NY team, for that matter). That's a big problem...a problem KC is gonna have a hard time solving because they are strapped for CAP space, and they still have to figure out the Chris Jones deal. They're going to have to trade for a wide receiver...but NFL teams usually don't trade in-season until they're 5-7 weeks in and officially know their season is dead. When and how KC gets a legit WR, or two, is going to be very difficult on the fly.
And one last thing in this game -- if Andy Reid is so smart, why did he insist on having Kadarius Toney in at crucial points (after the rough night he was having)...and why did he waste downs and drives with Clyde Edwards-Helaire in for 2-3 of this game's drives to start the drive? Needing to make slick adjustments with Travis Kelce out...the great Oz did nothing interesting or unique, at all, in this game for a fresh strategy. Reid's slick mass-rotation theory cost him the game...he rotated himself right into a loss.
The Lions are not headed to the Super Bowl yet. And the Chiefs are not not-going to win the AFC West, but all I could think watching this game was -- there is no way this Chiefs team, even with Kelce and Jones back, are going be better than the Cincinnati Bengals.
Before we get into the player notes, just a word of caution...
I know Fantasy Football owners.
I know FF owners have the calm and patience of a ferret who just chugged 10 pure-caffeinated, old school Italian cappuccinos...you know the little, tiny cup ones because they have small hands and that's all they can handle.
The very first week of the season...the very first game of the season...you watched it live...you didn't get the big performance from ____ and every player you didn't own looked so much better, and now you wish you could do/redo your redraft again and you wouldn't have drafted Kelce, or Gibbs, or Pacheco, or McKinnon, or Skyy, or Mahomes early, or Goff as a #2 backup QB, or David Montgomery (until he scored the late TD...then it was fine).
Dude...
It's ONE game of 272 NFL games this season. It's one week of 18 for these two teams.
How would this game, the player tallies, have gone differently IF the KC WRs simply caught most of the easy passes they all dropped? KC drives would have been extended. KC would have won. The world would have felt normal. Mahomes would have thrown for over 300+ yards, per usual...likely would have got his 3rd TD pass (at least), per usual. It would have meant more targets off sustained drives for Skyy Moore (who led all KC WRs in snaps). There probably would have been a two-score KC lead, instead of a Toney drop/Detroit pick-six, which might have led to more Isiah Pacheco running it out in the 4th quarter and perhaps a short TD plunge in there. And if Toney catches his passes...he's a name everyone is kicking themselves for not picking up or starting.
How about all those factors considered PLUS/and WHAT IF Kelce would have played? What if Kelce and Chris Jones would have played?
You can throw a hissy fit if you'd like (if you got an underperformance from ____ here)...and you can curse your 'luck' or 'bad drafting skills'...but it is one game of the week/of the season...and it was so close to going in a whole other direction. It sucks. I lost prop bets on Skyy Moore (but he got all the chances needed to beat the numbers I bet). I lost on Kadarius Toney hail mary props...but he had the touches needed to get there. I won the Pacheco receiving yardage and the Josh Reynolds yardage OVER and the UNDER on Gibbs receptions...all total, I wound up about even on props. That's the thing with FF...rarely does everything hit all at once, all the time.
We're making educated FF-moves, or educated guesses, at scenarios...several scenarios...you have several positions (in your FF lineup) yet to go this week...several games to go for these players this season. We're not judged as blackjack players or stock investors based on one hand (Blackjack) or one day's Nasdaq results. But for some reason one FF game result is in and we can definitively declare everything a massive failure for the Fantasy season already, and we want to get back into our DeLorean and redo our redraft.
The life of the FF owner.
Let's find a quiet place...take a breath and read through my player notes and see if any of this helps bring you back to center...or further induces anxiety...
A fine line between those two emotions, serenity (now) and anxiety inducing, is in store for the life of a football bettor/FF player...
Embrace the madness.
Player Dynasty/Fantasy Notes...
 -- When the Chiefs had the ball for the first time in this game, and I saw Clyde Edwards-Helaire (6-22-0, 1-7-0/1) go out to start...all the blood rushed out of my body. All my Isiah Pacheco (8-23-0, 4-31-0/4) investments flashed before my eyes. Fortunately, it was just Andy Reid doing...I don't know what. Pacheco came in shortly after and was in the majority of the time at RB. Whew.
Pacheco was the starter from Week 6 on last season (whether CEH was active or not) and then in 2023, Pacheco was listed as the pre-preseason #1 RB and the #1 RB on the final depth chart before the Week 1 game. NBC showed Pacheco as the starter when they displayed the starters on the TV screen as KC took the field...as CEH went into the huddle for the first play.
Pacheco had a solid game...and you saw the pass game skills (4 catches) that could've saved the Chiefs offense if they used it more, instead of just gunning the ball downfield under duress to guys who couldn't catch the ball.
The KC offense was so bad here, and CEH was so 'meh' (as always) that in another game or two of struggling (if) on offense, they might have to reinvent themselves on the fly and just go a little heavier Pacheco with Jerick McKinnon (1-10-0/2) in support and just do away with any notion of CEH.
Andy Reid is hard-headed, thus the CEH ceremonial/surprise 'start', so it may take him another game or two to make some radical/rational decisions -- but Reid should've seen a ghost with this Week 1 offense and realized he has some major issues with some weak WR weapons that Kelce coming back might not be able to gloss over. If Reid didn't see the problem...I'll bet the GM did -- and is currently sweating a bit at the failure of all his higher draft pick weapons flopping.
Pacheco fell just short of a TD in this game...or he would've booked a 15+ point PPR game...and you'll take that all day. We're not going to get many/any 100+ yard rushing games with him but we should be able to find a lot of 70+ yards combined games, with at least 8+ TDs on the season and with more catches this season than anyone would've thought -- we almost got 1-2 of those 8+ TDs this game, but just missed. Everything is fine on the Pacheco front...but not a big-time output in this one, in the end...but OK.
 -- And just a quick note on CEH...he sucks.
Cris Collinsworth said in the 2nd-half...Oh, Edwards-Helaire is in the game for Pacheco, and he's such a great receiving back don't forget...maybe KC wants to get some more flash/spark in their offense.
What?
Listen Ichabod Crane, I've just about had enough of your nonsense on being an analyst on football games. Actually, I have had enough since day one he started. Pacheco, the prior series, had a great catch and run/weave big play in the passing game. Pacheco was the only thing really working last night. And CEH never works...yet Collinsworth has the audacity to say that KC is putting CEH in the game to get some kind of spark (because CEH is SO MUCH more talented than Pacheco for Collinsworth and others of his ilk) -- are you serious, bro? There is no phase of the NFL game where CEH is better than Pacheco. The fact that Collinsworth is still carrying the 'where they were drafted is how good they are/how much we saw them on TV in college is how good they are' torch is aggravating but expected.
Never change, NFL.
...and, oh look, his son is still working the NBC games too. I'll bet that was a rigorous interview process by NBC to go through hundreds of candidates and to their surprise, good ole Jac Collinsworth just happened to be the single best candidate of them all.
CEH is killing the Chiefs...because he's taking touches from Pacheco-McKinnon and LaMichal Perine (on the practice squad). Andy Reid allows it to happen...and he's one of the best coaches to ever live, I hear.
 -- If you thought you were disappointed by the Isiah Pacheco final stat tally, then you should see the Jahmyr Gibbs (7-42-0, 2-18-0/2) owners. But Gibbs is a magical rookie, so it's assumed he'll have that 9 catch/15 target game next week...while everyone curses Pacheco all week and probably benches him for Week 2.
Maybe I can't see so good anymore, so I might have missed all the radical plays and ways that Detroit was gonna use Gibbs. I didn't see the deep threat or the heavy pass game weapon or big time runner here (as the various analysts tried to float out there all summer, and all week)...I just saw a regular old #2 co-RB that works in a split, the lesser touch count option with the obvious lead back David Montgomery (21-74-1).
Gibbs caught a couple flares/screens out of the backfield, had a jet sweep maybe, and normal runs otherwise...the normal stuff you could see Jerick McKinnon doing, or a Nyhiem Hines or J.D. McKissic, etc., or that you saw Pacheco doing in this game as good/better with a bigger body and 4.3 speed too.
This was a game that begged for some slick out-of-the-backfield passing game work against a defense that gives it up with the worst of them -- but there was no slick Gibbs plan. We are Charlie Brown and NFL coaches and Media are Lucy holding the ball for our field goal attempt every time they say they're gonna use ___ in creative ways this week/season/millennium. We fall for it, and fall down every time.
Gibbs is just a good satellite RB who will work well with Montgomery and have some good games and a lot of normal or low games. He'll get better as he goes, but considering Pacheco looked much better in the passing game and power running and was drafted 2-3 rounds after Gibbs in a redraft/Best Ball -- I feel good about the Pacheco plan (5th-7th-round) and Gibbs (3rd-round) bypassed in the redraft plan I executed.
It's too soon for Gibbs to be special...and coaches always talk-talk-talk about how they are gonna get creative with these 'weapons' and then they have like a jet sweep and normal everything else. What else are they gonna say?
Media: Are you excited about how much of a weapon Gibbs is and how you can use him in so many ways?
Lions Mgt: Nope. We're really just gonna stick with our playbook and make him integrate into it and he'll have some games with a lot of targets in like a hurry up offense, come from behind offense but otherwise we plan for him to just run our normal plays and be a breather for David Montgomery, who we sunk millions into. And rookies can't block well, and that's the most important thing we look for in an RB, so...
Wouldn't really get GM Brad Holmes punching desks with his fist in excitement if the O-C or HC put it that way.
I predicted/speculated Gibbs would have less catches than Pacheco in this game...and he did. I think he also might have less catches than fellow rookie backup RBs Tyjae Spears, Deuce Vaughn, and Roschon Johnson this week too. If so, or if mostly so...then the Gibbs high-redrafters will have a serious egg on their faces. It's gonna take some time with Gibbs...time we don't typically have in Fantasy/redraft.
 -- Ok, let's talk about this Kansas City WR group...
That was a full-scale disaster.
One thing to keep in mind, after you watched this live last night, for thoughts going forward -- we do not know how differently things will go when Travis Kelce is back in the mix. What we saw in Week 1 is not 'normal' for KC...you can't run off a cliff just yet on these WRs until you see what it looks like with Kelce.
However...
We do need to discuss and speculate on the future based off this one card dealt. It's worth discussing. To consider what to look out for next week at Jacksonville.
Marquez Valdes-Scantling (2-48-0/2) is still useless. Nothing has changed there.
Justin Watson (2-45-0/4) is just a random event WR.
But let's expand more on Skyy Moore's (0-0-0/3) night...there was 'promising' and 'scary' on display in this event.
Promising (Blue) Skyy: His three official targets were two uncatchable misthrows by Mahomes, which is rare. A 20+ yarder wide open downfield that Mahomes threw about a foot over Skyy's reach, and he tried to leap and get it, and touched it, but it was not catchable. Another simple crosser with Skyy going left to right and Mahomes threw it behind Skyy, and he touched it, but couldn't catch it. Two catches for 30+ yards down the tubes...not Skyy's fault.
Later, Skyy caught a nice 17-yard rip...but 'holding' brought it back/negated it. Three catches for 50 yards (approx.) then gone by the wayside. His final official target was over the middle, diving low ball catch but then the DB punched it loose perfectly after the catch. Four catches for 55+ yards...you could have lived with that or near that, and I would have made a profit on my prop bets...instead it was a 0-0-0/3 line and you want to cut Skyy Moore Tuesday.
As bad as this looked...Skyy almost had a typical 'floor' game of 3-4 catches 40-60 yards and no TDs. But WHAT IF Kelce had played...what would it have opened up for Skyy (and others)? What if Toney caught his passes, or what IF Mahomes threw them online to Skyy to keep drives going (or Kelce played and that kept drives going)...would Skyy have gotten 2-3+ more targets in the game? This could've been a 4-5-6 catch for 50-60-70 yard game in another universe where Kelce was healthy or Toney could catch or Mahomes was more accurate.
You know who has a lot of 4-5-6+ catch for 50-60-70+ yard games? Amon-Ra St. Brown.
Before you damn Skyy to hell...think about it for the next few days. The proper thing to do with Skyy, most situations for FF, is to bench him next week but hold him and see what happens with him if Kelce is back and/or KC looks sharper.
Scary Skyy (is falling down): The output potential was Amon-Ra akin, but on the field -- it looks nothing like Amon-Ra.
Skyy didn't have a target in the 1st-half. None of the Skyy targets look like they had any real purpose or direction. I don't see a Mahomes-Skyy connection yet...and I'm left to speculate -- there may never be.
I'm willing to give this 1-2 more weeks to see what happens when the offense normalizes with Kelce, etc. But right now, bottom line...I don't like what I see. I don't need another rando 4-50-0 every week WR in my life. There's plenty of them to sift through every week.
We all didn't have that big of an investment (redraft) in this, so we don't have a lot to lose...except those of us that started him and got a sweet 0.4 pts out of him here. It should've been more in the 8-10+ point range minimum based on the targets, but it didn't go our (or his) way at all in this game.
Why I am more-ready-than-not to throw the towel in on Skyy Moore, and I got the towel in my hand and my arm cocked, is because Skyy has been there for two years now and now as the starter and main guy all summer -- and yet this debut 2023 game looked like $#!&...but rookie Rashee Rice (3-29-1/5) waltzes in and has some kind of connection with Mahomes that hasn't been seen with Skyy for two years.
And that's all cute and wonderful, but in as much as Kadarius Toney killed the Chiefs last night, Rice also pitched in to help destroy a KC win. Rice dropped a pass on his first target, but that wasn't a killer per se, but a critical 3rd-and-1 jet sweep call by the KC offensive geniuses was an absolute killer -- a negative play that really cost KC the game with 5:57 left. You can't use Rice on jet sweeps, it's not his wheelhouse...especially that telegraphed one.
Rice is not going to be a breakout star anytime soon (or ever), but what I wanted in Skyy...a Mahomes connection...it might be with Rice, so the targets could make up for the underwhelming talent in Rice...which is what I wanted with Skyy, underwhelming talent but OK and connected to the high-end QB.
More likely -- none of these KC WRs are gonna FF-matter because they're all rotational on purpose.
...but another KC loss Week 2...that could force a total upheaval, change of direction (and targeting) on the offense.
Finally, there is Kadarius Toney (1-1-0/5)...the singlehanded main killer of the game, besides Andy Reid continuing to push work to Toney and Rice in big spots when they clearly aren't ready to handle it yet.
Toney dropped several easy passes...passes that would have kept drives going, would have boosted Mahomes' numbers, would have potentially led to a comfortable KC win, and would have given Toney a 4-5 catch for 60+ yards night and everyone calling him a breakout sleeper to FF-own ahead.
Instead, it was probably the end of Toney's career as we know it.
There is no place for the 'knucklehead WR' in the NFL anymore. You want Amon-Ra St. Brown...you don't want Kadarius Toney. Scouting has previously geared up to want the Toney types, the sexy-looking WR types and look past boring ARSB types.
Toney constantly missing practices, constantly acting foolish online and in real life...and Toney now disappointing in almost every opportunity he gets -- it's likely over, and this was the moment when we look back in time.
Toney 2.0 = Jameson Williams, most likely.
Toney is going back to a 10-20 snap per game guy...and he'll probably have some great play or moment ahead to re-suck everyone in. I am to the scouting point that when I label a WR as a 'knucklehead'...a non-dedicated worker, college underwhelming (besides 'flashes'), off-the-field goof -- I'm just going to act as-if with them...not constantly daydream about the 'if he could just'.  There are too many great, young professional WRs to work with in FF now to waste time daydreaming about the Josh Gordon types...and Josh Gordon was able to become a thing 10 years ago when WRs were few and far between in high-end athleticism. The modern era doesn't need them anymore.
Whatever cards I had still left with Toney...I fold. Deep Dynasty roster...I'll try and wait for that next moment for a trade exit ramp.
The best Kansas City WR for FF 2023 ahead is...is probably not on the current roster.
 -- What about the non-Kelce TEs for KC?
Well, it made all the sense in the world to think Noah Gray (3-31-0/5) was in a good place as the Kelce handcuff AND working with the great Patrick Mahomes. There's one small problem we raced past in this theory -- I kinda forgot how fully awful Noah Gray is.
Gray simply cannot get open well on his own, but he did see decent targets with Mahomes here -- but it didn't really click for anything FF-worthwhile. Gray could've caught the Blake Bell (2-12-1/3) TD just as easily, and then people would've been gaga -- but I've watched Noah Gray for three years...he stinks. He's a backup TE talent.
Skyy Moore and Noah Gray, among others, are proving that you just can't plug anything into the KC offense and expect golden eggs to be birthed all over.
 -- Speaking of Kelce...
What are the odds, after watching this game, that defensive coordinators are now gonna double Kelce every play and force these WRs to go try and beat them?
That's the upside for those dastardly, Week 1 disappointing KC WRs going forward.
 -- OK, the Lions played in this game as well...after we've talked non-stop Chiefs things.
Jared Goff (22-35 for 223 yards, 1 TD/0 INT) had a solid, competent game against a smart, game KC defense.
Amon-Ra St. Brown (6-71-1/9) had exactly the game he's going to have every week, besides a TD happening every other week.
We bet on the Josh Reynolds (4-80-0/7) OVER 26.5 yards prop, talked about in the Twitch show live last night placing the best, and he got it by halftime. He's a solid #2 WR on a team lacking anything behind ARSB.
You're likely to look right past this next statement because Reynolds isn't a magical unicorn rookie or 2nd-year daydream -- but isn't it possible that Reynolds, as the #2 WR to ARSB, in that decent offense with a QB who he is connected to, will FF-outscore every KC WR on the roster right now for the 2023 season (if everyone stays healthy)?
I KNOW that...Josh Reynolds is solid and is the clear #2 for the Lions.
I don't KNOW...who the KC #1 WR even is. It may be none, that 5-6 WRs share 2-5 targets a game.
Our constant love of magical unicorn youngsters is often FF-killing us when we bypass obvious 'veteran' (3+ years in the league) things in good FF start spots. We'll see this play out in various ways this week...
People will start/roster Jordan Addison while K.J. Osborn sits on free agency.
People will start Jaxon Smith-Njigba...and sit Tyler Lockett.
People will chase Rashee Rice in free agency this week...and won't buy into Josh Reynolds.
I'm not pitching Reynolds as a star, but he's not-nothing...he's a good WR in a good spot. Jameson Williams might really be Toney 2.0. And Marvin Jones (2-8-0/6) has seen much better days. But I'm sure Reynolds will take a back seat to Jahmyr Gibbs next week as Detroit deploys their secret Gibbs plan for him to be their starting #1 WR in a Calvin Johnson role/expectation -- because magical rookies are also flying horses, potentially.
 -- Two IDP notes from this game...
Detroit pass rush god James Houston (0 tackles, 1 QB hit) has been officially reburied by Detroit. Nick Bosa just got 9 billion dollars in a new deal. The NFL drafted like 20 pass rushers in the 1st-round of the 2023 NFL Draft...and James Houston can't-not get to the QB about every other pass rush (see his shocking 2022 numbers) but he barely gets to play. I do not understand the NFL at all.
Kansas City was one of those teams that drafted another pass rusher in the 1st-round of a draft, and he looked good here...Felix Anudike-Uzomah (2 tackles, 2 QB hits) was a presence in this game as a DE and DT type lining up and causing havoc.
Anudike-Uzomah adds to a young, deep, talented KC defense...as we've been noting for two years now. And minus Chris Jones in this game, you couldn't tell they had no Chris Jones...or that Jones ever existed. His holdout just backfired. They may have to trade him for a wide receiver, who knows. KC's defense was the most impressive/eye-catching unit on the field, to me.
The Detroit offense was sterile. The KC offense was discombobulated from personnel to execution. The Detroit defense might have given up 25+ points and 300+ yards passing to Mahomes if any KC WR could make a simple catch. But the KC defense -- just two TDs were against the defense (the other the pick-six). One of the two offensive TDs was the late Montgomery TD run...set up by more failed KC drives/drops on offense.
This game could've very easily been like 28-10 KC, and there would be a WHOLE different narrative on it.
Snap Counts of Interest:
45 = Skyy
41 = MVS
23 = R James
20 = R Rice
19 = Watson
16 = Toney (shockingly low count for how integral he was in this loss)
31 = Pacheco
20 = McKinnon
14 = CEH
55 = Montgomery
19 = Gibbs
39 = Joshua Williams
28 = Leo Chenal
19 = Felix Anudike-Uzomah
61 = Anzalone
27 = Barnes
25 = Jack Campbell
21 = James Houston