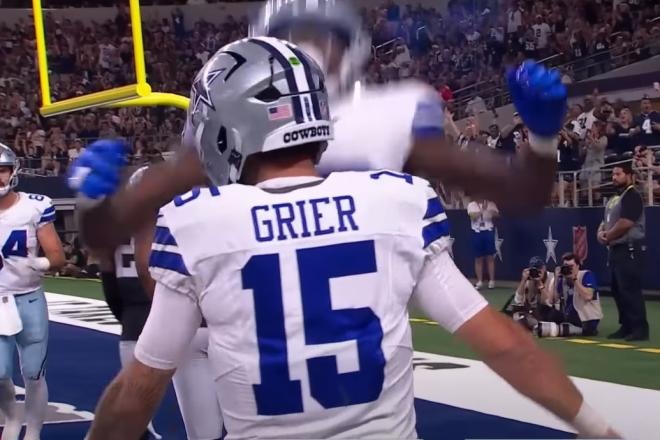 R.C. Fischer
FFM
01 September 2023
Game overview:
This game was more interesting than I thought when I was making the list/order of the games for scouting this final preseason week. I had this as the final/last game to review because it was going to the deep backups going and I saw that Deuce Vaughn was not gonna play, so I assumed there wouldn't be anyone going of much interest on the Raiders side either...but they had 1st-round pick Tyree Wilson out there, to my surprise, plus Michael Mayer and Tre Tucker. Las Vegas was getting after it...which is sad, because the Dallas backups handled the high-profile LV rookies. Dallas has such depth.
The real story of this game is Dallas's new depth player acquired before the game -- Trey Lance. Acquired this week...which set off a Dak Prescott national debate and thus Dallas decided to play Will Grier all the way to help him showcase for the league, which he did...
Scouting Notes from the game:
 -- Will Grier (29-35 for 305 yards, 2 TDs/0 INT, 10-52-2) was given an opportunity to shine, and he did...4 TDs and completed 82.9% of his passes -- which earned him a practice squad deal with the Bengals.
Grier was good here...not great. He played like his life depended on it...and he is getting a little better year-after-year. His pocket work was solid/competent, and he showed surprising mobility and toughness running the ball (for 50+ yards and 2 rushing TDs). A couple bad throws but nothing egregious.
That's the thing with these well-groomed, experienced, 'mediocre' talent young QBs...the ones that don't get a spot/pampered right away -- if they stick with it and keep honing their craft over 3-5 years...they might become solid NFL QBs (like a Geno Smith path) -- ones who get a chance someday, due to a starter's injury, and carve out a decent career as a trusted backup/spot starter. Grier seems to be working himself towards that future. Good for him.
But Dallas bounced Grier from the team to make room for Trey Lance. I've seen so much debate about this in the mainstream -- because Dallas talk gets ratings, and it's an interesting story. One of the big debate/talking points on this is -- Jerry Jones didn't consult Dak or McCarthy about this deal, which is an interesting dynamic/tidbit. Which leads to speculation that Dak is losing his 'luster' in Dallas.
My take on the Lance deal, from the Dallas side is...
First and foremost, it's just a smart deal...taking a look at a physical tools developmental QB talent like Lance for a throwaway 4th-round pick -- if QB is everything, then this is just good business. Teams should have three viable QBs at all times, not just 'the starter' and two guys who run errands for the coach and kiss his ass and play golf with the starting QB, hoping to someday get in a stupid Subway commercial with the star/starting QB. Dallas is at least trying with Lance...didn't cost them much to look.
There's also a Dak issue...potentially two...
1: Dak didn't look good late last season and reports from 2023 camp were a little shaky as well. This may be a make-or-break year for Dak as the unquestioned 'guy' to take Dallas to the Promised Land...that window may have closed and we don't realize it had just yet.
2: ...and it's an expensive window. Dak negotiated a great deal last time around and he holds all the cards in the next year or two. If Dak is just good not great, overall now, and getting older, and fading in talent a bit...Dallas will be at a disadvantage in negotiations, a situation where Dak can go to greener pastures if he wants and Dallas can't stop it really...and Dallas may actually be OK with that in a year or two. Adding Lance gives Dallas a year+ look to see if maybe Lance is the future and move away from super-expensive Dak. It's worth a shot.
The Lance trade is just a smart trade at its base...but it also reveals some things to do with/about Dak as well. Dallas is appropriately preparing for trouble ahead at QB.
 -- Aidan O'Connell (17-26 for 178 yards, 0 TD/0 INT) has been the favorite day-three rookie QB for the media this preseason...but he's just 'capable' not great. Will Grier looked more impressive head-to-head here.
I think the media's favorite attribute on O'Connell is = he's not Jimmy Garoppolo...as they search for something more interesting than boring Jimmy G.
 -- The rookie notes from the Raiders, non-QB...
1: Michael Mayer (2-20-0/2) played a good amount early in this game. He looks 'average', but I was struck with the fact that he was working with a bunch of 2nd-team/3rd-team receivers and O'Connell was not really looking to Mayer at all. I thought he was supposed to be this great thing? He isn't.
2: Who O'Connell has pushed the ball to/at all preseason is rookie WR Tre Tucker (1-11-0/2). The speed is real with Tucker. He's good NFL speed for the deep ball and bubble screens, but most impressive has been all the QBs, not just O'Connell, have thrown it at Tucker with trust/hope all preseason.
Tucker will be a #4-5 WR to start in 2023...he won't rise to starter until 2024 at best.
3: I was shocked to see rookie 1st-round pick Tyree Wilson (1 tackle). He looked OK in his couple series played. Nothing 'wow' but looked promising.
 -- Dallas UDFA RB, that I liked a lot pre-Draft...but have hated his preseason, Hunter Luepke (15-58-0, 5-60-1/5) got a lot of work here to prove himself...and he did look better, and did make the team -- but he still looks totally wrong running the ball out of the backfield. I won't go into the details, but just know...me thinking he could be a sneaky short yardage guy right away...not happening. He's a future fullback a la Kyle Juszczyk if he ever gets comfortable.
 -- Last note from the preseason games of 2023 is a great player/note to end on...
Daniel Carlson hit a 62-yard FG going into halftime in this game like it was an extra point. I've watched kickers gaffing everything this preseason and several teams swapping in-and-out of kickers and trading for kickers. It's an important position that most of the NFL takes lightly and rather spends its time trying to get a 9th defensive tackle or 11th guard.
Don't make the same mistake at kicker in your FF redraft...taking it lightly.
Carlson has hit most every kick from every distance this preseason...and not just made them but split the uprights repeatedly every time.