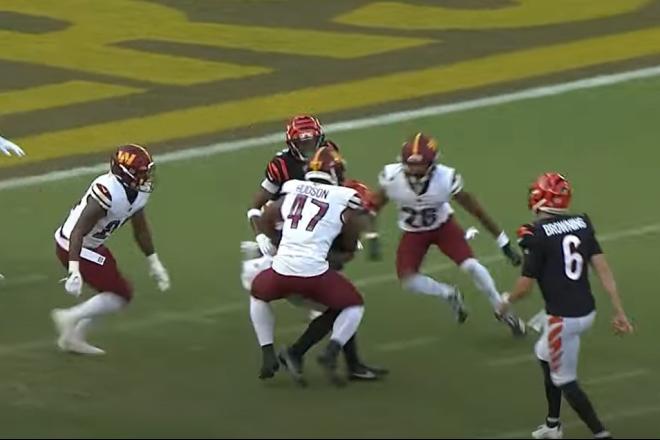 R.C. Fischer
FFM
31 August 2023
Game overview:
No real 1st-team guys in sight for this one. All backups and backups to backups and many guys just released (as of this writing). If they could, I think both teams would've forfeited/canceled this game and gone back to practices. As far as the game itself goes, this was a snooze. The Bengals played three QBs in this game, and they cut all of them this week...if that tells you anything.
However, there were some rookies to scout and some clues to read into from this game, so let's go through the player notes...
Scouting Notes from the game:
 -- We got some more Chase Brown (11-39-0, 2-0-0/2) here...a lot, actually, for a throwaway game. The fact that he played a bunch in this game and Chris Evans (DNP) did not play -- we can only deduce that Evans is ahead of Brown on the depth chart...and watching all their preseason games, it's obvious at this stage too that Evans won the battle. Evans is set to be the #2 behind Joe Mixon...not that Brown would get nothing, if Mixon went down, but Evans is the right call and the 'cuff to get if you're into handcuffs. Trayveon Williams has an unknown health status currently.
 -- Cole Turner (4-20-0/4) has had one of the best preseasons of any of the 2nd-year offensive players in 2023. Improved body, a year of experience, and this cc-KCO (Copycat KC offense) wants to push the tight end...and it has this preseason, and Turner has been the beneficiary...with Logan Thomas out with a minor injury this preseason.
Logan Thomas will be 'that' guy this season, with Turner rotating some and being his understudy. If Thomas gets hurt in-season, it will be Cole Turner jumping in and possibly being a fringe TE1 threat in FF.
 -- Bengals WR notes...
The two drafted rookies keep playing heavy in the preseason, with the terrible QBs, and Andrei Iosivas (3-35-1/6) continues to be the clear winner...the target desire of all the backup QBs. Charlie Jones (3-32-0/3) has been capable but very quiet, hasn't stood out to me at all.
Bo Jackson relative rookie UDFA Shedrick Jackson (3-56-1/6) had a long TD here, but it was a broken coverage, and he was forgotten/running wide open, and it was an easy score. He was cut by Cincy this week but did make the practice squad.
 -- Bengals 2nd-year SAF Tycen Anderson (5 tackles), who I am a fan of, did make the Bengals 53-man. Cincy's backup CBs and SAF are:
CB: D.J. Turner (starter ability right now), D.J. Ivey (nice summer)
SAF: Tycen Anderson (starter ability) and Jordan Battle (definite starter in the future)
Their 4 backup DBs are better than some team's 1st-team DBs. The Bengals have a really good, really deep defense. Their schedule isn't bad, but it's choppy...hard to push them Weeks 1-2 with at CLE, BAL. Not the worst 1-2 start but not the most optimal.
 -- If you're going to run a DST for just the start/Weeks 1-2...it's the Commanders-DST.
Week 1 hosting Dobbs/Tune
Week 2 at Russ Wilson
Week 3, we depart...BUF-PHI-CHI-ATL the following 4 weeks.
A nice pairing for this WSH-DST is Saints-DST and Steelers-DST...or just run WSH-DST for two weeks and we'll figure out the hot streamer Week 3, week-to-week from there.