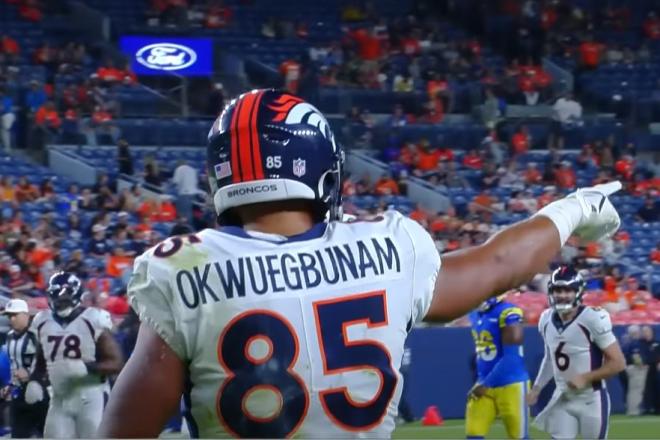 R.C. Fischer
FFM
30 August 2023
Game overview:
The final score was a 41-point beatdown, but this game didn't necessarily feel like the Broncos were dominating the Rams or were 41 points better. I mean, you always have to factor in that the Rams barely try/play in the preseason and then Denver played well enough here...good energy...and things just kinda went their way and the next thing you know it's 27-0 Denver at the half, but it didn't necessarily feel like it was that bad...as bad as the score indicated.
Sean Payton kinda looked like 'too satisfied' on the sidelines and in the press conference with this one...like everything is fixed/fine now, but it was just two 2nd/3rd/4th-teams going at it, and one of them (the Rams) had a bad game and the other capitalized this particular day.
However lopsided or dull this game might have seemed...I have a few interesting, some harsh, scouting notes from it.
Scouting Notes from the game:
 -- A tale of two QBs, in this game...
The Rams started rookie Stetson Bennett (4-9 for 14 yards, 0 TD/2 INTs), and it was not good. Bennett threw a couple bad picks in a dreadful overall appearance. Overall, Bennett has played OK-ish this preseason. He's got some talent. But working in these types of games (2nd/3rd/4th-team scrums) are a slog for QBs with weak O-Lines and bad weapons around them way too often -- but they gotta find a way to make it work, to get noticed in the NFL. Bennett tried to force some action, a la the way Zach Wilson tries to 'make plays', and his arrogance caught up to him. Bennett looked really good/comfortable in his opening preseason game and then has been fading since.
On the other hand, Jarrett Stidham (17-28 for 236 yards, 1 TD/0 INT) DID decide to take this opportunity to go seize the bull by the horns. He worked this game like it was the Super Bowl. Good energy...good leadership...mostly good decisions. He ran this team about as well as you could given the circumstances.
So good, that when they panned over to the sidelines, Russell Wilson looked a little stoic. Not that Stidham was looking like Joe Montana and showing greatness -- but he showed a passion, leadership, connection that Russ doesn't seem to have. But it's also a dreadful Rams 3rd/4th-team secondary...their 1st-team secondary is arguably the worst in the league, so you can imagine what this lot looked like in this game.
I do believe Payton brought in Stidham for more than 'emergency plans'. If Russ falters...and Russ is not 'his guy' (Payton's)...then I think Payton would LOVE to resume his role as arrogant know-it-all with loose lips and bench Russ to win the fans (and probably team) and embarrass his GM. Just a gut feeling...that it is going to happen in-season, because Denver isn't very good and is likely to fall out of the race quickly in 2023.
 -- Where have you been Albert O. (7-109-1/8)? He dominated this game working with Stidham and Ben DiNucci. He was so good here that Denver cut him this week, so they could keep more of Sean Payton's ex-Saints TEs he brought over...but then Philly saw the opportunity and traded for him before the release list was made official.
Albert O. is nice depth for 2023 for Philly...not an FF play at all. If Goedert goes down, he'll be worth a chase...but so are many backup NFL TEs. But Albert O. put on a show here this game...against bad defensive players.
 -- UDFA rookie RB Jaleel McLaughlin (10-48-14-13-0/5) earned his way onto the Saints 53-man roster with his play all preseason. He'll be the #3 RB and very distant in touch count among the group, when they're all healthy, in 2023.
It's a nice story with him making it in the NFL his rookie UDFA campaign. Someday he could be part of a split role backfield, with McLaughlin as a satellite back of sorts.
 -- Ronnie Rivers (6-32-0) worked ahead of drafted rookie RB Zach Evans (7-23-0, 1-6-0/1) here...and all preseason and both made the 53-man, and Rivers will be listed as a #3 RB...just waiting for an opportunity for one of Akers-Kyren to fall...and most likely that will be Kyren falling.
We should not even be talking about Rivers...but this Rams depth chart is so weak...
And credit to Rivers, he looked very capable/solid all preseason.
 -- Let's wrap it up with two critiques of rookies on the Broncos...
LB Drew Sanders (4 tackles, 1 INT) does not look NFL legit to me, at all. I hated his tape study pre-Draft. And I've seen the same passive, somewhat undersized/under-framed defender in the NFL preseason. He just does not have an NFL 'it'/physical presence at linebacker. Maybe he'll develop more -- but what I see so far is not good.
WR Marvin Mims (2-51-0/2) is a WR that I did like well enough pre-Draft, but I haven't seen anything to get excited about yet on him either. Speed looks OK...not as quick as he showed in college. Could still be feeling his way in the NFL, or he was banged up earlier camp and may still be restricted.
Both Sanders and Mims just look very passive to me...no 'it' factor, no swagger in their movements on tape in the preseason. It can just be hiding...waiting for them to feel more comfortable in the bigs, and I think that will be the case for Mims -- not so sure about Sanders.