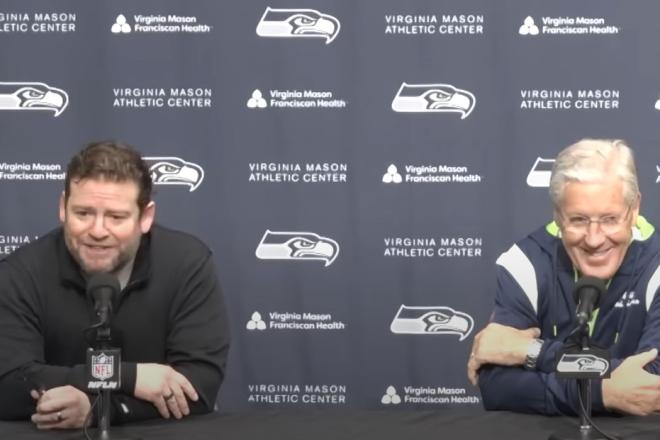 R.C. Fischer
FFM
03 May 2023
I'm going through all the NFL team's drafts one team at a time, while working on the draft's impact to the Dynasty Rookie Draft and Dynasty/Best Ball projections, etc. It will take me a few days to really focus on and deliberate how things went, in general, for each specific team…for all 32 teams.
This year, I'm going through division-by-division for an opening 'gut reaction' to things…and publishing them a division at a time. This is my 'first reaction' to each team's overall draft. I'm still going to circle back around and re-study and re-debate things all offseason, and scout more of these players deeper -- but this is my initial reaction.
*Our annual computer model grading of the NFL Draft will be out in 1-2 weeks when we have processed all the data and UDFAs, etc.
In order of best-to-worst grades, using my 'Gut' grading system for this first reaction…our computer model grading will be better/more detailed on comparing all the drafts.
SEATTLE SEAHAWKS (Gut Grade: A)
Seattle needed to close the gap/surpass San Francisco in this draft…and it nearly worked to perfection for the Seahawks.
The 49ers did their part to help close the gap -- one of the worst drafts of 2023. Seattle responded by snagging four instant starters in 2023 -- Devon Witherspoon, Jaxon Smith-Njigba, Derick Hall (maybe starter but rotational at least), and Zach Charbonnet (becomes a duo with Kenny). Then they got a little hit-and-miss on day three but might have added two more starters (eventually) in OG Anthony Bradford and OC Olusegun Oluwatmi…worst case, nice OL depth added. Seattle also snagged intriguing TE/athlete Griffin Hebert in the UDFA period.
Seattle blew away the 49ers, in the draft, for the 2nd-year in a row. And Seattle CLEARLY won the best draft of the division in 2023 (and 2022). Seattle is climbing back to the top of the NFC ladder…as long as Geno stays healthy.
ARIZONA CARDINALS (Gut Grade: B-/C+)
I love the trades to move back to #6 to take one of/the top-rated OL in the draft, the one they wanted all along and they accumulated great pick compensation to do it. GREAT job…but I'm only here to judge the players they got from this draft. It started well with Paris Johnson, then fell down with the time-honored chasing of pass rushers by grabbing B.J. Ojulari in the 2nd-round. Garrett Williams is a scrappy-good CB in the 3rd. Michael Wilson was our top-rated WR in this class, they got him late in the 3rd-round.
Day three of the draft kind of sputtered to a halt the collection of talent. A lot of mediocre graded and/or reaches the rest of the way. Nothing huge in the UDFA group they signed.  
I respect the Cardinals getting into position for Paris and then I like the grab on Michael Wilson. It's not the best draft, but it's pretty decent…and not terrible.
L.A. RAMS (Gut Grade: C/C+)
A nice start to the LAR draft without a 1st-round pick. They got a top OG prospect in Steve Avila in the 2nd-round then followed that up with a legit super-athlete in Byron Young in the 3rd-round. Two guys who can play right away.
The rest of the draft, the Rams had accumulated 11 picks and took a few interesting prospects, some undervalued guys, but also some real reaches. That's how it goes in the draft when you have a ton of day three picks -- they did OK, but they could've done so much better. Nothing special out of the UDFA ranks either.
This Rams draft was like a mediocre buffet…short on quality, long on quantity. They had so many picks that they backed into a decent draft grade.
SAN FRANCISCO 49ERS (Gut Grade: F)
We all probably think the 49ers are the most dangerous NFC team out there…unless you're a Philly fan. It's really SF and Philadelphia as the NFC top dogs. The Eagles had a terrible draft, so they did not capitalize on pushing ahead of the 49ers -- but the 49ers did a 'hold my beer' and embarked on becoming a strong challenger for the worst draft of 2023.
Total garbage drafted across the board, for the most part…especially early. Two of the worst top 100 type prospects I could think of were Ji'Ayir Brown and Cam Latu…and SF got them both. Consider this…with their first three picks, SF took low value position players…a SAF, and kicker, and a slow TE. They had 9 picks in this draft and the only one of them I can see starting in 2023 to make an impact is the kicker (Moody)…and that's a wild value proposition reach at pick #99.
Wow…this was really bad.
The best player they got out of this draft, potentially, is UDFA DL Spencer Waege, one of our top 3 DT prospects.
Last year's draft was pretty terrible too…until Brock Purdy saved them. The 49ers might be running out of steam as a clear favorite in the NFL…hell, in the NFC West -- Seattle is about to make another run at the crown, a crown that had hold of for a bit in 2022…until Brock Purdy saved the season…and Purdy may not be back in 2023, or ever.