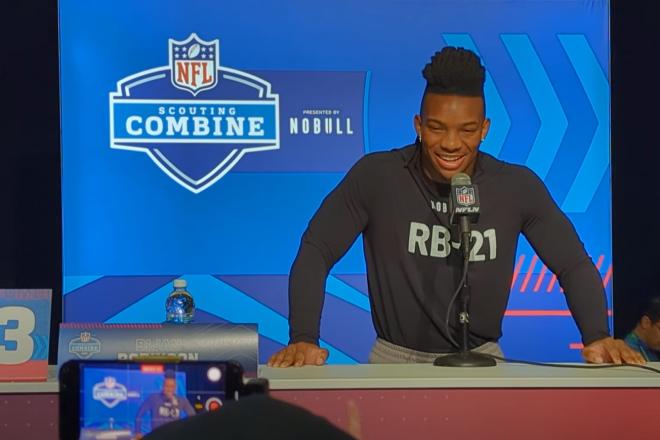 Ross Jacobs
FFM
22 March 2023
#1 Carolina Panthers: QB Bryce Young, Alabama
I'm not going to talk about what I think of this move (it's dumb) much. I just want to talk about who the pick will ultimately be now that they get their first choice. There is a lot of speculation in the media, as there always is, and it's hard to know what to believe. Stroud is the current betting favorite based on two factors: 
1) Reich has never had a QB shorter than 6'2" (spoiler alert: there aren't many of those floating around for him to coach. 
2) as I discussed a while back, there is a video of Josh McCown heaping praise on Stroud (deservedly) from before he was hired by the Panthers. However, it's asinine to think that the brand new QB coach will have that much say in who the new QB is. It will be a group effort obviously, but I think it's notable that Tepper will be heavily involved since it was clearly him that pushed for the trade up in the first place. We'll come back to that.
The second name thrown around a lot is Richardson for obvious reasons. The physical traits and ceiling are sky high and there is justifiable excitement about him. I'm sure he does indeed have his fans inside the building, but it seems far-fetched to think Carolina is going to gamble everything on a guy that many people have so many questions about.
That brings us to my current choice for the pick...the guy the media has said it would be all along...until strangely the moment that Carolina acquired the pick. I do think Young will be the selection when it's all said and done. He's been the media favorite since before last year. He's still the media favorite. According to the people that sold you a bag of goods on Jameis and Darnold and Wentz and Bortles, you have to take Bryce or you're an idiot. And so Tepper and the Panthers will do so because, make no mistake, this is Tepper's decision now. He sat back and waited for years while his staff tried various fixes for the position. David Tepper got fed up and decided to pull a David Tepper big move and mortgage the future for the top pick. David Tepper is going to pick the big name, the exciting media choice that will bring him praise.
#2 Houston Texans: QB CJ Stroud, Ohio St
Like everyone else, I suspect that Houston will simply take whichever of the two big name QBs doesn't go #1...but I will say there are some concerns here that don't get talked about enough. I don't know that any of this will ultimately affect the pick but I do want to make the information known. 
First, Stroud shares an agent with Deshaun Watson...you can understand why that might make the Texans a little bit nervous. And secondly, if the Texans grade the other QBs relatively close together and they think there's a chance Levis might fall a bit (as many are speculating) then there is a small chance they gamble and take Anderson here and hope that Levis gets to them at 12 (or trade up a bit for him). I'm not saying it happens but it is possible.
#3 Arizona Cardinals: EDGE Will Anderson, Alabama
The safe money is to simply slot the top non-QB to Arizona at 3 but, just like with Houston, there are other ways this could go right now. If Houston takes Anderson then Arizona suddenly becomes a very likely trade down candidate for someone moving up for Stroud. I think Arizona's preference is actually to trade down regardless and take a corner, but that may not materialize if both the top 2 QBs are off the board. 
Tyree Wilson is a better scheme fit for their new defense than Anderson so it's possible they could simply take him at 3, but I think they probably don't do that because the new GM Monti Ossenfort is a Belichick guy (and thus loves Alabama players) and will highly value character and work ethic. Anderson is the gold standard for "trying to change the culture."
#4 Indianapolis Colts: QB Anthony Richardson, Florida
I'm leaving Richardson here for now because we know Ballard loves physical traits and supposedly Richardson has greatly surpassed Levis in the QB race (not sure I buy that narrative yet), but I'm open to moving Levis back here in the future. There is certainly an argument to be made that Indy might prefer the guy more ready to play right now as opposed to the one that is widely thought of as needing a year on the bench...but the recent moves made by Indy (like shipping off Gilmore) suggest that they aren't in win-now mode after all. They just signed Minshew who can run the team for a year if needed and let Richardson develop slowly. One way or another this pick is going to be a QB. It's just a question of which one.
#5 Seattle Seahawks: QB Will Levis, Kentucky
I simply do not understand why so many people continue to mock Tyree Wilson and Jalen Carter to the Seahawks. The narratives just don't make sense. "They re-signed Geno to a big contract and also signed Drew Lock, they don't need a QB." No. They signed Geno essentially to a 1 year contract they can get out of easily next year. He's making basically $10 million in 2023 which is chump change. Lock is also on a 1 year deal. If the plan was to take Richardson and let him develop then you don't want him as the backup QB anyways where he'd be an injury away from starting. You need another backup, thus the Lock signing. I've also talked at length in these mocks about how Seattle has been preparing for a rookie QB since before the Wilson trade. They were always looking for a rookie from this class because they've been scouting these guys for 2 years now. Schneider was reportedly willing to trade prime Wilson for the #1 pick in the 2018 draft to pick Josh Allen but somehow people think he's going to pass on Richardson and Levis, two big, strong-armed QBs with good mobility, leadership, and intelligence? That's rubbish.
And that doesn't even consider the fact that they are highly focused on character which knocks Carter out of the discussion, and Tyree simply isn't a good scheme fit for their new 3-4 defense. They just released Al Woods and are short on big bodies...so they are going to stick 270 lb Wilson at 3-4 end and get run all over? No, no, and no. Everything about Seattle's position suggests they are dying to take one of Richardson or Levis...you know, the most important position in all of football that everyone is constantly crying over if their team doesn't have an elite guy. But somehow we're supposed to believe Seattle is going to bypass that chance to draft an ok defensive lineman? Give me a break.
#6 Detroit Lions: RB Bijan Robinson, Texas
I'm not moving Bijan from this spot unless I hear something solid from a Detroit source. I don't care that they just signed the magnificent David Montgomery. Free agency is about filling holes so you don't get backed into a corner picking one position during the draft. It does not preclude teams from upgrading on spots they've already signed someone to.
Bijan is universally thought of as one of the 3-5 elite players in this class. Many people think he is the best player. I've seen comps to Marshawn, Tomlinson, Faulk, and a guy by the name of Barry Sanders who happened to play for...Detroit. Brad Holmes and Dan Campbell have already shown that they are big on selecting the "best player available" and their idea of best player heavily involves character. Bijan is one of the premier character guys in this class. He's considered one of the best players regardless of position. He is a perfect fit for what this organization is trying to do right now, and since they already feel like they are close to contention, why not take a shot on a RB this high to try and turbocharge your already great offense? I'm sorry but they are not going to pass on a guy they think is the next Barry Sanders for David freaking Montgomery.
#7 Las Vegas Raiders: CB Christian Gonzalez, Oregon
I really struggled trying to figure out what the Raiders might do here because Ziegler and McDaniels continue to make such odd moves. What's the pattern? What the heck are they trying to do? Trading Carr and bringing in Garoppolo? Sending Waller packing? What's the plan??
And then I figured it out. It's the same thing McDaniels did when he was coach of Denver but we all missed the theme. He's bringing in his guys, loyal guys, Patriots guys, players that are "yes sir" types, lieutenants that will follow his every command. Who was the QB McDaniels dumped from Denver? Cutler. Brash, arrogant, doesn't-give-a-crap Jay Cutler. And who did they replace him with? Tebow. Good guy, nice, polite, order-following, team-first, Christian Tim Tebow. Why did they dump Darren Waller then? Because last year during their bye week Waller left the facility, went home for 4 days, and left a note saying "fine me" when the team expected him to be rehabbing an injury that kept him out for a chunk of the season. It's about dedication and putting the team (and coach) first.
So...what does that mean for their draft pick? It means you can cross out Carter. That is not happening. No chance. Wilson makes some sense but they already have two edge rushers in Maxx Crosby and Chandler Jones. What they don't have is a great corner group and it just so happens that the top corner available is a quiet, family-first, workaholic, yes sir/no sir type of guy...
https://www.dailyemerald.com/sports/no-matter-what-christian-gonzalez-gives-everything-he-s-got/article_48975e80-c25e-11ec-a7e9-e7e4925fbdf3.html
#8 Atlanta Falcons: EDGE Tyree Wilson, Texas Tech
It is certainly possible that Tyree could be gone long before Atlanta picks at 8, but if I'm correct then they will run to turn this selection in because Wilson is likely their top choice at the moment. He fits everything this team is trying to do right now. They obviously need more edge rushers but they specifically want more size at the position after bringing in the Saints Ryan Nielsen to replace Dean Pees. Think about the edge guys the Saints have drafted recently...Payton Turner, Marcus Davenport, Trey Hendrickson...all 6'5"-6'6", long, heavy, athletic guys. And who is bigger and longer and stronger than any of them? Tyree Wilson.
#9 Chicago Bears: DT Jalen Carter, Georgia
I debated over this slot for a long time. A lot of people want to put an offensive tackle here for obvious reasons, and I did consider that as well. There are obviously a lot of questions about Carter and how far he might fall, but I finally decided I think this is where he'll end up. Why Chicago?
Well, for one Ryan Poles is completely full of himself at the moment. He fell into a fantastic spot in Chicago with the top pick that he could trade for more draft picks and the media is cheering him on and proclaiming his genius every step of the way. Why not go for one more and take the troubled, issue-ridden, "best player in the draft" at #9 and have the media fawn over you even more for your supposed wisdom? 
Poles comes from the Kansas City tree so he's definitely not afraid of taking a chance on a troubled player (Marcus Peters, Kareem Hunt, Tyreek just to name a few). Carter also happens to line up with the most important spot on the Eberflus defense, the 3 technique defensive tackle, a spot they strangely have not filled in free agency. I really thought they would bring in someone for that position because of how critical it is for the defense to function properly, but so far they haven't and there is nobody available that fits the role now. Carter, at his best, is the ideal player for that spot and someone that was connected to the Bears at 1 from the very beginning of this process. And if there's anyone that can get Carter properly motivated and working hard it is definitely Eberflus.
I've been annoyed with the media fawning over the Bears this off-season but it's going to be deafening if they draft the so-called best player in the draft at #9 after trading down.
#10 Philadelphia Eagles: OT Paris Johnson, Ohio St
The Eagles are a fun team to study because every year nearly everyone is dead wrong about what they are going to do and yet every year they make the same mistakes as the year before. Nobody has figured out what Howie is up to...until now. After an immense amount of study I finally found some patterns in the way they are operating.
The first thing to know is that Howie prefers to plan 1-2 years out, not draft for immediate needs unless absolutely necessary. This year there are no immediate needs so he's likely to look to fill spots that are going to be a problem down the road...offensive tackle and edge rusher. Lane Johnson is getting older and has missed a lot of games recently. Andre Dillard was just signed away. There is no depth left. They have a swing tackle and that's it. 
As for edge rusher, Barnett is a free agent next year and Brandon Graham's contract is a likely post June 1st cut. Sweat and Reddick are free agents in 2025. They need replacements in the pipeline so you can bet there will be additions in this draft. They also have both slot receivers coming up as free agents too, so expect them to add a slot receiver, probably in the 3rd round (specifically watch for Tank Dell).
So why Paris at 10 over an edge rusher like Myles Murphy or Lukas Van Ness? Because after digging through Howie's draft history I found a pattern...he loves raw production. He wants guys that light up the stat sheet, that are in the top 5-10 producers in college. It doesn't matter what position either. So guys like Murphy and Van Ness are likely out because they simply didn't get enough sacks or TFLs to suit him. I think the most likely edge rushing target for Philly will be USC's Tuli Tuipulotu in the 2nd round because he is statistically the most productive edge rusher in this class...and his brother is already on the team. That leaves offensive tackle as the most likely target at #10 and Paris fits all the classic traits Howie looks for in tackles, size, quickness, a smooth slide...he's a near clone of Dillard coming out. If Paris is not available I think they'll look to move back or possibly take Skoronski. You can bet they'll trade back somewhere to accrue more picks but I'm betting it will be at 31 if they can grab Paris at 10.
#11 Tennessee Titans: OT/OG Peter Skoronski, Northwestern
The Titans have filled most of their big needs in free agency and the team looks ready to go as-is. There's no obvious, glaring hole left to fill so they can draft whatever they want here. A corner, edge rusher, or even tight end wouldn't surprise me (they want to run a lot of 12 personnel and will need a partner for Chig just fyi). The offensive line has been patched together somewhat but if Skoronski happens to fall to them at #11 I don't see them turning him down. He's a perfect culture fit, a tough guy overachiever just like Vrabel. Skoronski would instantly upgrade one of their guard spots and could even move to tackle depending on how Dillard does. This feels like the Jack Conklin pick all over again.
#12 Houston Texans: CB Joey Porter, Penn St
I've been dead set on putting Michael Mayer here for a long time and never understood why everyone else completely ignored the gaping hole at TE for Houston, but that hole was mostly filled this week when they signed Dalton Schultz to a 1 year deal. That won't necessarily prevent them from drafting a TE highly, but it reduces the need. Instead they can capitalize on Porter falling out of the top 10 and add another nice piece to their secondary. Porter is smooth, polished, well-trained and comes with an NFL pedigree, all things that should appeal to Nick Caserio and DeMeco Ryans.
#13 Green Bay Packers (via NYJ): EDGE Myles Murphy, Clemson
It doesn't look like a trade between the Packers and Jets for Rodgers will happen until the draft, but you have to figure it happens eventually. My best guess is that the Jets will finally just cave and give up their 1st round pick because they are completely screwed without Rodgers.
What does Green Bay do with their shiny new pick? Draft another edge rusher because this is likely Preston Smith's final year with the team and they need depth anyways. Murphy is the kind of big, athletic guy they typically go for. Hopefully they can teach him to be a little more physical, a little more aggressive, and learn to put his considerable physical gifts to better use (I'm not as sold on him as RC just yet but this is a great place for him to get better).
#14 New England Patriots: EDGE Lukas Van Ness, Iowa
Ooh, spicy! Bet you haven't seen anyone mocking an edge rusher to New England. Why not? Because they had the top sack duo of Matthew Judon and Josh Uche last year. So why do I think they'll go for another edge guy at 14? Well, they've addressed most of their big needs already. The offensive line has been patched up somewhat (although they'll definitely look for a tackle at some point) and receiver has been addressed to a degree (they suck at drafting receivers and know it). That leaves them free to add depth and since Judon is a possible cap casualty next year it lines up perfectly.
Why Van Ness? Well, he's the top rated edge rusher left for most people, but I believe he'd be the Patriots target anyways for a few reasons. They typically have gone for very big, very strong guys to help set the edge in the run game. Van Ness is the definition of that. He's nicknamed "Hercules" for a reason. He also happened to play for Iowa and the coach there, Kirk Ferentz, is a longtime close friend and former coach for Belichick. Bill has signed multiple former Iowa players over the years including current backup center James Ferentz, son of Kirk. Connections matter in the NFL and particularly with Belichick.
#15 Green Bay Packers: TE Michael Mayer, Notre Dame
I'm a little concerned with this one but it's the best I can come up with for the moment. The Packers have a huge need at tight end after losing Tonyan and while it's possible they could wait to address it until the 2nd or 3rd rounds, there is very likely going to be a run on TEs in the early 2nd round that could leave them missing out. They are probably forced to spend an early pick on it as things currently stand. 
Why Mayer and not Kincaid or Washington? I still think a lot of teams are going to grade the old-school, more well-rounded game of Mayer out higher than the other two. I might be wrong in the end. I'm certainly open to the argument. I don't even personally like Mayer but I'm trying to fill these mocks the way I think teams will go and as of now I still think Mayer will be the top TE for most franchises.
#16 Washington Commanders: OT Darnell Wright, Tennessee
I settled on Wright to Washington in my last mock draft but I redid all my research from scratch when coming up with this 4.0 version....and I again landed on Wright with even more conviction than before. Many people are mocking a corner to Washington for good reasons. That is a perfectly reasonable direction they could go. But the sense I get is that the team is absolutely desperate for a franchise left tackle. They have redone every position on the line except that spot, and they are dead set on coming out of this draft with someone that can replace Charles Leno. If they don't get their guy in the first you can bet it will be the 2nd.
So what are their preferences as far as players go? Why Wright instead of Broderick Jones, Dawand Jones, or Anton Harrison? For one, Washington really likes experience. They want their players to have played a lot of games, taken a lot of snaps. They consistently draft some of the oldest players available due to this. Wright isn't old but he has played a lot for Tenneseee, more than anyone of those three except for Harrison. They also like size and strength which is where Wright wins out over Harrison. He's around 30 lbs bigger but still has good feet and can anchor in the running game. Don't overlook the influence of Bienemy here as he comes from KC where they valued having big strong offensive linemen highly as well.
#17 Pittsburgh Steelers: WR Zay Flowers, Boston College
I know you haven't seen this one projected anywhere. The Steelers typically get mocked a corner or a tackle, and again I don't disagree with that analysis. I may switch my pick to one of those positions by draft day as well. But right now my intuition (and a tip from RC) is pulling me to Flowers. Why?
RC tipped me off about a month ago that he was hearing Pitt was super interested in Flowers and I shrugged it off. They had other, much bigger issues at the time like corner and inside linebacker. Those needs have mostly been filled now. Outside of tackle and corner, Pittsburgh's next biggest need is slot receiver. That is obvious. What everyone is overlooking is the order in which the Steelers have typically drafted in recent years. It's easy to say they always draft their receivers in the 2nd-3rd rounds, but while that's true it's not the real reason. They try to get an impact, day 1 starter in the first round. In the 2nd they go for a depth position that can play sparingly early on and grow into the position. Any tackle or corner Pitt drafts right now is not likely to start from day 1. They have other more established players at those spots that will not easily be replaced. What they don't have is an established slot receiver. Calvin Austin is their projected slot guy but he's dealt with some injuries and internally they think of him more as a gadget/special teams player than a starting slot guy.
Enter Zay Flowers, the guy who commonly has been comped to Antonio Brown this spring, except he's the anti AB in character. You can see why that might be attractive to the Steelers. Flowers is loyal, hard-working, a team-first guy, the character is off the charts. I also happen to know that Mike Tomlin went to a Boston College game this past fall, a rarity for NFL head coaches during the football season. He went to see his son who had transferred to Boston College for the season. The game was opening day against Rutgers and Zay recorded 10 catches for 117 yards and 2 TDs…
#18 Detroit Lions: CB Devon Witherspoon, Illinois
It's not uncommon to see Witherspoon mocked to Detroit at #6 so it stands to reason they might be interested in him at #18 as well. I love Witherspoon as much as the next guy, but I don't think he's going near the top 10 despite the projections. The NFL in general thinks he's a little too small and a little too slow to warrant that high of a selection despite his outrageously good tape. Somewhere in the late teens to early 20s feels right, but I can't not give him to Detroit. The fit is just too good even with all their other additions to the secondary in free agency. If you haven't seen him play, please go do it. He's not a big guy but I've never seen a more physical, addressive, alpha, in-your-face corner than Witherspoon. Dan Campbell is going to love this guy and the tone he sets on defense.
#19 Tampa Bay Buccaneers: S/CB Brian Branch, Alabama
I don't love this pick just yet, but like the Green Bay pick earlier, it's the best I've got at the moment. The Bucs simply don't have enough bodies in their secondary actually signed to even field a team right now. They have to bring in more players so expect a lot of additions in this draft. If they can sign a few guys then offensive tackle becomes a more probable pick. A left tackle like Dawand would make a lot of sense here (and fit the trend of drafting massive guys with their 1st pick), but I can't ignore how few players they have in the secondary right now. Branch simply helps fill that gaping hole by providing positional flexibility between slot corner and safety.
#20 Seattle Seahawks: DL Keion White, Georgia Tech
Here's another one I know you haven't seen projected anywhere else. White rarely, if ever, gets mentioned as a possible 1st round pick but he should. Teams are much higher on him than the media who consistently have him in the 2nd round. Part of the issue is he is tweener sized at 6'4"/285. He's too big to be an edge rusher but not quite big enough to play 3 technique in a 4-3 front. Therefore his ideal spot is end in a 3-4, precisely the position that Seattle needs bodies at right now. They have had to release multiple defensive linemen due to cap issues and are basically forced to draft more at this stage. White fits all their prototypes for explosiveness, athleticism, and arm length in addition to being a powerful, disruptive force. I wouldn't be shocked if Seattle instead went with Adetomiwa Adebawore and his insane combine instead but White fits a little bit with his length and he's just the better overall player. 
If Seattle signs a few d-linemen before the draft then a potential surprise pick here could be center John Michael Schmitz, a guy I know they've fallen in love with.
#21 Los Angeles Chargers: WR Quentin Johnston, TCU
There's been a lot of speculation that the Chargers might trade this pick based on Tom Telesco saying something about who knows how many picks they will have at the end, but I'm not going to try to predict that here. If they stay and select someone though, where do they go? The pattern with the Chargers is they always try to solve their most obvious issue from the year before with their first round pick. Last year their lack of healthy receivers, and lack of speed at receiver, really let them down in the playoffs. They also seem to have a preference for bigger receivers if you go back through their draft logs. So is there a big receiver available that also happens to be really fast? Johnston fits the bill perfectly.
#22 Baltimore Ravens: WR Jordan Addison, USC
You never know what the Ravens are going to do. It feels like we project a receiver to them every year and every year they ignore that and take a TE or defensive lineman. I wouldn't be shocked in the slightest if we saw that again, but in this scenario Addison is available and it's just too tempting to slot him into a team desperate for more good receivers, especially with Todd Monken now running the offense. He promises to play a more spread out, pass-heavy game than Greg Roman ever did and Addison would instantly be the new starting slot receiver. 
If Baltimore goes for a different position though, corner is a likely place to look. They really need a physical #2 guy across from Humphrey and Emmanuel Forbes seems like their kind of guy. They might be able to get him in the 2nd though.
#23 Minnesota Vikings: DT Bryan Bresee, Clemson
Minnesota addressed their corner issue by bringing in Byron Murphy, so now the biggest needs are receiver and defensive line. As best I can tell they are fairly content to roll with Osborn as their #2 receiver and let the young guys fight for the 3rd spot. They also apparently want to run more 12 personnel thus the Josh Oliver signing at TE. That leaves the defensive line. 
I know they want more edge rushing depth but there's not an obvious pick for that here. But they also need more big bodies inside despite signing Lowry away from Green Bay. Last year Minnesota traded back and took a young, talented, athletic defender with injury issues from Clemson...might they do the same thing again this year with Bresee?
#24 Jacksonville Jaguars: CB Deonte Banks, Maryland
I said I wouldn't move off of Bresee to Jacksonville because he is a quintessential Trent Baalke pick, but he went one pick before the Jags here so they've got to pick elsewhere. One major area the team is looking to address is corner. They are very likely to come out of this draft with 2-3 corners so why not start attacking that with their first pick? Banks has all the length and athleticism Baalke could hope for. He's the same size as current starter Tyson Campbell but even faster and more explosive (and a better pure corner as well).
#25 New York Giants: C John Michael Schmitz, Minnesota
Don't ask me why Schmitz is so beloved by the NFL. I don't get it. He's fine as far as I can tell, a decent athlete, good kid, tough, smart. But I don't remotely see a 1st round pick much less being the top overall center (I'm partial to the Wisconsin kid Tippmann myself). But for whatever reason teams seem to be head over heels for this guy and it seems more likely than not that someone is going to reach and take him early just so they can have him. It wouldn't surprise me if that team was Seattle but they have other needs to address first and can grab Wypler in the 2nd if they want. The Giants though have a single massive hole still left on their roster...they don't have a center currently signed. It's a huge giveaway but might not matter in the end since other teams have to address bigger problems first.
#26 Dallas Cowboys: OG O'Cyrus Torrence, Florida
Dallas badly needed another receiver and corner just a few weeks ago but solved those issues by trading for Cooks and Gilmore. What are they looking for now? Tight end is on the radar and here they'd have their choice of Kincaid, Washington, or Musgrave. They could also take a defensive lineman like Kancey to help improve the pass rush. But McCarthy said he wants to run the ball so run the ball we shall, right behind the biggest, most powerful guard I've seen in years. Torrence is not much of a pure athlete but he is a wide, powerful brick wall built for a man blocking scheme. He also happens to address the offensive line depth Dallas is suffering from due to injuries.
#27 Buffalo Bills: LB Drew Sanders, Arkansas
I didn't expect Buffalo to let Edmunds walk, but they have a clear need for a new inside backer right now and I've even seen Sanders comped to Edmunds a handful of times. Both guys coming out of college were big, fast, young, capable of rushing the edge, and still learning the inside linebacker position. It seems a little too easy but I don't see anyone else taking Sanders at this point so Buffalo gets a 1 for 1 replacement.
#28 Cincinnati Bengals: TE Dalton Kincaid, Utah
Cincy still hasn't added a tight end in free agency so it's feeling more and more likely that they take a pro-ready one in the draft. This organization might not have made a move like this in prior years, but they know there's a very short window left to maximize their Super Bowl window with Burrow on a rookie deal. This is the year to go for broke and break all the rules in service of winning a championship. 
Many people predict Kincaid will go much higher than this, but right now I just don't see many teams that are going to take a tight end over more premium positions like tackle, receiver, corner, and edge. They'll be ecstatic if they get the best pure passing catching TE in the draft all the way down at #28.
#29 New Orleans Saints: DT Calijah Kancey, Pitt
The Saints signed Carr and now believe internally that they are going to mop up their division and compete for a Super Bowl. RC and I very much disagree with the Saints assessments of themselves, a point I'm sure we'll talk about a lot this coming summer. But for this first pick it means they will go for a high-impact player at a position of need and there is one spot crying out for help on their roster, a penetrating 3-technique defensive tackle. And it just so happens that the best one in the draft by far is staring them in the face at pick 29. Kancey is a discount Aaron Donald and could still go much higher than this if teams ever realize it. Detroit and LAC are two possible landing spots.
#30 Philadelphia Eagles: EDGE Tuli Tuipulotu, USC
I don't actually think the Eagles will be selecting here as they desperately want more picks in the draft, especially if they grab Paris Johnson at #10. They can trade down from this spot (someone coming up for a 5th year on Hendon Hooker maybe?) and still take Tuli in the 2nd round. However, I very much believe that he'll be the very specific target for Howie Roseman due to his incredible production this past year. All of Howie's edge rushing picks over the years have followed a similar pattern and many of them are around the same size as Tuli, about 6'2"-6'3"/265 lbs.
#31 Kansas City Chiefs: OT Dawand Jones, Ohio St
I was going to put Jalin Hyatt here because it's obvious that the Chiefs want to bring in more receivers, but it struck me that they are much more likely to go for a veteran presence than another young guy. The most likely scenario is sending a 2nd round pick to Arizona for DeAndre Hopkins or something similar. That means they can either trade back here or just take the best prospect still on the board, one that happens to fill a huge need (and he definitely fills it), tackle Dawand Jones. It would be just like the league to let the Chiefs lose Orlando Brown only to replace him with a younger, cheaper, better version. Good luck pressuring Mahomes now.