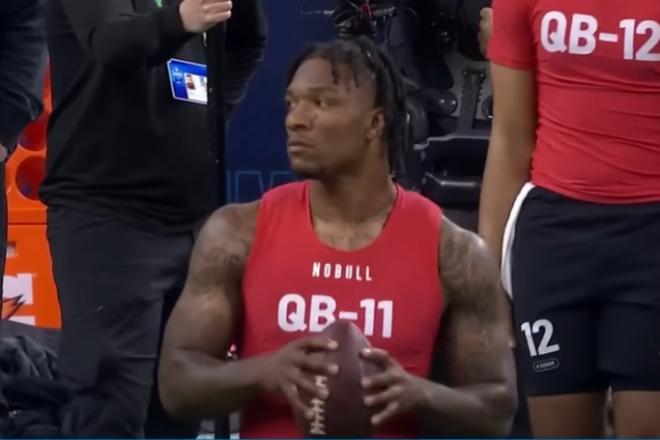 R.C. Fischer
FFM
05 March 2023
My instant/initial reaction from my first watch through day three of the Combine times/drills…
QUARTERBACK NOTES…
 -- The QB group Combine activity is completely unlike the experience it is for all the other position groups. No one really cares that much about the QB's 40-times or verticals…nor their throwing in the drills. Serious QB evaluations are not made based on the on-field activity at the Combine.
…however, the media 100% believes they are ultra-important and hangs on every little thing the QBs do here…as do many NFL execs. It's a TV show…they gotta pump it up with the position group that gets the most ratings.
What people 'see', what they 'drink in' with their own two eyes it sticks with all of us…especially when then reinforced by fawning media reports of the same. 
It happens every year at the Senior Bowl (worse than the Combine)… A quarterback prospect/s looks great in non-contact drills/throws in 1-on-1 or 7-on-7 drills and looks nice in spandex shorts and a t-shirt -- and the draft momentum stirs. But when the real/live game activity and even congested 11-on-11 drills take place, reality strikes, and things break down and prospects get exposed...and their college tape and output (against equal+ competition) should be leaned on for scouting more -- but they look so good in shorts and a t-shirt in Mobile (or the Combine), it's hard to shake the image…and you just know your coaches will take that good-looking raw piece of clay and mold it to the greatness you saw that one throw in a 7-on-7 drill with no defensive pass rush pressure…
So, my notes on the QBs are not as much speed, etc., timing/measurement commentary as it is reacting to how the media was reacting to these prospects…and how that will shape thought (hive mind) the next few weeks.
 -- Anthony Richardson is a great athlete.
The NFL Combine was built to show off Anthony Richardson.
Anthony Richardson delivered…a great Combine.
And thus, everyone in the media/NFL analysis who was pooh-poohing Richardson as a top 10-20-30 NFL Draft prospect…is piling onto the 'I LOVE ANTHONY RICHARDSON' bandwagon now.
All because of the Combine…the Combine built to showcase a QB like Richardson…the same Combine that these same people will later snicker at the thought of how the Combine doesn't matter because it's not real football.
Richardson is the big winner of the QB Combine group, obviously. He put on a show…because he has those tools and the Combine is a tools featurette.
Does anyone in football watch the actual tape of these QBs playing? Don't answer. It was rhetorical. Richardson was my #3 overall prospect for the draft going in…and Ross Jacobs was mocking him into the top 5 overall before all this. Our scouting was on/ahead of this…and many other things that the mainstream is now catching up to now.
Just a side note on Richardson: The media comparing him to Cam Newton…is that supposed to be a compliment? Does anyone want the next Cam Newton with a top draft pick? And it's not even a proper comp because Richardson is so much more naturally talented as a passer -- Josh Allen is the Richardson comp. Cam Newton was more interesting in the NFL of 10+ years ago.
So, in Richardson's case…the media mood is: the Combine means a lot and it 'proved' how good he is. Put a pin in that thought as we move to the next section.
 -- …but when it's convenient, when it fits their narrative, the football media will then dismiss the Combine as unnecessary to the scouting. Case in point, Bryce Young.
Just so you understand the logic here…
The same (football) people who didn't see Anthony Richardson as a top prospect from his tape, but now love him because he ruled the Combine…those same people supposedly DO KNOW 'from the tape' that Bryce Young is beyond reproach as the best QB prospect in 2023, and Young coming in small and skipping the Combine stuff doesn't matter because 'we all KNOW' Young is so great?
How do we know this? From the same people who couldn't see it in Anthony Richardson…or Brock Purdy?
Bryce Young, smartly, hid from the Combine because it is not built for him and he has the weakest arm of the top QBs and he needed to have his hair teased up extra high and needed to walk around the Combine with a backpack on to hide his frame (that he likely gorged a bunch of water and food right before weigh in to get over 200 pounds for the moment) from any real visual apples-to-apples comparison to the real top QB prospects. It's the advice I would have given Young, if I were his handler. Young is good, but he's a media creation top QB prospect and he shouldn't be the top guy in this class, it's beyond obvious, but the football media will not yield on a preconceived notion…especially one who went to Alabama.
THEY were wrong about Tua and Mac…maybe they'll get one right with Bryce? Probably not.
I so love the irony of (5'11"/192) Stetson Bennett as a football analyst's concern about his size, frame, and arm…when he's taller than Bryce Young (5'10"/204) and has a stronger arm.
So many things in the world have improved through innovation and learning/experience/education, but bad scouting of quarterbacks by the NFL establishment NEVER changes/improves. It's still mostly all emotional reactions and severe groupthink…and not just for the QBs, but for all positions.
 -- The NFL Combine was not really built for C.J. Stroud and Will Levis…they're just Combine-boring, not-fast quarterbacks who didn't go to Alabama, so they get some kind of weird scouting discount.
Sadly, for them, they are only great, pure quarterback talents that you can see on the tape -- but that's a lesser factor than Combine eye candy and 'Alabama' hype.
Stroud and Levis are temporary 'losers' at the Combine, from the standpoint that Anthony Richardson destroyed the Combine TV show things and that 'the (NFL) machine' went full defense-mode protecting Bryce Young. The battle for the #1 overall pick in the draft is still a 4-man race…all quarterbacks.
The next week or so of post-Combine mock drafts will probably show either Young or Richardson at #1, the other #2…with Stroud more times #3 and Levis falling to #4, is my guess. But after some of the hype dies down and inside team HQ's rumors leak, etc., we may see a fall beginning on Young, to #4…on his way further down the top 10.
 -- Contrary to popular media belief, there are other QBs in this draft! Just a quick note on two of them…
TCU's Max Duggan shocked me with a 4.52 40-time. He came in at a sturdy 6'1"/207…with some foot speed, but a not-as-exciting three-cone (7.26). He's one of the best sleeper prospects flying under the radar in all this. Not a future star, just very capable/competent with a very good arm…and now, foot speed we didn't fully realize!
Put Duggan's 40-time (4.52) in context of the through-to-be high end mobile UCLA QB Dorian Thompson-Robinson's 40-time (4.56)…and it helps try and process how well Duggan ran….and DTR also posted a similarly weak/bad three-cone as Duggan -- DTR posted a 7.28, to Duggan's 7.26.
DTR is another capable QB prospect talent lost in the wake of the top guy QB debates/options. It doesn't help DTR's cause to be known as 'as fast as Max Duggan' and to see 220-pound Houston QB Clayton Tune running a 4.64 409-time with a 'best in class' 6.89 three-cone.