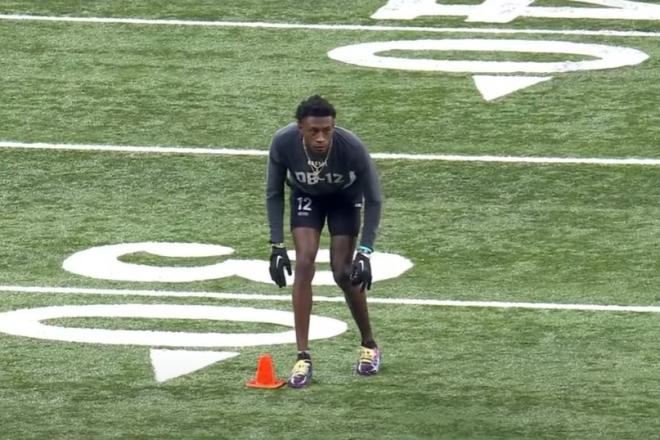 R.C. Fischer
FFM
04 March 2023
2023 NFL Combine Notes from 3/3 (CB Group Drills)
My instant/initial reaction from my first watch through day two of the Combine times/drills…
CORNERBACK NOTES…
 -- CB Combine class comparison (2022 v. 2023)
Looking for 6'0"+, 180+, sub-4.5 running corners…just for some kind of baseline comparison…
11 CB prospects hit those markers at the 2022 Combine.
11 CB prospects hit those markers at the 2023 Combine.
Looking for 5'11"+, sub-4.40 running corners…just for some kind of baseline comparison…
2 CB prospects hit those markers at the 2022 Combine.
5 CB prospects hit those markers at the 2023 Combine (almost 7)
CB prospects who actually ran/attempted the three-cone at the Combine…
1 = 2022 CB group (Zyon McCollum with a 6.48)
5 = 2023 CB group, and three of the 5 posted sub-7.0 times
CB prospects who hit 40" or higher on the vertical at the Combine…
1 = 2022 CB group (Tariq Woolen 42")
5 = 2023 CB group with Maryland's Deonte Banks the leader with a 42" jump
CB prospects who had 33" or greater arm length at the Combine
3 = 2022 CB group (and check out who did: Sauce, Woolen, MJ Emerson)
3 = 2023 CB group…Darius Rush, Julius Brents, Joey Porter Jr.
This CB class is something, as we've discussed the past month…incredibly fast, long/tall, agile in the aggregate. And the 2022 CB class is really nice as well, but that makes this even better 2023 CB group that much more impressive.
 -- In my preview scouting of this CB draft class over the past two months…I wrote about how it might be the best CB class of all-time. The most depth…the most high-end talent. Their performances at the NFL Combine didn't change that opinion. Most every single CB here measured and ran and drilled well across the board. There were really only 1-2 (bad) outliers overall. Even the CBs that had one kinda bad outlier single measurement or speed time, etc., they were OK or good or great at everything else.
This CB class has every chance to go down as the best/deepest…and that's a wave that has been building for 2-3 years now. The CB prospects are starting to overtake the WR prospects in size + athleticism. It's going to be interesting to see what happens when/if a shift occurs to where the CB talent is so good it starts affecting NFL passing games -- like in MLB eras where the pitchers dominate the hitters and offense declines.
How will the NFL scoring/game flow look in the coming 1-3 years, if this occurs?
Ditto Fantasy Football in the upcoming years?
 -- The most lauded CB going into the day is a 'winner' going out…Oregon's Christian Gonzalez.
6'1"/197, 4.38 40-time (6th best), 1.54 split/10 yd (17th best), 41.5" vertical (2nd best), 11'1" broad (2nd best), DNP three-cone.
Good size and numbers across the board for our highest rated CB going in. The NFL commentators seem to think so as well. We'll see what our computer models say as updated grades on the group will be out soon with all the Combine data to process now…not just estimates on Combine times, finally.
I could argue, visual scouting wise + value of the position -- Christian Gonzalez, to me, might be the single best non-QB option in this draft. How a team could pass on Gonzalez and draft Will Anderson is going to be beyond insane to me. I don't care about positional need, you cannot pass up an elite shutdown corner for some decent edge/OLB…but the NFL will.
 -- I'm not sure how to process Miss State's Emmanuel Forbes' height/weight numbers. 6'0.6" is nice, but 166 pounds? He looked like a toothpick, BUT does that even matter in covering the passing game in the modern era? People worried about DeVonta Smith (6'0"/170) being too skinny for the NFL…has that fear mattered yet?
Forbes has such movement skills that his size is not going to be as much of a factor. AND he has a frame to add 5+ pounds or so of muscle and be wiry strong. If he properly bulks to 175, he'll be fine.
 -- The one dud CB prospect that just sunk himself to UDFA status…Anthony Johnson, Virginia. It's the wrong era to be the only CB to run a 4.6+ 40-time (4.63). A weak 30.5" vertical (lowest among the CB group) and a 9'8" broad jump (2nd worst among the CBs).
 -- My favorite CB from the Senior Bowl week scouting previews and event week was Julius Brents, K-State…and he made some money here. He'll be one of the biggest risers from the mainstream's initial weak draft rankings among the CB group due to this Combine.
6'2.6"/198, 34" arms (longest among CBs), 4.53 50-time (21st among all CBs), 1.57 split, 41.5" vertical (#2), 11'6" broad (#1), 4.05 20-yd shuttle (#1), 6.63 three-cone (#1).
Not blazing fast but solid enough WITH top of the class reach/wingspan and ultra-fast agility/cut-ability…as we saw/scouted on tape. I was hoping he'd push to the 1st-round of the NFL Draft…and he might just do that.
 -- Speaking of the biggest 'risers' from the 2023 Combine, among CBs…Maryland's Deonte Banks is starting to fly after an excellent showing here.
6'0"/197, 4.35 40-time (3rd best among the CBs), 1.49 split/10-yd (7th best among CBs), 42" vertical (#1 among CBs), 11'4" broad (2nd best among CBs).
He's going to start getting a lot more 1st-round mock draft showings from here.
 -- Michigan's D.J. Turner nearly set the Combine record in the 40-time with a 4.26, the only 4.2s guy at the Combine (so far). His 5'11"/178 overall slighter size is his issue. Could be a great slot CB projection.
 -- Slot is where Utah's Clark Phillips will almost have to go…after he measured in at 5'9"/184 with the 2nd-shortest arms in the group (29.1"). Clark can cover/play…so maybe he's the next Avonte Maddox.
 -- Illinois' Devon Witherspoon didn't do any timing stuff, but I noticed he measured with a mildly concerning-ish/disappointing 73.6" wingspan. Julius Brents came in at 82.6".
Oregon State's Rejzohn Wright is a sleeper CB of interest…but he didn't do any of the timing/measured stuff either. He did come in at a nice 6'2"/193 on the weigh ins.
 -- Alabama SAF? CB? Brian Branch, who many have as the top safety prospect in the draft, worked out with the CBs. It was an odd move because he was one of the slower/least athletic/smallest among the CB group. If you compare him to the SAF group, he was mid (range) in most things.
…but he went to Alabama, so that's all that matters.
Actually, he's billed as a cover CB…some say a Minkah Fitzpatrick-like defender -- he did not measure/time near Minkah comparing their Combines…
6'0.1"/204, 4.46 40-time, 1.52 10-yd, 4.13 shuttle, 6.73 three-cone = Minkah Fitzpatrick 2018
5'11.5"/190, 4.58 40-time, 1.56 10-yd, n/a shuttle, n/a three-cone = Brian Branch 2023
14 pounds smaller and slower speed…Branch needs a big-time agility timing at the Alabama Pro Day to try and keep the Minkah comps going…they're on life support after this Combine.