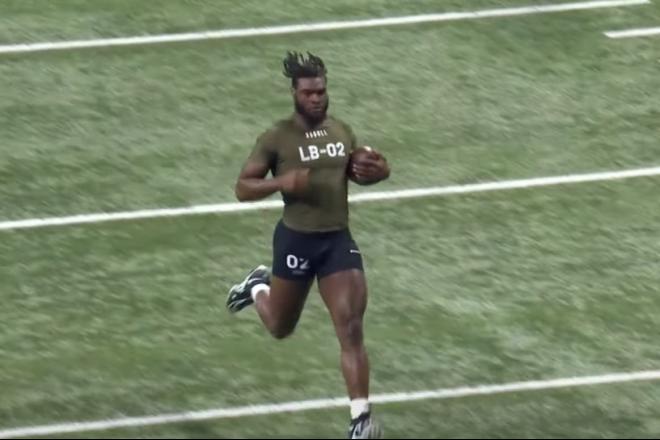 R.C. Fischer
FFM
03 March 2023
2023 NFL Combine Notes from 3/2 (LB Notes…)
My instant reaction from my first watch through day one of the Combine times/drills…
LINEBACKER GROUP:
 -- Looking for linebackers who are 230+ pounds and ran a sub 4.6 40-time...
12 of them hit that at the 2022 NFL Combine
09 of them hit that at the 2023 NFL Combine
 -- Looking for 230+ pounds and ran a sub 4.50 40-time…
2 of them hit that at the 2022 NFL Combine
3 of them hit that at the 2023 NFL Combine
 -- Not in any of the above lists is Alabama's Will Anderson, who ran a solid enough 4.60…but he also did that at 253 pounds, so not bad size adjusted -- but not 'wow'.
Why he worked out with the linebackers makes little sense. Why he worked out at all should get his agency fired (unless he overrode them). Everything to lose and nothing to gain here for Anderson.
I thought he looked 'OK'. There were a handful of other guys his size or bigger who ran much faster and were much more impressive looking in general. I'd say Anderson should fall down the mock drafts a bit after this showing, but nothing is stopping the Will Anderson hype train.  
When Anderson ran the 'just OK' time, it was glossed over by the NFL Network commentators and immediately went to how great a person he is. That's like when someone tries to set you up on a blind date and they lead the pitch of the other person with 'they have a great personality'. I don't need my edge rusher to be likable. I just hope they are not street racing and involved in fatalities or other such issues.
Of the five linebackers who were between 250-260 pounds and are 6'2"+, like Will Anderson, and did run the 40s…Anderson was 3rd fastest among them.
If I look for the 250-260 pounders from the EDGE group who are 6'2"+, there were seven of them…and only one ran faster than Anderson (that was Byron Young, TEN).
So, a total of 12 guys total who were 250-260 pounds and ran at the Combine, and Anderson was the 4th fastest. Not bad.
 -- 'Winners' from the linebacker group…
No one in particular. There were a lot of good and very good performances overall. There were some standout individual drill items, but overall it was mostly a bunch of fast guys/good athletes here.
Clemson's Trenton Simpson secured his lofty rankings with a 4.43 40-time (#2 among the LBs).
Iowa's Jack Campbell hit a 'wow' 6.85 three-cone at 249 pounds.
Auburn's Owen Pappoe posted a 4.39 40-time…best of the group. I just don't see this on the field with him.
Oregon's D.J. Johnson posted a 4.49 40-time…at 6'4"/260.
 -- Surprise 'Losers' from the linebacker group…
No one really. It seemed like everyone ran in the 4.4s, 4.5s, or 4.6s…all fine times. There was only one LB group member that ran a 4.7+ (Ochuan Mathis, Nebraska…4.74)…and that's not terrible/damning.
Five linebackers from last year's Combine ran a 4.7+…but only one did this year.
 -- A lot of big names didn't do the timing stuff this day or in this group…most notably Drew Sanders. He did do the on-field drills and looked fine.