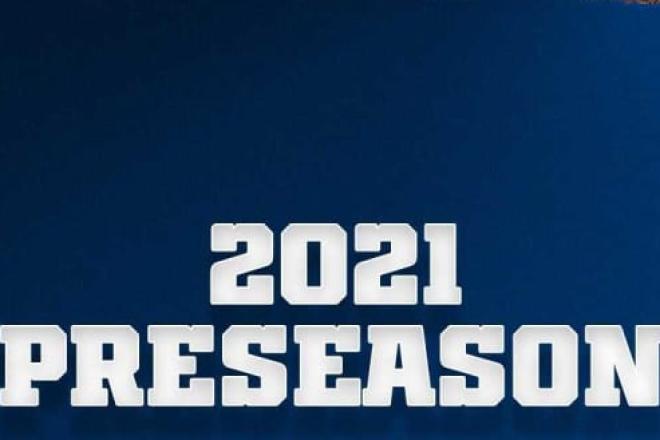 R.C. Fischer
FFM
29 August 2021
‍
2021 Dynasty/Fantasy Preseason Wk3 Game Analysis: Buccaneers 23, Texans 16 (By Ross Jacobs)
We finally got to see some first team on first team action, and it went exactly like you would expect. The Bucs completely dominated the Texans. However, I do have quite a few fantasy relevant notes that will be quite important, most of them concerning the Bucs.
--The Bucs offense
I have to start this off with a somewhat shocking statement...Tom Brady (11-14 for 154 yards, 1 TD/0 INT) looks as good as I've ever seen him and make no mistake, this is his offense. His arm looks stronger and more accurate than last year, and he is running a hurry-up with 5 WR's while meticulously picking apart the defense. He looks like he's in his prime. I was expecting another pretty good offensive season from the Bucs with a lot of power running mixed in, but after watching this game I have changed my stance. 
I think we're about to see Brady unleashed, a Brady with full control to do whatever he wants whenever he wants it. If this is the plan it's going to be an absolute air raid with Brady as the triggerman. I wouldn't be shocked at all to see him hit 40 TD's again or possibly more. I think he wants to show the world that, as good as he's been over the years, he could have been even better. Now I don't want to get too far ahead of myself here. This all happened against the Texans defense and they are terrible, but it's not so much about the Bucs being efficient but about how aggressive they were and the way that they attacked. I'm bumping Brady up in my projections.
So if Brady is going to lead an air show that must be great news for his wide receivers right? Maybe. The trouble for that is he's got three really good receivers to feed, and based on what I saw here Brady is going to carve up defenses by finding whichever of his three guys is open. I don't think he's going to hammer any one receiver. That said, it looks to my eyes like he ever so slightly favors Antonio Brown (4-42-0/5) over Mike Evans (2-20-0/3) and Chris Godwin (3-84-1/3). Brady was looking for Brown just a tick more often than the other two, but it's possible it might have just been this particular matchup. Hard to say. What I do know is that there is going to be a mostly even split between those three. Because of that I think Evans and Godwin should mostly be avoided at their respective ADP's and Brown is the one to target simply because his is lower.
Rob Gronkowski (0-0-0/0) is the first TE on the field followed by, somewhat surprisingly, OJ Howard (1-5-0/1), but I don't think either of them is fantasy useful in this offense. They are nearly always used as blockers. Most everything is going to the three receivers and then just dump offs to the TE's and RB's.
Speaking of the backs, Ronald Jones (4-27-1) is the "starter" but he'll be rotating every other series with Leonard Fournette (0-0-0, 1-3-0/1) and Giovanni Bernard (0-0-0, 1-2-0/3) will serve as the 3rd down and 2-minute back. I was wondering last week why Bernard was in after Ke'Shawn Vaughn (15-29-0) with the backups but he did it again here and it occurred to me that they are just trying to get him a few more reps in his role. He is not behind Vaughn. 
As RC has speculated Bernard is Brady's James White now. He'll get his fair share of passes. I do have to note that he flat out dropped two easy passes here and had a short injury scare where he came off the field limping, but he returned shortly after with no ill effects. I wouldn't worry too much about either but wanted to mention it. Overall, I would avoid this backfield. It's a RBBC and you'll go mad trying to predict which guy is going to get a TD each week. Bernard might be useful as a safe PPR guy, but I'm not nearly as high on him as RC.
--Houston's offense
Don't get me started with this travesty. RC and I have covered this enough. Everyone should know to stay far away from this cesspool. Tyrod Taylor (6-9 for 31 yards, 0 TD/0 INT, 1-6-0) is going to play nice, safe football, not turn the ball over, and not do anything noteworthy. Every WR here is unusable for fantasy because of him and it only gets worse if he gets hurt or benched because Davis Mills (10-27 for 106 yards, 2 TD/3 INT, 2-18-0) is a travesty. If you draft RC's duo defense for fantasy, start praying that Mills gets in early because you're going to have some juicy games against this guy. Mills is the absolute worst QB I've seen this preseason and that's saying something.
The starting two receivers for Houston are Brandin Cooks (1-3-0/2) followed by Chris Conley (0-0-0/0) with rookie Nico Collins (2-16-1/6) coming in for three WR sets. Keke Coutee (2-8-0/4) is the 4th option. Like I said they are all unusable for fantasy with these QB's. Don't try to get cute.
Same thing goes for the RB's. Phillip Lindsay (6-17-0) was actually the first guy in and David Johnson (4-30-0) followed him. Despite the very obvious fact that Johnson is easily the best RB on this team, he is serving almost solely as the 3rd down back. He looked fantastic here, fast and powerful, the best I've seen him move in a couple years. If any team was paying attention they could snatch him up for nothing. Mark Ingram (11-44-0) came in third, but he'll rotate with Lindsay on early downs and serve as the short yardage power back. This is a RBBC and the offense is terrible anyways so just avoid this mess.
Surprisingly, Pharaoh Brown (0-0-0/3) seemed to be the starting TE over Jordan Akins (1-9-0/2) although both will rotate in. Like everything else on this offense, neither is usable for fantasy.
--Random Notes
I'm ending my short love affair with Patrick O'Connor (2 tackles, 1 pd). He's a fine player, good motor, strong, gets some penetration, but he's much better at doing it against backups. When he was going up against a not very good Houston starting line he was much less noticeable. Good player but I don't think there's a hidden star here.
Hyped up rookie Jaelon Darden (3-35-0/5) is a future TB starter but probably isn't making much of an impact in 2021. By my count he was probably WR7 on the depth chart, coming in well after Scotty Miller, Tyler Johnson, and Jaydon Mickens. I wouldn't even worry about trying to stash him in any but the deepest dynasty leagues. He'll be available to grab at the end of the season.
Joe Tryon (5 tackles, 1 sack) put up some good numbers but he wasn't really doing anything special. His sack was just from effort and Taylor holding the ball too long as he tried to escape the pocket. I still haven't seen anything like what I hoped from Tryon.
Charles Omenihu (1 tackle, 1 sack) has piled up a few sacks this preseason, but just like with Tryon it hasn't been all that impressive. He got a free run at Brady after the offensive line decided not to block him.
My last note concerns something I argued with RC about a bit last year. Lavonte David (8 tackles) played almost a half and recorded a good number of tackles. Devin White (1 tackle) was a ghost. Last season I was arguing that David was the better LB and that White was only putting up great numbers because the defensive line was completely dominant and freed him up to use his athleticism to run straight to the ball. To my eyes he has bad instincts for playing linebacker, and I argued that in the future he might struggle a bit if his defensive line wasn't as good. Well, Ndamukong Suh was out this game with COVID and what do you know, White struggled. He was getting easily blocked by the Texans line. I'm not saying he's going to be a complete bust or anything, but for IDP I'd be worried that he might not match those monster numbers again. Getting Suh back should help though. He and Vita Vea form a very nice run stuffing combo. Just something to watch for.