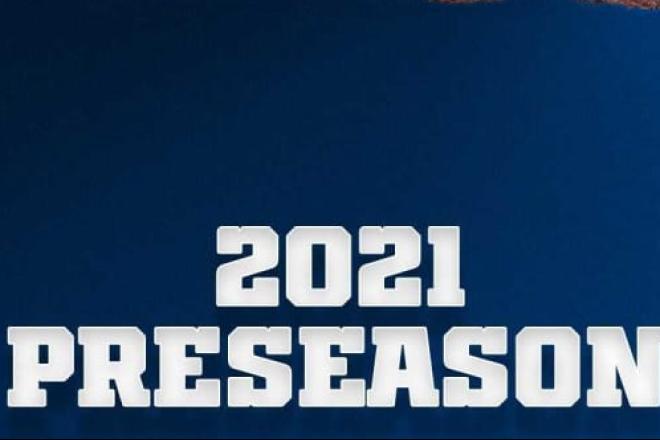 R.C. Fischer
FFM
28 August 2021
‍
2021 Dynasty/Fantasy Preseason Wk3 Game Analysis: Panthers 34, Steelers 9 (By Ross Jacobs)
The home announcers for the Panthers couldn't stop gushing about how great their team looked here. They "dominated in every phase" and "look like a playoff team." No. Not even close. This kind of mirage is what happens when one team (the Panthers) plays their 1st team offense and defense for a half and the other team (the Steelers) plays their backups. On top of that discrepancy, the Panthers also got a couple of very lucky turnovers on special teams and defense that gave them great field position to score easily. When they actually had to drive the field they struggled. We'll talk about that more later. But despite this being yet another dull game, I do have quite a few notes to share. Let's get to it.
--The Panthers Achilles Heel
Until this spring I loved what the Panthers were building. They've brought in some smart, under the radar talent, drafted solidly, and were well on their way to building a good offense and great defense. And then they made a mistake so colossally stupid I can hardly believe it even after all these months. They traded for Sam Darnold.
Sam Darnold (19-25 for 162 yards, 2 TD/0 INT) has been in the league for 3 years going into the 2021 season, and in all that time he has been without a doubt the single worst starting QB in the entire league and it's not particularly close. Why this guy continues to get chance after chance with people making excuses for him every single time he falls on his face I will never know. Darnold sucks. 
I don't give a damn what the box score says... Darnold was playing with his entire 1st team offense for an entire half against the Steelers backups and I'm telling you he struggled badly. The only passes he could complete were 5 yards and shorter near the sideline because he is completely unable to attack the middle of the field. You can see it in his pathetic 6.5 ypa. And his two TD's were only possible because the team got some lucky turnovers that gave him a short field. He should have had at least one INT and possibly two if the Steelers dregs could catch. This offense is going to be near the bottom of the league I 100% guarantee. If you have any of the WR's I would sell them off right now. The only thing good for fantasy here is Christian McCaffrey because he might catch 1000 dump passes from Darnold. I'm even concerned for his TD potential because this offense isn't going to get many redzone chances. That's how bad they are with Darnold.
--Who is the stupidest coach in the league and why do you think it's Mike Tomlin?
Speaking of colossally stupid, Mike Tomlin still has a job and continues to prove that he is beyond incompetent by starting Chase Claypool (1-18-0/2, 1-11-0) for an entire half and giving him a jet sweep in another meaningless preseason game. What the &#@! is he thinking?! Claypool is arguably the greatest, most dynamic weapon in all the league and you think it's a good idea to put him in harm's way like this? Why? What does he need to prove to you, Tomlin? 
I want nothing more than to have Claypool on every fantasy team I own because he is a dominant player, but when he gets this kind of treatment, playing in nothing games with the backups...it makes me very, very nervous about what the plan is for him. He isn't getting treated with the respect that someone of his talent deserves, and that is scary. You don't see Najee out here taking carries. Juju is nowhere to be found. Even Diontae didn't play. But Claypool did. I don't get it, and I'm worried Tomlin is going to screw this up and waste another talent the way he's done for years.
The Claypool mismanagement is bad enough, but I'm not done with Tomlin yet. No sir. I'm not done because he thinks that Dwayne Haskins (9-16 for 108 yards, 1 TD/1 INT) is a franchise QB replacement for Ben and he's going to jam it down our throats trying to prove the point. 
I will grant you that Haskins was playing with the backups against a very good 1st team Carolina defense, but regardless he's terrible. His interception happened because he threw the ball a couple feet behind his fullback on a simple pass in the flat, the fullback reached back to try and catch it, inadvertently popping the ball up and straight to a defender. Haskins is just like Jameis Winston where he'll make a great throw followed by 2 or 3 inexplicable ones. The good just does not outweigh the bad. And this is the guy Tomlin wants to take over this team. 
I'm scared enough for Diontae and Claypool in redraft, but in dynasty I am outright terrified. They are going to fail and fail hard if Haskins gets the starting job at some point. RC has been banging the table on the abominable job that Tomlin has been doing for years now, and we're seeing it come to a head now. If they don't get rid of him at the end of this year I believe the Steelers are headed for the bottom of the league and a pit they can't dig themselves out of. Beware.
--Rookie Notes
Jaycee Horn (0 tackles, 1 pd) looks fantastic. He was on Claypool several plays and had him smothered. Horn wasn't allowing anything. He's going to be one of the best CB's in the league very quickly and help make this defense a top 10 unit. I don't know if it's 2021 or not, maybe 2022, but it's coming.
Terrace Marshall (3-43-1/4) is the #3 WR for Carolina. I thought it might be David Moore (1-19-0/2) at least for a bit until the rookie got up to speed, but Marshall is ready to go right now. He looks like a really solid player, maybe not a star but still very good. He'll probably push Robby Anderson (2-15-1/5) out the door next year.
Tommy Tremble (2-45-0/2) looks fine but nothing more. He's not going to be a great fantasy player I think. He's just not fast enough. Fine player to have on the team though. Right now he's completely buried anyways. Dan Arnold (3-25-0/3) is the top TE for the passing game and he's rotating a bit with Ian Thomas (1-9-0/1). Tremble is mixed in with Giovanni Ricci (2-7-0/2) and Colin Thompson (1-1-0/1). I'm guessing Ricci makes the team as a special teamer and Thompson gets cut, but it might be vice versa since Thompson is a former player for Matt Rhule from college.
Daviyon Nixon (1 tackle) looks terrible. Not sure what's going on with him but he just looks fat and slow. Hopefully he gets his mojo back because he was a fun guy to watch in college.
Shi Smith (2-21-0/3) was doing pretty well again until he landed awkwardly on his shoulder while getting tackled. He immediately reached for his shoulder. Looks like he may have broken his clavicle. He made it to the sideline but then left on a cart. He's going to be out for a while.
RC has been raving about Quincy Roche (1 tackle) and I was excited to hear that and take a look because Roche was a guy I heard good things about before the draft, but I have to say I didn't see anything amazing here. He's a good athlete and I did see some slipperiness, but he wasn't a backfield menace or anything. They mostly had him dropping into coverage, which he did a good job with. Maybe it was just the game plan or something. I'm not giving up on the idea that he could be a future starting defender.
--Random Notes
RC's punt returner crush Matthew Sexton (2-10-0/3) had a rough night. He tried to field a punt off the bounce and lost it to Carolina, then nearly lost another way a little while later. He did get a few targets in the passing game after that but didn't do much with them. I don't think he's in any danger of getting cut but he better get that stuff cleaned up.
Will Grier (5-7 for 47 yards, 0 TD/0 INT, 3-22-1) looks like the superior QB to PJ Walker (5-10 for 83 yards, 0 TD/0 INT) but he's stuck as the 3rd QB because Walker played for Rhule in college. I'm beginning to think that Rhule's fondness for his college players is going to be a major weakness of his. He gets blinded to talent because of relationships/experiences he's had in the past. Just look at the ridiculous Chuba Hubbard situation, Robby Anderson, etc. We'll know it's a legit problem if Giovanni Ricci gets cut at TE instead of Colin Johnson.
Looks like Joey Slye is on the chopping block. He missed his one field goal attempt wide after struggling recently, and Ryan Santoso, a massive 6'5" 260 lb kicker the Panthers just traded for from the Giants, made both of his attempts although he did bank the first one in off the upright. Slye was seen having what looked like an emotional conversation with his long snapper so it appears the writing is on the wall.