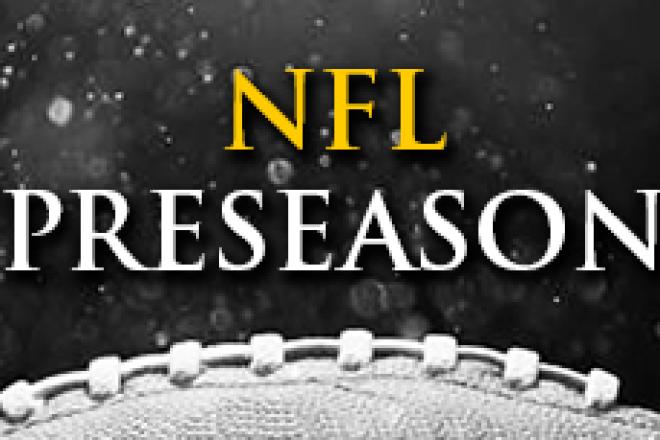 R.C. Fischer
FFM
15 August 2022
2022 Dynasty/Fantasy Preseason Week 1 Game Report: Panthers 23, Commanders 21
Reviewing these preseason games each week can get strange. I never know what I'm about to see, or what my reaction is going to be…I have a bunch of shorthand notes from watching that I organize to make sure I hit on what I think is important or interesting.
The preseason, 2022 version, is weird because some teams are mailing it in with dead QBs that don't help you scout the offense properly. But some teams are trying to put a good foot forward for a series or a quarter. I end up judging teams, how they 'look', in the preseason like a restaurant review -- maybe I came into their establishment on a good day, or maybe it's a bad day…not indicative of reality…but it's still my experience that happened. So, when I comment on the teams in these intro recaps…I know full well I'm judging off one warped event (a preseason game with vanilla play calling) and some of the players operating against 'starters' versus some working against 3rd-4th-stringers.
I come in, like Robert Irvine…I watch the restaurant operate…then also ordering half the menu to take a taste sample of their menu items https://youtu.be/p5Lg7rX_vuQ?t=15. I turn on these preseason game tapes, get my note sheet ready, sit back and partake…and react/critique. I love it so…it's my favorite scouting time of the year. I take it seriously…I think there are some/lots of clues in a meaningless preseason tape.
Just a disclaimer -- whether I am commenting on the team, or individual players here…I recognize it's just a preseason game, things can look warped, players can look great here…then go into regular season games and die (like Jordan Love 2021 preseason). All I can do/am doing is going into their 'restaurant'/watching their preseason tape/work and sampling things and giving my reaction.
You want a player/team to stand out against this easy backdrop, and when they don't…it should be cause for concern, or at least noting it for the files/future if the pattern continues. You'd like a team, especially a 1st-team offense to look in control in such an environment. So, I am giving an instant reaction to this week…but next week's games are a 2nd opportunity to impress, and may change opinion or move it back to 'undecided'/neutral until the next evidence comes down. 
Young players are debuting their NFL careers this week, and can be too amped or tentative the first time out, but they will get their sea legs under them soon (I remember the first few games in the NFL I saw of Nick Chubb, he looked terrible). This preseason Week 1 is just one visit to the restaurant, and I am giving my feedback…building a case into next week, etc., to see how they operate.
That being said -- I do not get the vibe that either of these two teams are to be taken too seriously for 2022. Based off of this one effort. It may be just that they have long-time (for the NFL) coaches who aren't all life and death about the preseason, unlike new HCs in their first ever head coaching appearance -- these seasoned coaches aren't amped, so the players aren't amped either. That was the vibe from both 1st-teams here.You'd hope the players would be amped regardless of the coach.
Carolina looked a little more efficient/aggressive with Baker at the helm. Washington has a new QB too, but there was no new energy there. Baker somewhat attacked the Washington defense…Carson Wentz is a shell of himself. We'll get into the specifics, but if I were basing everything on this one scrap of evidence -- I'd say neither of these teams have a 'vibe'/an energy. Detroit did. Atlanta did. Philly really looked good this week (only watched half the game tapes of Week 1, so far). Carolina and Washington -- the coaches were stoic…the game play was stoic, specifically among the 1st-teams with QBs trying to impress. Commanders fans…you could be in big trouble.
Dynasty/Fantasy Player Notes…
 -- Let's start with a non-QB positional battle that is more pressing for FF 2022…the Washington RB situation.
We all know the deal… Antonio Gibson (4-20-0, 1-2-0/1) has been the main starter the past year+. He's been a decent FF hand, but he had issues with fumbles last season. All of us noted the issue and really weren't moved/concerned going into the 2022 offseason, but then when they drafted Brian Robinson (6-26-1, 2-15-0/2) this April…we all took notice that it was not a vote of confidence for Gibson. But, still, we assumed Gibson to be the established talent who would lead the way to start FF 2022…as Robinson got up to speed his rookie year -- even as Ron Rivera evoked old Panthers 1a/1b RB duos from a decade ago in press conferences.  
Well, this preseason game did not help the notion of Gibson as the clear lead and BRob as a lesser rookie sidekick. Second series…second touch of the game for Gibson…run up the middle and had the ball stripped, a lost fumble. Gibson to the bench, then BRob into the game for an extended time…later Gibson got back in running with the scrubs to reprove himself.
In Fantasy Football, we love 'yeah but'…we are held hostage by it. We look at a situation and see clues, but when asked to make a definitive call…we choose a side initially, but then talk ourselves out of it with a 'yeah but' and state the opposite side. Sometimes the indecisiveness is warranted -- we need more evidence, tape, game play, clues. Sometimes we are decisive on the wrong side, because we emotionally react to things and go off the deep end from one event that hurts us -- how many players have proclaimed you'll never draft again or start again, etc., over the years? In the end, in this FF game…we gotta make a 'call' and roll with it, until/if we change it with more input. 
I have to make a call on this Washington backfield. 
I've been leaning Gibson on the Gibson v. Robinson issue all summer. Gibson has been the better proven back. Rookies tend to get a lesser treatment/chances from old school coaches, initially…something about blocking and such. I've leaned Gibson in this scenario…not strongly, but my money was lightly on Gibson for FF 2022 all summer…until now.
'I'm out' on this whole backfield. Washington has three legit RB talents. Anytime one of the fumbles or misses a block, Ron Rivera is going to 'punish them' because that's what old school coaches do. The QB can throw terrible passes and interceptions, and no worries…a running back fumble is worse than losing a game. I think most NFL coaches would rather play a turnover free game and lose, then suffer any turnovers and win. It sounds crazy, but I've been with and studying these guys for a decade+. Little that they do makes any sense.
The best thing you can do with this backfield for FF 2022…is avoid it. It wouldn't surprise me if Brian Robinson led the way Week 1, not as a starter, but mixing into the rotation. It wouldn't surprise me if Gibson got hot and took over for a stretch. It wouldn't surprise me if J.D. McKissic stole enough playing time to drag both of them down further for FF.
My main takeaway…I don't want in on this backfield if I can help it.
If I had to bet on one…I guess it might be Brian Robinson now, especially for the price -- but the other guys will be in the mix. Antonio Gibson is digging himself a hole and Ron Rivera is helping shovel…there's so much fumble talk, it's like they are talking it into existence. Best to stay away…there's better confusing backfield situations to try and bet on.
As far as 'how he looked', I thought Brian Robinson looked like he belonged. A so-so/solid runner of the ball but surprisingly very good as a receiver. He's the 'new thing' for Rivera, so enjoy the next two years of it before Rivera is fired and we get bored of average/good RBs year three, after they show they're not magical unicorns in their rookie season.
 -- Several QB battles within battles here…
Baker v. Sam D.
Baker Mayfield (4-7 for 45 yards, 0 TD/0 INT) 'started' and was pulled after a series…the kind of treatment you give your starter. Baker looked fine. He's simply the best QB on the Panthers roster…and everyone knows it. The longer they go on with this ruse the worse it seems.
Sam Darnold (2-3 for 16 yards, 1 TD/0 INT) came in for a couple series and was…Sam Darnold. Not the same confidence and urgency as Baker.
Baker will be named the starter and Sam will probably be moved to the Browns as their Watson fill-in. But possibly Darnold goes to SF or LAR to be the emergency option.
Baker v. Wentz
I just want to note here, watching the two guys work early in this game -- Carson Wentz (10-13 for 74 yards, 0 TDs/0 INTs) looks like a shell of himself. There is no purpose to his downfield throws -- he's throwing to the route/the area where someone should be. And he did it in this game just taking a quick drop back and then floating a balloon ball down the field -- no purpose, no velocity. It looks useless. If it wasn't that then Wentz was fake looking downfield for a second to freeze the defense but then throwing short/safe as he had pre-planned all along. Wentz is not a real high end NFL QB…he throws to a playbook using little QB tricks to help him. In reality, he's just lofting passes aimlessly hoping they land -- and sometimes they do.  
Indy 2021 was Wentz's best hope of QB play…hide behind a great run game/play action and quick throws against a frozen defense. And Wentz was just 'OK' doing it in 2021…and got himself run out of town. In the same way Antonio Gibson is being talked into a recession…so too is Wentz. This is it for Wentz. He's on a worse offense/O-Line situation than he's ever had to deal with and he will get replaced in-season and become a nice backup.
These two teams are fighting for .500 type teams. Wentz isn't going to get them there. Baker might.
Wentz v. Howell
Sam Howell (9-16 for 145 yards, 0 TD/0 INT) came into the game in the 2nd-half and led the Commanders from a two-score deficit to the lead. He looked solid…not totally jumpy as most rookie QB debuts are. He was OK/promising. When the losses start happening in Washington, they're gonna call for Howell to replace Wentz…and then eventually they'll want Rivera's head. First it will be Wentz's head.
Howell v. Corral
Matt Corral (1-9 for 11 yards, 0 TD/0 INT) played as the 4th QB…coming in late 3rd-quarter…an odd treatment of a rookie needing work. Did we really need a big stretch of P.J. Walker after Baker-Darnold? For Matt Rhule, you do.
You can see from Corral's numbers -- it was not good. I don't think it's all his fault, but he definitely was not as ready to go as Sam Howell.
 -- I'm not sure what to read into this, but Chuba Hubbard (4-11-0) started with Baker…then D'Onta Foreman (3-5-0) came in after with Sam Darnold, and they mixed and matched a little from there. It felt like, to no surprise, but I was surprised, that Rhule is pushing Chuba again…because of course he is. D'Onta looked better…and is once again disrespected by the NFL.
 -- Hey, Curtis Samuel (2-14-0/2) is still in the NFL! He actually played in a game, caught passes, and didn't get hurt!! He's still stuck with Carson Wentz. CSam may be OK with Wentz's checkdown style. You know who is going to get screwed by Wentz -- Terry McLaurin, for FF.
 -- I was not expecting the answer to the question, "Who is that tall, athletic TE for Washington making a bunch of catches like he's a BFF of Wentz" to be Armani Rogers (3-12-0/5)…former highly mobile QB at UNLV and Ohio. He looked like the moment wasn't too big…even though he'd never played TE in his life until going to the NFL, at the East-West Shrine Bowl.
He started over Curtis Hodges. Cole Turner did not play…but Turner's DRD value isn't helped if Rogers is gonna be a player. Armani Rogers Ohio