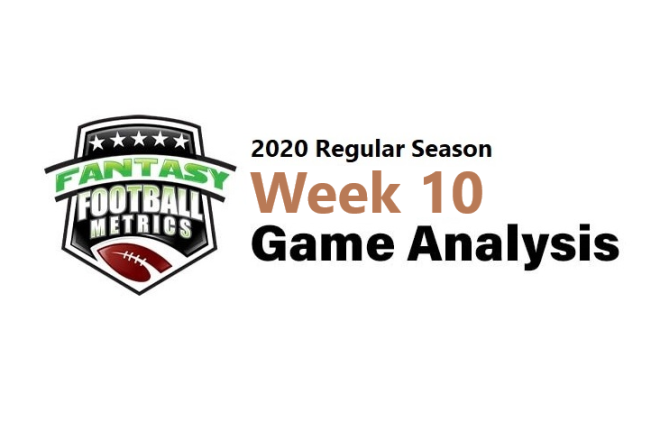 R.C. Fischer
FFM
17 November 2020
2020 Dynasty/Fantasy Week 10 Game Analysis: Cardinals 32, Bills 30
I take notes during the live watch. I re-watch the game on tape looking for hidden clues to report on. Here are my notes/takes on what I saw and how it related to FF 2020. I write anywhere from 1,000-3,000+ words on each game, and I must move fast to get to all of them through the week…so, please forgive any typos/grammar.
What a game…what an ending.
What has become two of the best 'good, but not going to win the Super Bowl' teams in the NFL met here and a shocking Hail Mary ending gave the Cardinals a miracle victory. Buffalo led 23-9 mid-3rd-quarter, but Arizona pulled into the lead with three scores in a 9+ minute span…a 17-point run to take a 26-23 lead.
The teams battled, scoreless, all 4th-quarter until Buffalo drove down the field with what looked like a late-game winning TD, taking a 30-26 lead with 0:34 left, but because it's 2020…Arizona got to midfield and then flung a Hail Mary pass which DeAndre Hopkins caught in the middle of four defenders for the shocking victory.
It was an entertaining game, to say the least. It was also a showcase of two of the best players in the game right now – Kyler Murray and Josh Allen. Buffalo seemed like the better team all along, but Arizona never folded…and pulled out a shocker. Both of these teams 'arrived' in this game. More so Arizona but Buffalo has nothing to be ashamed of here either. Well played game by two talented teams with a storybook finish.
Now, I'm a believer. I'm with Bet The Close Podcast's Chris Bilello, who predicted this Arizona uprising in the summer (with me telling him it was too much to ask of Kliff Kingsbury)…I believe Arizona can win the NFC West. I'll go one further…this game, this season really, but this game is the tipping point – now, I believe Arizona can win the NFC West, but also go to the Super Bowl. Not ready to say they will…just new believing they can.
Seattle was a mild fraud as the clear top team in the NFC, and now they are falling away with recent losses to the rest of the NFC West. The Tampa Bay Buccaneers are very dangerous and clearly beatable. The Saints are good but seriously flawed and minus Drew Brees now. The Packers are clearly beatable, beneficiaries of an easy schedule/weak division pushing them along. I'm not saying Arizona WILL outrun them all, but I am saying I believe for the first time it is now possible they can – their defense continues to play well and Kyler is getting better and better. I could see Arizona winning the West and going to the NFC title game or I could see them stumbling from here and being a wild card and losing 1st-round – but going the distance is now a possibility in my mind.
If the Cardinals can beat Seattle on TNF this week…they have to be the favorites to win the NFC West. If they lose, they are back into a dogfight to the finish. I think they will lose Week 11 being AT Seattle (but hoping they win) but go on to finish (10-6) and be right in the mix with LAR and SEA for the NFC West title. The Week 11 ARI-SEA winner will have a big edge because Seattle has a very easy schedule ahead, and Arizona's isn't bad either (the Rams have a tougher road by comparison).
Buffalo falls to (7-3)…seconds away from being (8-2). The sweet AFC East cushion the Bills had just escaped via DeAndre Hopkins as Miami (6-3) now gets to one win behind the Bills in the division. We still project the Bills to win the AFC East without worrying about Week 17 v. Miami.
I'd bet the Bills to go further in the playoffs and more likely to win their division but just like this game – don't count out Arizona. I no longer am. I think Arizona climbed (and it has been building for weeks) to a next level here (with more steps to go). They've gone from a good team that Kyler has to be accounted for, to more 'expect them to win' week-to-week. All credit to Kliff Kingsbury and Vance Joseph who I never thought could get this team into this position.
…if the Cardinals fall from here, I will lead the 'see, I told you so' brigade – but I don't think I'll be dusting that oldie but goodie for use ahead here.
Fantasy Player Notes…
 -- I should talk about Kyler Murray first, but I'm going to talk Josh Allen (32-49 for 284 yards, 2 TDs/2 INT, 7-38-0, 1 TD catch) first…because that is where the FF opportunity lies.
Had the Hail Mary pass gone as they normally do…incomplete, and Buffalo had won the game – it would, or should, be the moment everyone in football celebrated and pushed Josh Allen as the NFL MVP alternative to Patrick Mahomes. Instead, crickets.
Lost in the Hail Mary, which is cool but a fluke play, was the fact that Josh Allen once again led a late game drive down to a good team, needing a score to tie/win and Allen put a laser beam throw in a perfect placement to Stefon Diggs with 0:34 left for what SHOULD have been the game winning score. You know what happened with Arizona's last drive…which stole the spotlight from Allen.
I mean, watch this throw/play, Allen is doing this all the time in 2020…especially catch the slow-mo replay as the very short video runs: https://youtu.be/CpHp48MuMcs
Allen drifting in the pocket, flatfooted dart in the only place this pass could've been to succeed…and Allen has been doing this all season. He's been the closest thing to Patrick Mahomes as there has been in the NFL, him and Justin Herbert but Allen a touch better.
Where's the FF-opportunity in this?
Well, Kyler gets all the praise after this game. He's getting the MVP talk, but Allen just scored about the same amount of points Kyler did in this game (in 6pts per pass TD)…and Allen is a top 5 fantasy QB, and he'd be competing with Kyler's #1 YTD spot if not for the unseasonable crappy weather games Allen had to play a few weeks ago which brought his FF numbers down a tick. Kyler is the current king of fantasy QBs, but Allen is right up there…but if you tried to trade for them…Kyler is unobtainable, and Allen is very obtainable. Kyler would be valued as the #1 QB in fantasy, even ahead of Mahomes. Allen…may be priced as a top 10 QB type valuation because people think he's similar to Carson Wentz/they disbelieve. People think, perhaps, he's on a little Carson Wentz hot streak…but they 'know' it won't last.
I'm just noting…Allen's greatness is hidden once again…you can get a deal again this week – not that he's being given away, but people (by and large) still do not believe. I know most of you have Mahomes and/or Kyler, and/or Herbert and/or traded for Allen already off my last five+ weeks of howling about it…but I'm here again to say, there is still a window, because people still do not believe, and Kyler stole the fresh belief that could've started here.
The one pause for going too nuts chasing Allen for the rest of 2020, while he's on a bye – Weeks 12-16 could all be cold, crappy weather events…or just 'not ideal' events. The thing that can cap a QB's upside is frigid weather…and that's Buffalo in December, but the Bills play at home only once in December…the problem is at DEN and at NE Weeks 15-16 can be just as bad. How it gets overcome some -- is Allen is the Bills best power runner as well.
 -- I discussed Allen first, because of the FF-value and continuing the different thought process I've had on him. That's not to take away from Kyler. The Kyler Murray (22-32 for 245 yards, 1 TD/1 INT, 11-61-2) report, this week, is growing quite simple…
Kyler is now the king of fantasy QBs.
He might wind up being a higher scoring QB than Lamar Jackson was last year.
Who is laughing now, those of you who moved heaven and earth or used the touch of a finger to select Kyler Murray WAYYY ahead of where you were supposed to in Dynasty Rookie Drafts last year? You still want Josh Jacobs instead?
You know, I'm early mapping out the start of the 2021 College Football Metrics season (can you believe January is coming soon?) and wondering how to price it, what it's going to look like – and it made me think, the Kyler Murray push we had in 2019…paid for your that subscription and then some, right now. Chase Claypool is paying for some of the 2020 costs.
I put a lot of work into College Football Metrics scouting of players, it is the lifeblood of Dynasty Rookie Draft strategy and the foundation for valuing these players for the NFL seasons for Fantasy and Handicapping, etc. My CFM season is like two full time jobs in one week for all time scouting tape and researching backgrounds/numbers and writing lengthy reports. Your support of CFM -- keeps it and me alive during the 'offseason' (there is no offseason in football). This past year with COVID and the unique college season with all the opt-outs…it's going to be the most challenging scouting season ever. I really need and value your support of CFM. I try to make it more than worth your time and support. You'll never know, and I'll never be able to express, just how much your support of CFM means to keeping the FFM train rolling up the uphill tracks…not to mention support of FFM for the actual seasons as they come about.
Your CFM support…it helped us produce a Kyler Murray bumper crop. It wasn't enough to say 'I think he's good', although it was a split decision on football people for/against him at the time. Just claiming he was 'good' wasn't good enough -- you had to explore, consider just how good and thus how Dynasty-valuable he was. No one valued him like we did. Those that have him in Dynasty because of it – enjoy the fruits of your support and your personal action/decision to go get him. It wasn't easy to get to him for many, and mocking from league mates occurred for as high as we chased him.
But who's laughing now?
Every win, every moment like this – it only strengthens Kyler's Dynasty value because he HAS to have Kliff Kingsbury giving him the LONG leash to do whatever he wants.
However, just to bring us down a notch, note that Lamar Jackson was the cat's pajamas this time last year…and now look at him. We can never let our guard down.
The difference is…Kyler is actually a good QB/passer and Lamar is not really.
Just to put a bow on it all – I need your support of CFM more than ever in 2021. COVID kicked CFM's butt when it hit in March-April and we all weren't sure if the world may have been ending. Your support keeps me safely on the mission fields researching more players than ever in a year where many top guys skipped the college season. We're going to have to look under every rock for James Robinson's.
 -- The greatness of Josh Allen is rendering the Buffalo Bills backfield totally useless for FF. You know how Clyde Edwards-Helaire and Le'Veon Bell have never predictably/consistently mattered for KC? Same for Buffalo. Sean McDermott has created a superhero in Josh Allen, and he is putting it all on him.
Devin Singletary (4-15-0, 1-0-0/5) is an RB4/done. He'll have a few 3-4-5 catch games a season, but little else for FF otherwise.
Zack Moss (7-20-0, 1-0-0/2) is going to be the lead guy, in a sense, because he's going to be a short yardage specialist.
The Panthers and Saints and Raiders (to name a few) build the offense around a running back. Buffalo, KC, Baltimore, Rams, the Patriots…the running backs are necessary evils you do by committee.
I never thought Josh Allen would get good…or great…or elite, so I believed the Bills would run with Singletary and play good defense. Instead, they are the Chiefs Northeast. My preseason desire for Singletary has blown up in my face. I don't believe Singletary failed…he looks fine…but the Buffalo offense has shifted because it should.
I say this as a cautionary tale for Clyde Edwards-Helaire, J.K. Dobbins, and Damien Harris – all super talented, but now I'm wondering if they are always going to be talented backup singers to a spotlight stealing lead singer (the QB). That they'll never fulfill what their talent says it should? The NFL is changing so fast it's hard to keep up with.
I know this – I'm done with heavy running back valuation for fantasy. Never again. We'll explore all the logic in the offseason, but the NFL is about to shift even further away from ONE back.
I'm certain of this for 2021, so that means there will be another radical shift out of nowhere and thus no forward passes in 2021 just wishbone run games while I have 17 WRs on my roster.
 -- The rise of Kyler as the center of the universe will put pressure on the Cardinals RBs too, and it already has.
Kenyan Drake (16-100-0, 1-9-0/1) rushed for a hundred yards…YIPPIE, that's so awesome. Except it isn't because who cares about 11.9 PPR/10.9 non-PPR fantasy points in a week? If the running back gets some work between the 20s, and Kyler does all the TD stuff mostly minus the lead carry RB…then who cares about 100 yard rushing games? Damien Harris rushes for 100+ yards like every week, and J.D. McKissic outscores him, in PPR, every week.
Chase Edmonds (8-56-0, 3-21-0/3) didn't rush for 100+ yards but scored about the same as Drake because of his pass game work.
The 100-yard rusher with no TD/no pass game guy is DEAD in fantasy.
How many workhorses are left (and not injured) in the NFL that really matter/are effective for FF? Dalvin Cook and Derrick Henry…and…and…??
Piss on Joe Mixon and Miles Sanders and others like them. Next year, I'll be happy with a loaded QB -WR-TE depth chart and a bunch of PPR RBs, and I'll adjust as we go in-season off waivers to whatever hot RB pops up. Fantasy waivers have been a playground of RBs to use this year.
Why did I sweat over a Jacobs v. Chubb v. Drake v. Mixon v. Sanders late 1st-round pick decision…when I coulda just taken Wayne Gallman and J.D. McKissic?
 -- Christian Kirk (4-27-0/6) has a good matchup here, but he fell back to earth. Kirk was hot the last three weeks, but the recent trending was more like this game…3-4-5 catches, 6-7-8 targets, insignificant targets mostly (less than 40 yards two of last 3 games)…but prior games he got open for a few TDs and all seemed FF-great, but then this dud.
Kirk has value as the #2 WR here, but he's going to have weeks like this…and you just have to roll with it, not always guessing and always a week behind/wrong. Kyler takes most of the goodness on the ground not through the air, unless it's DeAndre Hopkins.
Buffalo has the better passing game for all WRs, that's why I've been chasing John Brown (6-72-0/8) like a lunatic and if he's out this week I want Cole Beasley (11-109-1/13). Brown was on his way to another nice FF game, but he got banged up and Beasley rose up in-game.
Josh Allen makes all things great at WR…and suffocates to death the TE and RBs.
Kyler Murray makes himself great, and usually DeAndre Hopkins…and then everything else is random hopefuls, unpredictably, each week.
 -- But what about these two defenses? No one cares, right?
Consider the fact that this game was two high functioning offenses/QBs and it was 26-23 with 30+ seconds left. I thought the defenses were pretty great here considering who they were facing and how they shut each other down in the 4th-quarter. Allen had to throw a pass only few humans could in order to take the lead late, and then Kyler boosted his numbers with a fluke Hail Mary. Outside of that, this was a well-played game by both defenses – defenses we should respect on good matchups.
Buffalo-DST will be useful/good Week 13 at SF and Weeks 15-16 at DEN, at NE. Three good spots in 4 games Week's 13-16. Also, all those games could be cold, bad weather to help.
Arizona-DST is a better unit than Buffalo, to me, at this stage…more talented but not as well coached (because McDermott is maybe the best coach in the league) and no weather aid to help the DST. Weeks 13-16, Arizona is home three games in December.
I like the Cards-DST Week 12 at NE, Week 14 at NYG, Week's 15-16 at home v. PHI-SF (but in safe dome conditions for offense allowance). From Week 12-16, you got four useful opportunities. Just Week 13 v. the Rams is not as favorable.
Snap Counts of Interest:
38 = Drake
26 = Edmonds
39 = Maxx Williams
35 = Arnold
14 = DDaniels
39 = Moss
34 = Singletary