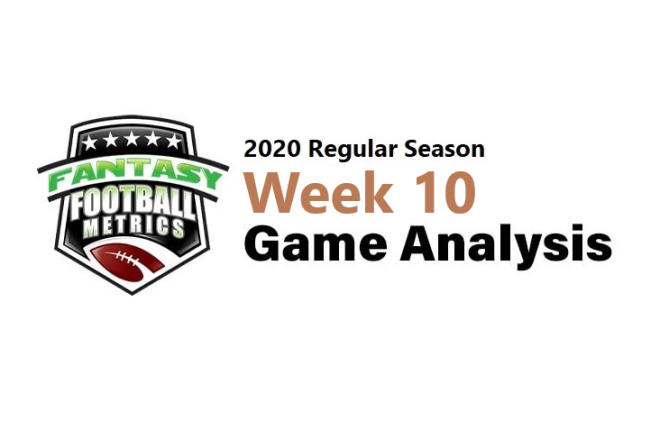 R.C. Fischer
FFM
17 November 2020
2020 Dynasty/Fantasy Week 10 Game Analysis: Vikings 19, Bears 13
I take notes during the live watch. I re-watch the game on tape looking for hidden clues to report on. Here are my notes/takes on what I saw and how it related to FF 2020. I write anywhere from 1,000-3,000+ words on each game, and I must move fast to get to all of them through the week…so, please forgive any typos/grammar.
What an exciting game to watch out at my local neighborhood Buffalo Wild Wings… Me enthusiastically wondering if Kyle Sloter was possibly going into the game late for carted-off Nick Foles was the most exciting thing this game provided to me, but because it's 2020, and I can't have nice things, or Diet Dr. Pepper, all I got a Tyler Bray unhappy ending.
What's really sad is Bray made more money on his first throw of 2020 than I will make all year. I drowned my sorrows in Parmesan Garlic and Jammin' Jalapeno wings. What I like about the Jammin' Jalapeno wings is they're a 'limited time only' sauce option at BWW, as marked on their menus, and they've been available without fail for at least a decade now…but they're still marked as a 'limited time only'. I'm so delighted every time I see it wondering if they are doing that on purpose or no one has caught.
It's the little things in life that entertain me/drive me crazy.
Two paragraphs about the Buffalo Wild Wings to start this report, and little about the game itself – that tells you what you need to know here.
Game-wise, this might have been the singularly worst game of offensive football I've ever witnessed…from a team that has functional, talented offensive players – that being the Chicago Bears. Just when you thought Matt Nagy was the worst offensive mind in the NFL, his offensive coordinator took over playing calling with a 'hold my beer…' effort to prove that he was the worst. Mission accomplished. Also, note…Matt Nagy hired this guy, so technically Nagy is still the worst offensive mind in football for hiring the worst offensive mind in football, Bill Lazor.
This may be the game where Matt Nagy got everybody fully 'turned' on him now…and embarrassing display on cable television.
The funny irony would be if this was the coach who was hired to take Nagy's place (he will be available): https://youtu.be/eldavQFLJD8?t=284
Minnesota didn't play a great game or anything, they just got out of the way and let the Bears repeatedly faceplant and won the game. The best moment of the night was when the Vikings kicked-off to former Viking Cordarrelle Patterson and he ran it back for a TD and Mike Zimmer almost had a spontaneously combusted on his special team's coach on the sidelines. The Bears' lone TD was the CP KR TD return.
The Vikings are winners of three in a row, and right back into the playoff picture at (4-5). They really should be (5-4/6-3) but things happened. The schedule ahead could get them to 9 wins, but we see (8-8)…and that might be a final wild card, maybe. There is some hope in Minnesota now. Had the Jags beaten the Packers this week, which they should have, the Vikings could've been just two games out of 1st-place with 7 games to go.  
The Bears have lost four in-a-row and have sunk to (5-5) and fading fast. They might get to 8 wins, but I'd say more likely 7 and then a big wondering if Nagy gets dumped after the season.
Fantasy Player Notes…
 -- At first, it looked like Nick Foles's (15-26 for 106 yards, 0 TD/1 INT) season might be over but news is breaking that the injury may not be as bad as first thought, and there's a BYE this week (11), so it's possible Foles is back at the helm. Even if he is, this offense is swirling down the drain fast.
I'd love to see Mitch Trubisky come in to save the day, becoming a runner/thrower that starts making a difference (he's is undefeated as a starter this season) – but Trubisky is hurt and doesn't show the heart of great football player, so even if he got in it would be more of the same Nagy-nonsense.
I think there's a case to be made that Trubisky has a lot of raw talent and it was totally uncoached, or anti-coached away into the terrible QB people perceive today. It will be interesting what team takes a shot on him next year – he'd be perfect for Sean McVay or Kyle Shanahan to work on, but the best spot I think is for Sean McDermott to get him and make him a Josh Allen-lite and try to give Mitch a heart transplant. No greater QB miracle has occurred in my history of studying football than the improvement McDermott has been a part of with Josh Allen from 2018 to 2019 to 2020.
If Foles and Trubisky are out, then if you thought this offense looked bad before then wait until you see it led by Tyler Bray.
 -- All this QB chaos means two things for me:
1) Allen Robinson (6-43-0/9) is going to have a hard time sustaining a WR1 status…between the offense/the QBs and the weather ahead – in redraft you need to plan for the worst here.
2) I'll not speak of Darnell Mooney (2-3-0/2) again until Matt Nagy is gone, and I see who the replacement is. His talents are going to waste AND he'll never get better with Nagy's rule/staff.
 -- Worse than the Bears' QB situation is their RB situation…
Cordarrelle Patterson (12-30-0, 3-19-0/2) started and was of little impact. We all know CP is talented, so the fact that he can do nothing in this offense is not on him…which means there is no hope ahead.
Lamar Miller (0-0-0, 2-6-0/2) was in the game after Patterson…and was barely used.
When I saw Miller enter after Patterson, I ripped up and tossed my Ryan Nall (1-0-0, 1-18-0/2) lottery tickets. Here's how stupid Matt Nagy is, as if you needed more evidence…down by a score late in a hurry up/all-pass offense, the former WR and huge playmaker Cordarrelle Patterson is not on the field but Ryan Nall is. Why? Wouldn't a bubble screen or jet sweep to Patterson be in some kind of order given the playmaker he is…for an offense struggling mightily? Not for Nagy.
Oh, and for some reason the 3rd RB into the game was not Nall…it was Artavis Pierce (3-9-0). Congrats, Lazor-Nagy!!!
David Montgomery (DNP) may actually be a good RB, but it's Nagy killing him. I have to at least consider that.
The Bears are like the Colts for me, for FF…I don't want anything to do with any of them. Not the RBs (redraft 2020) or the WRs or the QBs or the TEs.
 -- Nothing much to say about the Vikings here. They tried to run the ball a thousand times, per usual, but it was bottled up pretty well…so, when Kirk Cousins had to throw he dealt to Justin Jefferson (8-135-0/10) for another monster FF performance.
We're used to Jefferson doing well, but we have to also consider here – this was a Bears pass defense that has been shutting down most things. However, Justin Jefferson rolled through/on to a great game. A sign that Jefferson isn't just having a good targeting/touch count run of production…more that he is really, really good…bordering on great 10 weeks into his rookie season. It's stunning how good the rookie WRs are of this era.
 -- My guy, Eric Wilson had 7 total tackles, 1.0 sacks, 2 TFLs, and a PD this game.
He's now the #7 LB in IDP PPG on the season (FPros scoring).
Since Week 2, Wilson is #4 in IDP PPG…two tackles away from being #2 to leader/Bears LB Roquan Smith (14 tackles, 1.0 sacks, 3 TFLs).
 -- Four losses in a row for the Bears, with their defense just not good enough to pull off wins. They are holding offenses down to 'manageable' but they're not providing the fire/the FF scoring you want from your DST (but the CP KR TD return helped).
The Bears-DST is the #11 FF scoring PPG DST in fantasy this season…never bad, but never really great. A bye this week, and then the at Green Bay…not good, especially as this team starts swirling down the drain.
DET, HOU, at MIN, at JAX Weeks 13-16 look favorable but not awesome.
Snap Counts of Interest:
46 = Mooney
45 = ARob
24 = A Miller
25 = CPatt
17 = Nall
06 = A. Pierce
05 = L Miller
59 = Cook
05 = Mattison
57 = Rudolph
46 = Conklin