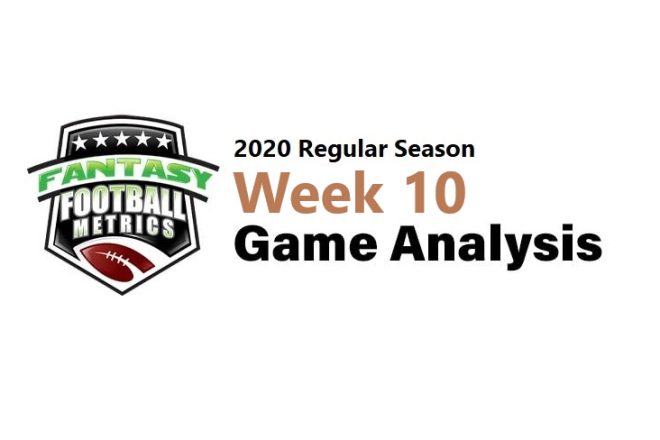 R.C. Fischer
FFM
21 November 2020
2020 Dynasty/Fantasy Week 10 Game Analysis: Patriots 23, Ravens 17
I take notes during the live watch. I re-watch the game on tape looking for hidden clues to report on. Here are my notes/takes on what I saw and how it related to FF 2020. I write anywhere from 1,000-3,000+ words on each game, and I must move fast to get to all of them through the week…so, please forgive any typos/grammar.
This was a back-and-forth game early…not much offense, not much to see, not an interesting watch. The Patriots took a 13-10 lead into halftime and then the rains really took over and by the end of the game it was almost unwatchable…like, literally…the cameras were wet/soaked on the lenses, the rain coming down so hard you couldn't hardly see the action anyway…nor did the players have great visibility.
Credit the Patriots for being the tougher team in adverse conditions and really handling the Ravens. Baltimore scored a junk TD with 0:13 left, otherwise the Pats were walking away with a double-digit win in a game they were 7.0 dogs in.
The Ravens of 2019 are dead, replaced by a cheap imitation in 2020. Think about this – the Ravens have about the same core group returning, plus added a bunch of high profile defensive free agents, plus added J.K. Dobbins, plus added young WRs. This was the best regular season team in 2019, maybe the best, most dominant team I've ever seen…and a year later, with more firepower names added…they are a Week 12 loss (if) to Pittsburgh away from being a middle tier wild card team. Amazing what can happen in just one year.
What happened? Well, the defense didn't get worse…so you have to look at the offense and blame the quarterback mostly. Same RBs, plenty of RB talent. Same WRs, young guys added. Baltimore lost all-world OT Ronnie Stanley a few weeks ago and Lamar Jackson doesn't seem to have that old magic. The QB brought them that high in 2019…and you have to say he brought them that low/to the middle in 2020. We saw Cam Newton have a pop/MVP year a few years back, and then a bunch of losing record play since. It's not an unheard-of thing.
Speaking of Cam…two wins in a row and he's got the Pats back into the playoff picture, and everyone is all excited! So, OK…they beat the Jets by a miracle late collapse by NYJ two weeks ago, and then outlasted the Ravens in a monsoon this week. They're back because of that? OK, believe it if you want.
They will probably beat Houston this week, because Houston is terrible, and that will REALLY get people talking. I see a path to 8 wins, but I'd be shocked if they got to 9 wins…and I would project more 7-8 wins. I'm not convinced of this team at all.
Fantasy Player Notes…
 -- All these backfields in this game are messy…weird…
NEW ENGLAND:
Damien Harris (22-121-0, 0-0-0/0) can't stop running for 100+ yards in a game, and yet Rex Burkhead (6-31-0, 4-35-2/5) is the equal/better FF back.
Since Week 4, Harris has rushed for 100+ yards in a game three times in 6 games.
Since Week 4, Harris has averaged 9.6 PPR PPG…and Rex has averaged 9.6 PPR PPG.
Harris has three 100+ yard rushing games, two catches, and 1 TD total for the entire season.
Rex is averaging 3.0 catches per game his last 7 games with 6 TDs in that same span.
BALTIMORE:
They all suck, for FF.
The RB trio is all splitting meager carries, not getting close for TD runs, and not getting much pass game work hardly at all.
In nine games this season, the RB trio has 23 catches (2.4 per game) for 179 yards (19.8 yards per game) and no TDs. They've also split 7 rushing TDs near equal among them…Gus leading with 3 TDs…in 9 games.
Essentially the Ravens are giving us three RB4s to try and find hope in for a given week.
Who would have thought Rex Burkhead would consistently be the best PPR back among Harris-White-Michel-Dobbins-Ingram-Edwards? Welcome to 2020.
 -- Lamar Jackson (24-34 for 249 yards, 2 TDs/1 INT, 11-55-0) isn't playing terrible fantasy football, he's just not that guy from 2019.
YTD, Lamar is 8th in PPG (4pts per pass TD) among QBs who have played 6 or more games. In 6pts per pass TD leagues…he drops out of the top 12. He's kinda held that pattern all season…not up with the big boys, but inside the QB1 ranks in 4pts, but outside the QB1 performances in 6pts per pass TD.
He could finish strong and get into the top 5 by season's end, but I don't see it. However, the schedule is very favorable to do just that…finish strong and get into the top 5 PPG among 4pts per pass TD QBs.
 -- Suddenly, Willie Snead (5-64-2/7) is the Ravens WR to have, not Dez Bryant. Snead, in his last 3 games, is averaging 4.7 catches, 72.3 yards, 0.67 TDs per game.
I find it very hard to trust any receiver with Lamar.
Lamar is trying to get the ball to Marquise Brown (2-14-0/7)…it's not working. 2.0 rec., 18.3 yards per game the past 3 games…and he's been a WR3 overall this season, and getting worse as the season goes on.
 -- Jakobi Meyers (5-59-0/7 + a 24-yard TD pass) is WAYYY better than Marquise Brown, or Snead, or any WR for fantasy from these two rosters now.
I'm so impressed with how well Meyers is playing ball right now – this was a tough Ravens coverage, on him focused, and he played about as well as any WR I've seen take on this Ravens secondary. This Meyers thing is going to have legs into 2021+. Some guys just have 'it' for playing WR, he does. Not a WR1, but a nice WR2 in PPR.
 -- NE rookie SAF Kyle Dugger (12 tackles, 0.5 TFLs) played his first game as a starter…and made a nice debut. He's a talent.
Dugger's tackles per snap played ratios are great. If he's going to be a starter now…he might go on a similar IDP run as Jeremy Chinn has for Carolina. I want to see another game -- but guessing ahead…I think it's more favorable than not for Dugger.
Snap Counts of Interest:
32 = Harris
20 = Rex
10 = White
29 = Dobbins
17 = Ingram
15 = Gus
62 = Mq Brown
45 = Snead
36 = Duvernay