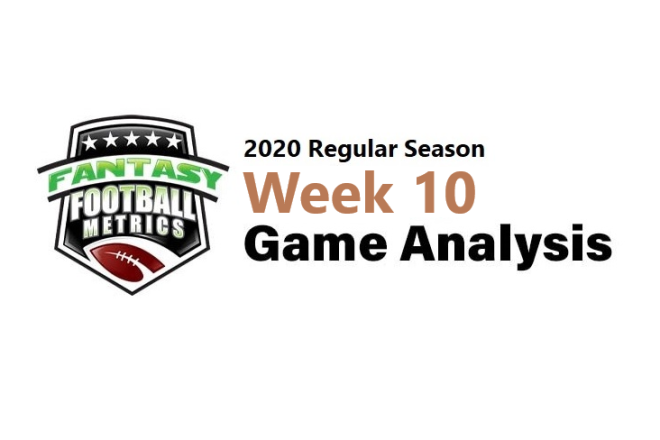 R.C. Fischer
FFM
19 November 2020
2020 Dynasty/Fantasy Week 10 Game Analysis: Steelers 36, Bengals 10
I take notes during the live watch. I re-watch the game on tape looking for hidden clues to report on. Here are my notes/takes on what I saw and how it related to FF 2020. I write anywhere from 1,000-3,000+ words on each game, and I must move fast to get to all of them through the week…so, please forgive any typos/grammar.
This game was never really in doubt. The Steelers were getting into scoring position on most every drive it seemed. 22-7 Pitt at the half….36-7 with 10+ minutes left before they started just running the time out to get it over with.
We should probably just ignore the outcomes of this game because it was such a mismatch, but we're going to dive into some players notes regardless.
The Steelers are now (9-0) with potential to go undefeated, but more likely they'll lose Week 12 v. BAL and/or Week 14 at BUF…or stumble somewhere. They do not feel like a juggernaut at all. The Steelers are this great undefeated story playing out right now, but Week 12 is a big hurdle moment – lose to BAL, and they let the Ravens have some hope for the AFC North title. Defeat the Ravens, and they likely banish the Ravens to flash in the pan status (2019 season) and send them back to Baltimore wondering about a complete overhaul of the team. Also, defeating Baltimore Week 12 means the AFC South belongs to the Steelers for 2020…then they can move on to 'going undefeated' or not.
The Bengals fall to (2-6-1), and are in another 'wait 'til next year' season. The Bengals might bag another game or two and finish with 3-4 wins…maybe 5 if things break right. Something to build on with Burrow in 2021+.
Fantasy Player Notes…
 -- Note, first and foremost, all three Steelers WRs 'ate' this week – all three of them with 20+ PPR points in the game. No odd man out this week, which was comforting.
I just want to point out three things:
1) This was against Cincy, so it can be a bit misleading…but we'll take it. Getting drunk on cheap whiskey is fine.
2) Dionte Johnson (6-116-1/11) was open, and Ben threw to, but didn't connect on a 40+ and a 50+ yard play that one or both could've been a TD. Diontae just missed out on another 10+ points.
3) Chase Claypool (4-56-2/10), I counted, had near-miss/was open, four catches for 157+ yards, and 2 more TDs. I would have appreciated an 8-205-4/11 game. Ben mostly 'just' missed or once CC was held on a potential 20+ yard TD strike.
I mention this mostly to say…when Ben wants a TD, he's looking to Claypool first and foremost. Claypool has 9 TDs already this season…he has been knocking on the door of having 15+ of them this year. The upside here is 'wow'.
Taking into consideration his rushing TDs…Claypool is tied with Davante and Thielen for 2nd most TDs by a WR this season (9). Tyreek Hill leads the way with 10.  
In total TDs, the league lead now:
13 = Cook
11 = Kamara
10 = Tyreek
09 = Claypool, Davante, Thielen, Gurley
 -- Because of the matchup and the weapons, Ben Roethlisberger (27-46 for 333 yards, 4 TDs/0 INT) had his best game of the 2020 season (despite missing practice all week with COVID quarantine AND sustaining a knee injury last week). I'm hoping this is a sign to come the rest of the season, prior Ben was throwing for good TDs but lower yards.
If the run game continues to fail, we might see more crazy Ben passing games ahead.
 -- James Conner (13-36-0, 2-12-0/2) is failing, for sure…miserably.
37 carries for 105 yards (2.8 yards per carry) his last three games combined, not hitting over 50+ yards rushing in any of those three games.
I'm wondering if Bennie Snell (3-12-0) might get some more work ahead. However, in this blowout, we only saw Snell at the very end taking garbage/game ending carries.
I also wonder if this is where Jordan Howard is going to wind up.
The Steelers cannot go undefeated and ultimately get past KC, if they cannot run the ball effectively…and they have the worst 1-2 punch of RBs in the league outside of NYJ and Miami with Conner-Snell.
 -- Gio Bernard (8-30-0, 4-17-0/7) and Samaje Perine (7-48-0, 1-7-0/1) both rushed for more yards than Conner, on less carries AND facing the Steelers run defense.
Joe Mixon may be conveniently (got his big contract right before the season) taking the rest of the season off with a foot issue…making Gio a lead back for the ROS in a 65/35 split with my man Samaje Perine. Gio looks solid as always…Perine looks like he belongs in the NFL, he's always deserved better.
Perine would be the best RB on the Steelers roster today.
Perine is also better than the Jets' Perine, but no one cares but me…
We did get to see Trayveon Williams (5-22-0) in garbage time. Looked fine. Not enough tape to work with to get excited one way or the other.
 -- I can take a lot of credit for my Chase Claypool scouting, but in turn I take a big 'L' on my Tee Higgins (7-115-1/9) pre-Draft assessment. I never saw THIS Higgins in my studies…not on tape, not on computer/paper. I missed this by a mile. I thought he was a joke, but he's no joke. He's nowhere as good as Claypool, but Tee looks terrific with Joe Burrow.
Auden Tate (2-24-0/4) looks like a junior version of Tee Higgins…and Tate is about to become/is the #3 WR for Cincy now. Why?
A.J. Green (0-0-0/5) needs to be put out to pasture. He's been toast since I said he was after Week 2. Nice career. Thank you for your service…buh-bye.
Green has caught 31 passes off 68 targets…a 35.1% catch rate with a highly accurate passer this season. AJG can't get open and is dropping passes on top of that. It's over.
 -- Journeyman CB Tony Brown (9 tackles, 2 TFLs, 1 PD) somehow is the starting CB for the Bengals now? Helluva IDP tally for his debut as a starter. I don't see anything special here, but I'm opening to looking at more of his work. I'm sure he'll get picked on a lot ahead…that's good for IDP numbers.
Snap Counts of Interest:
63 = Diontae
61 = JuJu
44 = Claypool
28 = JWash
64 = Conner
04 = Snell
01 = Samuels
44 = Gio
16 = Perine