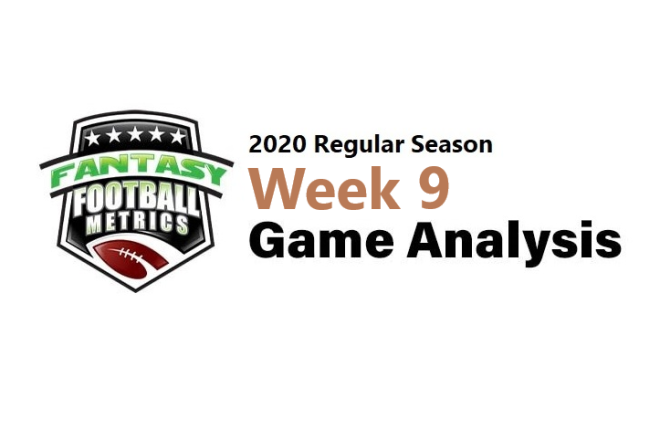 R.C. Fischer
FFM
12 November 2020
2020 Dynasty/Fantasy Week 9 Game Analysis: Steelers 24, Cowboys 19
I take notes during the live watch. I re-watch the game on tape looking for hidden clues to report on. Here are my notes/takes on what I saw and how it related to FF 2020. I write anywhere from 1,000-3,000+ words on each game, and I must move fast to get to all of them through the week…so, please forgive any typos/grammar.
This game was 19-9 Dallas to start the 4th-quarter. Time of possession was with Dallas. Everything seemed to go the Cowboys' way and the Steelers were just off. Ben was hobbling around on a bad knee sprain/strain. All looked lost, but Ben, as he does, led the comeback (limping around) and the Steelers posted three scores/17 points in the 4th-quarter to win it 24-19, the game winning score a TD pass with 2:19 left. It was a gutsy win by the Steelers…and another game where Dallas played well enough, considering their circumstances, but fell short in the end (prior game they were sticking with Philly with Ben DiNucci as their QB, but fell off in the end/couldn't maintain).
Dallas has now lost five in-a-row and six of their last 7. You want to say their season is over, but they might only be 1.5 games out of first after their Week 10 BYE. Dallas has a path to 5-6 wins and being 'in it' (the NFC East) to the end but they are now the worst team in the NFC East…too many injuries, and such horrific coaching it defies all logic that they will win the NFC East – but it is possible still.
Pittsburgh stays undefeated (8-0). They're good but not 'undefeated good'; not best team in football good…just very good. Probably a (13-3) type finish and they make it to the Final Four but fall short of the Super Bowl. They are not totally assured of winning the AFC South either. Baltimore still has a path. But we project them (13-3) and the AFC North champs is the most likely outcome right now…a #2/#3 seed for the playoffs.
Fantasy Player Notes…
 -- When it's a Steelers' game, we have to start out talking about the WRs.
Here are my notes…
1) By halftime, I was getting a flood of messages about how terrible Diontae/Claypool are and how much the person hates them and some disliked me for even suggesting them…ever. In the 1st-half, the Steelers barely had the ball, and they were ineffective when they had it. Not much stats 1st-half, maybe one catch for either Diontae or Claypool.
In the 2nd-half, Ben had to step it up and suddenly we ended with double-digit targets for both Diontae/Claypool and solid PPR efforts in the end….and no one contacted me to apologize for any of the prior messages. Which is my normal life every week for about 4 months a year.
2) Chase Claypool (8-69-0/13) was open for a 51-yard TD pass that Ben threw to him on the money downfield, but CC got grabbed by the CB a bit to slow him down (no PI call) right before it landed and the ball ended up 2-3 inches away off his finger tips from an easy +11 fantasy points.
Claypool is a WR2 every week with strong WR1 upside in 2020 – and will be a star of stars for the future.
3) Diontae Johnson (6-77-0/10) was getting targets right out of the gate, 1st series, but he slipped while making a simple cut for his route and missed out on an easy pitch-and-catch designed throw. And then a disconnect the next throw…then a gap of time for the Steelers not having the ball or being effective with it. Diontae had little for stats early, but was getting looks right away -- but then when it got going 2nd-half Diontae was back to connecting with Ben. No worries here.
4) JuJu (6-93-1/7) had a section of the game where he was the open man/lesser covered and Ben went after it. JuJu got the TD and had a nice FF week, but he was also #3 in targets among the WRs. This is three nice weeks in a row for JuJu.
 -- If Ben Roethlisberger (29-42 for 306 yards, 3 TDs/0 INT) is out this week for COVID or due to his knee (which is being silenced by the COVID/lack of practicing)…who would Mason Rudolph throw the ball to more?
The good news is…it would be Rudolph vs. Cincy, so there would be hope for passing in general. We've not seen Rudolph for extended time with this trio, so who really knows? My guess is Rudolph has more time with Claypool than Diontae/JuJu this year…so there would be hope for Claypool, and Rudolph has time with Diontae from last season, so some familiarity there.
But Mason is NOT Ben…
 -- Garrett Gilbert (21-38 for 243 yards, 1 TD/1 INT) played a halfway decent game, and thus all the Dallas WRs were plausible for FF. I thought it might be the case…that Gilbert would not DiNucci the WR group.
I suspect Andy Dalton will slip right into the starting lineup Week 11, after this bye week. Dalton at MIN, in a dome, against a bad pass D…might not be too bad for all involved.
 -- Another week, another event where Tony Pollard (9-57-0, 1-1-0/2) looks better, fresher than Ezekiel Elliott (18-51-02-18-0/3).
Elliott is averaging 3.8 yards per carry this season, and Pollard 5.2.
Again, be careful getting too frisky with these 'backup looks better than the starter' notes/your observations watching the games – defensive calls/alignments change when Pollard is in vs. Elliott. Dallas is not changing off Elliott for Pollard…they're just giving Pollard more touches as they run the ball more to stay out of the passing game as much as they can so their 3rd/4th-string QBs are throwing less.
You should hold Pollard if you have Elliott, but don't anyone fantasize that an RB coup is coming. That's Zeke's backfield until he dies.
 -- Speaking of dead RBs…James Conner (9-22-0, 2-0-0/2) put up a real gem here. Conner's numbers continue to dwindle as the season wears on. The Steelers HAVE to move on from him in 2021, when he hits free agency. Nice guy. Great cancer recovery story. Mediocre lead running back.
Mike Tomlin will not make a change unless forced to…and 2021 Conner will be allowed to go to free agency. Then Tomlin will try to force a Bennie Snell (3-1-0) and Anthony McFarland (3-7-0) duo in 2021, I think…and maybe draft an RB as well.
The wave of the future, for strategy, depth, cost containment is to have 3-4 cheap RBs and don't give them big deals after their original deals run out after four seasons. Meaning…lot's more RBBC coming for FF. We'll not know what RB to trust going forward because teams will be adding more RBs through the draft and creating 'stables' not 'workhorses'.  
 -- Three IDP notes…
Dallas rookie CB Trevon Diggs (7 tackles) is out for probably the rest of the season…it's a shame because the Dallas D was starting to stabilize, and Diggs was a nice part of that stabilization. The Dallas D loses a step, again, with this key injury.
PIT rookie DE Alex Highsmith (3 tackles, 1.0 sack) is starting to play more and more snaps. I think he's impressed the team and is now in their plans for the future. One the better DE prospect, in my scouting, in the 2020 NFL Draft...and one of the nicest people you'd ever come across.
I don't know what laboratory PIT DT Henry Mondeaux (1 tackles, 1 TFL) was created in but it's scary. He's like a fire hydrant (with decent speed/get off) came to life in human form. Just a brick wall of a man. If you watch the Steelers games ahead…try and catch a glimpse. When I saw him in this game, I thought it was a movie character from like 'Longest Yard'. He's a freak. He's like a 1970s Steelers player came to life off an old football card.
Mondeaux was a solid DE at Oregon and went undrafted in 2018 and was with KC initially but the Steelers stole him and developed him and now he's playing 10-15 snaps as a D-Line, special teamer, and fullback blocker on goal line situations. He's something. Not sure if anything for FF, but for the NFL he has my attention.
Snap Counts of Interest:
47 = Zeke
23 = Pollard
63 = JuJu
59 = Diontae
56 = Claypool
13 = J Washington
32 = Conner
08 = McFarland
05 = Snell