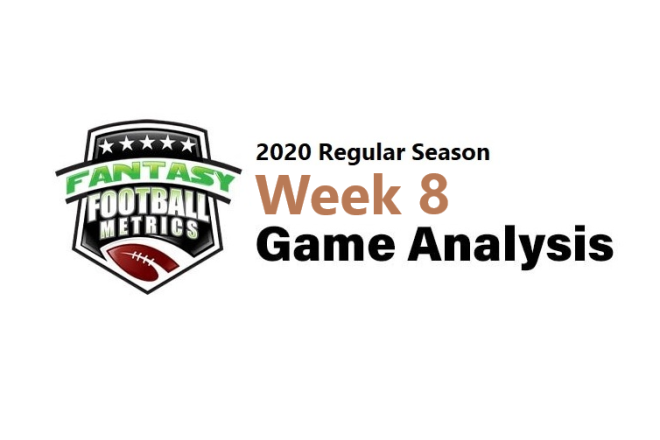 R.C. Fischer
FFM
06 November 2020
2020 Dynasty/Fantasy Week 8 Game Analysis: Saints 26, Bears 23 OT
I take notes during the live watch. I re-watch the game on tape looking for hidden clues to report on. Here are my notes/takes on what I saw and how it related to FF 2020. I write anywhere from 1,000-3,000+ words on each game, and I must move fast to get to all of them through the week…so, please forgive any typos/grammar.
The weather was ripe for a Bears upset…cold and windy, an anti-Brees/Saints type of weather. Chicago didn't look great but led 13-10 at the half. The Saints took a strong lead early 4th-quarter, 23-13, and then the Bears scrambled back to tie it on a 51-yard FG with 0:18 left in the game…and off to OT.
13+ minutes of OT later, the Saints got into FG range and hit the easy game winner…sneaking out of Chicago with a 26-23 win. It wasn't a masterpiece by either team but credit the Saints…they find a way to win these types of games.
The Saints are now (5-2) and head to Tampa for a huge road game for control of the NFC South vs. the Bucs. The Saints have a cake schedule the rest of the way, pretty much, so win or lose Week 9…they're going to the playoffs one way or the other. We project the Saints to lose Week 9 and finish with 9-10 wins…maybe 11 wins max. A top NFC wild card player.
The Bears kinda deserved to lose, in a sense that they're not very good…they are now (5-3)…a win here would have brought them to (6-2) and would have been an injustice to a 75% win-rate. This was a serious blow to the Bears' playoff chances. We see them getting 8-9 wins in the end, with a shot to steal a playoff spot. They would have been in great shape for a wild card with a win here, but now they're going to have to scramble and scuffle to get there. They might have 5-6-7 cold weather games from Week 10 on to help them…Chicago Bears type weather.
Fantasy Player Notes…
 -- I don't know why the following is important to me, but it kinda just jumped out at me…
The Saints aren't very good on defense…and there is no 'turn' coming. Marshon Lattimore is having his worst season in the NFL (he may be secretly hurt; he was really hurt earlier in the year). Lattimore used to be a shutdown now the QB rating against him is 109.0 with 62.2% of passes at him being completed.
Allen Robinson (6-87-1/7) having a normal good game for himself plus Nick Foles hitting on 28 of 41 passes for 272 yards, 2 TDs/1 INT, and leading the comeback late…in the cold and win…that's not like the Saints defense to allow such things. They haven't been good all year, and you thought maybe with a BYE week to prepare and heal they might turn upward like they usually do as the season wears on…but, nope.
They may be about to run into a buzzsaw Week 9 at Tampa Bay.
The potentially cold/non-passer friendly weather from Week 10 on…not great for ARob's upside, but hard to make such calls so far in advance.
 -- Part two of just how bad the Saints defense has become…
Anthony Miller (8-73-0/11) and Darnell Mooney (5-69-1/6) put up big games as well. Usually, the Bears feed ARob and everyone else gets scraps and it's painful to watch them try to get anything to Mooney or Miller in games, but in this game…no problemo.
By passer rating, the Saints are the 4th worst pass defense in the NFL…a blip from being #2 to only the Texans. Something is wrong with the Saints defense.
…and it's not the beginning of a breakout for Anthony Miller.
 -- After a very quiet season for a (very high priced) special weapon they've barely used, Taysom Hill (5-35-0, 2-30-1/2) ran the ball a season high 5 times, for a season high 35 yards. He also caught his first TD pass of the year (after catching 6 last season).
Just noting…
Last year, Hill was lightly used then once he caught some fire and he was productive for several weeks late last year. Not saying it will happen now…but just noting it.
Also, if Brees is having some issues…what better way to take some stress off than more Hill work at QB in-game? And this week against the Bucs, Sean Payton needs to throw all he's got at them…and Hill is usually the X-factor guy.
 -- The other Saints TE…Jared Cook (5-51-1/7) has caught 4 TDs in his last 5 regular games. Which makes 13 TDs in his last 16 games as a Saint.
In his last 16 regular season games, Travis Kelce has 12 TDs.
George Kittle's last 16 games…6 TDs.
Don't go by all this too fast. Stop and think of that…it's almost like it's an error/typo. I know it feels like it because (if) you have Cook – you still think you have issues at TE, right?
 -- In Saints SAF Chauncey Gardner-Johnson's (9 tackles, 2 TFLs) last five games he's averaged 5.5 tackles per game as he settles in as the Saints starting safety.
Saints DE Marcus Davenport (4 tackles, 0.5 sacks, 2 QB hits) has been back for three games this season, and he has at least one QB hit in every game…5 QB hits total.
 -- We are seeing the Saints-DST is weak, but what about the Bears?
I've been suspect of just how good they are too. They've been strong early in the season…but the schedule has been a bit flimsy. The last two weeks, the Rams and Saints have had little issue with them.
In the cold and wind, they allowed Brees to throw for 75%+ completions, 280 yards, 2 TDs with no picks…and the Saints ran for 122 yards here.
Snap Counts of Interest:
68 = ARob
65 = Mooney
53 = Miller
64 = Juwan Johnson
58 = Tre'Quan Smith
39 = Deonte Harris
40 = JCook
16 = Trautman
14 = Taysom