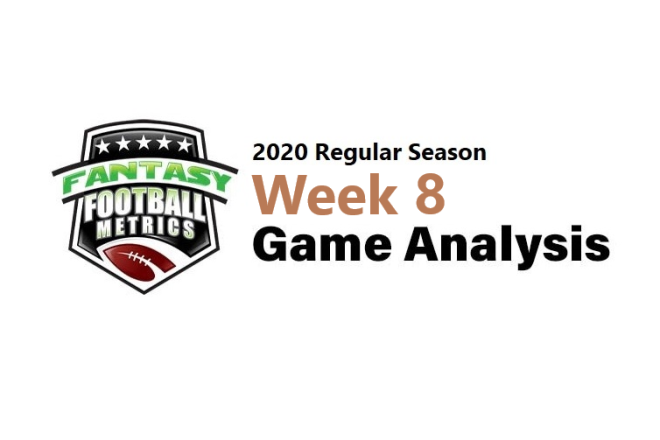 R.C. Fischer
FFM
03 November 2020
2020 Dynasty/Fantasy Week 8 Game Analysis: Steelers 28, Ravens 24
I take notes during the live watch. I re-watch the game on tape looking for hidden clues to report on. Here are my notes/takes on what I saw and how it related to FF 2020. I write anywhere from 1,000-3,000+ words on each game, and I must move fast to get to all of them through the week…so, please forgive any typos/grammar.
I wrote myself six notes about this game, after watching it live then re-watching it again Monday…
1) Baltimore was the better team here.
Nothing against the Steelers, they won…they earned it, they're good. The Ravens gave the Steelers points on turnovers, including a quick lead to take all the momentum immediately. After that early pick-six, the Steelers were jumping around like they hit the lottery. The Ravens were moping around like a bunch of fantasy owners who owned Lamar and were facing the Steelers-DST on the play.
Despite the initial good vibe boost…after that early pick-six, the Ravens won the rest of the game 24-21…the Ravens also ended the game driving for a late game winning score but ran out of time in the red zone. After the pick-six to start the game…the Ravens went right down and scored to tie it 7-7, and then got the ball back and drove right down the field again to score, but fumbled 3-yards away from paydirt. It was one of those kinds of games…
The Ravens have some issues, but they looked like the better/more 'team to fear' here…to me. Which I didn't think I was going to see on the rewatch.
2) Lamar Jackson cost them the game.
You take the good with the bad…and the bad is – he's not Patrick Mahomes, and he never will be. He's going to win a lot of games and make a lot of cool plays but he is a lot like Cam Newton…there's a 'dark side' to this play – he can be selfish (keeping the ball to run near the goal line too much because he wants the TDs) and he's a bad passer in tight/tough situations. You can win a Super Bowl with him, but there will probably be more falling short than not in tough games.
3) Chase Claypool is going to be star.
I've already been saying this all year. Just wanted to reconfirm…superstar in the making.
4) J.K. Dobbins is going to be a star.
I've been pro-JKD all year too. More on this in the player section.
5) Ravens CB Jimmy Smith is a star.
He totally wiped out Diontae Johnson. It wasn't any injury…it was mostly Jimmy Smith.
6) We should worry a bit about Ravens things going forward…
They just lost top OL Ronnie Stanley for the season…that might take this team from very, very good to very good. That's a huge hit.
The Ravens are now (5-2)…and I suspect you don't want to be the happy-go-lucky Colts Week 9 when they face the wrath of the Ravens. We could see the Ravens mow down a tough-ish schedule the next 4 weeks (at IND, at NE, TEN, at PIT) and jump to (9-2) and then win out against a super-easy schedule the rest of 2020 after Week 12 at PIT Thanksgiving Night. A nine-game win streak is possible, but they'll probably trip up somewhere along the way and finish with 12-13 wins and push the Steelers for the AFC North in the end.
The Steelers have the current upper hand on the Ravens with a (7-0) record and a win booked on the Ravens, at Baltimore. The Steelers easy schedule stretch is ahead, and then it turns tougher when the Ravens turns easier post Week 12/the Thanksgiving game. We see the Steelers with 13-14 wins at this rate…a fight to the finish with the Ravens for the AFC North title.
Fantasy Player Notes…
 -- What happened to Diontae Johnson (1-6-0/3)? He got hurt and left the game for a bit, but still led all Steelers WRs in snaps with 41 (77%)…in fact, all three starting WRs played 41 snaps. It wasn't a missing time thing.
It was simply…Ravens CB Jimmy Smith took him out. As good a game of coverage as you'll see, and Smith is already a known excellent cover corner. Smith has allowed 12 completions all year on his WR…for 72 yards and no TDs. QBs are completing 48.0% of their passes against him for a 54.6 QB rating. Smith is a low-key NFL MVP/Defensive Player of the Year discussion. Ben knew it…he was barely looking towards Diontae when Smith was on him, which was most of the game. The Ravens have excellent coverage with all three of their CBs, and Ben was doing little against them until the 2nd-half. JuJu (7-67-0/8) started getting weakest coverage and Ben started going there late.
When in trouble, Ben was looking for Chase Claypool (5-42-1/9) but he fought top notch coverage as well. The couple shots Ben took deep was to Claypool and they weren't close to being open. Ben started forcing it a bit to Claypool and he started working 2nd-half too. Diontae was getting open at times too, but it looked like Ben had written him off for the Jimmy Smith factor.
We've seen Diontae blow people away in 2020. We've seen the Ravens shutdown all passers except Patrick Mahomes and allowed mild garbage time to two other teams in blowouts. The simple answer is, for Diontae, he got taken out by great coverage and Ben didn't force it. The Ravens haven't allowed over 215 yards passing to a QB in their last three games (Burrow, Wentz, Ben).
I'm not scared off of Diontae for FF, but I will be Week 12 v. BAL. I won't be Weeks 9-10-11 vs. DAL-CIN-JAX, a super-juicy stretch ahead…or pretty much the rest of the season besides Week 12 v. BAL. He's a WR1-1.5 projection every non-bad matchup week.
Same for Chase Claypool, I wasn't scared off by Week 7's lower output game…he's a solid WR2 with mega-upside week-to-week, which means he will have games with low output. All WRs, spare 2-3 of them, aren't dropping 20+ PPR points every week. Claypool led the Steelers with 9 targets and one target negated for penalty.
JuJu is the random #3 option who might have good games or might not…depends upon what Ben wants. Ben has shown all 2020…Diontae is his fave (but Smith took that away this game), Claypool is his other fave, and JuJu is a nice guy to have as an option.
We're so hanging on every play by 'our' players that when they have a bad game, by whatever means, we want to fire them – like Diontae after this game. Where are we going to go? Who is always amazing that you're going to acquire simply? Going to make a clever, cheap trade for Davante Adams today?
We 'feel' about our fantasy players like when you coach your kids in a youth sport…you're harder on your own kids. Why? Because you watch everything they do and hold them to a higher standard. If someone else's kid is picking flowers in the outfield, you speak kindly and try to get their attention. If your kid makes a mental error, at age 6-17, you might yell and/or pull them aside and go through things exaggeratedly or heated to 'fix them'. You saw what they did on the field of play because you watch your own kid like a hawk and overanalyze them after and make it unfun (but didn't mean to…you think you're helping!)– same treatment for your FF players. They are like your own kids, they really are. Pride of ownership. You're often just like a helicopter parent of your FF-children – too high of expectations, too critical, too micro analyzing because you watch every single play with baited breath and they always disappoint (because they don't score a TD every play)…and it seems like 'everyone else's kids/FF players are doing so much better than yours'…then you start trading too fast in frustration to teach them a lesson and you spiral down the rabbit hole chasing a satisfaction that doesn't exist. There is no playing Fantasy Football without pain, regret, disappointment, bad matchups, rain, wind, bad schedule, injuries, etc.
Don't be so hard on your kids… https://youtu.be/CFl4Yse0xuI
 -- I'm a little more worried that Ben Roethlisberger (21-32 for 182 yards, 2 TDs/0 INTs) is evolving into a different type of QB and is more safe and not high-flying like he used to be…more than I am worried Diontae and Claypool aren't really, really good at football.
All this WR firepower and he has one passing game over 270+ yards in a game this season. Four of his last five games have been under 240 passing yards – but he's hitting the TDs…2.1 passing TDs per game. He's turning into Ryan Tannehill minus the running ability.
Trying to predict where the heavy tally might go week-to-week could be a little maddening ahead, but the points are there so you just start the Pitt-duo (except against BAL) and just roll with the more highs than lows.
 -- I'm worried about Lamar Jackson (13-28 for 208 yards, 2 TDs/2 INTs, 16-65-0) because he hasn't gone off in FF scoring anywhere like last year, but I have a feeling he's about to start with some momentum/higher-level production.
He's run the ball for 50+ yards in four of his last 5 games. The only time he didn't is when they were manhandling the Bengals. Lamar cools his jets when they are rocking opponents, but the schedule ahead should have him pushing for offense and raiding his FF tallies as he goes.
Not my favorite NFL QB, but for fantasy…he might be on the verge of a nice 'run' the next few weeks.
He lost a TD potential (pass or run) on a fumble near the goal line early in this game. He also had a sweet 20-yard TD run called back on a penalty. He also was stopped near the goal line a few times trying to run it in. He was close to some sweeter FF numbers this game.
 -- Here's what I think is going to happen to the Ravens backfield ahead…
This loss, the KC loss, the almost inexplicable late loss the Eagles – I think John Harbaugh is about to make some changes for the road ahead. His team has to change. It has to get better…just like when they pulled the plug on Joe Flacco for Lamar Jackson…it was uncomfortable for many of us at the time. The old guard doesn't get a ceremony and 21-gun salute…change just happens. It's football.
With that, I gotta think Harbaugh knows the Ravens are not going to scare anyone with Mark Ingram as the lead back. The juice, the player to fear on the Ravens backfield is J.K. Dobbins (15-113-0, 1-8-0/2). In his first real heavy action as a pro, Dobbins ran for 7.5 yards per carry and 100+ yards against the highly rated Steelers run defense. He ran tough, he ran smart. He's the most dangerous non-Lamar they have. I think you'll see Dobbins leading the backfield more times than not the rest of this season…and then just slowly become the lead starter in short order – Harbaugh may use this performance vs. the Steelers to announce it this week.
And might I add three things…
1) Dobbins is running the ball better than Clyde Edwards-Helaire, Jonathan Taylor, D'Andre Swift, or Cam Akers this year/right now. He may end up the best runner of the group in the end, but I think Taylor will have his say over time.
2) It's going to be sometimes disappointing in PPR because Lamar doesn't toss it to the backs often.
3) But Dobbins might make up for that with several 150+ yards rushing games with several long plays. The set up is sitting there waiting for the Ravens to activate it more – Lamar runs to the outside and defensive ends freeze, start drifting outside to contain him and they leave WIDE OPEN gaps off tackle to run through because of FOL (Fear of Lamar)…and Dobbins can hit this better than Gus or Mark. Some huge plays and rushing tallies coming once they change it over to JKD as the lead.
Could be this week…could be in 2021. Who knows the minds of NFL head coaches?
Gus Edwards (16-87-1) is a solid supporting cast member, not the lead the Ravens need.
 -- Here's what I think MIGHT happen to the Ravens WR group going forward…
I think there's a growing issue with Marquise Brown (1-3-1/3) and Jason Katz spoke of it on our Sunday Morning Q&A – Brown is not a true #1, he's Henry Ruggs/Mecole Hardman/DeSean Jackson. I think the additional piece to that is – I think 'Hollywood' has all of Antonio Brown's attitude and none of his production/skills to go with at this point.
There's a reason Baltimore drafted Devin Duvernay and James Proche this past draft…two anti-Hollywood's.
There's a reason Baltimore is entertaining Dez Bryant on their practice squad but didn't chase Antonio Brown. There's probably going to be a reason why they are going to trade for a legit WR from somewhere on trade deadline day.
The reason is 'trouble' (attitude, durability, etc.) with Marquise Brown. I would not be surprised if they traded Brown before the deadline in order to get a veteran WR…or, now, and Offensive Tackle.
I think Harbaugh trusts Duvernay more than Brown already, and he may realize he needs to separate Brown from Lamar, for Lamar's own good…but Lamar is going to pout about it.
Also, Harbaugh is desperate to add another TE too…not a great sign for Mark Andrews (3-32-0/6) upside. I'd like to see Evan Engram to the Ravens…
 -- The Ravens have the #1 DST in FF PPG in most scoring formats. Their schedule is AMAZING the rest of the way. They may go wire-to-wire at the top from here.
The Steelers-DST is top 5 as well, but some of that is their huge game vs. CLE a couple weeks ago. They're still nice otherwise but not as good as people think. They've allowed 24 or more points to opponents in three of their last 4 games.
However, the Steelers schedule is pretty hot the rest of the way too. They'll finish top 5 among DSTs in the end, I'd project.
Snap Counts of Interest:
41 = Diontae
41 = Claypool
41 = JuJu
31 = J Conner
08 = J Samuels
01 = McFarland
54 = JK Dobbins
26 = Gus Edwards
77 = Mq Brown
59 = Snead
37 = Duvernay
33 = Boykin
03 = Proche