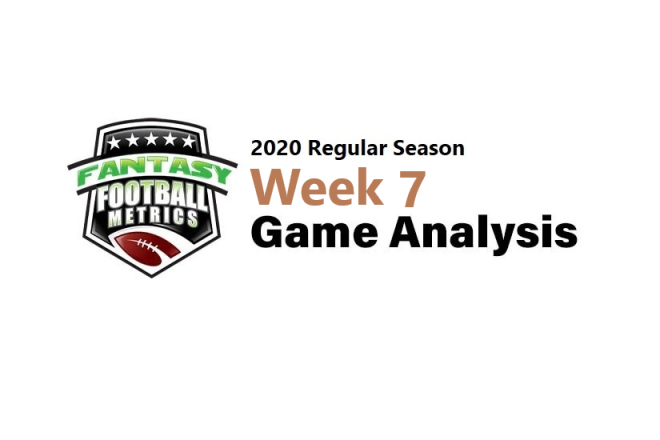 R.C. Fischer
FFM
03 December 2020
2020 Dynasty/Fantasy Week 7 Game Analysis: Steelers 19, Ravens 14
I take notes during the live watch. I re-watch the game on tape looking for hidden clues to report on. Here are my notes/takes on what I saw and how it related to FF 2020. I write anywhere from 1,000-3,000+ words on each game, and I must move fast to get to all of them through the week…so, please forgive any typos/grammar.
We waited a week…to watch this game? Yeeesh.
We had to put up with all histrionics of all the rescheduling, and who that was and wasn't fair for. We had to hear, from some, the decrying of the NFL as some monster for trying to play this game with their 'basically everyone is gonna die' mentality. Maybe it's true…but the players are exercising their free will – if everyone reading this were an NFL player, 99.9% of us would play…we would want to play…so, why is the 'NFL' such a monster for trying to play the games? COVID exists. The teams know the rules. The teams know it could randomly happen. You just have to adjust.
We all waded through the noise and rescheduling…and then most of us got interested in the novelty of a midday Wednesday game. We were giddy in the morning, ready to partake in an afternoon delight…when we were supposed to be (air quotes) 'working'. What a fun Wednesday!
…and they delivered us a bunch of turnovers, a bunch of drops, a bunch of 2-yard passes, and a no real 'wow' fantasy player production…aside from the Steelers-DST and Marquise Brown (who no one started) on a busted play late.
Football in the afternoon midweek just felt weird. Like when they tried to sell green-colored ketchup a few years ago. Yeah, I know it's the same everything on taste, consistency… just its just it's green -- but I'm still not comfortable with it. I've been classically conditioned that red ketchup tastes better/normal. 4pm football is to be played on Sundays…not Wednesdays.
This game was muddling along…a defensive score to break the ice by Pittsburgh, but then Baltimore answering back to make 7-6 at the end of the 1st-quarter. The game turned when Ravens CB Jimmy Smith got hurt in the 2nd-quarter…forcing the Ravens to play with another arm tied behind their backs and the Steelers dinked and dunked their way to a 19-7 lead. It seemed over…and then Pittsburgh's secondary blew a tackle and let Marquise Brown turn a 10+ yard pass into a 70-yard TD scamper. The Ravens couldn't hold off the Steelers final drive (they almost did) and the clock ran out on the Ravens. Steelers win, unimpressively, 19-14.
After the game, Mike Tomlin called the Steelers effort 'really junior varsity' – and that's my thought on the whole game. Not because of the rosters or COVID or lack of practice…we've seen teams lose practice time to COVID issues this year -- and then go out and play better than they have all season. This was just a sloppy game…that the players may have been thrown off their internal clocks playing a game on a Wednesday. Who knows?
Pittsburgh stays undefeated (11-0) and all but has the AFC North locked up…there's no way Cleveland is catching them. They are bearing down on the #1 seed in the AFC which is tremendously important in 2020. I think the Steelers will fall to Buffalo Week 14…and then things get interesting between them and KC trying to get to the #1 seed.
Baltimore has lost four of their last 5 games to fall to (6-5). They are better than that, but they've dealt with key injuries, COVID, bad weather games. Given their schedule, and their situation leading up to this – we might see the Ravens go on a tear and win their last five games in-a-row and go into the playoffs hot. We see them doing just that…finishing (11-5) if Lamar stays healthy…(10-6) worst case. Either way…the Ravens will be in the playoffs.
Fantasy Player Notes…
 -- The Steelers WR report…
1) Diontae Johnson (8-46-0/13) had two bad drops…one that might have been a TD (early in the game) and another drop late in the game for a 20+ yard gain wiped away. It wasn't a good look for Diontae, but he was otherwise fine the rest of the night.
I hate 'drops' too…and when it's your fantasy guy, you can feel the points being stolen – but we also will so lord over our own 'kids' watching these games and thus their mistakes are magnified and blown up into major mental anguish. I had some folks emailing me in-game and post-game asking me if it was time to sell Diontae because of his bad drops problem because he dropped 4-5 passes in the game. I'm like…I need to watch the tape, because I didn't see that many drops – and I did re-watch, and there weren't 4-5 drops. But because we're so close to the action, we tend to remember it that way.
When Diontae caught that 30+ yard pass by adjusting/leaping up and catching it but then the DB swatted his arm down through the ball while they were coming down to the ground and it get knocked loose for an incomplete – that's not a 'drop'. It was almost a sweet catch (but a great move by the covering CB)  and we're disappointed, but it's not a 'drop'.
Diontae has had easy catch gaffes a bunch this season…a 'bunch' to me, because I'm always watching him intently. He's had like 5-6-7 times this season where he's had a simple pitch-and-catch and he takes his eyes away and misses the passes and looks stupid. I hope a coach steps in and helps 'remind' (needles/punishes) him of this – because I think Diontae is getting a bit full of himself with all these targets but he should work less on dance moves after big plays and more on playing sound football.
Diontae could be great…he could also get a big head and settle for just 'good' instead. Ben keeps feeding him, so the monster is getting fed. I don't know how serious he is on being great, as I watch his every move this season. I know he's really good. I want great.
Diontae was once again being shutout by the Ravens' CBs, and then Jimmy Smith got hurt and left the game…AND THEN Diontae started getting all those targets. Diontae is getting 'A+' targeting but being a 'B' WR with them, to my eyes. Drops, etc., hasn't been an issue in years past (back to college), so I think it can be fixed/tweaked…but it's probably a boot in the ass fix more than anything else. Tomlin, I think may let him have it this week…he was not happy after the game.
2) Chase Claypool (6-52-0/9) – not sure why Claypool wasn't in the game as much as he usually is…he was noticeably out for whole serieses late 2nd-half. We'll have to see if that was due to being banged up…or if it was some rookie disciplining for something.
3) James Washington (2-19-0/3) – made a huge catch on the final drive to essentially help put the game away…a floated pass between three defenders and JW went up and snatched it away. Just a reminder, for Dynasty…Washington is going to be a starter in 2021, if you assume the Steelers let JuJu walk in free agency, which I think they will.
JuJu has put up good numbers as Diontae-Claypool have gone off…Washington could be in line for some nice numbers in 2021 as part of the trio.
 -- Ben Roethlisberger (36-51 for 266 yards, 1 TD/1 INT) is getting rid of the ball quickly…so said Cris Collinsworth 10,000 times during the game.
Three things about that…
1) 51 passes for 266 yards here…why is it when Alex Smith does stuff like this we castigate him as a 'dink and dunk' QB, but we don't brand Ben negatively with this? We sing the praises of it.
The bottom five QBs in yards per attempt in 2020 to date:
#32) Foles 9.2
#31) Roethlisberger 9.6
#30) Darnold 9.7
#29) Alex Smith 10.0
#28) Brees 10.0
Ben is 5th in the NFL TD passes…so, does yards per attempt really matter/tell us anything?
2) I think some of this short passing game has them using it as a quasi-replacement for the weak Steelers backfield/run game.
3) All these factors/realities…it means lots of short/quick pass attempts – Ben is #2 in pass attempts in the NFL (Brady #1). This is all good for PPR for Diontae Johnson's game…the quick little slants, drags, bubbles, etc.
I don't see Ben quick-passing changing ahead.
 -- Lamar Jackson (DNP) hasn't had a great follow up season to his 2019 MVP campaign – but the next 5 games he could finish on a high note with DAL-CLE-JAX-NYG-CIN.
 -- I thought Lamar might finish stronger and be using Dez Bryant (0-0-0/2) as part of the solution going forward…after Dez showed he was the most talented WR on the Ravens Week 11.
Which, of course, meant Dez saw just two targets in a critical, undermanned game here.
Why did they even sign him and elevate him to the main roster?
What were they watching when he showed his skills in Week 11?
I got the message… When in doubt, assume NFL teams will stick with what they do/are comfortable with…even if they keep losing with it.
That's where Pittsburgh deserves huge credit…most teams would have buried Chase Claypool all season. Not the Steelers. It took them 3-4 games to realize he's the best WR they have on the team and they moved him to a featured role.
 -- Speaking of buried players, Justice Hill (9-35-0, 2-5-0/2) was let out of his cage for the first time…and he looked solid. Joining the Ravens, in this offense, has all but killed his career. He's been forgotten through no fault of his own. He doesn't fit this offense at all…and yet he just gets stuck with this team until his contract ends.
No one will trade for him because the only mismanagement worse than head coaches not knowing their talent on the roster are the GMs petrified to make a trade in the NFL for fear it will be 'wrong'. Now, Hill is 'old news', so no one cares in the league.
 -- What a schedule ahead for the Ravens-DST: Dalton, Baker, Glennon, Dan Jones, Br Allen to finish the season.
It's not bad for the Steelers either: A. Smith, Josh Allen, Br Allen, Rivers, Baker. The Steelers-DST has been great all year but I'd rather have the Ravens-DST from here on in…and if you're locked in with the Steelers-DST – you gotta consider a Week 14 replacement for at Buffalo, if a viable option presents itself. Maybe the weather conditions help roll with the Steelers-DST there, we'll see.
*Shopping Online with Amazon this Holiday Season? Who isn't?
Did you know if you click through the Amazon link from the FFM homepage (our partners/shop with us area) it doesn't change your online shopping experience or cost you any money but somehow the big brother technology credits FFM with helping with the sale and we gets some of Jeff Bezos's scraps from his solid gold dinner table to help support the FFM efforts and fund our own future technology improvements? It's one click away, nothing else needed or to register. Thank you for your consideration!
Special Link to Amazon main page: https://www.amazon.com/?&_encoding=UTF8&tag=tfawesbite11-20&linkCode=ur2&linkId=44051c116edf4a75e87f1aae12955357&camp=1789&creative=9325
Snap Counts of Interest:
28 = Edwards
26 = J Hill
67 = JuJu
65 = Diontae
45 = Claypool
24 = J Wash