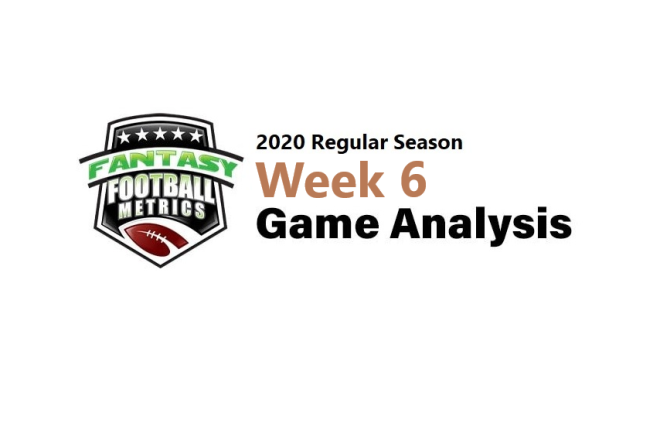 R.C. Fischer
FFM
26 November 2020
2020 Dynasty/Fantasy Week 6 Game Analysis: Broncos 20, Dolphins 13
I take notes during the live watch. I re-watch the game on tape looking for hidden clues to report on. Here are my notes/takes on what I saw and how it related to FF 2020. I write anywhere from 1,000-3,000+ words on each game, and I must move fast to get to all of them through the week…so, please forgive any typos/grammar.
The blueprint for beating Miami…get a lead and try and make hapless Tua Tagovailoa try and close the gap/take the lead back. Basically, if Miami's defense doesn't get turnovers and set up Tua in great field position and/or just add defensive scores…Miami is likely going to lose.
The same can be said for the Broncos. In fact, watching this game – I felt like I was watching the two worst starting quarterbacks in the NFL. At least one head coach in this game agreed with me, as Brian Flores benched his starter it was so bad. Uhhh, I mean he was injured (wink-wink).
Drew Lock was bad, but Denver ran the ball well and took the lead and just held it from the 2nd-quarter on. In fact, Denver was heading in for a TD with 5+ minutes remaining, which would have given them a 14 point lead, but Melvin Gordon fumbled as he was struggling to cross the goal line and Miami got the key turnover to get one last shot/drive…with Ryan Fitzpatrick.
Fitzpatrick did drive it all the way down the field, but with 15 yards to go, Fitz tried to fit one I to DeVante Parker, but it got picked and…ball game. Fitz provided the only competent QB play in this game. It's so obvious both of these guys (Tua and Lock) are not legit NFL starters that will be winning QBs…but Tua was named starter again for Week 12 because Brian Flores is insane picking offensive players to do things.
Miami stumbles to (6-4) and the public is left with a lot of questions… is Tua the one who should start? Why did the media lie about Tua for the past few weeks (…on how well he was supposedly playing) and why did they all lie for years about him (easy answer = he played at Alabama, and that's good enough scouting so the national analysts can go workout at the gym for hours and/or go to expensive dinners out with their giant paychecks for their football analysis…anything but put real time into studying the game and it's players). I don't mean that jab as a class envy thing – I mean that as a jab at how little effort they put into something that everyone unwaveringly trusts them for.
Listening to a national analyst discuss football talent is like taking a car to a mechanic who has never really worked on a car or studied auto mechanics before, but they have driven a car a lot…so, good enough.
Miami has two layups ahead…at NYJ and CIN. They should get to (8-4) and then problems arise on the schedule: KC, NE, at LV, at BUF. (8-8) is possible for Miami, but they should get to (9-7) and have a chance at the playoffs…and then I would assume it would be because of a move back to Ryan Fitz that they got a shot at the wild card.
Denver is now (4-6) but their schedule is about to crush them to a possible six-game losing streak to end the season. They probably steal a game and go (5-11) and contemplate their QB and head coach…maybe.
Fantasy Player Notes…
 -- As previously mentioned, what a terrible game of QB play. If I had to pick one of these guys for my NFL team, I'd go with Tua (11-20 for 83 yards, 1 TD/0 INT) because he isn't as apt to throw constant turnovers. However, Tua doesn't create any offense wither…so, I better get a lead and sit on it with Tua. Lock is more likely to make a play to get his team down the field but that is very few and far between. Mostly, Lock just throws to the other team.
For the season, 7 TD passes and 11 INTs for Lock in 7 full games played. That's embarrassing in this era. He's not getting better, not even close. He cannot read/see the defenses or coverage and he throws right into danger constantly.
Tua has the opposite issue. He has an offense designed for him that is high school simplistic to keep him out of having to make real throws. In a 0-10 yards passing zone/range, Tua can work – but teams are already figuring this out and are also coming after his constant roll out to his left, as I predicted would happen…and he simply cannot sit in the pocket and make throws longer than 5-10 yards with any confidence. He has poor arm strength and doesn't process things fast enough for the NFL…he had much more time to throw/process at Alabama.
Both of these guys are frauds.
The best single throw in this game between them was, I swear this to be the truth, was the last play with seconds remaining and Drew Lock just heaved it deep to get it incomplete but the air time would allow the clock to expire. However, Tim Patrick was going deep and kept sprinting after it and somehow caught up to the pass. Even Drew Lock was shocked.
It was a 61-yard completion. Had that not occurred, these two guys would have combined for 292 yards passing and a little over 55%+ Completion Percentage.
It's possible Tua misses Week 12 with "an injury" and that provides cover for Flores to start Fitz. That would help DeVante Parker (6-61-1/9) for fantasy greatly.
 -- So, with that -- take note…the fact that Tim Patrick (5-119-0/8) had a 119 yard day…61 of it was nonsense at the end. His real activity was 4-57-0/7.
 -- Speaking of terrible… How is it that Salvon Ahmed (12-43-0, 5-31-0/6) is a 'pushed' starting RB in the NFL, a main carry guy with good targets for an NFL team…and Phillip Lindsay (16-82-0) splits time with Melvin Gordon (15-84-2) and doesn't get any passes throw his way in games ever?
Lindsay is the best runner that was on the field this day, and the best RB receiver as well…and for all that, he's an ignored split role/backup type RB.
You wonder why Denver is so bad…it's more than just awful Drew Lock.
I want to get more excited by Lindsay for FF, but how can you when he gets no TDs or targets?
 -- Miami rookie UDFA Malcolm Perry (3-23-0/5) is a former top running-QB for the Navy Wishbone system, turned WR/RB for the NFL.
Perry is the perfect Brian Flores guy…limited talent, but a yes, sir/no, sir football captain at Navy – Flores likes to play underdog grinders who have limited talent. It's going to catch up to him. It's going to keep them out of the playoffs if he's not careful.
Perry is working towards becoming a starter as a slot WR now. 78% of the snaps played this game. 2.5 rec., 22.0 yards, 0.0 TDs per game the last two games play more snaps/getting more touches.
Perry is limited, as is Tua…so, this won't matter much for FF…except Tua can only throw in the range a guy like Perry will be in. So, you might get a few 6-7 catch, 40-50 yards games with no TDs pop up between them.
 -- Denver TD DeShawn Williams (3 tackles, 2.0 sacks) had two sacks in this game, and I was like…who is this? Not because he was so good, but because I wanted to know more…I was literally like – who is this? I don't even know/remember him?
He had two sacks but they were more 'in the neighborhood' type sacks. Nothing to see here for IDP, I don't believe.
 -- The Miami-DST is a gift that continues to give. Not only do they have the Jets this week, but now the Week 13 Cincinnati game looks 10x better without Burrow. You can use Miami Weeks 12-13, and 15. You gotta find a DST for Week 14 (KC) and Week 16 (LV).
YTD the Dolphins-DST is #4 in DST PPG.
Since Week 4, they are #2 in PPG behind the Steelers.
Snap Counts of Interest:
49 = Fant
41 = Vannett
20 = Fumagalli
63 = D Parker
55 = JK Grant
51 = M Perry
43 = Ahmed
17 = Laird
07 = Breida