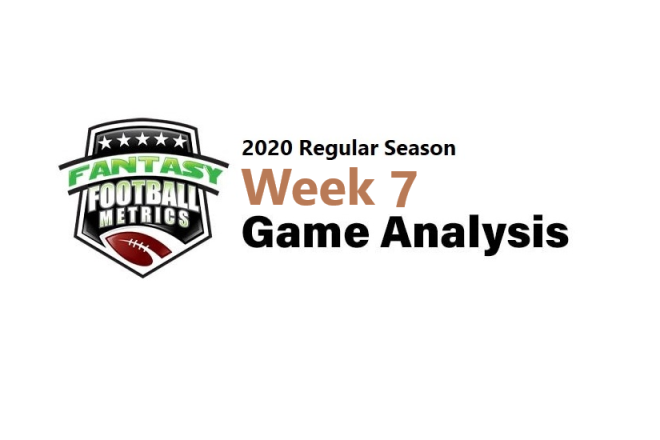 R.C. Fischer
FFM
27 October 2020
2020 Dynasty/Fantasy Week 7: Game Analysis: Steelers 27, Titans 24
I take notes during the live watch. I re-watch the game on tape looking for hidden clues to report on. Here are my notes/takes on what I saw and how it related to FF 2020. I write anywhere from 1,000-3,000+ words on each game, and I have to move fast to get to all of them through the week…so, please forgive any typos/grammar.
I know just about all anyone cares about from this game is Chase Claypool v. Diontae Johnson analysis…we'll get to that first thing in the player section.
As far as this game overview goes…it's weird. The Steelers got up 27-7 with 10 minutes left in the 3rd-quarter and were dominating. I kinda stopped watching the game during the seven-at-a-time viewing of the early games because I thought it was over. Slowly but surely Tennessee started creeping back into the game and shutting down the Steelers offense…and at the end, Tennessee was lining up for a game tying FG to go to overtime at the buzzer, and Stephen Gostkowski pulled it left…and...ball game.
The Steelers were dominant for 35 minutes, and then the Titans controlled things/stormed back the final 25 minutes. Really, the Steelers won the details of the game…72.2% on 3rd-downs and 37/23 minute time of possession hold. It visually felt like the Steelers were the better team, to me.
The Steelers are now (6-0)…and it hasn't been a picturesque (6-0)…but undefeated nonetheless. They head to a road game showdown with the Ravens this week…and the Steelers will either fall to 2nd-place with a loss or open up a two-game lead with a win and really have some control of the AFC North and a shot at a #1 seed. The Steelers are headed for 11-12 wins, maybe more…but that could be a divisional winner or a #1 wild card.
The Titans fall from the unbeatens (5-1) but still have the lead in the AFC South, and with a favorable schedule ahead the Titans should win 10-11 games and take the division – they're just better than Colts all-around, in my opinion, unless Gostkowski ruins them like Vinatieri did the Colts last year.
Fantasy Player Notes…
 -- It was so nice that the Chase Claypool (1-0-0/1) hype train hit into the side of a mountain, full speed, in Week 7. After 5 TDs his prior two weeks, which was nearly 7-8 TDs in that span…Claypool got one official target here. Thank you for your service, Chase…
Diontae Johnson (9-80-2/15) returns from his constant little injuries, forcing him to leave games early, and you would think that would be held against him or throttled back or time to re-integrate – but he doesn't miss a beat and is the star of the game…all while I guided everyone to not have to push him into lineups, so as to see what we were dealing with in this new Steelers WR configuration.  
Diontae has cost my season in some places, or just made it harder than it needed to be, by helping hand me three losses -- two times, in back-to-back weeks, he left the game one touch in with an injury and never returned…forcing my FF teams to play a man down right off the jump. Jeff Wilson gets hurt scoring his 3rd TD of a game…because I don't own Jeff Wilson. The guys I own all get injured one play in, leave me with a zero or negative score, and screw my FF-team for the week. This week, Diontae found a new way to screw me…having been burned by him for weeks, I decided to 'wait and see' how he'd integrate back in – so, he was often on my bench scoring an S-load of points while my starting Claypool thus took his zero to have me playing, essentially, a man down again due to a Steelers star WR.
Diontae and Claypool have been two of my best stories of 2020, when you stop and consider. Two elite talents/mega fantasy producers in games. Two guys we took middle/late in redrafts, Best Ball, stole in Dynasty drafts as bargains the past two years – two sensational football scouting wizardry, and yet…they have cost me more fantasy wins than any player I've had in 2020.
I hate myself in fantasy for what they've done. I can't even enjoy the real story – that we out-scouted the whole of fantasy with them, and outsmarted the NFL (on Claypool) with these tremendous bargain players who are future elites. I should be celebrating this, instead I want to strangle them and I'm getting all kinds of emails from people who lost the same way who are thinking I'm a fantasy idiot and questioning why they subscribed this year. I did my scouting job at an elite level, like no one else…and all it has done is cost me trust with my clients and myself, by helping force losses I shouldn't have taken.
Arguably my two greatest calls of 2020 are causing people to think I'm an idiot and questioning my football knowledge. You think your fantasy season has been difficult…
Welcome to Fantasy Football 2020.
What's worse is the question you have for me this week – what do we do with Claypool now?
I don't know.
What I do know is whatever I thought I knew about what to do with either of these guys in a given week is going to wind up to be the wrong thing. So, I'm going to give you my thought process on 'what now', but feel free to do the exact opposite…because if there is any fantasy trend that works in the Diontae/Claypool ecosystem – it's that whatever reasonable, expert opinion I have…the opposite will be true in that upcoming week's fantasy results.
My take on Diontae/Claypool/the Steelers' WRs:
I wondered, after this game, if Claypool just didn't play but like half the game and was treated as a backup…and that 'benching' forced this weak week. But…
Steeler WR snap counts:
65 = JuJu
59 = Diontae
51 = Claypool
18 = J Washington
As I suspected going into this week – James Washington was the odd man out. He has to be. Claypool is too good to sit.
So, Claypool is now a real starter. That's a great sign, puts my mind at ease. But why only 1 target?
Well, Claypool did have two other targets and a jet sweep…all negated by penalty. Not that having 3-4 touches in a game is amazing, but it's not 'one'.
From my vantage point watching this tape – Ben was really locked in on Diontae like Aaron Rodgers is with Davante Adams. Further helping the Ben-Diontae show here was the Titans playing back, almost in a zone and Ben playing easy pitch and catch with Diontae underneath wide-wide-wide open…which we love to see, for Diontae!!!
Diontae was working. JuJu was getting left alone/lesser coverages. Claypool got more attention. It was the right thing to do, mostly, for Ben. The first TD of this game (called back for penalty) was from the 1-yard line, Claypool came around for that insta-TD jet sweep, but they faked it and went the other way with James Conner. 3-4 defenders were rolling to Claypool in motion, others were stopped in their tracks…by the time they realized Conner was going the other way for an easy TD pass it was too late to get near him. Claypool is getting that attention now…good for him/the Steelers, bad for FF when he's a decoy.
Claypool is a starter for Pittsburgh…and that's a good thing. There's now a fear they just use him as a bit player all season now after what he just did the prior few weeks. Before Tyler Lockett caught 15 passes for 200 yards on 20 targets on SNF…he averaged 3.0 rec., 41.5 yards, 0.0 TDs per game the two games prior…and people we're giving up on him fearing D.K. Metcalf was stealing all the gold. Let's not let one game result define the future when there's cause to believe otherwise. It's not like we've not seen Claypool playing like a star.
Two WRs can co-exist for FF from the same team. And JuJu is the least talented member of their trio and was discussed as droppable by some before he had a good FF game here.
Also, if you own Diontae and Claypool, or just Diontae…and if you had Diontae on the bench this week…you should be rejoicing. Diontae is now more confirmed elite than most FF WRs. In the three games Diontae played start to finish this season, he's averaging:
7.7 rec. (12.7 targets), 76.3 yards, 1.0 TDs per game.
You know what that is in fantasy PPR terms? 21.0 FF PPG. You know where that would rank in 2020 among all WRs in PPR PPG? #3 overall.
#1 Davante Adams
#2 Tyler Lockett (after his Week 7/SNF)
#3 Diontae in his three full games.
I told you that he was the new A.B. last year, and wrote about it again weeks ago. And then you acquired or confidently started him because of me…just in time for his injury zeros and hated me for it. Now he just scored 29 PPR points in a game, and I advised to bench him with other options, and now I'm hated for that.
You have the next elite PPR WR in fantasy…and all I am getting/feeling is angst about it.
Welcome to Fantasy Football 2020.
I am 'buying' Chase Claypool stock in fantasy, and especially in Dynasty, today…where I find weak holders. Nothing is worse than getting a zero in fantasy…it negates+ the 4 TD week from two weeks prior (likely on their bench too). Last week, people were wanting to trade Diontae because he was injury prone and couldn't exist/thrive with Claypool as a new star. This week, Diontae is a star and Claypool might have just been lucky. That's how fast people's football mindset changes…which leads to rash, emotional deals.
When a fantasy player doesn't perform – they must be punished by their owners. I know this after a decade dealing with every walk of life in FF. Great performances are 'luck' and bad performances must be dealt with immediately, usually with sweeping statements how two WRs can't coexist, and Claypool won't be Ben's guy with Diontae there…and JuJu is back in Ben's graces, so it's even worse. Do we not remember Weeks 4-5-6 when Diontae was out? Ben going to Claypool like a star/like his #1…JuJu was still there and was a ghost in Claypool's wake. A one-week shift/event changes all of that now?
I know football greatness when I see it…and Claypool has it, so I'm buying…seeking those FF owners ready to punish Claypool for his high crimes of putting up a zero last week (doubly punished if Diontae was on the bench with it too). I want to trade with the Claypool owner who thinks CC was a flash in the pan and Week 7 is the new reality going forward.
I'm also not overpaying for it. I know people are mad and panicked, so I'm slyly going to come in the back door and rob them.
 -- Jonnu Smith (19-0/4) had a down game, so he must be punished by FF owners too. A down game and burning owners the week prior leaving early with an injury. This cannot stand. Heads will roll.
I'll buy your downtrodden Jonnu stock. I'm not paying a lot, but I know this…his current owner is steaming, and I want to take advantage of it.
I have a slight fear that A.J. Brown being back changes the flow a bit away from Jonnu, but Smith got 1-2 end zone shots this game. Just didn't connect. Jonnu doesn't look 100% either. Two down weeks, but after Week 5 he was the #3 fantasy TE in PPG. That ain't nuthin'?
Where I'm TE desperate, I'll look into seeing if I can get a cheap deal. You can have my Harrison Bryant or Michael Thomas last second pickup to be your TE.
 -- All these 'toys' for Ben (32-49 for 268 yards, 2 TDs/3 INTs) and he hasn't thrown for 270+ yards in a game but once this season. He has thrown for 2.1 TDs per game this year though, likely headed to a career high passing TD count neat/at/above 40 TDs – like about a half-a-dozen+ QBs are going to do this season.
 -- Ryan Tannehill (18-30 for 220 yards, 2 TDs/0 INT) continues to not disappoint.
He's not sexy but he is the #9 QB in FF PPG (4pts per pass TD), a slight tick behind Aaron Rodgers. If Tannehill had one more 10-yard run, he'd be 7th among QBs in FF PPG right now.
 -- Robert Spillane (3 tackles) did a nice job filling in for Devin Bush. However, he got hurt in this game…hurt on maybe the best hit of the 2020 season. On a goal-line play, the Titans (of course) ran up the middle with Derrick Henry. The O-Line parted the red sea and DH had a clear path to the end zone with Spillane staring him down in his way. Spillane took off like a bat out of hell/Bobby Boucher and met Henry both going full speed and he dropped Henry like a sack of potatoes. It looked cool, but Spillane about knocked himself out, got hurt, and left the game.
Spillane is going to be IDP good this year as a new starting ILB. I hope he's physically OK for Week 8.
 -- The Steelers-DST is showing some cracks. They squashed Cleveland Week 6 but in-between that Tannehill-Wentz pushed scoring/numbers on them. I don't know how great a play they are for Week 8 at Baltimore, but they've been good enough so far in 2020 to roll the dice with them and see.
Their schedule the rest of the year is pretty favorable. You can pretty much run them the rest of the season and have hope in a year of hopeless DSTs.
 -- The Titans-DST is an interesting case…
Top 12 in PPG allowed in the NFL, middle of the pack in yards, top 5 in turnovers, bottom 5 in sacks. Gave up a lot to the Steelers right away, but then shut them off and allowed a comeback to occur (nearly). They gave up a lot to Houston Week 6, but held high-flying Buffalo to a season low 16 points. Prior to that they allowed 30 and 30 to lowly Jacksonville and Minnesota…the results are all over the place with them, but I can say this: They have talent, they've missed some guys due to injury. When Adoree Jackson returns it's a boost.
If you can accept that the Titans DST is 'not bad', then the schedule ahead isn't the worst thing in the world…in an era of 'lacking' DSTs and people hoarding DSTs:
Week 8 = at CIN (YES, bad O-Line)
Week 9 = v. CHI (YES)
Week 10 = v. IND (YES)
Week 11 = at BAL (NO)
Week 12 = at IND (YES)
Week 13 = CLE (YES)
Week 14 = at JAX (YES)
Week 15 = DET (YES)
Last season, the Titans-DST was #8 in fantasy (Weeks 1-16). They have the same/better unit back this year. They play efficient football to hold time of possession to help their defense. Among the unclaimed DSTs in leagues…the Titans might be a trash that turns to a mild treasure. Maybe.
Snap Counts of Interest:
65 = JuJu
59 = Diontae
51 = Claypool
18 = J Washington