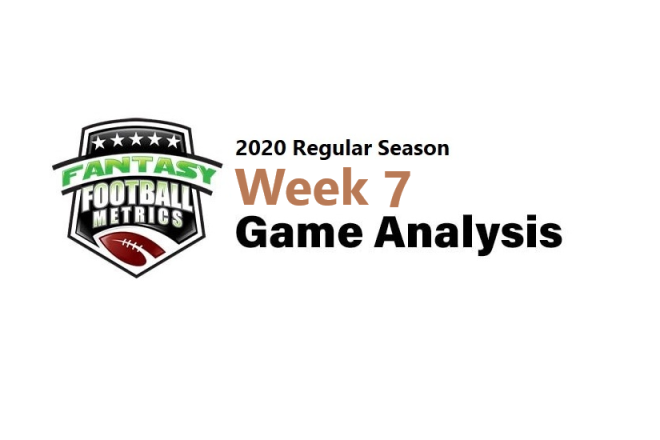 R.C. Fischer
FFM
29 October 2020
2020 Dynasty/Fantasy Week 7: Game Analysis: Chargers 39, Jaguars 29
I take notes during the live watch. I re-watch the game on tape looking for hidden clues to report on. Here are my notes/takes on what I saw and how it related to FF 2020. I write anywhere from 1,000-3,000+ words on each game, and I must move fast to get to all of them through the week…so, please forgive any typos/grammar.
This game was jaw dropping after re-watching what really happened.
The Chargers jumped out to a 16-0 lead and it felt like the Chargers were going to win 50+ to nothing. Right before the half, the Jags got some momentum and closed the game to 16-14 LAC by the half. Right out of halftime, the Jags blocked a punt and took it in for a TD and all of a sudden, the Jaguars were winning 21-16.
Justin Herbert was about to put the hammer down.
LAC scored a TD to take the lead back 22-21. The Jags scored in response to take the lead 29-22. Herbert came back with a 70-yard TD to tie it 29-29, then Herbert scored again to cap off a 20-point 3rd-quarter and take a lead they'd never relinquish. The Chargers won by 10 but felt like they were 100+ points better than the Jags. I'm not sure how Jacksonville stayed in this game so long.
The Chargers are (2-4) and are the best 2-win team in the NFL. Imagine if Herbert had started right away… LAC has two wins and 4 close losses they should've won. It's a potential (6-0) team masquerading as a (2-4) sad sack.
I bet against the Chargers winning 7.5 games this season – and I am thinking I'm going to lose that now. We see the Chargers getting to 8 wins now…with 9 possible, and 7 possible. Come on Anthony Lynn, save me!!
Jacksonville is done. Doug Marrone is trying to get fired but hasn't been able too yet. He's probably wondering what is taking so long. The team went all in on Gardner Minshew as their franchise QB for 2020, starting midway 2019…and six weeks into this season, Marrone is hinting about benching him. Yeah…Minshew is the problem. Got it.
If Minshew loses his job before Marrone, I'll never endorse Jacksonville for anything ever again.
The Jags are going to quit on Marrone, because he quit on Minshew…and Minshew is now going to quit on Marrone. If Minshew had pass protection he might really soar from here just doing what he wants racking numbers, but on every play it seems he's about to get sacked 2-3 steps into his 5-step drop every time now. 5.0 sacks, 9 QB hits for the Chargers this game. The Marrone Jaguars are 'finished'…New York Jets bad, or worse. They have the young talent but Marrone is killing it…like 2019. It's over.
Fantasy Player Notes…
 -- Just a quick note…Justin Herbert (27-43 for 347 yards, 3 TDs/0 INT, 9-66-1) continues to be the best rookie QB I've ever seen play his rookie season. Only Patrick Mahomes and maybe Russell Wilson are better NFL QBs right now/2020. Herbert is like fine art to watch play QB. He has it all.
Watching Herbert breeze through his rookie year with bad coaching…I'm starting to wonder if Tua is not as good as Burrow/Herbert, and he isn't, but that still might mean Tua is a top 15 QB in the NFL day one because the new age rookies are better than most all existing QBs instantly.
Anthony Lynn may beat 'it' out of him, but right now…as I've been saying since like Week 3…I've never seen anything like it/Herbert…not Baker's 1st0-year. Not Burrow, although he has been great. Definitely not Kyler's first year, which was promising.
 -- Gardner Minshew (14-27 for 173 yards, 2 TDs/0 INT, 4-21-0) pales by comparison to Herbert, but Minshew is a cautionary tale for Herbert…because Minshew looked fabulous early on/as a rookie. Surreal at times. Now, he's fighting off Jake Luton or Mike Glennon less than a year later.
When you put great QB talent with awful, old-school, controlling, ogre head coaches…it can kill the QB. It's like letting 'Russ cook'. How many times have you heard that this year? Did anyone in the NFL ever stop to think what that statement really means? It really means Pete Carroll is so incredibly stupid he had the NFL's best QB under wraps for years on purpose. It wasn't Russ not letting Russ cook. It wasn't the fans doing it. Who was it that was not allowing said cooking? Why aren't there ramifications for this?
Imagine at your workplace you were such an awful supervisor that you drove down sales and profits with a business, doing so with employees that everyone thinks has talent and profitability – you'd be demoted or fired quickly upon the multiple year failed results. So how does Pete Carroll get away with this?
Football Society: Oh, man…good ole Pete is 114 years old but he looks like he's 57. The players love his enthusiasm!!!
Me: Yeah that's great, but let's get back to the not letting the thing that everyone knows can cook not cook issue…it doesn't trouble you?
Football Society: Nope! Pete had Will Ferrell at practice once. It was hilarious. We all laughed. Pete's so young at heart!!
Me: But the cooking thing…in order for people to yell about 'letting Russ cook'…it means something was not allowing him to cook prior. Who was the cook-blocker? Wasn't it Pete Carroll? Shouldn't that be grounds for termination? What else might he not be allowing to cook that he should?
Football Society: I mean, the players love him. He won a Super Bowl you know!
Me: Well, so did Barry Switzer…by letting Jimmy Johnson's players cook. So, no punishment for this cook problem for the last several years with Carroll?
Football Society: Why are you allowing the Russian disinformation to make you hate Pete Carroll?
Where was I? Oh, Marrone has undermined Gardner Minshew and this only ends poorly for Minshew and the team.
 -- If Minshew is benched, D.J. Chark (1-26-0/7) is Terry McLaurin with Dwayne Haskins, or Darius Slayton with Dan Jones, or worse. Probably worse.
The good news…Minshew targeted Chark more than any other Jaguar this game.
The bad news…it resulted in one catch, and that was a chore of a completion.
There should be garbage time here, but we can't get that…but note the Chargers have a good defense/cover people…and they doubled him a bunch. Some of this was LAC…a lot of this is Doug Marrone has killed off this team.
 -- No such issues for Herbert getting the ball where he wants to. However, some of who you think should thrive in this passing game are not.
And I see issues with them…
1) Mike Williams (1-4-0/3) – Justin Herbert is basically throwing the ball to whomever he wants at will. But somehow his throws to Mike Williams look way off base. Actually, in this game – Herbert dropped back and looked everywhere except for where Williams was. It's almost like Herbert doesn't want to throw to him.
Based on this game and all the prior Herbert-Williams events…it's not good. Williams going off only when Keenan Allen left the game a few weeks ago.
2) Hunter Henry (3-23-0/7) looks terrible. No life in his legs. Never open in one-on-one coverage. I don't know if he's hurt or just too many knee injuries. He looks a little like Trey Burton to me suddenly…slow and stiff and never open in one-on-ones. Henry has value as the TE here, but his upside has to be capped because he's working so slow. Maybe he opens up like Gronk did after a few weeks, but right now Henry looks like he's stuck in molasses.
 -- Jalen Guyton (2-84-1/3) is making some big plays/long TDs but not much otherwise. 1-3 targets a game, 1-2 catches, but one of them for big numbers typically (of late).
This could be a blip…or a sign of things to come. It feels like it's a Kalif Raymond or Marvin Hall 2019 blip. I don't see any effort by Herbert to up his work/game with Guyton.
 -- Donald Parham (1-22-1/1) is a young player who has my interest. A legit 6'8", fairly athletic TE prospect in 2019 who got shunned by the NFL and then went and had a good run with the XFL, and is now becoming the red zone threat for the Chargers, slowly but surely (which hurts H Henry a little bit).
Parham was kinda wiry framed/built, like a half TE/WR, out of Stetson in 2019. He wasn't the typical T.J. Hockenson profile that NFL guys crave – the big bulky blockers with average speed and decent hands/non-playmakers. The NFL is so unimaginative, they didn't explore what they could do with a 6'8" TE who was a playmaker in college and at the East-West Shine practices I watched him work at in 2019.
It's a long road to 'making it' for a guy like Parham, who will be denied opportunity because he's a UDFA that makes the system look bad if he does well…he must be shown to not be any good because he wasn't drafted.
Parham has two catches this season (in the last 3 weeks)…both for TDs, from 19 and 22 yards out.
 -- Josh Kelley (12-29-0, 5-24-0/5) is averaging 3.1 yards per carry this season.
Justin Jackson (5-12-0, 5-43-0/6) is averaging 3.4 yards per carry this season.
You want to see a minimum of 4.0 ypc. So, why are these guys so low? Do they suck? I don't think so, I think it's more the LAC O-Line is so devastated by injury as this season has gone on…it's right up there with Philly and Dallas as corrupted O-Line situations for guys to try and run behind. It's almost a lost cause.
It's going to be a hot hand approach and either 'hot' one is going to be stuck scraping for yards due to the O-Line. The two combined for 2.4 yards per carry in this game…against Jacksonville, of all defenses. Not good.
 -- One of the reasons the run game was even worse than normal…might have been the presence of the debut of LB Quincy Williams (7 tackles, 1 TFL, 1 PD).
All I can tell you is – the guy I saw on this tape, the Quincy in this game…that's the guy I thought was going to be a monster LB in the NFL. Quick to the ball and hitting like a ton of bricks. Good to see. He's back onto the Dynasty Stash reports for sure!
 -- One of the helpers for the LAC run game might be WR-who-could-be-an-RB rookie Joe Reed (2-14-1). He is a Deebo Samuel waiting to happen…and lookie here, 2 carries, one near the goal line…easy TD, 7.0 yards per carry on his two touches. Expect to see more Reed ahead because the WR jet sweep can help with the OL issues. It also means you're going to be hard pressed to get TDs from Kelley-Jackson week-to-week.
Reed will only be lowly used by LAC ahead, I think. No big breakout imminent…but I hope I'm wrong. He's still in his infancy stage.
 -- James Robinson (22-119-1, 4-18-1/6) is the center of the Jags universe. He's a 'C' grade, solid RB prospect that has gotten the coaches so committed to him that they have placed the offense on his back. Something tells me…this won't end well, hold up, ride off into the sunset with this gem RB1 for years. I'm a sell-high, right now…very high…like a top 5-8 RB in fantasy high valuation.
Do you think this Jags team is built to carry a running back to FF glory? He'd been sagging for weeks before this. Sell the rookie new car smell hot.
In Dynasty, do you think the new coach is going into battle with Robinson as his singular lead…the RB that got Doug Marrone fired, in part?
 -- There were moments in this game the Chargers defense looked dominant. They have elements of a dominating defense, and when they get CB Chris Harris back from injury…they might just start hitting that higher level. Like a top 5 best defense in the NFL level. A poor man's Tampa Bay defense if everyone can stay healthy.
They have an offense now that can help support it.
Snap Counts of Interest:
69 = K Allen
61 = Mk Williams
54 = Guyton
07 = J Reed
62 = H Henry
18 = Parham
38 = Kelley
31 = J Jackson
55 = DJ Chark
48 = Cole
47 = Shenault
16 = Conley