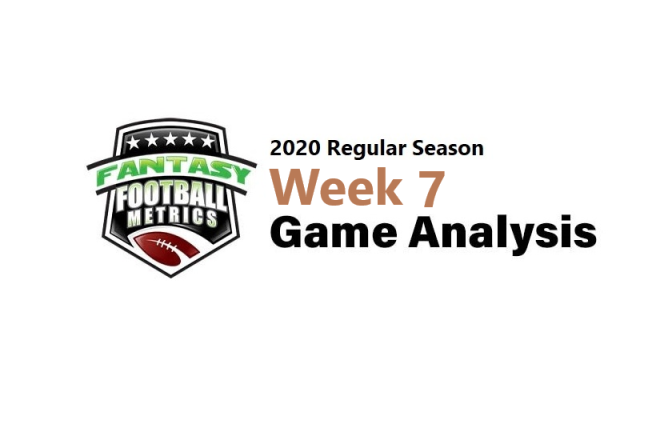 R.C. Fischer
FFM
31 October 2020
2020 Dynasty/Fantasy Week 7: Game Analysis: Chiefs 43, Broncos 16
I take notes during the live watch. I re-watch the game on tape looking for hidden clues to report on. Here are my notes/takes on what I saw and how it related to FF 2020. I write anywhere from 1,000-3,000+ words on each game, and I must move fast to get to all of them through the week…so, please forgive any typos/grammar.
The last two times these teams have met, it's been cold and snowy…and both times the Chiefs handed the Broncos, specifically Drew Lock, their asses. It's not worth writing a lot of words about…the Chiefs killed Denver in every phase…running, passing, defense, special teams, etc. Denver isn't in KC's class and won't be close until they replace Drew Lock…but that's easier said than done.
KC is now (6-1) and heading towards an epic showdown Week 12 at Tampa Bay. If the NFL doesn't move that game to Sunday Night or Monday Night…what are we even doing? With no fans in many places, it's easy to change the schedule.
Denver is now (2-4) and likely headed to 4-5 wins at best. A good team that has no chance to shine due to its QB. They did it to themselves.
Fantasy Player Notes…
 -- Hard to assess KC's proper feelings on their true plans for Clyde Edwards-Helaire (8-46-1, 1-17-0/4) and Le'Veon Bell (6-39-0) based off this game. This one was over before it started, so why reveal your hand? By the end, Dwayne Washington was getting work in a blowout.
My notes/thoughts on this RB duo this day…
1) None of us knows the true plan ahead…we are blindly speculating.
2) All the words and actions seem to be CEH as the lead but Le'Veon playing near 50-50, and either could get hot and be the guy that day.
3) Most people think Le'Veon is going to take this over…the same way people believe/d Leonard Fournette will/would dispatch Ronald Jones. The fallacy of that, potentially, is that we think Le'Veon is the Le'Veon of days gone by…he was just locked away by the mean old NY Jets and now finally free.
We all thought that with LeSean McCoy, David Johnson, Leonard Fournette upon their change of teams.
What if the simple truth is – Le'Veon is not THAT Le'Veon anymore and will just be a nice piece to have to go with CEH, but not better than CEH? Are you sure 2020 Le'Veon is better than 2020 CEH? 2013-2015 Le'Veon might have been, but does that guy exist anymore?
4) When I watched Bell's touches here, I didn't see any amazing spark or pop differently than CEH. Bell was running normal, a bit tentative…but that was probably the ground conditions.
I think this is too early and/or complicated to call/project.
If the Jets game gets out of hand Week 8 (and they both sit much of the 2nd-half), and they split Week 9, and there's a BYE Week 10, and they are at top run defense Tampa Week 12…when do you use Le'Veon with confidence between Weeks 8-12? Week 11 at Las Vegas…then you have to assume off of the BYE Le'Veon becomes 'the man'? More likely, they'll still be splitting the backfield by then.
If you have to wait past Week 12 to even dream that Le'Veon will take over and be FF 'the man', putting CEH behind him…that's a long wait and a lot of worry, like trying to figure out when to start Leonard Fournette week to week right now.
 -- Patrick Mahomes (15-23 for 200 yards, 1 TD/0 INT) has had two weaker FF games back-to-back, due to weather. FF players tend to believe last week is the undisputed future of things that will happen, and two weeks in a row is a super-strong trend of what will happen in the universe...which means Mahomes might be able to be discussed in a deal right now, if you have the firepower to pull it off.
Week 6 in the rain with BUF and then Week 7 at the first super-cold and snow game of 2020…it's artificially keeping Mahomes' FF scoring down.
Weeks 11-15 will be the best late season weather opportunity he has ever had in his short career.
Week 11 at LV/dome, Week 12 at TB, Week 13 in KC v. DEN, Week 14 at MIA, Week 15 at NO/dome.
Two Florida and two dome road trips…not bad.
Same goes for Tyreek Hill (6-55-1/10), who has had muted FF in the cold/snow/rain but could be getting ready to race back as a top FF WR like usual.
 -- Drew Lock's (24-40 for 254 yards, 0 TDs/2 INTs) problem is beyond the weather.
3 TDs/5 INTs in his last 6 starts back to 2019. He's averaging 0.5 TD passes per game for most of his NFL career. I think this is Lock's final week as the Broncos starter if he lays another egg.
Brett Rypien isn't much of an upgrade…
Tim Patrick (3-44-0/4) is being held hostage in all of this QB mess. He is playing good ball, but between the QBs and now a concussion…he's just a flyer still. You'd like to sit on him for -- at ATL, at LV Weeks 9-10…bad pass Ds in a dome climate. If he's cleared…and who knows who his QB will be.
 -- If Drew Lock goes, that's the end of the Albert Okwuegbunam (7-60-0/7) excitement. He is getting bolstered by Drew Lock using him when he's on the field. He only played 40% of the snaps (Fant 70%), but Albert O. led the team with 7 targets (tied with Fant).
When Lock goes, Albert O. is going back down a hole. But if Lock stays…he's a TE2 with an upside option.
 -- Phillip Lindsay (9-79-0) started this game, despite Melvin Gordon (17-68-1, 2-12-0/4) returning to action after a week out. Of course, then Lindsay took a hit, got a concussion and helped re-launch Gordon.
We can never be satisfied with Lindsay. The 'too small' thing is catching up to him. Hard to be a 180+ pound lead back…and Lindsay is reinforcing the fears with constant injury it seems.
I don't know who will be the Broncos RB that matters in 2021. That RB is likely not on the roster.
Lindsay will be a great passing game back for the Patriots down the road…
 -- What happened to everyone whining about the Chiefs-DST giving up too much/scoring FF-low a few weeks ago vs. Las Vegas? A monster FF-day here, and the Jets and Panthers both at KC are coming up.
Just prepare for what you're going to do Week 10 on with this DST.
Week 10 = BYE (Miami-DST vs. LAC on the schedule change ruins this schedule pairing perfection)
Week 11 = at Las Vegas…bad matchup or revenge? (Miami-DST at DEN)
Week 12 = at TB…makes life tough for Brady or he Air Raids them? (Miami-DST at NYJ)
Weeks 13-14 look nice with DEN and at MIA.
Snap Counts of Interest:
46 = Gordon
18 = Freeman
14 = Lindsay
27 = CEH
17 = Le'Veon
10 = D'Andre Washington
01 = Darr Williams