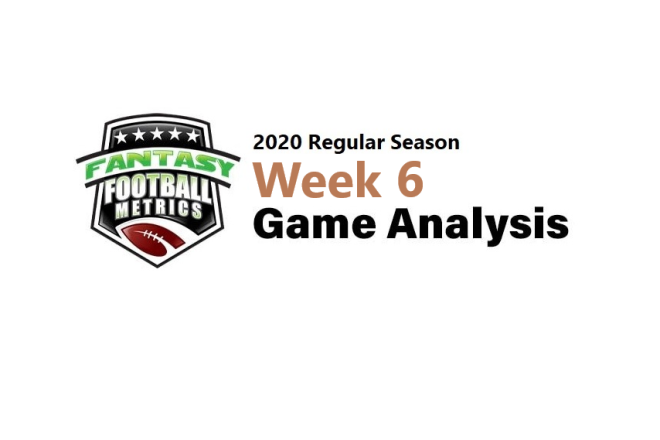 R.C. Fischer
FFM
21 October 2020
2020 Dynasty/Fantasy Week 6: Game Analysis: Lions 34, Jaguars 16
I take notes during the live watch. I re-watch the game on tape looking for hidden clues to report on. Here are my notes/takes on what I saw and how it related to FF 2020. I write anywhere from 1,000-3,000+ words on each game, and I have to move fast to get to all of them through the week…so, please forgive any typos/grammar.
This was an ugly game…another game where the Lions got out of the gates quickly (up 14-3 early 2nd-half, then up 24-3 mid-3rd-quarter) and then started playing sloppy but the Jags played sloppier in response, every time the Lions gave them an opening the Jags failed. How Doug Marrone is still employed at this point is a total mystery, but I believe they too are trying to lose…so, like the Jets, it's best to keep the head coach that gives you the best chance of losing every game.
The Jags are not worse than the Jets, and the Jags play hard, and ineffectively, so they will probably stumble into 3-4-5 wins this year. There's no way they'll 'knock off' the Jets for that #1 pick.
Speaking of everyone tanking for Trevor Lawrence…I can already feel this football sentiment rising, and it's always wrong – that Lawrence is the universal, unquestioned best QB prospect in generations and everyone needs to tank for Trevor.
Last time we saw this -- the football intelligentsia boasted it was time to 'Tank for Tua'! And they were ultimately wrong…he'll be lucky to be the 3rd-best QB from the 2020 class.
They also called Sam Darnold and Jameis Winston 'generational'. Their last real golden boy they love to point to is Andrew Luck, but they conveniently forget two QBs taken in the 3rd-round of that draft ended up better (Russell Wilson, Nick Foles). But now trust them that they 'know' Trevor Lawrence is the greatest.
I saw an article where the analyst called Lawrence the best QB prospect he's seen in decades. Has he turned on the TV and watched a Chargers' game this year? Or what about an LSU game last year? The media makes up a narrative and they all run 100% in lockstep with it. The media, as witnessed by the current political environment, is getting worse not better with time. Football media is as bad/worse than the political news media. I thank God for that, so I can stay in business…try as they may to keep me buried.
The Lions passed on Herbert-Tua to take Jeff Okudah in one of the contenders for stupidest draft moves of 2020. Regardless of that dumb move, the Lions are now (2-3). All their losses to quality teams. They are (2-3) but could be (3-2/4-1) with any luck. We say that a lot about the Lions under Matt Patricia…that they coulda been ____ better record. At some point it's not luck…it's who they are.
With a win this week, Detroit would be (3-3) and firmly in the playoff hunt with a decent schedule ahead. I'll just blindly bet against Matt Patricia from here…and I bet I win more than I lose.
Fantasy Player Notes…
 -- I was interested to see D'Andre Swift's (14-116-2, 3-7-0/4) tape here. Out of nowhere, Swift popped from his star fading fast to suddenly he's the future of the Lions again. A lot can happen in one week…just ask Darrell Henderson.
Mr. Swift, you are no Darrell Henderson.
I'm always unimpressed with what I see from Swift on his NFL tape. A slow to shift, heavy-footed runner who has a lot of David Montgomery in him. Swift is a better version of Montgomery, but the issue remains that neither is a real bell cow back. Too slow, too much hopping/changing directions for the sake of doing it, too much slowing down when they try to hop around/change directions…they're always trying to cut things back away from contact and it worked in college and with a big NFL hole to gather steam in and make the cut full speed, but in NFL congestion they cannot stop and turn and get away from NFL defenders…they have college agility not pro agility.
D'Andre Swift is a little better version of Theo Riddick…and Riddick was a solid/good player for Detroit for years. It's not a diss…but it is when you put Swift on a pedestal, because all of football did coming into the draft…but let me redirect you to my opening discussion of the QBs 'THEY' love for how much I trust what THEY see.
Swift will get a push now because of this good game, but really this was a 116-yard rushing game bolstered by a play that happens once a year, if that – Swift ran off tackle and there was a completely wide open hole and also no one there at linebacker or safety after Swift went through it. Swift ran 30+ yards without anyone 2-3 yards near him. But because he has Theo Riddick speed, he was easily caught up to from behind and held to a 54-yard run.
I don't see anything special with Swift, but I'm sure he's going to see 10+ carries and 3+ targets this week working in-and-out with aging-quickly Adrian Pederson (15-40-1). AP is fading, so Swift has a chance…Kerryon Johnson (4-9-0, 1-11-0/2), former football analyst's future great, may have a shot at touches soon too…if they cut/dump AP in another loss or two.
 -- Speaking of unimpressive RBs…James Robinson (12-29-0, 4-42-1/4) is slowly fading into the circle of mediocre RB2 hell. Robinson is a solid NFL RB prospect, but plays behind a terrible O-Line…the same one that killed Leonard Fournette.
Just 1.8 'yards before contact' per attempt spacing for JRob this season, which is below the 2.0+ you want to see – he's falling down with the Zeke's and DJ's of poor blocking numbers to work with.
But I know this – the Jags are committed to JRob no matter what. They've shown him more respect than Detroit has Swift. So, I like JRob over Swift, but don't love either.
 -- Gardner Minshew (25-44 for 243 yards, 1 TD/1 INT, 3-14-1) didn't play his best game but I must note…two good WRs dropped two deep passes that were tough catches, but catchable and left 90+ yards on the table lost for Minshew in this game…which would've kept Minshew's 300+ yards passing roll going this season.
Minshew is a good, scrappy QB on a bad team that cannot run the ball and is often losing so it needs to pass a lot…that's good for FF production. Minshew is like the new Ryan Fitzpatrick of 2-3-4 years ago, for FF. Bad team…scrappy…will run for yards/scores…loses but is always throwing for numbers anyway.
 -- Speaking of the Jags' WRs, and those two key drops…
1) Keelan Cole (6-143-0/9) is so good, so disrespected by the NFL, the fans, his own team and QB. Cole should be a respected NFL starter getting 6-8+ targets every game, but he's usually getting ignored most of the game until the hurry-up offense down 2-3 scores with 4 minutes left in the game. Not here, he wasn't…he was more respected this game, but not radically so…
Just note with Cole's numbers here that he dropped a floated hail mary throw of about 40 yards…it was underthrown but Cole came back to it and went to the ground to grab but dropped it…or Cole might have had 180+ yards this game. Also, Cole was open for a 15+ yard easy TD toss but got held and didn't get to the ball…penalty not called. Cole was sniffing towards 200 yards and a TD, but it was a pretty quiet 'big game'…it wasn't like Minshew discovered Cole was 'his guy' now.
2) Laviska Shenault (3-10-0/7) was Minshew's guy leading up to this, until he wasn't here. Shenault is OK/good not great and was mostly a non-factor here.
3) D.J. Chark (7-45-0/14)…good news, bad news.
The 'good news' – Chark got the 'my guy' treatment from Minshew. I've started to see that shift for the past few weeks. If Minshew is going to put up a lot of garbage stats…DJC will be a beneficiary.
The 'bad news' – Chark looks like he's 75% of himself. The burst/fast cuts/breaks weren't there this game. He's been dealing with an ankle/leg injury. He may need more time to heal. Hopefully, he sits out Wednesday practice and is limited the rest of the week…and gets closer to 100%.
Chark caught a 50+ yard deep ball pass, a sweet play, but had the ball torn from him as he fell to the ground and ruled not a catch. Chark also had two end zone shots his way on designed plays that didn't work. There is an effort to get the ball to DJC, and this game could've been a whole lot more for FF…despite his lingering leg issue. All 'good news'.
 -- Matt Stafford (19-31 for 223 yards, 1 TD/1 INT) has yet to throw for 300+ yards in a game this season. His completion percentage is sitting at a 5+ year low of 60.7%. He's not terrible, he's just not playing all that well. He's not a top 15-18 FF QB right now.
The Lions are trying to play ball control, and thus Stafford is a low volume passer on a low volume passing game plan/play calling coaching staff.
He's not a great QB2 option…but many took him as a QB2, myself included in spots, as a safe backup plan with upside from his hot 2019 – it's not in sight for 2020. It's not going to happen, on purpose…only if the game flow drags him into it.
All that hurts the projections for Golladay-Marvin-Hockenson.
Snap Counts of Interest…
57 = Chark
48 = Cole
47 = Shenault
15 = Collin Johnson
15 = Conley
44 = J Robinson
20 = Chris Thompson
46 = TJ Hockenson
42 = Jesse James
29 = Swift
27 = AP
17 = Kerryon