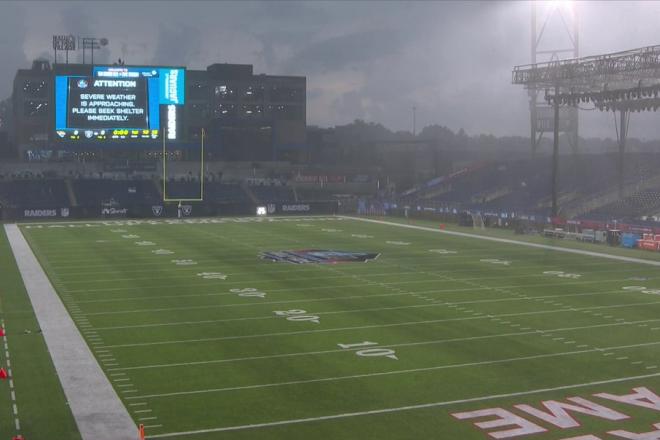 R.C. Fischer
FFM
05 August 2022
2022 Preseason Dynasty/Fantasy HOF Game Report: Raiders 27, Jaguars 11
Normally, I'm fired up to watch the HOF game…the first game of the new season, a light appetizer before I go to the all-you-can-eat buffet of the full preseason weeks with all teams in action -- which is absolutely one of my favorite times of the football year. But I gotta say -- this was one of the least interesting HOF games for me in a long time.
From January-July, I'm in a football laboratory studying incoming rookies (I counted…I'm nearing 700 college prospects that I've laid eyes on their tape to give (some) at minimum a quick American Idol audition to impress me or be sent to the dust bin) and that's on top of the prior year's crop, and so on -- so when these young players get their chance to show something in the HOF game, I'm looking for a diamond in the rough…or for some evidence my pre-enthusiasm on some of them has some merit as I see them against a better grade of athlete. All that work, and now I get to see what I got right, what I might have gotten wrong, and maybe discovering something I missed the first-second-third time around.
Pre-HOF game, I go over the non-starting players and highlight/note the prospects that I want to make sure I get a look at…but I barely highlighted any players here pregame. These two teams have mostly uninteresting depth/young talent…especially the Raiders. A terrible debut draft by the new LV brain trust there. The Jags have the more interesting young players to peek in on, including they were nice enough to give us a glimpse of Travon Walker…which we'll get into in the player notes section.
There was a big item to debate from this game…the fact that Josh Jacobs started, and played a few series and took several touches. We'll get to my feelings on that. Twitter is in an outrage over it, but they always are in an outrage over something all day long. I have my own outrage about it…coming in moments.
As a game summary, this was two bad teams with poor depth, playing their soon-to-be-cut guys (mostly) but one of them played their legit NFL RBs for a while and ran all over the other…the other countering with heavy Nathan Cottrell and whatever a Snoop Conner is. They aren't Josh Jacobs…or Zamir White…or Kenyan Drake. The announcers gushed over how good the Raiders looked -- but this was no big 'win' for Las Vegas. This game was simply – two awful teams with awful depth, but one of them played their top RB talent, and the other barely showed up to play. It means absolutely nothing…from a 'team' or moral victory standpoint.
Now, let me go off on a few things before we get to the player notes…
I was mildly excited about kickoff…I mean, it does kinda mark 'the season is really here' moment. But when I turned the TV on to make sure my DirectTV was connected (paused service at the end of last season, and thankfully we all just one last season of DirecTV having Sunday Ticket before I fire/cancel their asses…YouTube TV is a thousand-billion times better…please Google, win this bidding!).
An hour ahead, I set the game up to record and noticed they had a pregame the hour prior, so I put it on to have it going in the background while I worked on other football things. But before I turned away, I saw something that made me stop and watch…is that…it can't be…is that Jason freaking Garrett? Someone is paying that guy for football analysis? Yep. Within like 15 minutes I was so shook by what I saw of 'NBC coverage' that whatever joy I had to watch some football was all but stomped out.
First off, Jason Garrett had a fake smile plastered to his face the entire time he was on air…like he was running for city council or was a service robot. Heath Ledger's Joker was like…I wish I could have achieved a permanent smile like that without all the pain I had to go through. His look was so off-putting…but Garrett is so off-putting/useless to begin with. When I consider Garrett made more money in the first 15 minutes of his smile-apolooza tour then I will this entire year analyzing football…the depression slowly kicked in.
Is there anyone that isn't an ex-Dallas Cowboy that can say dumb things on live TV for a network's football coverage and shoved a wheelbarrow full of cash to do so? Romo has become a total hack. Witten was a fast failure. Michael Irvin wears colorful suits. Jason Garrett has to be the worst of all of them, I'd assume -- but enjoy your seven-figure contract.
Later, I caught new NBC Fantasy Football face Matthew Berry being interviewed by a spawn of Collinsworth and all I could do was slow clap applaud. Hey, getting away from ESPN is smart. Getting NBC money is a blessing. Good for him. We should all be so lucky. NBC keeps collecting 'football things' for analysis that no one really cares about…like Drew Brees. Hey, if the public buys it…
I marvel at the way ESPN and NBC football/networks are run…but I've spent the last few months listening to/watching billionaires like Shad Khan and Mark Davis run football teams and I cannot believe it. Jerry Jones is an immense football failure…err, Hall of Famer. The Browns gave that contract to Deshaun Watson. Football is not immune to being run by dolts…and it doesn't get better, it gets worse as we go. It must be nice to own pieces of the football pie and have unlimited money to set on fire because of it. They make money despite themselves because it's the greatest viewership sport and more importantly, the best gambling sport. God Bless them. Capitalism is good.
In other news, I worked on football material, watched football, and answered emails and worked on things during HOF game commercials, etc., for roughly 14 hours on Thursday…taking a break for 30 minutes to repair a toilet leak at my house, and later I had Taco Bell for dinner. I wonder what Raiders' owner/inheriter Mark Davis's day was like? Probably similar.
Where was I?
Oh, yeah…football analysis. Cris Collinsworth then rolled in on his white horse/chair to theorize that the Jaguars with Trevor Lawrence and Travis Etienne were gonna be like the Bengals on under Joe Burrow Year Two -- a team that might/should make that leap from loser to Super Bowl. My joy for football had just about been extinguished at that point. It could not get any worse.
Oh, a rain delay? We get 30+ more minutes of unplanned, impromptu BONUS analysis from this collection of 'analysts'!!! I didn't know Josh McDaniels grew up near Canton…I wish they would have mentioned that about a thousand more times.
Football is back, everybody!
Fantasy Player Notes…
 -- OK, let's talk about Josh Jacobs (5-30-0, 2-14-0/2) starting and playing a few series in this meaningless game.
Yes, as Twitter outraged on it…it is an insult to Josh Jacobs. But lost in that shuffle is the even bigger insult it was to Kenyan Drake (5-9-0). Jacobs played the first couple series…then we saw Drake in for a snap, quickly replaced by Ameer Abdullah (2-7-1, 3-23-0/2) and then back to a few more Drake snaps with Abdullah going in and out and then we saw rookie Zamir White (11-52-0, 3-23-0/4) sprinkling in as well.
I'm not shocked that a starting RB would get some touches in a preseason game (although that's getting rarer by the year) -- I'm shocked that they took touches in a Hall of Fame game. What does it prove that the Raiders starting level RBs are taking a few carries/running over Jaguar backup to the backup's defensive unit?
What does this all mean, big picture?
1) Josh McDaniels doesn't value these RBs…they're all just disposable cups to use and abuse. Most all NFL teams will hold out their starting and/or franchise RBs from most of or all of the preseason.
The NFL is moving rapidly towards RBs being absolutely worthless individually, and that it's best to go with a collection -- like what the Patriots and now Raiders (Patriots-West) are doing. It's a Fantasy Football-like move…it's a high-degree of injury risk position, so why invest big money/salary cap into Christian McCaffrey or Saquon Barkley, only to watch your money go down a drain due to the injury risk becoming reality -- so, instead get a collection of 4-5 cheaper RBs and use and abuse them as needed.
Momma…don't let your babies grow up to be running backs.
It doesn't matter what we all personally think the value of an NFL running back is…Josh McDaniels is showing you his hand -- he doesn't care about them, only in-the-moment does he care. Hot hand…situational…who is healthy this week...but Jacobs is his best RB by far, right now, so I'm sure he'll wear him out and not have any worries about the long-term ramifications.
2) It's an insult to the team, in general.
While Jacobs-Drake-White-Abdullah, guys who work in a high injury environment, are putting their career/knees on the line in an absolutely meaningless event…Derek Carr and Davante Adams are on the sidelines laughing it up.
Carr and Adams are being set up as a protected class, while other starters are thrown out there…in a game that should feature the lowest level players getting a chance, many veterans were playing for far too long…as Carr and Adams yucked it up on the sidelines.
Players are inclined to hate Josh McDaniels, because he's a hate-able personality…who has a long history of being disliked. This isn't going to help build a trust or respect. It isn't a bad thing, per se, the NFL is cold/transactional most of the time -- but if McDaniels ever says 'this is a family' then some 'family member' should punch him in the face.
Play your RBs in the preseason if you think it makes them tougher…but not in the HOF game. It's an insult. It's not 'setting a tone'…as Carr and Adams are massaging each other's shoulders on the sidelines. It's putting players at risk for no reason. And it IS sending a message.
2023 (and beyond) free agents are gonna take notice…and avoid Las Vegas unless they have no other options.
3) This may actually work in Josh Jacobs' favor for 2022.
The typical Twitter reactionaries are panicked that Jacobs is being treated with disrespect, therefore he must be downgraded for FF 2022…because he's no longer 'the man'. I think Jacobs knows full well that this is his last year in Las Vegas and that Josh McDaniels could care less about him beyond the output he gives him. Jacobs is going to be playing 2022 for a free agent deal in 2023…not for McDaniels' affection. McDaniels will be fine with that…he only wants the best Jacobs for 2022 he can get, then dispose of after the season.
The combination of Jacobs' urgency in playing for himself/his future, and McDaniels willingness to use it for his gain -- should lead to a prostitutional transaction where Jacobs might have opportunity for a big workload and output, bigger than expected for the benefit of both…and then he departs.
4) Kenyan Drake took the bigger slap to the face.
Drake came into the game 3rd-series and mixed in and out with Ameer Abdullah…it looked like Abdullah wanted it more, as he should…he's more career-desperate, while the overpaid-in-his-career Drake looked like he'd rather be doing a thousand other things.
Jacobs is desperate for that next contract.
Abdullah is desperate for any contract/employment.
Zamir White is desperate to prove he belongs.
Drake has made really great money for an RB the past couple years, fleecing Arizona and Las Vegas/Gruden -- he's at the end of his earnings cycle. He's highly/overpaid for 2022, most of it guaranteed…the 7th highest paid RB in the NFL for 2022, can you believe it? Drake just needs to collect his money this year and hopefully (for his personal sake) not get injured. He'd love it if he got cut, to get all his guaranteed and then get another little deal somewhere else.
My biggest takeaway from this inexplicable RB flow…Kenyan Drake is not someone to run towards as a sneaky 'James White' for FF…he's more one to run away from. The guy with the least motivation to put up with all this…but Las Vegas is kinda stuck with him for 2022, sunk costs.
4) Zamir White…??
There's no way to judge White yet from this appearance against the Jags backups and backups to the backups. White came into the game and did his run straight game and looked fine. He also got several screen passes…letting us know he's being groomed to work right away in the regular season, even if just a few touches a game…waiting for that Jacobs injury that may never come, or for Drake to get banished to a pass game #3 RB.
The Jaguars also played in this game, I guess we should discuss some of them as well…
 -- Three Jaguar defender notes…
1) We saw the debut of #1 pick Travon Walker (1 tackle, 1 sack)…and it was hopeful. He looks the part of an edge rusher. He's just faster, more athletic than anyone else on the field. Whether he's gonna dominate #1 offensive tackles in the weeks and years to come, we'll see…but he looked good/worthy in this glimpse.
2) Rookie Chad Muma (4 tackles) started this game which leads me to continue to believe he's not starting Week 1. Foye Oluokun and Devin Lloyd were listed as the depth chart starters (and did not play), as you would expect -- but Muma is a talent, and I was curious whether he'd make a push -- I don't think he will, naturally, over the draft stock they have into Lloyd.
3) Andre Cisco (2 tackles) was listed as a starter on the depth chart, and he actually tried (successfully) to tackle ballcarriers…unlike his time last year where I pointed out how he was avoiding contact as much as possible. Maybe he's turned things around…or just hated Urban Meyer. He should be the Week 1 starter at safety, and he was a promising player out of Syracuse. A motivated Cisco could be a shock IDP performer.
 -- Two old R.C. beloved QBs played in this game, and it was nostalgic…but not in a good way. It's sad to see what these guys have become.
Jarrett Stidham (8-15 for 96 yards, 0 TD/0 INT) started for the Raiders. He looked like every backup QB to ever play the game. Competent, but no pizzaz to his game…no growth over the years in New England.
The Kyle Sloter (13-25 for 127 yards, 1 TD/0 INT) viewing was sad to behold. The once dynamic gunslinger from years ago has been coached into being a typical backup…generic playbook chock full of screen passes, working with no-name WRs, with little protection from the backup O-Line, with little time to throw if he wanted to take time in the pocket -- so it's just safer to play it safe…the way the coaches want it to be…run the playbook and be nice little, disposable backups.
Fare thee well.
 -- The one young player from this game that caught me by a bit by surprise was Jags' UDFA WR Willie Johnson (2-41-0/3). He was moving at a noticeable, different pace than the other low level WRs on either team. He returned a punt late in this game for an 88-yard TD where he just outsprinted would-be tacklers…but it was called back due to holding.
Johnson had an unremarkable career at Marshall, but definitely didn't play on any juggernaut offenses there either. At his Pro Day, he ran a 4.54 40-time with a 6.90 three-cone…not bad at all.
I don't see a star or anything, just noticed him for the first time as a possible NFLer. He's likely destined to the Jacksonville practice squad and will have to climb from there.
 -- Another problem with this Jags team, for those (like Cris Collinsworth) who are thinking they are a great turnaround story in 2022…they have no kicker. Ryan Santoso (0/1 FGs) is supposed to be their starter and he did his usual booming kick FG attempt that missed the mark.
From my vantage point, looking at the entire big picture of the roster and UDFAs and free agents and depth and starters -- this is a poorly constructed/built Jaguar team. GM Trent Baalke is a guy no 2022 head coaching candidate with options wanted to work with…and part of that reason is no matter how good or not a coach the candidate is, he would be stuck with this awful Jaguars management group for roster and talent support. 
‍