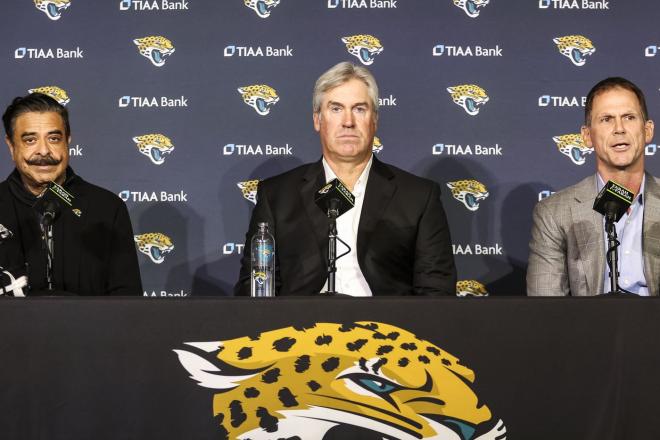 R.C. Fischer
FFM
04 August 2022
2022 New Hire NFL Head Coach Analysis #8: Doug Pederson, Jacksonville
(same intro as prior coaching analysis reports)
===========
I need to address two things at the top, and I'll probably copy and paste this into every intro ahead of the new hire coaching analysis for 2022…
1: Why are your (RC's) famous coaching studies just now starting (July 2022)? You usually do them in Jan.-Feb.-Mar.?
I used to be excited to jump right on these studies but the longer I research and study the NFL, as it relates to Fantasy Football, the new head coach is not as big a factor as I thought it once was. I do some base research right away, when they are hired, to identify trends/patterns in their (and their staff's) history on offense especially -- but a full research report, as I have done for years, I am arriving at a belief that it just isn't as important as player scouting and study, so I put it off until I had the time to work on it…so, he we are.
It's a definite, purposeful lack of priority as to why I'm starting the deeper reports in the summer.
2: Why do I (RC) think the new head coaching hires are not as important as they once were?
After years and years of NFL study and observation, I've come to the most simple/obvious conclusion about a new (or any) NFL head coach importance to team wins/performance: Tell me who their quarterback is, and I'll tell you how 'good' a coach they're gonna be this season/ahead.
All my years of NFL observation, all I see is coaching failure and nonsense from the top (head coach)…out of touch philosophies, fighting with the GM, strange decisions for their starting lineups, and inability to manage a salary cap or construct a roster. Now, they do know how to do the 'job' of coaching…they know playbooks, weight rooms, stretching, dumb/cliché filled speeches, dress codes for road trips, practice schedules, blowing a whistle, coach speak press conferences, play calling from the playbook…they know how to perform the job of 'coach', but 'difference makers'? Legends? Geniuses? Name one.
Ask yourself, if head coaches are so smart and such great communicators and understand the game so well…why are ex-quarterbacks getting tens of millions of dollars to analyze the game on TV, and not ex-NFL head coaches? Have you listened to the Bruce Arians, or Jeff Fisher, or Brian Billick, or any of the ex-coaches try and call a game…or even host a pregame show or something like it? Useless. Ex-quarterbacks in the booth are always natural and detailed and understand what they are seeing and can communicate it. Ex-head coaches…well, there's Rex Ryan as a nonsensical sideshow on a dying media company's pregame show. Steve Mariucci? Are you kidding me?
We all thought we had Bill Belichick to look up to, but then we saw how he handled the Tom Brady situation and how he wanted rid of Tom, and how he's fared since Tom (and how Tom has fared without him). Who has been a better coach in the NFL? Bill Belichick or Bruce Arians? Answer = the one possessed Tom Brady, that's who.
There are better coaches than others, for sure…but it's more 'least damaging to things' is better than 'very damaging to things'. They do know how to swing a whistle on a string around their finger and bark nonsense while the players stretch out pregame/practice.
In the end, this following statement is going to make you deny it…and then when you think about it, you'll agree…and then it is sobering (for coaches): the location/geography, the weather, the stadium, the surrounding city, and the tax ramifications of that area/state are more important in attracting and keeping players than 'head coach'.
A head coach has one main characteristic they MUST possess…don't piss off the elite quarterback/you must befriend the elite quarterback.
Football fans are always so religious in their faith and defense of and promotion of their team's new head coach -- it boggles my mind. People believe in a new hire head coach, likely a guy they may have never heard of before they entered the interview cycle/media cycle, with more rigor than church goers believe in God on Sundays. You can have hope in your new head coach for your favorite team, but these coaches are mere mortals, and most doomed-to-fail (and these adoring fans will turn on them within two years of their hire)…and many of these new head coaches were not the first or even third-fourth-fifth choices during the interview process, but when these coaches land on 'your' team then the making-them-into-a-god process by the media…and thus the sheep/fans go right along for the ride.
=================
How good a head coach will Doug Pederson be for Jacksonville?
I dunno, who is his QB?
Oh, boy…
Actually, I think this is a simple dot connection of facts/logic that creates a formula to let you know what's going to happen to Pederson in Jacksonville.
a)

Doug Pederson

is not a bad head coach. Not the greatest. Not the worst. Knows what he is doing. Is likable by the players and staff. Is a former player. Is mature. He has a baseline of respect walking into the job.
+
b)

Trevor Lawrence

isn't that good, and if he isn't much better than my original upside scouting comp for him (

Carson Wentz

)…Pederson will take the blame in short order.
+
c) There are a few teams in the running for the single worst run organization (owner + GM) in the league…and Jacksonville is strongly in that mix.
=
d)

Doug Pederson

is screwed.
'B/C' grade coach + 'C' grade QB (at best) + 'F' grade organization = no better than a 'C' but likely a 'D', which will feel like an 'F' and it will get terminated in 2-3 seasons.
Let me expand on the 'a', 'b', and 'c' factors…the coach, the QB, and the organization.
(a) The Coach…
Won a Super Bowl with Philly. That's good, right? It doesn't hurt. But do you think of Pederson as a mastermind head coach in the annals of history? I mean, Mike McCarthy won a Super Bowl title. So did Barry Switzer.
Mostly, everyone gives Pederson huge credit for the big jump in Carson Wentz as a sloppy rookie to a fantastic 2nd-year…a season where the Eagles went from (7-9) in 2016 to Super Bowl champs that next season.
So far, coaches who made a career off of that Philly Super Bowl season…
-His Philly O-C Frank Reich…who is underperforming as H-C in Indy, and probably gets fired after this season…and lucky he didn't after last season.
-QB coach John DeFilippo…who went on to get three different O-C jobs in the past 4 seasons and was fired after one season at every spot and is not anywhere in football today, that I'm aware of.
…and then there's Pederson, who was the HC as the ship sunk in Philly post-Super Bowl.
We give credit to Pederson for the Wentz growth into a real, decent NFL QB…but we never give him credit for the Wentz collapse since. Maybe it's fair not to, because of Wentz injuries and he wasn't the HC of Indy.
If Pederson is 'the mastermind' of Wentz…he was also the denier of Nick Foles, the pusher of Nate Sudfeld, the denier of Jalen Hurts…but Wentz was really pretty good 2017-2019, you can't deny it. Wentz collapsed in 2020 with Pederson, but also had no O-Line (all injured). Long after Reich and DeFilippo left/cashed in on the Super Bowl title gravitas, Wentz was hurt but pretty good with Pederson the years after before the 2020 dud.
But Pederson can also take blame for defending Wentz to the end…even when Wentz was dividing the locker room/disliked by players -- and that's not great topside leadership, as it has turned out. Maybe Pederson is a QB guru only? But that's a MAJOR attribute to have. However, that Eagles title team was tight -- a great locker room around the young QB. You have to give Pederson some credit for that more than discredit.
I'm open to Pederson being a good coach. I am open to Pederson being a generic, solid, forgettable coach. I think the jury can still be out. I won't say that he's a 'bad' head coach. There's no evidence of that.
I'll say Pederson is OK-to-good as a head coach prospect. He just needs a good QB and organization to support him…like most every head coach.
Uh, oh.
(b) The Quarterback…
If you buy that Lawrence is a 'generational QB prospect', then I can't help you. You're buying a media narrative that they all echo without knowing what they're talking about…which is not me being arrogant, it's a trackable track record…and I do know what I'm talking about on such things.
Pederson didn't outclass, out-resume all comers to get the plum job of coaching generational Trevor. Most coaches turned down the Jaguars head coaching job before the team desperately settled on Doug Pederson.
Coaching Trevor is a trap door, because if he fails…the coach will be blamed, because the masses are brainwashed on Lawrence as a god. The media is leading the masses because they believe beyond a shadow of a doubt that Lawrence is great. When Lawrence fails, someone has to be blamed. It probably won't be the player because if so…everyone is then going to look stupid all agreeing that he was a generational QB prospect. It has to be someone/anyone but the QB's fault here.
Maybe Lawrence can be groomed into a Carson Wentz upside? I see nothing but flaws in Lawrence's game, but he has some tools to work with and they can design a short game to fit his limitations, maybe. Just know this isn't Andrew Luck or Kyler Murray or Baker Mayfield instant NFL talents…and it's not close to Joe Burrow or Justin Herbert, the two/real 'generational talent' QBs…way better than Andrew Luck would've been in the modern day. Lawrence isn't as talented at his craft as Mac Jones or Davis Mills, and you could see it last year. Lawrence doesn't have the tools that Trey Lance or Zach Wilson do. Lawrence is a lesser running version of Justin Fields…not generational…maybe the 5th best QB from last year's class who can work his way up to maybe 3rd-best if Lance and Wilson are too erratic for the NFL?
If QB talent determines how good a coach will be/come off as…Doug Pederson is in a heap of trouble.
(c) The Organization…
You would have enjoyed the Doug Pederson intro press conference. I did.
Usually, a new head coach intro press conference is boring…an event where they let a collection of homeless-looking people in and have them seated to watch canned speeches/intros and then they somehow get to ask questions, almost like they have media credentials…but they are dressed like they just woke up on vacation and wandered down to the loser continental breakfast bar in the hotel lobby. Then these homeless/media people ask the type of fawning pseudo-questions to the owner, GM, or new coach that a six-year-old fan would.
That didn't happen at this Pederson intro presser. No, I have not seen anything like it in my entire football life.
The Jacksonville sports media was well dressed and spoke like adults and had adult thoughts in the form of tough questions. In fact, I think the Watergate hearings were probably more friendly than the Jacksonville media was to owner Shad Khan. I was shocked…and delighted.
A one-hour press conference where Pederson was flanked by Shad Khan and GM Trent Baalke.
If you turned the sound off and just watched the interactions at the press conference, you would have assumed Shad Khan must have been the new coach and Pederson maybe his assistant, and Baalke a secretary…or a cut-out of a human being placed there for optics, like the cut-out fans in the stands during the COVID no crowd games in the NFL year.
Khan gave an opening speech that was wandering, pompous, and canned/ill-logical.
Pederson gave his short welcome and thank yous and was nice, polite, and looked uncomfortable…and those things are/can be uncomfortable. But there was no real comfort level between Pederson and Kham/Baalke.
Baalke said little/nothing. He sat completely still so the deer wouldn't be spooked away, I guess. I don't think he blinked the entire time of the press conference.
After Khan rambled on to start, then Pederson had his brief moment…then it was time for questions from the press. The press instantly jumped on Khan basically disrespecting him (in a legit media way) with hard questions and basically called him out on his BS, and when Khan tried to non-answer, get this…the media actually followed up to get to an answer. At least one time, a media member said…you didn't answer the question, and then restated the question -- about if Khan had offered the HC job to anyone before he did Pederson. Khan tried to non-answer twice, which made him look guilty as charged…then when they pressed Khan again on it, then Khan exasperatedly blurted 'no, I didn't' -- it took three rounds and 5+ minutes for him to directly answer a simple/hard question…very likely answered with a lie.
That's how it started and got more contentious from there, and Pederson looked shocked and disrespected as he realized he wasn't the first/only choice, and that this media wasn't there to fawn over the team.
Khan got peppered and responded for about 75% of the time. Pederson was getting more and more upset as it went on, and he spoke about 20% of the time -- the press was nice to him, but they did get Pederson to quasi-lash out low key…but the media was out for Khan-Baalke. And Baalke spoke incoherent, soulless words the other 5% of the time.
Basically, if you remember, early in the calendar 2022, top coaching candidates didn't want the Jags job if they had to work with GM Baalke -- which is smart of the prospective coaches with options. Shad Khan stuck with/by Baalke, inexplicably, so he lost all the top coaching candidates…and had to settle on Pederson.
That's the genesis of Doug Pederson's hiring, so YEAH new coach!!!! Duuuuval, ya' all.
Doug Pederson is so screwed. I feel bad for him.
This is how we end: At one point Khan was going on and on about Pederson being the right guy and his guy all along and he has no doubts. A media member then said something to the effect of…but, Shad, you said all that this time last year about Urban Meyer.
Mic.
Drop.
Enjoy the HOF game tonight…two of the worst run organizations 'doing battle'. 
The Fantasy impact of Pederson in Jacksonville?
Well, it's simple...Lawrence is a limited QB. Better in a short/controlled game, a la Carson Wentz. The Jaguars went out and overspent on the wrong WRs...they should've gotten catch and run receivers instead of technically sound WRs. The short pass game will aid Travis Etienne in PPR, who will split carries with James Robinson (if JRob is OK again in 2021...that's a tough injury to bounce back from quickly). Evan Engram could be in the right place at the right time for Lawrence's quick, short passes. 
It's not a great outlook, but someone is gonna win with touches...probably Etienne at first...and then gets jumbled up in a split with JRob. The WRs will be random, and you hope Engram has some consistency like Dan Arnold did for a spell last year, but Engram is a superior talent to Arnold. 
This is very likely not going to end well.