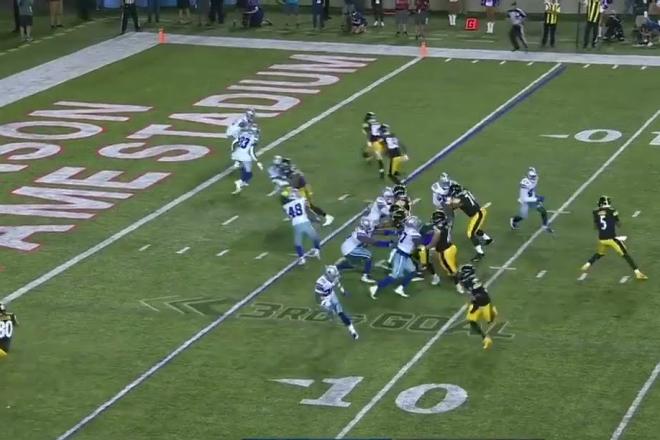 R.C. Fischer
FFM
06 August 2021
‍
2021 Dynasty/Fantasy HOF Game Analysis: Steelers 16, Cowboys 3
Finally, an HOF game with a little FF-intrigue. Usually, no one of note plays in these HOF games and it's a sloppy mess of little FF-scouting value. Actually, we've had the last few HOF games cancelled (due to field conditions) and COVID – so, it's nice to even see the players on the field. But in the Year of our Lord 2021, we have less preseason games scheduled and the Steelers wanted young players to get reps – so, we did get a little something to watch here. Particularly, Najee Harris's first card dealt to us in the NFL scouting process…we'll get to that in a moment.
As for the game itself, it was the typical HOF-sloppy affair. No Big Ben. Dak is out hurt. Bad backup quarterbacks did their bad things, so the wide receivers trying to impress can't because no one can get them the ball. The Steelers 'won' the game, but it was very meaningless.
We did get to see several young players (first and 2nd year guys) getting more play time, so there are deep sleeper scouting things to discuss. However, we did get big name rookies like Najee Harris and Micah Parsons in action to sink our teeth into as the headliners of this game. We also got some of the 1st-team WRs for the Steelers putting their health on the line in this meaningless game. We got several random RBs and WRs down the depth charts and a couple of them caught my eye for sure.
Football is back, finally. The preseason is here to explore young players. I'm not sure if I can keep this to under 5,000 words in my enthusiasm, but I'll try…I'm excited to get back 'onto the field' as well, and excited to do the first of 49 preseason game studies/recaps. With all that out of the way, here we go…
 -- Of course, we first have to talk about Najee Harris (7-22-0, 1-3-0/1). He's the overwhelming 1.01 in Dynasty Rookie Drafts. He's creeping into the 1st-round of some redrafts. The hype train is rolling, and this game/showing isn't going to derail it at all.
I mean…this game appearance should derail it, or at least tap the brakes on it some – but the media is 100% in bed with the Najee-narrative and nothing is going to change it. So, while Najee showed cause for pause on his lack of acceleration and weakness going east-west in a hurry (things on display at Alabama if anyone was looking…but they weren't) in this first showing…the announcers cheer-leaded everything he did, FOX ran a 'star treatment' background segment on him, while the fans clapped like seals after his first hand-off. There is no way you are going to stop this hype train…and the media hit the gas on it more this game.
If you want to see what I mean, here's some secret cellphone footage I got of the HOF crowd's reaction right after Harris first carried the ball (for about 3 yards or so): https://youtu.be/gMljLyj6qJM
I'm sure all the mainstream media recaps of Najee were running the same general theme today: Najee showed why the Steelers took him #1.
I mean, I guess he did show why…since Mike Tomlin wanted to replace James Conner's lack of juice/3+ yards per carry ways with a younger version – so, mission accomplished as Najee gave us 3.1 yards per carry on 7 carries this game.
WELL, it's just the preseason! ...I'm sure will be the retort to my prior comments.
Well, then why are people saying Najee looked so good last night? If you want to say he was 'meh' in this game, and maybe he's not all that for the NFL and that if he's a slower/big-bodied guy who can only run in the interior and needs a big O-Line advantage (like he had at Alabama) to thrive…then I'm with you. I'm not down with 'he looked the part last night' analysis. At best, we have an 'incomplete' grade.
This debut for Najee…it's just one glimpse -- I agree, we need to see more samples of his work. But nobody pro-Najee could walk away feeling good about what they saw last night. You could walk away ignoring it as meaningless preseason, and I think that's fine. But anyone who saw Najee in this game, and it cemented his legend for them…you're delusional, and you are a victim to the hype surrounding this guy.
I understand the FF situation here. Tomlin loves Najee…and he can catch the ball well…and he has no depth chart competition…and he'll get a ton of touches. I don't dispute any of that. It's all true. But is it going to be a generic RB2 outcome that you overinvested in is the question?
If you take a 'B-C' grade RB and pair him with a 'D-F' O-Line (did you see them last year in the run game, and it's worse this year) = what do you think the result will be? Did you, at one time, think James Conner was a franchise back hopeful and/or a neat FF-play for all the same reasons a few years ago (and last year)? Why is it different with Najee with the worst O-Line in Mike Tomlin's coaching career…quite possibly the worst O-Line in the NFL in 2021?
You better hope Harris volumes his way out of it. I have more thoughts on Najee and how to play him for Dynasty/Fantasy, and how people are doing so on this very day, for subscribers in a special follow-up to this recap in the Draft Guide area sometime after this recap posts.
The best running back on the field for the Steelers this game – Kalen Ballage (5-19-1). If you weren't already manipulated by the media and the 'Alabama' pedigree, and you just watched this game without knowing who the top Steelers RB was…you'd think it was obviously Ballage – much more burst, better footwork trying to find room in the interior. Najee runs to his spot and then tries to barrel tacklers over in traffic because he's not great at evading them…and that's OK, it works OK for the NFL. Ballage is a better athlete and more experienced runner now. There's no way Najee isn't starting every game for the next four years. I know Ballage or anyone else the Steelers will hide away so as not to make Najee look bad ever going to start over Najee…all I'm saying is that Ballage is the more athletic/gifted runner today. Three weeks from now, perhaps it will be different. I only raise the point so you could go see it for yourself. Watch all of Ballage's carries here then watch Najee's, and you tell me who has more 'pop'.
All that to say, if you do invest in Najee…Ballage is potentially going to be the handcuff over Bennie Snell.
FYI, Jaylen Samuels (11-20-0, 1-5-0/1) is dead. He ran 4th team/4th guy in and really should be moved to a TE/RB/wildcat QB weapon…but that's too smart for the Steelers, who have actually tried that to some success with Samuels in the past, but then instantly stopped doing it for 'reasons' (not to make James Conner look bad).
 -- The best player I saw from this game…or I should say, the one who made me stop what I was doing and go research them because I don't even remember their pre-Draft grade or college tape or their existence as a human on the planet…do you know who it was?
I'll reveal it in my Subscriber's only follow up version of this game recap. It's an interesting player outta nowhere. Can you guess who it was (if you watched the game)? I bet you won't. You can email me a guess if you want.
I'll be impressed if you guess it because you woulda really had to watch this whole game, one…and then have an eye for such things, two…(now some of your gears are really grinding trying to come up with).
 -- Because the Steelers are run by geniuses, JuJu Smith Schuster (DNP), the WR they didn't even want back in free agency but took back when no one else wanted him either – he got to NOT play/be kept safe…while the actual best offensive players on the team Diontae Johnson (2-19-0/2) and Chase Claypool (3-62-0/4) were out on the field putting their body on the line for nothing.
It tells you the mindset of Tomlin…and it is not good, if you're into Diontae and Chase – like many of us FFMers are.
I thought Claypool broke his shoulder on his diving catch.
I thought Diontae dislocated his kneecap on his 2nd/last catch.
Both appear fine, thankfully.
That's our lives in Fantasy…praying our top players don't get hurt. You can't avoid it so go ahead and complain about them being soft, but the injury bug can hit anyone at any time – all you can do is go with the talent who are healthy at this moment. You can try to avoid Diontae thin-frame fears by not drafting him/trading him…which is fine, but I'm not sure what WR you can go into where you don't have any injury fears every time they hit the ground. It's just part of the business.
Speaking of Claypool… You could see he's just better than everyone else at football in the few targets he had. He's an effortless runner with a great NFL body. You know IT when you see it. You didn't have that feeling watching Najee. I didn't…and that's my fear of Najee's upside or inability to create magic in difficult circumstances.
 -- Speaking of injured players…Dak Prescott (DNP) made an appearance in this game…at halftime, in an interview on TV. Dak is being very 'Saquon' about his injury…a 'one day at a time' messaging, but in-game Troy Aikman let part of the cat out of the bag – there are fears that Dak is more injured than being let on, and there is 'hope' (not assuredness) that rest heals him. He has a month+ to go before Week 1, but there are whispers/fears.
I spoke about some of that in the pregame on our Video Q&A, some inside info that I had on it…then Aikman helped me out by whispering it out as well, confirming what I was hearing. More on the Dak injury whispers, and what they are whispering on the special Subscriber game notes released sometime after this recap.
For what it is worth, if Dak is out…Garrett Gilbert (9-13 for 104 yards, 0 TDs/0 INT) will be the starter in his place, and Gilbert isn't the worst backup QB in the league. Ben DiNucci (7-17 for 89 yards, 0 TDs/1 INT) tried to go out and lay claim to the worst backup label in this game.
 -- Garrett Gilbert is better than Mason Rudolph (6-9 for 84 yards, 0 TDs/0 INTs) or Dwayne Haskins (8-13 for 54 yards, 0 TDs/0 INTs) right now. In the 'battle' for #2 QB in Pittsburgh, the winner is…the opposing teams if they have to face any of them.
Dwayne Haskins looks like what you want in a QB, at a glance, physically and arm strength…the problem is they had Peyton Manning visiting the booth during the game and he doesn't look much like your ideal image of a QB, physically, etc. But Peyton can read defenses, not get rattled in pockets, and has mechanicks and accuracy and IQ. Haskins has a better live arm, probably, but is 0-fer-everything on those key item accounts for a QB. Looking the part should mean nothing in scouting, but it's all the media looks for in their QB.
All these rookie QBs tearing up 7-on-7s and 11-on-11s in non-contact drills in training camp…be careful drinking all the training camp notes Kool-Aid from the local reporters watching this and making sweeping judgements/writing propaganda. Jordan Love and Kellen Mond and Jamie Newman were tearing up the Senior Bowl the last two years too…in practices, when contact is not a threat, and thus QBs can look terrific. Haskins made a couple good throws on simple timing plays, but then started floundering as the situations tightened…against 3rd-string defenders.
…but Mike Tomlin WILL definitely try and make Haskins the starting QB next year. He'll want to in his heart.
 -- Micah Parsons (3 tackles) debuted in this game, and I see him listed some as an 'ILB' – but they are using him exactly like Mike McCarthy said they would after OTAs…they like his pass rush ability, so he's pass rushing…a lot. I saw him lined up as an edge rusher more than an interior LB here.
All that is fine, but just note for IDP…an 'LB' designation on a player who's an EDGE is usually not good for most scoring systems. You want 'tacklers' at LB. Parsons was not running around tackling a lot last night. He was pass rushing primarily…which is fine for the NFL, but might not be as fine for IDP designation as an LB.
He also couldn't catch Ray Ray McCloud on a jet sweep in a foot race early in the game, FYI. McCloud is a 4.5+ runner. Parsons is supposed to be a speed freak of nature. I'm just sayin'…
 -- The Cowboys played a host of running backs in this game, and they have a collection of interesting 1st-year and 2nd-year RBs to look at.
Tony Pollard (2-9-0) is the obvious #2 back, and all the rest of Dowdle-Olonilua-Hardy-Knox (the order they entered the game) were solid enough/indistinguishable.
Dowdle is the #3, it appears.
Olonilua would be my choice as a #3 because of his physical size to go along with solid abilities…he can also/does work as a fullback, but he has some RB chops.
I thought rookie JaQuan Hardy (3-10-0, 2-9-0/2) looked like I expected…like an Eno Benjamin, Devonta Freeman type…short, tough, nothing special but competent.
Rookie Brenden Knox (4-12-0, 0-0-0/1) looked like he has the most juice in his legs but is also the deepest on the depth chart.
 -- I was more interested in seeing the Cowboys' rookie WRs than RBs, but it ended up being a letdown at WR…and there's only so much that could happen with DiNucci and Cooper Rush as hack QBs to work with.
Simi Fehoko (1-4-0/2) got in the game early but didn't do anything of note. He was moving well on the few routes I saw but nothing to grab your attention here.
I love Iowa UDFA WR Brandon Smith (1-14-0/2) but he entered the game with dregs of society/later in the game…it's not looking good for any breakthrough here on this depth chart. He's practice squad bound.
He did make a terrific diving catch on a wild throw, and I was all ready to boast about his great hands that I discussed in my pre-Draft scouting report on him…but then the next play he had a pass thrown to him and he botched it. He still has great hands, but he didn't do himself any favors on the late drop.
There was one Cowboys WR that grabbed my attention, but I'll save that for the subscriber notes version. A guy I have never written about or really watched much on – but he caught my attention in this one.
 -- Let's talk about some IDPs…
I spent a good amount of time watching Steelers CB James Pierre (4 tackles, 1 PD), because he's going to start for the Steelers, I bet, Week 1.
I also watched a lot of Dallas rookie, 6'4" freak CB Nahshon Wright (5 tackles).
In the battle of these two camp 'buzz' CBs…gimme Wright. His body and speed…he's got a chance to be a starter fast for Dallas, like sometime in 2021. Another Will McClay special – my hats off to the great Mr. McClay. He's a very smart middle-late-UDFA drafter/scouter…the best in football by a mile. He just can't get Jerry out of his way for early round drafting, nor does he hire the puppet coaches.
Dallas rookie LB Jabril Cox (5 tackles) looked OK. Didn't grab me one way or the other, which is the same as when I scouted him pre-Draft. He looked more dominant at North Dakota and more average after transferring to LSU – a cautionary tale for those panting over North Dakota State highly visible prospects translating to the NFL…
Steelers LB Alex Highsmith (3 tackles, 1 sack, 2 TFLs) looked ready to replace Bud Dupree. I think Highsmith will make Steelers fans forget Dupree, and eventually see Highsmith as the better player in the long run.
A defender I didn't expect to jump out at me this game did just that – we'll reveal him in the extra subscriber notes from this game.
 -- Last comment, a snarky one to end this…
So, during the game they pan the camera to new Dallas D-C Dan Quinn. One of the talking heads then went into how the players are really enjoying playing for him (I'm guess Aikman with more Dallas propaganda) and how Quinn is committed to simplifying the game for them -- and that 'simplifying' comment is always spoken of like some revelation every time it's uttered by any analyst.
But can I ask…?
I hear this 'we're gonna simplify it for the players' from/about every new coach coming into any new NFL situation…how they're going to simplify it from the previous regime, I have no idea…I guess, simplify it from the previous way too complicated system the old group somehow put into place? OK, great. But I've heard this bullshit for a decade now.
If every coach is simplifying everything…
And coaches are getting fired every 2-4 years…
Then we're on like 3+ generations in on new coaches 'simplifying things' from the prior regime – like how simple do we have to make this to find success? Are there any more levels of simplicity left to simplify to? Are these simple plays presented in stick figure drawings on a chalkboard and the players are spoken to about it in a Forest Gump-like cadence so they can understand it?
Don't you think you'd want a complicated system from a new hire coach? Is it like: We sure would like to fool the other team, but we guess our team is too stupid to do anything like that…so, we're gonna simplify everything so the opponents can figure it out easily and we're gonna lose and all get fired in 2-4 years. Good Luck with that plan! Seems to be working well everywhere it's tried.