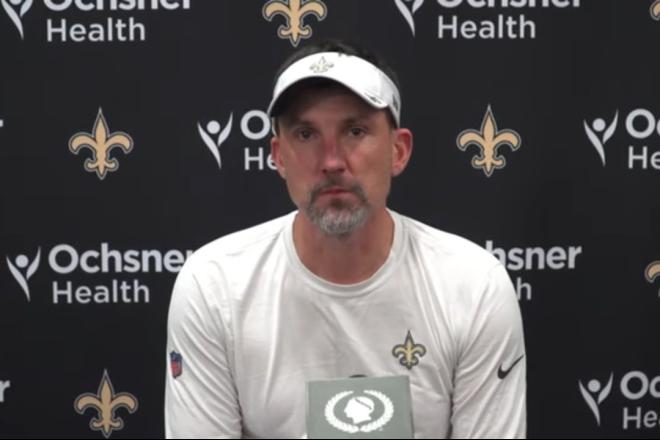 R.C. Fischer
FFM
31 July 2022
2022 New Hire NFL Head Coach Analysis #6: Dennis Allen, New Orleans
(same intro as prior coaching analysis reports)
===========
I need to address two things at the top, and I'll probably copy and paste this into every intro ahead of the new hire coaching analysis for 2022…
1: Why are your (RC's) famous coaching studies just now starting (July 2022)? You usually do them in Jan.-Feb.-Mar.?
I used to be excited to jump right on these studies but the longer I research and study the NFL, as it relates to Fantasy Football, the new head coach is not as big a factor as I thought it once was. I do some base research right away, when they are hired, to identify trends/patterns in their (and their staff's) history on offense especially -- but a full research report, as I have done for years, I am arriving at a belief that it just isn't as important as player scouting and study, so I put it off until I had the time to work on it…so, he we are.
It's a definite, purposeful lack of priority as to why I'm starting the deeper reports in the summer.
2: Why do I (RC) think the new head coaching hires are not as important as they once were?
After years and years of NFL study and observation, I've come to the most simple/obvious conclusion about a new (or any) NFL head coach importance to team wins/performance: Tell me who their quarterback is, and I'll tell you how 'good' a coach they're gonna be this season/ahead.
All my years of NFL observation, all I see is coaching failure and nonsense from the top (head coach)…out of touch philosophies, fighting with the GM, strange decisions for their starting lineups, and inability to manage a salary cap or construct a roster. Now, they do know how to do the 'job' of coaching…they know playbooks, weight rooms, stretching, dumb/cliché filled speeches, dress codes for road trips, practice schedules, blowing a whistle, coach speak press conferences, play calling from the playbook…they know how to perform the job of 'coach', but 'difference makers'? Legends? Geniuses? Name one.
Ask yourself, if head coaches are so smart and such great communicators and understand the game so well…why are ex-quarterbacks getting tens of millions of dollars to analyze the game on TV, and not ex-NFL head coaches? Have you listened to the Bruce Arians, or Jeff Fisher, or Brian Billick, or any of the ex-coaches try and call a game…or even host a pregame show or something like it? Useless. Ex-quarterbacks in the booth are always natural and detailed and understand what they are seeing and can communicate it. Ex-head coaches…well, there's Rex Ryan as a nonsensical sideshow on a dying media company's pregame show. Steve Mariucci? Are you kidding me?
We all thought we had Bill Belichick to look up to, but then we saw how he handled the Tom Brady situation and how he wanted rid of Tom, and how he's fared since Tom (and how Tom has fared without him). Who has been a better coach in the NFL? Bill Belichick or Bruce Arians? Answer = the one possessed Tom Brady, that's who.
There are better coaches than others, for sure…but it's more 'least damaging to things' is better than 'very damaging to things'. They do know how to swing a whistle on a string around their finger and bark nonsense while the players stretch out pregame/practice.
In the end, this following statement is going to make you deny it…and then when you think about it, you'll agree…and then it is sobering (for coaches): the location/geography, the weather, the stadium, the surrounding city, and the tax ramifications of that area/state are more important in attracting and keeping players than 'head coach'.
A head coach has one main characteristic they MUST possess…don't piss off the elite quarterback/you must befriend the elite quarterback.
Football fans are always so religious in their faith and defense of and promotion of their team's new head coach -- it boggles my mind. People believe in a new hire head coach, likely a guy they may have never heard of before they entered the interview cycle/media cycle, with more rigor than church goers believe in God on Sundays. You can have hope in your new head coach for your favorite team, but these coaches are mere mortals, and most doomed-to-fail (and these adoring fans will turn on them within two years of their hire)…and many of these new head coaches were not the first or even third-fourth-fifth choices during the interview process, but when these coaches land on 'your' team then the making-them-into-a-god process by the media…and thus the sheep/fans go right along for the ride.
=================
So, who is Dennis Allen's QB?
Jameis Winston.
OK…then Allen won't get out to a very good start in his second stint as an NFL head coach…he's one step towards a quick firing after 2-3 seasons already. If he can get to a great QB in 2023, maybe Allen will have a shot to stick around as a head coach for a bit. New Orleans should be able to attract free agents…if any top one's pop free.
If 'quarterback is everything', then Allen signed on with a perpetual NFL trap door QB (Winston)…and he's about to fall through that trap door himself.
The story writes itself…
NFL fans and analysts love two things…'rookies' and 'new hire head coaches'. Why? Because both things are magical unicorns for those with the NFL as a religious experience fandom. 'The possibilities' that can be imagined of rookie players and head coaches are sugar plum fairies for the faith-based football follower. Those that pledge allegiance to laundry…it gets no better than incoming rookies or new head coaches because you can imagine all the fantastical outcomes you want.
Unfortunately, for the hope-springs-eternal football people…the rookies will eventually play in games, and coaches will eventually coach games and the reality never lives up to the fantasy. So, the fans/analysts turn on the player or coach about 1-3 years in on their prior daydream.
The problem for Dennis Allen is -- he provides little-to-no fantastical 'hope' for the fans, in and of himself. A guy who has a career 8-28 head coaching record (with Oakland years back)…the best functional hiring option available in a weird offseason where the long-time head coach (Payton) abruptly 'quit' being the Pastor of the religion of the New Orleans Saints. Not only did the long-time coach quit being a member of the cult…one of his assistants (Allen) was handed the job. This situational 'handoff' at head coach doesn't give the butterflies and puppy dogs type of good feeling for the fans/analysts. It feels very anticlimactic.
With that real mood happening in the background, the Saints fans are still trying to put a positive spin on it…a hope that Allen has grown and learned from his mistakes. I think that sentiment on Allen is legit -- the fans should garner a little hope that Allen is experienced and could take this team from Sean Payton and tweak it into a contender. But the moment Allen starts to lose…the minor amount of hope/excitement extended will be cut-off and the complaining starts, and December 2023 articles going over a wish list of hot coaching candidates to replace Allen will emerge from Saints-based reporting.
Allen has little window or grace for any failure, and he's going into this 2022 season with a fading, aging Saints team and is banking on Jameis Winston, Jarvis Landry, Tyrann Mathieu, and a returning Mike Thomas to save the day -- a collection of NFL loudmouths who are overpaid, never live up to the hype, and are locker room cancers/not true leaders. All that, while criminal Alvin Kamara faces suspension and ace left tackle Terron Armstead walked away from the team in free agency.
Allen really doesn't stand a chance.
It's a shame because Allen is a decent enough head coach candidate. A nice guy…an experienced guy…and experienced in the Saints' ways -- he was the logical candidate to take the team over. Unfortunately, he got handed the steering wheel to the Titanic and there appears to be something sticking up out of the water ahead…
This is probably going to end badly…for the Saints, and thus for Dennis Allen. Which is a shame, but it is the NFL…quarterback and roster and 'locker room'/culture matters more than 'coach' or 'scheme'. And Allen walks into a job without a real QB, a weakening, aging roster, and a bad 'locker room' on a team that many good employees jumped ship on in the last 12 months.
R.I.P. Dennis Allen…we hardly knew ye'.
I don't care that it's 'continuity' with the same staff staying over with Allen. The long-time continuity is actually a good thing for him, but the problem is that the same staff is now working with Jameis Winston and Jarvis Landry and Tyrann Mathieu and Mike Thomas. Drew Brees is gone. The era where Drew Brees was a top 3 QB talent is gone. Good-to-great QBs are now flooding the NFL…not like when Brees came in and there were like five or so top QBs.
The Saints are (5-7) in the past decade in their seven playoff appearances. If you ignore the magical 2009 season run to the Super Bowl, Sean Payton had a (6-8) playoff record in his Saints career…six playoff wins in 14 seasons (minus the Super Bowl year). Sean Payton had a top 12 scoring offense, usually top 10 every year he was teamed with Drew Brees. In his four other seasons as a head coach (last year) or offensive coordinator (with NYG) without Brees, Sean Payton's offenses ranked #15-21-22-19 in scoring.
Was it Brees or Payton?
Was it Belichick or Brady?
You're about to find out what happens when it's Allen or Winston.
Dennis Allen went (4-11) with Carson Palmer his first year heading coaching Oakland. He replaced Palmer with Terrelle Pryor…then replaced Pryor with Matt McGloin (in another 4-win season). They drafted Derek Carr and started out (0-4) with the rookie QB…and then Allen was fired after those 4 games. There is no history of Allen being an offensive guru. And there's no evidence Jameis Winston can get any NFL team to the playoffs.
So…
Good luck with all that.
What effect does Dennis Allen have for Fantasy outputs?
 -- Jameis Winston started the 2021 season with a bizarre, fluky 38-3 win over Green Bay…where Winston threw 5 TD passes. I remember the game…totally bizarre and random. After that, Winston lost the next week 26-7 throwing for 111 yards with 0 TDs/2 INTs.
All total, Winston started six full games in the 2021 season…his output was: 185.7 passing yards per game and under 59% Comp. Pct. -- which is who Jameis is. Erratic and disappointing results. What's gonna change with him coming off an ACL tear/rehab with the same staff as last year, minus Sean Payton? What's the case that Winston will be better in 2022+?
 -- As Winston falls down, Andy Dalton is no longer a real NFL QB option…so one way or the other, the Saints offense is screwed -- especially if Alvin Kamara is suspended for 4-6+ games.
 -- Mike Thomas and Jarvis Landry will have random outputs depending upon the spastic nature of Winston, but Thomas might be decent getting a lot of garbage time throws as the Saints fall behind in many games.
 -- When Kamara is back from suspension, or if he is never suspended…he'll see a bunch of dump passes from a needing and outlet Winston. If AK doesn't get suspended, you could make a case he could be the top 1-2-3 RB in PPR on catch volume.
 -- The Saints had a nice defense last year, and should be a pretty good unit in 2022…but if the offense can't support the defense, like they didn't under Winston last season (only locking in when Taysom Hill took over)…and if AK is gone right away -- this high hopes defense could crash hard and fast to start 2022 season. They face Brady-Baker-Cousins-Burrow within their first 6 games of the season.
I just see this whole thing heading down the drain in general…falling down off the Winston/Dalton pairing and the possible instant loss of Kamara to start the season. There might be some 'garbage time heroes' at work if the Saints get smoked early and Winston throws 40-50+ times a game against a lot of soft defenses waiting for him to serve up his famous pick sixes, but it's hard betting a lot on 'garbage time'. And all the Saints key offensive weapons are all well-paid over the years, poor character guys who will fold under the substitute teacher head coach and in an un-fun losing season.
Allen will get the lion's share of the blame…the fall guy, and possible one-and-done head coach as the Saints organization continues to crumble from within.