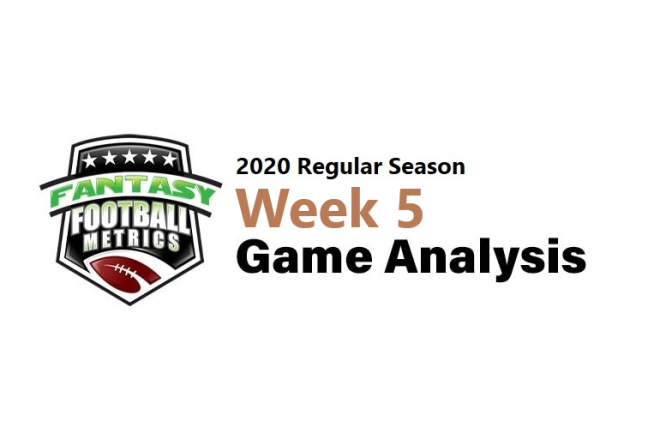 R.C. Fischer
FFM
16 October 2020
2020 Dynasty/Fantasy Week 5: Game Analysis: Ravens 27, Bengals 3
I take notes during the live watch. I re-watch the game on tape looking for hidden clues to report on. Here are my notes/takes on what I saw and how it related to FF 2020. I write anywhere from 1,000-3,000+ words on each game, and I have to move fast to get to all of them through the week…so, please forgive any typos/grammar.
If any score of any game in 2020 represented truly what everyone thought going in...and then exactly what happened in reality…it was this one. What you expected to happen, happened. Joe Burrow struggled against the Ravens defense and he got hit a lot and the Ravens just toyed around and jumped ahead early and just moseyed onto victory. Nothing fresh to learn here about either team.
We won't know how good the Ravens are until they hit Weeks 7-12: PIT, @IND, @NE, TEN, @PIT.
The Bengals next hope for wins comes Weeks 11-14 when they face three NFL East teams in a 4 game stretch…a stretch where we can answer the question – what team is worse…the Bengals or every team in the NFC East?
Fantasy Player Notes…
 -- Lamar Jackson (19-37 for 180 yards, 2 TDs/1 INT, 2-3-0) is killing people in FF. Last week, he missed some practices sick and has a knee injury that he's able to play on but in a game against a helpless foe there's no need for him to go all out so you get him playing, dialed back, and killing your FF numbers.
I think there's a risk of it happening Week 6 vs. PHI too. In 6pts per pass TD with bonus scoring, etc., 'favorable for passing' league scoring – the question of whether like a Gardner Minshew is in a better spot this week is firmly on the table. You have to believe Lamar is saving himself for the difficult weeks ahead starting Week 7. It's a concern LJax owners don't need in their lives right now. I'm just thinking out loud…no one truly knows.
 -- Joe Burrow (19-30 for 183 yards, 0 TD/1 INT) has the opposite issue…he knows going into every game he is going to get killed. He's the #1 most sacked/hit QB in the NFL.
Another reason why Herbert is better than Burrow…Herbert is handling the lack of O-Line a thousand times better than Burrow is. And that's not a slam at Burrow, I expect this Burrow choppiness…what Herbert is doing with that O-Line he has is the most impressive rookie QB play I've ever witnessed.
 -- The Ravens defense can so dominate the weak, you can't get down on the Bengals assets now…prior week/s they were rolling numbers.
It's a good time to buy low on Tyler Boyd (4-42-0/6) or very low on Tee Higgins (4-62-0/8) if you were looking for an entry point. The Ravens corners are pretty salty.  
 -- Drew Sample (2-22-0/2) is not leveraging the 'you know how Burrow loves TEs' vibe I too thought existed. Since the Week 2 breakout in the 4th-quarter when C.J. Uzomah got hurt…Sample has had one decent game and two duds. The momentum/trend is he's a TE2-3 until further notice.
 -- J.K. Dobbins (1-34-0, 3-21-0/4) got one carry…popped it for 34 yards, and then that's that for carries. Thank you for your service.
For the year, Dobbins has 16 carries for 126 yards and 2 TDs…an impressive 7.9 yards per carry. At some point, he's going to emerge and then the Ravens run game will never be the same again.
Dobbins has 3 or more catches in two of his last 3 games. Very odd for a Ravens RB to get that level of pass game work with Lamar. It's a good sign of how trusted JKD is. He just needs 'the job' and then he might be better than rookie RBs CEH or Jon Taylor in the situations they are in. If all three were full starters named today, I'd want JKD for FF 2020 ROS I do believe. Better offense. Excellent talent.
We may look back in 1-2 years and the answer of top Dynasty Rookie between CEH or Taylor was the answer of JKD.
 -- I love Devin Duvernay (1-42-0, 2-17-/2)…talk about a guy who got screwed by his landing spot. If he were a Packer or Chief he'd be one of the rookie stars of 2020 already. Stuck in Lamar Jackson's offense, I don't know if he'll be relevant for years.
John Harbaugh knows he has something here.
Two weeks ago…90+ yard kick return TD. This week, one jet sweep…42 yards.
Both Dobbins and Duvernay are giving little glimpses of the Ravens future, and absolute killer offensive weapon depth. Duvernay would be the best WR on the Jets, Giants, Dolphins right now…and he can't get on the field in Baltimore.
Snap Counts of Interest:
63 = Sample
13 = C Carter
54 = Mq Brown
38 = Snead
36 = Boykin
18 = Duvernay
25 = Edwards
19 = Ingram
18 = Dobbins