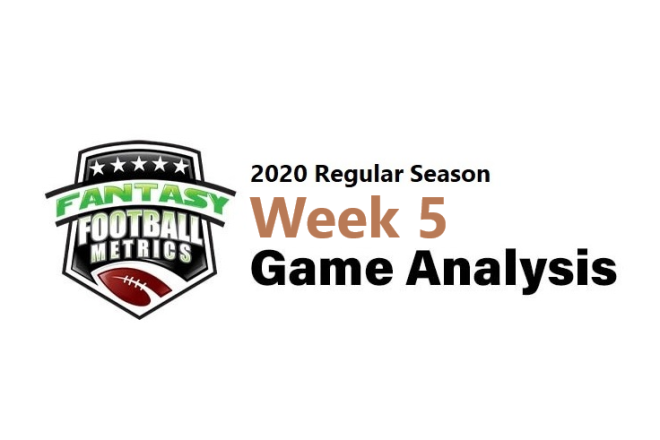 R.C. Fischer
FFM
14 October 2020
2020 Dynasty/Fantasy Week 5: Game Analysis: Panthers 23, Falcons 16
I take notes during the live watch. I re-watch the game on tape looking for hidden clues to report on. Here are my notes/takes on what I saw and how it related to FF 2020. I write anywhere from 1,000-3,000+ words on each game, and I have to move fast to get to all of them through the week…so, please forgive any typos/grammar.
Make it three in-a-row for the team I so wanted to bet the 'over' win total (5.5) on but I chickened out…just a light/fun bet not a serious one. I should've gotten serious. Matt Rhule has taken a leaky defense, a suspect O-Line, a free agent QB, and Mike Davis and has become a playoff/division contender in just five games into his rookie head coaching season with limited preseason/training camp 2020 COVID era prep.
Three wins in-a-row now…and the Panthers were 'in it' in their first two games/losses to the final 5 minutes or so. Imagine what Rhule is going to do in another year or two? Imagine what he might do this season? This team is getting better every week. If they go and beat Chicago this week (6)…then everyone is going to take them seriously. We see the Panthers hitting 7-8 wins for the season, but 9 (and a wild card) is on the table.
The loss to Carolina stung so bad the Falcons fired their coach over it. I mean, a change was needed but this team was playing decent ball early in the season and were dealing with several key injuries right from the jump. I don't think this firing was warranted, but a change needed to happen -- so why not now? The GM should've been fired first and let Quinn see if he could turn things like he did last year, when his key players came back from injury – but people have had enough and so a change happened.
It's not a good change…it's just a change. O-C Dirk Koetter has been a bad coach for years, and he's still there…so not much will change as he coaches his final season in Atlanta. He'll surely be fired with the new administration coming in. Houston needed a break from Bill O'Brien, but I don't know that Quinn gone is going to make this team perk up – I bet they get whacked this week.
Atlanta could be an underdog in every game the rest of the season and maybe win 2-4 games. The veterans will start mailing it in/not coming back from injury as fast and this thing will swirl down the drain further.
Fantasy Player Notes…
 -- A tale of two QBs…
Teddy Bridgewater (27-37 for 313 yards, 2 TDs/0 INT) played his sharpest game of 2020…he's only getting better, more comfortable as he goes…which is bad news for the rest of this division. A division with aging QBs not getting any younger/better. Teddy's numbers are starting to rise as he becomes a viable FF QB on matchups.
Matt Ryan (21-37 for 2266 yards, 0 TD/1 INT) is fading away. He's back to his jumpy/hurried, uninspiring self. No longer the garbage time swashbuckler he used to be. The owner is noncommittal on him as his QB of the future – so basically his employer just disrespected him, so now Ryan will respond to that.
How will he respond? He'll start playing safe football. No more waiting in the pocket too long. He's going to throw dump passes and bombs and not care whether he wins or loses as much. Why try hard when your boss was just fired, unceremoniously and the owner just dissed you?
The real reason Ryan will reel it in – he is set to make $40.9M next season…that's not a typo. He can get paid $40.9M to play, or $49.9M if he gets cut. He's going to destroy their cap in 2021, a reduced overall cap for the league in 2021, one way or the other (staying or getting cut). If Ryan is cut, he will have made over $150M+ in salary/pay along from his time in Atlanta. He'll be 36+ years old next year. Why would he want to continue on in the NFL? Unless he loves the locker room and would enjoy being a backup for pocket change (for him) deals – we might be seeing the total end of Ryan's career in 2020.
He looks terrible right now, so what NFL team will want (in 2021) a ridiculously overpaid for his career QB at the end of his skills with little motivation beyond 'hanging on/hanging around'…i.e. the Philip Rivers' story? The Dallas Cowboys should be on the phone right now for a 2020 run…but they may not be all that much better with Ryan over Andy Dalton. Kyle Shanahan might be on the horn right now...
Ryan is going to fade away and take some fantasy scoring down with him. All his throws will go to Julio and Ridley, and randomly everywhere else.
 -- Todd Gurley (14-121-1, 4-29-0/5) is getting a boost from fading Ryan because he gets more dump passes and run opportunities as they try to limit their Ryan exposure in the offense.
I just wonder if the first player traded this next few days/week is Todd Gurley? Why would they keep him through his one-year deal? That thought means Brian Hill (6-39-0/11) could be a shock main starter soon.
If you believe that, now is the time to stick him on the back of the bench and see what happens.
 -- Mike Davis (16-89-0, 9-60-1/10) looks like he has at least one more week of starting before Christian McCaffrey returns. Three thoughts on Davis…
1) Is Davis really going back to being a nobody when CMC returns? CMC's touches may be down a bit upon return.
2) The Bears signed Davis to a nice deal last year, and then cut him outright midseason. Does anyone blame/question Matt Nagy? Nope, the Bears are (4-1), so all is well/above rebuke today.
3) Davis couldn't find work last year, but Todd Gurley makes all the money? Who would you rather have for your NFL backfield today? Let's handout more giant RB contracts NFL…they really make a ton of sense.
The Panthers are really dying without McCaffrey (they are 3-0 without him this season).
 -- It's not showing in the fantasy scoring, but Curtis Samuel (4-28-0, 5-36-0/5) has been wonderful for the Panthers in his new role. He's shown to be a legit runner of the ball as a tailback…a tough as nail runner for his size. He's making reliable/tough catches as a WR. He made the key block to spring D.J. Moore's long TD this game.
He's been an unsung hero for this team. He's been OK/WR3-4 for fantasy. He's useful among the deeper Flex options, he's due for a TD, but I don't see great FF consistency coming any time soon and when CMC returns – he's done at RB.
 -- D.J. Moore (4-93-1/5) took a little dump pass and was off to the races for a 57-yard TD aided by that Samuel block. Outside of that play – 3 catches for 36 yards on 4 targets otherwise. DJM is not a major part of this passing game. Both Robby Anderson and Curtis Samuel are getting more/better looks or touches.
I'd try to trade Moore hot off this event, and while his name still holds appeal.
 -- Hayden Hurst (2-8-0/6) had decent targeting and he was open for one TD at least, but Ryan misfires to him often. He and Hurst are not in any sync, and I'm not sure they ever will be this season.
 -- Falcons LB Foye Oluokun (14 tackles, 1 TFL) has averaged 8.5 tackles per game this season. AND he's only played two full games as starter (not starter Wk1, hurt/left early Wk2).
 -- CAR rookie DB Jeremy Chinn (9 tackles) has made at least 7 total tackles in every game this season and is averaging 8.8 total tackles per game.
 -- Very quietly the Panthers defense is moving into the middle of the pack in many defensive categories…and now the #4 pass defense in yards per game allowed. The problem is they are #31 in the NFL with only 5 sacks – they aren't creating any chaos for FF numbers. They have the least QB hits in the league so far.
But they've held three decent offenses to 17.7 PPG the last three weeks (Herbert-Kyler-Ryan). They are starting to get more pressure/numbers the last few weeks. Week 6 vs. CHI might not be too awful for FF.
Week 14 they have DEN, Week 16 they are at WAS…we might be using them in the FF playoffs.
Snap Counts of Interest:
63 = Zaccheaus
48 = Ridley
40 = Gage
36 = Gurley
20 = Br Hill
51 = DJ Moore
48 = Samuel
47 = Robby A