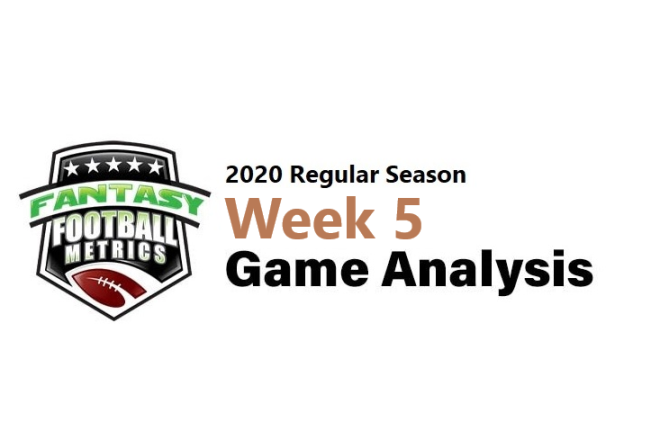 R.C. Fischer
FFM
17 October 2020
2020 Dynasty/Fantasy Week 5: Game Analysis: Seahawks 27, Vikings 26
I take notes during the live watch. I re-watch the game on tape looking for hidden clues to report on. Here are my notes/takes on what I saw and how it related to FF 2020. I write anywhere from 1,000-3,000+ words on each game, and I have to move fast to get to all of them through the week…so, please forgive any typos/grammar.
I'll remember this game for Mike Zimmer/Minnesota going for it on 4th & 1 near the goal line late to put the game away (up 5 points) and getting stuffed doing so – which then allowed Russell Wilson to have 1:57 to go get a TD/a win…and you knew he would, and he did.
I think it was the right call by Zimmer instead of taking the FG to go up 8 points, but I get the argument both ways. We complain coaches don't play to win…and then they do, and if it doesn't work then we complain that they'd played things unsmart. Football fans, Fantasy owners, football handicappers…all like to whine about anything that doesn't go their way…it's the national pastime of being a fan of football. Makes it fun and maddening to behold.
Consider Minnesota has lost to Tennessee and Seattle by 1 point each within the last 3 weeks. This is not a bad Vikings team…just missing some key players (to injury) and had terrible luck this season…and got beat bad by GB-IND out of the gates -- so we think they suck. Losing to 4 playoff teams in the first 5 games of 2020 is not a crime. I bet they go beat the Falcons by a 10+ this week to show that they are better than the average NFL team.
If the Vikings win this week, get to a BYE and can somehow get Danielle Hunter back healthy (potentially he's out for the year) – I think they have playoff aspirations. Week 8 at GB will be their Super Bowl, and if they win that to get to a hypothetical (3-4) then have a much easier schedule to the end…I think if they beat ATL and GB they will finish with 9 wins and sneak into the wild card. If they lose to ATL or GB, the playoff dreams are probably dashed in too big an early hole to climb out of.
Seattle is (5-0), but it's a weaker (5-0)…every game since Week 2 they've had to scuffle to win. Bad news…Russell Wilson has had to save them four weeks in a row. Good news…they have Russell Wilson. The 49ers are dying. The Rams are overrated. The Cardinals are a .500 team – Seattle should cruise to an NFC West title and contend for a #1 seed. What a terrible year not to have the 12th man. No way Washington/Seattle politicians open things back up/strong to help.
Fantasy Player Notes…
 -- Let's start with three "I was wrong" situations from this game…
#1) D.K. Metcalf (6-93-2/11) played a helluva game here. By far the best of his career, a career defining game of sorts/he's been great all season for the NFL, for FF, but this game was a major step to Metcalf as arguably the most dominant WR in the NFL.
We all know he's big and fast and can use power and speed to beat lesser corners in one-on-one. I've been amazed for two years how corners still come right up into his face and try to play tough with him as DKM swats them away and just blows them away deep. The NFL has been a 1000x easier for him than in the SEC…and it doesn't seem to be changing anytime soon.
Witness on the final drive, 4th & 10 for Seattle from their own side of the field, looking like 'game over', Russell Wilson dropped back and threw a (hail mary) 30+ yard jump ball for Metcalf…who was not double covered, not a 'safety over' approach, but just left to streak downfield (as always) off the snap and wide open on by several yards as a much smaller/skinnier rookie CB didn't even know where the ball was.
Mike Zimmer is a defensive genius? Harrison Smith is the Captain of the DBs?
Metcalf caught the pass – a 'drop' or slipped footing (in the rain) would have cost them then catch/game. It was the play of the game made possible by Metcalf…not Wilson. In some respects, Metcalf is possibly the MVP of Seattle – not Wilson. That's how dominant Metcalf has become. This play was as big as the final one for Seattle…
On this game-winning final drive, DKM caught the game-winning TD pass on 4th & 6 (the last play basically), diving for the throw with a defender on his back, with another DB coming from the other direction, in the rain and Metcalf caught it between two guys for the win. That's a pass Metcalf would usually drop (not a deep ball, and in-traffic)…it might be one many WRs drop in the steady drizzle. Metcalf came through.
Two huge plays for Metcalf, in the rain, in the clutch, in all kinds of varieties.
I thought Metcalf would be a deep ball guy who couldn't work the short/interior game (because of bad hands). I thought he was one dimensional and would get figured out by NFL defensive coordinators like he had in the SEC. Instead, the NFL still doesn't really double him/pay him respect, still corners try to come up and press him, and Metcalf has shown that he's just too dominant for the NFL.
I WAS WRONG. Metcalf is great, not 'good'…and is the best WR prospect from that draft…and, again, a non-1st-round WR is the best WR from an NFL Draft.
For Fantasy, he'd be my #1 WR pick of the future over all of them if I were drafting redraft or Dynasty today (which means he'll be doubled from now on in and his numbers brought down…the RC WR jinx of 2020 ya' all!)…he's that dominant right now. Tyreek or Metcalf would be my battle for top dog WR for FF going forward.
Three things that come to mind as I contemplate all this…
a) Tyler Lockett (4-44-0/5) should benefit from what has to be more coverage attention on Metcalf now. Lockett might hit a hot streak ahead, but he has two down weeks in a row in FF – an excellent buy low during a BYE week (now).
b) A.J. Brown, DK's Ole Miss teammate, is going to be a similar but different type star – physical freak the NFL doesn't cover right either and dominates physically, so he doesn't have to be a master route-runner, or  have amazing hands, etc.
Marvel at Larry Fitzgerald and DeAndre Hopkins's hands…while Metcalf and Brown just physically impose their will on helpless, tiny NFL DBs for their success.
c) Quick comparison…
6'3.3"/228, 4.33 40-time, 27 bench reps, 40'5" vertical = D.K. Metcalf 2018 NFL Combine
6'4.2"/238 4.42 40-time, 19 bench reps, 40.5" vertical = Chase Claypool 2020 NFL Combine
We think of Claypool as a big/speedy for his size WR – he is big and speedy, but also at a size that is just too dominant to stop for little DBs. And Claypool is the 'better' WR version of Metcalf…all the size/speed with excellent routes, cuts, hands.
If the future is ruled by big, dominant, physical receivers…the future is Chase Claypool not Diontae Johnson (as a comparison for the whole pool of young NFL WRs).
 -- (#2) I think I under graded Justin Jefferson (3-23-0/5) for the NFL.
I thought he was talented enough, but more 'good' and 'made by Burrow'. There's a component of all of that, but the more I watch Jefferson I see more Stefon Diggs/Diontae Johnson characteristics (already) than just your run of the mill 'good' WR prospect.
I made fun of the 1st-round WR class…Lamb-Ruggs-Jeudy-Reagor-Aiyuk-Jefferson as either way overrated on talent (Lamb-Ruggs-Jeudy-Reagor) or just too run of the mill 'good' to be taken that highly (Aiyuk-Jefferson). I thought Claypool-Mims-Duvernay-Edwards-Pittman were WAY better (and they are). However, after watching 5 games of NFL work now, I hold to that opinion of the 2020 NFL Draft top WRs except I remove Jefferson from my critique. I WAS WRONG! He's better than all those other 1st-round names it looks like.
Jefferson is still a little finesse, wiry, potentially soft/frail like Diontae Johnson fears are popping up but both an excellent ability to get open on any coverage and great hands/playmaking skills after catches with quickness and vision. You can get tougher, more experienced as a WR but you cannot teach these guys the type of Diontae and Jefferson footwork to get open on NFL CBs day one, like they have.
I'm impressed with Jefferson. I think he'll have a choppy 2020 FF-run because of the Vikings' offense but he's more WR2 than WR3 the rest of the season…and a future top guy for the Vikings as Adam Thielen ages.
 -- (#3) I'm never criticizing Chris Carson (8-52-1, 6-27-1/7) again.
If only my own wife, kids, parents loved me as much as Pete Carroll loves Chris Carson. All the key carries and now a master in the pass game. I don't get it, but someday I will accept it as unwavering reality.
Chris Carson is now 5th among all NFL RBs in catches this season (21). David Johnson, Le'Veon Bell…two of the great receiving RBs in NFL history cannot even get more than a target in a game, but Carson is now Christian McCaffrey West all of a sudden.
Chris Carson is arguably the best RB in fantasy. Maybe my praise can bring him down? I WAS WRONG to undervalued him…AGAIN! Don't listen to me on Carson or James Conner…I have the same issues with both.
If you're holding onto Rashaad Penny…it's only a hope that Carson gets hurt and Penny has to step in. I pray I never am so stupid to write another 'Here comes Penny to take the lead role' sentence again (while he's in Seattle). I'm stupider than NFL corners pressing coverage up on D.K. Metcalf when it comes to disliking Carson for FF.
It was a tough recap report to write to this point. It's hard to say you're wrong: https://youtu.be/CvdY3HfepOo
 -- You know who I'm raising projections on this week…Irv Smith (4-64-0/5).
There was a lot of talk the week leading up to this game about 'getting Irv Smith more touches' by Zimmer, but that's usually the kiss of death. The 1st play of this game – designed pass to Smith (batted down). The 2nd play…a 20+ yard diving catch for Smith. He went on to a career high 64 yards game here.
Smith faces the Falcons this week…the #2 worst defense against the TE this season.
You need help this week at TE or need to take a gamble…Irv might be a real overlooked option this week.
I strongly believe Kyle Rudolph is going to be traded by the trade deadline, unless MIN starts a winning streak through Week 8. You have half a notion on Smith today, but if Rudolph went down/traded – everyone would leap at him for FF. You might want to get in early?
 -- Obviously, when Dalvin Cook is out…Alexander Mattison (20-112-0, 3-24-0/3) can step in and be a 100+ yard runner, as he did here. When Cook is back…it's right back to heavy Dalvin. There is no takeover here.
So many starting RBs are getting hurt…you have to protect your lead RBs where the backup is clear for FF.
In no particular order, some names often overlooked in this boat (like Mike Davis was)…
Bennie Snell
D'Ernest Johnson (until Chubb returns)
Gio Bernard
Darrynton Evans/Jeremy McNichols
Duke Johnson
Devontae Booker
Tony Pollard
Boston Scott
J.D. McKissic
Cordarrelle Patterson
Latavius Murray
Brian Hill
Rashaad Penny (if he returns healthy)
Tevin Coleman (when he returns)
 -- This was supposed to be the game where Kirk Cousins (27-39 for 249 yards, 2 TDs/1 INT) took advantage of a favorable matchup but when Minnesota gets a lead, they just try to run the clock out (like most NFL head coaches want to do). Minnesota ran the ball 41 times and tried to sit on a lead for the first two-and-a-half quarters and then started throwing  a bunch when they got down (more dink and dunk vs. Seattle playing soft trying to keep it in front of them).
Including their two playoff games last season, Cousins has not thrown for more than 276 yards in his last 11 games. He has one 300+ yards passing game in his last 15 games.
However, in his last 16 regular season games, Cousins has thrown for 31 TD passes.
Cousins is playing like a little lesser Ryan Tannehill or Derek Carr…heavy run team QBs who get throw against stacked run game defenses/boxes a lot and are efficient (good TDs) not swashbuckling (lower yards).
 -- MIN LB Eric Wilson (6 tackles, 1 sack, 2 TFLs, 3 QB hits) is starting to perk up…
7.5 tackles, 1.0 TFLs, 0.50 sacks per game since Week 2.
His numbers are starting to flash LB1 signals.
Anthony Barr out for the year is giving him a little extra number boost as well. We juiced him up pretty good in the latest projections, which is usually a kiss of death on him for the past two+ years. This time he really is the coach's desired starter – that's the difference.
Snap Counts of Interest:
45 = Olsen
20 = Dissly
03 = Hollister
64 = Rudolph
59 = Irv Smith
10 = Conklin
54 = E Kendricks
54 = Eric Wilson