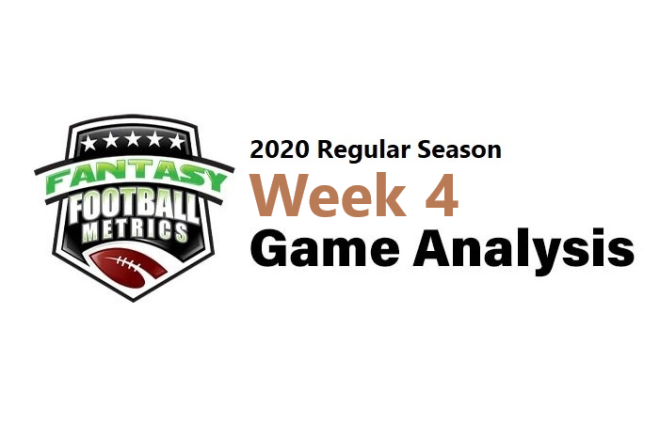 R.C. Fischer
FFM
09 October 2020
2020 Dynasty/Fantasy Week 4: Game Analysis: Bengals 33, Jaguars 25
I take notes during the live watch. I re-watch the game on tape looking for hidden clues to report on. Here are my notes/takes on what I saw and how it related to FF 2020. I write anywhere from 1,000-3,000+ words on each game, and I have to move fast to get to all of them through the week…so, please forgive any typos/grammar.
OK, OK…the Bengals won. Let's not get too sappy, happy about it. Neither team is very good, and the Jaguars lost two good+ cornerbacks and a key linebacker in this game, and it ripped their heart out…and Cincy still scuffled to get the win.  
Cincy goes on to face at BAL and at IND the next two weeks…so, this bubble pops right now. It's a 3-4 win team this season, at best.
The Jags are now (1-3), three losses in a row, and falling apart with injuries fast. They'll be lucky to be a 3-4 win team.
Fantasy Player Notes…
 -- I remembered this game, the live watch, as Gardner Minshew (27-40 for 351 yards, 2 TDs/1 INT) not really attacking with D.J. Chark (8-95-2/9) right away…and that worried me. However, re-watching it, that wasn't really the case. Minshew was pretty appropriate…treating DJC like his #1. I feel better now re-watching it.
DJC was really good here. He made some terrific catches. He's a WR1 talent that we'll see if he can put up WR1 numbers this year. Minshew is not looking great, but he's fine, just not 'extra' compared to last year…not growing in this stuffy offense – so DJC goes as far as Minshew takes him.
It should be fine. The Jags may be so riddled with injuries that they are always down, and always throwing in games. The Jags are #10 in pass attempts in the NFL. That ranking may be ready to grow.
I don't love DJC's next four weeks…he gets Bradley Roby this week, which has been bad news for WRs. He then has DET, which is solid for Chark. Then a BYE Week 7. Then LAC and possibly Casey Hayward on him…and that's not good either. Then Week 9 back to Bradley Roby. I love DJC, but four of his next 5 weeks are very shaky – that's why I'm selling high on him IN REDRAFT this week off this 2-TD game. Nothing personal, because he's great. I'm fine to hold, but I'm seeking to lever this big week.
 -- Same thing with Joe Mixon (25-151-2, 6-30-1/6)…I love the guy but a hot week, after three duds, and then at BAL, at IND the next two weeks is brutal with a Week 9 BYE and then Week 10 at PIT. Four of his next 6 weeks are TERRIBLE. He might come through as RBs can do, getting short TDs – but we got issues on Mixon and Burrow & Friends many of the upcoming weeks.
 -- Speaking of Joe Burrow (25-36 for 300 yards, 1 TD/1 INT)…he's great. Like a young Joe Montana. Great QB mind, and sneaky tough. Greta vision for the field…just little protection for him in the pocket. Still, this marks three 300+ yard passing games in a row.
But before I watched this CIN-JAX game, I watched LAC-TB…and I have to say that Justin Herbert just looks like the superior QB in every way right now. No slam to Burrow, but Herbert has quite frankly…been amazing, for a rookie put in the spot he has been.
 -- I am getting a lot of intel that Joe Burrow is on-field close/connected to Tee Higgins (4-77-0/7)…that he loves throwing to him. He feels they are super-connected. Tee is going to be a solid WR2 threat because of it. Tyler Boyd a PPR WR1.5 hopeful, Higgins an all-formats WR2-2.5.
Just to note again…A.J. Green (1-3-0/5) needs to go to the retirement home that Philip Rivers should be going to. AJG is just embarrassing himself now but getting paid A LOT to do so.
 -- Drew Sample (3-47-0/5) has a chance to be the Robert Tonyan, the Dalton Schultz, etc., for your FF teams…working with Joe Burrow.
Sample's two non-receptions/targets this game…a 10+ yard TD pass in his hands but on the jump ball, as he and the defender crashed to the ground, the cover LB stole it as they fell and it was a TD-turned-pick. His second miss was Burrow again high point throwing to Sample, and it went right through his hands in the end zone -- it was a tough catch, but the intent was there. Sample VERY nearly had 2 TDs in this game, and had he gone 5-65-2/5, everyone would have piled back into him for FF salvation. Instead, they are into Robert Tonyan this week.
Sample has an upside to low-end TE1 here…but not assured.
 -- Two Jags' defenders killing it for IDP…
SAF Andrew Wingard (10 tackles, 1 PD) has played two full games as starting safety (Weeks 2 and 4), and he is averaging 9.5 total tackles per game in those games. He's a high-energy tackling machine.
SAF Josh Jones (11 tackles) has started all 4 games and is averaging 9.0 tackles per game.
Note – the Jags lost D.J. Hayden to injury in this game, and he is now on I.R. for at least 3 weeks. This is a KILLER for the Jags defense. Opposing slot WRs benefit hugely. Randall Cobb Week 5…Tyler Boyd Week 6…BYE Week 7.
Snap Counts of Interest:
64 = Sample
58 = Boyd
53 = AJG
34 = Higgins
58 = Chark
50 = Cole
37 = Shenault
21 = Conley