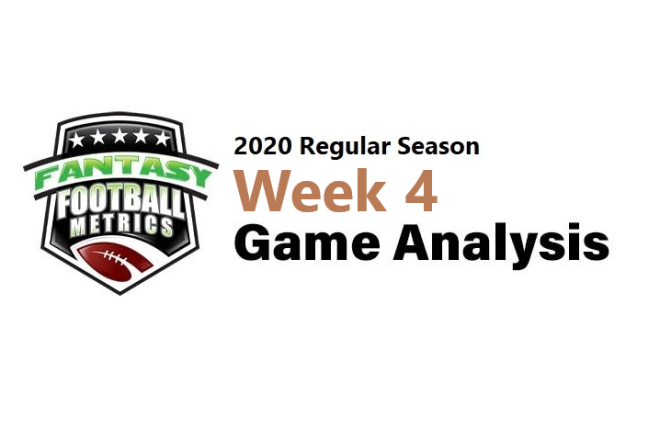 R.C. Fischer
FFM
07 October 2020
2020 Dynasty/Fantasy Week 4: Game Analysis: Packers 30, Falcons 16
I take notes during the live watch. I re-watch the game on tape looking for hidden clues to report on. Here are my notes/takes on what I saw and how it related to FF 2020. I write anywhere from 1,000-3,000+ words on each game, and I have to move fast to get to all of them through the week…so, please forgive any typos/grammar.
I'm guessing most of you were like me on Monday night…
I'm watching the KC-NE game intently…and I almost forgot there was GB-ATL starting at 9pmET. The KC-NE games was a good watch, plus we all/FFM generally have so much tied to KC…so, when KC-NE was kinda 'done' but still going, we were compelled to keep watching…and when we got interrupted during the KC-NE action by a highlight from GB-ATL letting us know Aaron Rodgers was doing his normal thing right away, we didn't have any inclination to switch over to watch it.
By the time NE-KC ended, as I watched my KC-DST keep lavishing me with FF points to the bitter end, the GB-ATL game was 'over' but still had a half to go. I half-watched the non-Davante team beat the brakes off the non-Julio team, and I could barely muster any energy to watch it. I did get the battle I'd always been dreaming of – the Olamide Zaccheaus v. Robert Tonyan showdown. It wasn't as exciting as I dreamt that Z v. Tonyan would be. We'll get to those guys in a moment.
This game was over before it started. I wouldn't be surprised if Dan Quinn got Bill O'Brien'd today. It was 20-3 GB at the half, and just meandered to the end from there. Aaron Rodgers was literally laughing and smirking the whole game after every completed pass because he couldn't believe how easy it was. Rodgers' non-stop camera close up of his face laughing on the field -- it should get Quinn fired today. If the opposing QB got hit 'one time' by your defense all game (yep, that's all ATL had) and he's laughing and having a grand old time…you should probably not be drawing a hefty paycheck for your work. You were supposed to be a defensive genius?
Atlanta will be Atlanta from here…they'll win a few here and there but they'll end up around 3-4 wins and a complete overhaul of the management team. We just gotta wait 13 more weeks on it probably. Another loss or two in a row and expect to see Todd Gurley get traded…he's on a one-year deal and makes no sense for ATL to keep him the rest of the way. The problem is – who's giving up anything for him? The Falcons will likely get a 4th-round compensation pick or better after he's signed elsewhere, so what team is paying up for Gurley/2020?
Green Bay is so far out in front of the NFC North, they may clinch the division by Week 10. Showdown game for them at TB this week…we'll see if this GB team is just a minor-fraud like 2019 – crushing the weak and then getting crushed by the strong, but it's also a litmus test on whether TB is part of the 'strong' already. All I know is, two 'older' QBs will play a game and likely both throw for 400+ yards and 4+ TDs and 90%+ Comp. Pct. while the TV analysts tell us how much time studying the defensive coaches put into the game plan each week.
Fantasy Player Notes…
 -- Last season, Aaron Rodgers (27-33 for 327 yards, 4 TDs/0 INT) wasn't a QB1 in fantasy. Barely ever threw for 300+ yards…rarely threw for 260+. Mostly 1-2 passing TDs in games. So far this season…13 TDs/0 INTs (3.3 TDs per game) and averaging 303.5 yards passing per game. Let me guess…Matt LaFleur's playbook is really kicking in now? Yeah, right.
The NFL has turned into Arena League Football. We all thought 2020 would be a war of running games with a limited preseason, but we have a game with no penalties being called and holding is legal, and QBs have more pocket time and that's allowing the top QBs to destroy opponents and rule Fantasy.
If you're in 6pts per pass TD fantasy leagues (especially with bonuses) you either have Mahomes-Wilson-Allen-Dak-Rodgers or you don't…and you're in trouble.
The QBs trying to get into that group are Brady, Ben and Burrow.
Matt Ryan, Matt Stafford, Cam, Kyler, Lamar, Watson…they can't keep up on a regular basis in 6pts per pass TD. Some of them can if they run for 50+ and a TD. They can especially keep up with their running in 4pts per pass TD leagues. The non-running, generically good QBs are FF-death right now – Ryan, Stafford, Watson, Goff, Brees, etc.
You saw what Rodgers and Brady did Week 4/all season? They're getting better as we go. They aren't aging a bit. They have a license to throw in an era of throwing success.
Why do I point out all this semi-obvious info?
The one QB who fits the profile of talented, license to throw, and has amazing weapons – Ben Roethlisberger…and he's kinda flying under the radar for multiple reasons (a COIVD postponement among them). If you need to get into the passer business and you can't get to the top names without selling your soul…Big Ben might be the affordable salvation…the next QB to go off with ace WRs.
 -- OK, let's talk about the new names/stars of the week created from this game...Robert Tonyan (6-98-3/6) and Olamide Zaccheaus (8-86-0/9).
1) Robert Tonyan – Before this game kicked, a client asked if it would be an idea to drop KC-DST (because they'd already locked in their loss, sadly) and grab Tonyan as a flyer…asking with the simple, speculative words 'in case he goes off tonight'.
Being a super-smart football person that I am, I admonished the thought because I love the KC-DST ahead, and because it was silly to think Robert Tonyan would do anything big enough to generate heat for trade value, etc. What a silly thought! How cute all you non-professional football minds are. Don't waste my time with your daydreams.
I've probably had Robert Tonyan as an 'outta nowhere' Tight End watch list name about 10 times the last 38 weeks of football over the past three years…and was right like once, half-right…like he got a TD off his 1 catch/target in a game. I bellyached every 4-6 weeks for 2+ years about how Green Bay isn't giving this guy a shot and how good he looks, and noting his background as a college WR turned NFL TE, so the receiving chops were there…and why it was so stupid to look at Jace Sternberger when Tonyan was better. All that bellyaching and reaching for 2+ seasons, and the night he goes off…I'm like 'that'll never happen'.
Thus, my 2020 Fantasy Football season in a nutshell.
Tonyan scored 3 TDs this week, so he is now the greatest TE in football and everyone is going to go nuts for him as TE salvation to fix Tyler Higbee (who scored 3 TDs just two weeks ago…but that was like a million years ago and doesn't matter because it didn't just happen…only what happened last week matters).
If you want to go all-in on Tonyan, be my guest. Obviously, based on my pre-game dismissal of him, I have no room to speak. But, let me offer this reality check…
a) I know what you're thinking… Rodgers has to throw to someone with Lazard out. He can't just throw to Adams!
Oh, really? Then why were you benching Lazard Week 1-2 and/or he was on many league's waivers/unclaimed? When Adams is playing…no one seriously used/wanted Lazard, MVS, or anything else not named Davante Adams or Aaron Jones.
When Davante Adams is healthy/playing…he gets all the gold and Jones, and then everyone else is random.
b) Why are you not asking about Jamaal Williams (8-10-0, 8-95-0/8) as the hottest pickup of the week at RB? I mean, he had 8 catches in a game!!!
Williams got 8 targets, Tonyan got 6. Maybe Rodgers does have to throw to somebody else besides Davante Adams…I guess it's Jamaal Williams? No one thinks that because it's not sexy. Tonyan is a fresh name we've been talking/whining about for years and he had all those TDs!!!! I must own him!!!
c) I heard similar arguments for Drew Sample off his Week 2 game, ditto Mo Alie-Cox. You made impassioned pleas and cases for them. Now you want Tonyan to replace them.
I'm just saying…be careful. Adams is a late scratch and Williams and Tonyan go off on Atlanta and we're making one of them a god and the other we're saying 'it was just game flow'. Lazard only went off because Adams was out. Otherwise, we were grinding away with him on the same theory…'Rodgers has to throw to someone else sometimes'!
The same fervor we had on Lazard before his weak Week 1 9and go relook at Adams's numbers from that game) is the same fervor you're convinced Tonyan is for real. Just be careful. The talent is there to be solid. Rodgers is great. Someone has to matter besides Adams.
But does it? History says, not as much. Just be careful watching the sugar plum fairies dance and getting made at your current boring TE who didn't score 3 TDs this week on national TV.
2) Olamide Zaccheaus – I've been crying for more Zaccheaus going back to late last year. I didn't understand why he wasn't being pushed ahead of Russell Gage in training camp, just like I didn't understand the Jace Sternberger affinity because Tonyan WAS RIGHT THERE! Both had their day this game. Good for them.
But will the teams follow through? Zaccheaus only got a shot because Julio went down in-game (sounds familiar…like Tonyan, Adams late scratch and Tonyan sudden star). When Adams and Julio are OK…will they keep up?
Doubtful on Zaccheaus. He should be cutting into Gage some, but that's my own sugar plum fairy tale. I think it, therefore it will not happen. Like  believing that Darrell Henderson will never not be the Rams lead RB, only a fool would go to Malcolm Brown.
I'd bet on Tonyan over Zaccheaus for FF going forward, but both deserve better…and showed why this game. Actually, Zaccheaus was better…he worked and made tough plays. Tonyan was 'there' and got 3 TDs…nothing special he did, per se.
 -- Ok, switching over to two players who didn't ascend with the non-Adams, non-Julio window open…
1) Marquez Valdes-Scantling (4-45-0/8)
I've said for years…MVS is a waste, but I went all-in on him here without Adams, because that's the smart way to play it. MVS can't even succeed in the best of circumstances. He sucks.
Reminder: Equanimeous St. Brown will be back Week 6 and he'll be the new Allen Lazard-lite hope. ESB is better than MVS, always has been…and ESB will be a threat to the random GB non-Adams random targets upon his return.
2) Hayden Hurst (4-51-0/6)
OK, the Falcons main WR was down and the others weren't looking so good…and this game was a mess, so why didn't Hurst have 3 TDs? I'd at least like to see Hurst show SOMETHING in garbage time, but he was just 'there' as well. No real connection spotted between he and Ryan yet.
 -- Speaking of players who don't look great…Todd Gurley (16-57-2, 1-6-0/1). He's such a waste of touches and payroll…a perfect Atlanta Falcon…and, of course, he's set up for 2 short TD runs.
I can't get David Johnson into the end zone, but Gurley is there every week.
If you think David Johnson is no good anymore, you should watch Gurley. DJ is fine…Gurley is all but 'shot'. But still good enough to fall into the end zone a few times with his 3+ yards per carry games with little involvement in the passing game. It does sound like David Johnson, come to think of it.
I could see Gurley getting traded, but I'm not sure there is a sucker out there to take it. Anyone who looks at him sees he's dying.
Brian Hill (4-10-0, 2-13-0/2) would be a winner if Gurley is moved out.
 -- The GB-DST is #10 in FF scoring, but the DST scoring is so down that after the top names…it all doesn't matter. Playing good defenses in good matchups is the way to go. Getting KC-DST and pairing with Miami may seem stupid…holding two DSTs and all, but in this era, you might get a 5-10+ point spread on your opponent if your DST is constantly facing the Jets and Broncos and theirs is not.
Ty Summers (7 tackles) is settling in at ILB for GB…8.0 tackles per game the last two weeks becoming the main ILB.
Za'Darius Smith had a game here – 8 tackles, 3.0 sacks, 4 TFLs, 5 QB hits. That's a season for many DLs.
This isn't a bad defense at all, and it's getting better on the field but for FF it hasn't been much. At TB, at HOU, MIN, at SF the next 4 weeks isn't great either.
Snap Counts of Interest:
42 = Tonyan
14 = Sternberger
07 = Deguara
53 = Zaccheaus
47 = Gage
45 = Ridley
15 = Julio
38 = Gurley
16 = B Hill
16 = Ito
36 = Jam Williams
33 = A Jones
03 = AJ Dillon