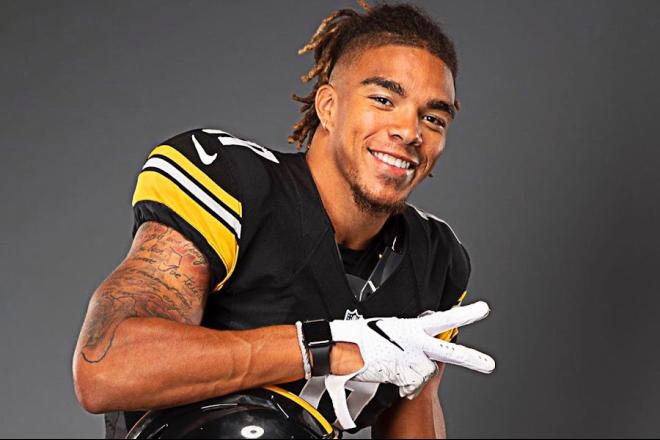 R.C. Fischer
FFM
29 July 2022
2022 Dynasty/Fantasy Camp Notes (7/29/22)…
A daily collection of notes and commentary from training camps -- wanting to discuss the bigger news I see or give some tidbits you might not see anywhere else…
 -- Chase Claypool appears to be locked in as the starting slot WR. This is huge for Fantasy purposes…as he is a freak of nature as it is, but this move from outside jump ball/deep ball (wasted) threat in 2021 to the mismatch nightmare in the slot in 2022 is going to put him in prime position to be the target leader for the Steelers. The ball in CC's hands is the best thing the Steelers' offense can do in the passing game…and in any game.
Subsequently, Diontae Johnson is going to play as an outside WR…and all the opposite of CC is going to be thrust on DJ in 2022J. We've beaten the theory to death since January -- you have to move of Diontae while his value is still high, while people think he is the #1 WR for this team/a WR1 level guy.
Nothing against Diontae, but he has been away from the WR group that was working in the offseason with Mitch…he skipped due to his new contract desires. Big Ben over-threw to Diontae by preference/need…as we wanted to take FF-advantage of, and did, the past two years -- but those days are over. And Diontae is very good, but he is not as talented as Chase Claypool. Rookie George Pickens is gonna be more talented than Diontae and rookie Calvin Austin is a 'different breed' kinda good, as a weapon WR. Diontae is surrounded by talent and his lifeline/QB is gone.
I would not be shocked if Dionte is traded in August. The Steelers simply don't need him anymore…especially for the price he is going to want to command. If I had to guess a new landing spot/trade partner -- it would be to a Northeast/Midwest desperate-to-attract-talent team. The Chicago Bears would be a prime spot. Carolina is not Northeast/Midwest but would be in the mix if they wanted to try and ditch Robbie Anderson in a big maneuver/upgrade (and the Carolina owner loves Steelers things). Pure guesses on my part.   
 -- Seattle camp so far…the bulk of the first team snaps are reportedly going to Geno Smith. If that remains the case…if Seattle is going to go with Geno, then congrats to…
-The Denver defense Week 1 at Seattle. Denver is set to face SEA-HOU Weeks 1-2, two of the worst O-Lines in football and Geno being the worst starting QB for Week 1.
-Even more so, congrats to the 49ers-DST…they are set to begin the season at CHI then hosting SEA. And thus, SF is a better 1-2 matchup punch (over DEN-DST) to start the 2022 FF season.
-No congrats to D.K. Metcalf…now well paid to not care that no one can throw him the ball properly.
-No congrats to Noah Fant, who needs to use his relationship with Lock to get FF-over.
There's still time for Lock to emerge but boy it does not feel like it will happen at all…for Week 1.
 -- James Robinson looks like he is going to come in ahead of schedule on rehab from his Achilles. He's already starting to move around more in practice, but not in the main practices. They believe he could be ready to start regular participation in mid-August and thus put him on track for Week 1 availability.
We'll have to see how he holds up in August…but I doubt we'll see him in live preseason games. If you're counting on JRob for FF 2022 at all, you're going in blind into the season hoping he doesn't need a year to get back to normal...and also then putting himself way behind Travis Etienne.
Probably the biggest fear/effect on a JRob Week 1 return is going to be to what effect it has on Etienne's touches. Healthy JRob shares a backfield with Etienne.
I thought there was a 0-10% chance JRob would be available for Week 1…now it's looking like 40-50% and climbing.