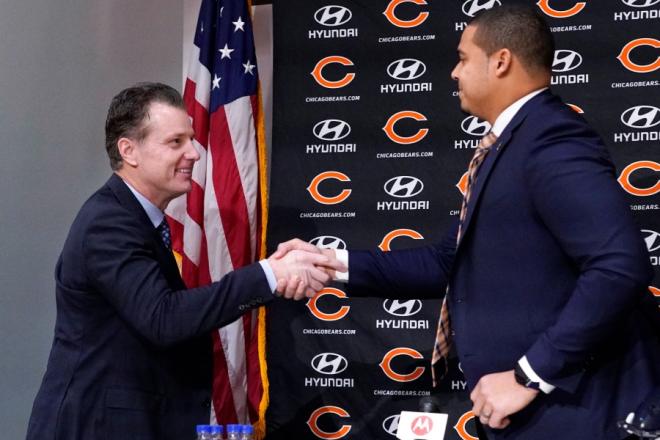 R.C. Fischer
FFM
26 July 2022
2022 New Hire NFL Head Coach Analysis #5: Matt Eberflus, Chicago
(same intro as prior coaching analysis reports)
===========
I need to address two things at the top, and I'll probably copy and paste this into every intro ahead of the new hire coaching analysis for 2022…
1: Why are your (RC's) famous coaching studies just now starting (July 2022)? You usually do them in Jan.-Feb.-Mar.?
I used to be excited to jump right on these studies but the longer I research and study the NFL, as it relates to Fantasy Football, the new head coach is not as big a factor as I thought it once was. I do some base research right away, when they are hired, to identify trends/patterns in their (and their staff's) history on offense especially -- but a full research report, as I have done for years, I am arriving at a belief that it just isn't as important as player scouting and study, so I put it off until I had the time to work on it…so, he we are.
It's a definite, purposeful lack of priority as to why I'm starting the deeper reports in the summer.
2: Why do I (RC) think the new head coaching hires are not as important as they once were?
After years and years of NFL study and observation, I've come to the most simple/obvious conclusion about a new (or any) NFL head coach importance to team wins/performance: Tell me who their quarterback is, and I'll tell you how 'good' a coach they're gonna be this season/ahead.
All my years of NFL observation, all I see is coaching failure and nonsense from the top (head coach)…out of touch philosophies, fighting with the GM, strange decisions for their starting lineups, and inability to manage a salary cap or construct a roster. Now, they do know how to do the 'job' of coaching…they know playbooks, weight rooms, stretching, dumb/cliché filled speeches, dress codes for road trips, practice schedules, blowing a whistle, coach speak press conferences, play calling from the playbook…they know how to perform the job of 'coach', but 'difference makers'? Legends? Geniuses? Name one.
Ask yourself, if head coaches are so smart and such great communicators and understand the game so well…why are ex-quarterbacks getting tens of millions of dollars to analyze the game on TV, and not ex-NFL head coaches? Have you listened to the Bruce Arians, or Jeff Fisher, or Brian Billick, or any of the ex-coaches try and call a game…or even host a pregame show or something like it? Useless. Ex-quarterbacks in the booth are always natural and detailed and understand what they are seeing and can communicate it. Ex-head coaches…well, there's Rex Ryan as a nonsensical sideshow on a dying media company's pregame show. Steve Mariucci? Are you kidding me?
We all thought we had Bill Belichick to look up to, but then we saw how he handled the Tom Brady situation and how he wanted rid of Tom, and how he's fared since Tom (and how Tom has fared without him). Who has been a better coach in the NFL? Bill Belichick or Bruce Arians? Answer = the one possessed Tom Brady, that's who.
There are better coaches than others, for sure…but it's more 'least damaging to things' is better than 'very damaging to things'. They do know how to swing a whistle on a string around their finger and bark nonsense while the players stretch out pregame/practice.
In the end, this following statement is going to make you deny it…and then when you think about it, you'll agree…and then it is sobering (for coaches): the location/geography, the weather, the stadium, the surrounding city, and the tax ramifications of that area/state are more important in attracting and keeping players than 'head coach'.
A head coach has one main characteristic they MUST possess…don't piss off the elite quarterback/you must befriend the elite quarterback.
Football fans are always so religious in their faith and defense of and promotion of their team's new head coach -- it boggles my mind. People believe in a new hire head coach, likely a guy they may have never heard of before they entered the interview cycle/media cycle, with more rigor than church goers believe in God on Sundays. You can have hope in your new head coach for your favorite team, but these coaches are mere mortals, and most doomed-to-fail (and these adoring fans will turn on them within two years of their hire)…and many of these new head coaches were not the first or even third-fourth-fifth choices during the interview process, but when these coaches land on 'your' team then the making-them-into-a-god process by the media…and thus the sheep/fans go right along for the ride.
=================
I don't think this one will take as long as my last couple head coaching reviews/analysis. 
The short version: I got a bad feeling about this from watching the Bears new HC and GM in their early stages. A bad, bad feeling. 
The longer version…
First things first: I ask the question that I usually do to determine how good the new head coach is — who is his quarterback? 
The answer for Matt Eberflus… Oh, yeah…I got a bad, bad feeling about this. 
There are two things to grade here…
1) Matt Eberflus is an OK enough head coaching prospect. I guess. Let's grade him a 'C', or neutral. Could be a solid B/good head coach. Could be a solid 'D' waste of time/fired by year three guy. We'll begin with neutral. 
My impression is that Eberflus is -- he's a good enough defensive coach. Unknown entity on offense. A try hard worker, overall. A confident adult who loves coaching. But there's a difference between being a good defensive coach and being the CEO of a major company.  
Most generically solid (or ALL) head coaches are only going to be as good as their QB. So, I could see Eberflus being OK enough as a head coach — but failing/getting fired due to Justin Fields not advancing into a real, higher-end or upper-half of the league as a passer. 
His new O-C Luke Getsy is not likely to pull a miracle here…no matter how often he passionately shouts 'every play, every day' to players not hardly listening. The Bears will likely wind up a run first, low scoring offense that tries to support a defensive minded/focused older school head coach…and the fans will turn on the coaches before they will the QB…and Eberflus + Getsy will have a fan pressure gun to their head that will force them to stick with Fields versus making a radical change. 
Justin Fields will most likely cost Eberflus & staff their jobs after two or three seasons…as the team seeks a coach that will 'help' Fields. Eberflus is gonna be a fall guy for a bad QB…as is the NFL way. Eberflus will be powerless to make that radical call to change from Fields -- if Eberflus does, then he's got some coaching hope…if he finds a real QB for a replacement.
2) But even worse — the new GM Ryan Poles has to be one of the least impressive, least inspiring, least aware GMs that I've witnessed in a while. But the kicker is — I think he thinks he's some kind of a genius. Not that he's a one-man gang of running a football team who will bring it down via his bad scouting. No. He's not a leader. He has the arrogance, maybe better said 'entitlement', of a young guy who won an easy House of Representative or Mayoral election or got promoted within a corporation to a mid-management job faster than many would his age and now thinks he's more special than everyone because 'look at his title'. 
I fear that Poles will manage by internal consensus and what ever is best to avoid media criticism. I can see it coming – he has no GM personality, no conviction, no presence. How he got hired for an NFL job at this stage, I have no idea. We'll see if he proves me wrong, but his 2022 offseason isn't helping change my mind.
If you look at the players that the Bears lost this offseason in free agency and the dreck they replaced them with in free agency — you see that the GM is not going to be a genius or a cult of personality attracting players to play in a city/stadium they don't want to play, if they have other options. The Bears weren't great coming out of 2021, roster-wise…and they have lost most every player worth a damn and the players they signed to fill in — not good. Their draft was ehhh. Fields's backup QB, a big decision item to fill — Trevor Siemian. That's not a 'genius' GM at work. 
In the division, the Vikings and Lions have smart and/or aggressive young GM hires getting down to business. The Bears have a young-dud that is a million miles away from either GM…which means the Bears are doomed in that division for years to come.
Every interview/video I've seen of the new GM is wholly unimpressive…and he and Eberflus together in the same space seem like they've never met each other before. At the joint intro press conference, they didn't even really look at each other, or acknowledge each other while holding a joint 'intro' press conference sitting 2-3 feet from each other. It's an odd, uninspiring duo together…so far. And Poles has that thing you subconsciously read from him -- he doesn't make eye contact well, so he comes off unsure of himself, and his body posture language also tells the same.
Poles is going to be a big issue in this team not attracting talent, and Fields is the other issue attracting talent (attracting offensive weapons in free agency), and the geography will make for a trinity of issues that poor Matt Eberflus has to deal with/will get crushed by. They better get super lucky in the next two drafts.
I'll bet you Eberflus is the defensive coordinator of ___ NFL team in 2024 or 2025…and it is not going to be entirely his fault. Defensive minded HCs aren't faring well in the NFL of late…and Eberflus is absolutely a defensive minded HC. 
I don't think this is gonna go well. 
Eberflus effect on Fantasy…
If this following statement is true, then Chicago is going to be a black hole for FF: The Bears have, arguably, the single worst 1-11 offensive personnel in the NFL this year with a defensive minded head coach. This won't go well for offensive output. 
I would project Fields will flop around as a bottom 10 NFL QB talent but a QB2 for FF on running tallies. 
Darnell Mooney will be Fields's #1 WR, again, and getting his numbers from high volume mostly from garbage time work. 
I'm sure they'll stick with David Montgomery as the lead RB, one of the bottom 10 lead RB talents in the league, and he'll be working on a low volume scoring offense with a weak O-Line. Good luck. 
You can have all the other non-Mooney WR and TE FF weapons. Most of them couldn't start or make the roster for most teams in the league.
The defense is young with a bad offense to try and support it. But by the time Eberflus is making any progress with the defense — he'll be fired.