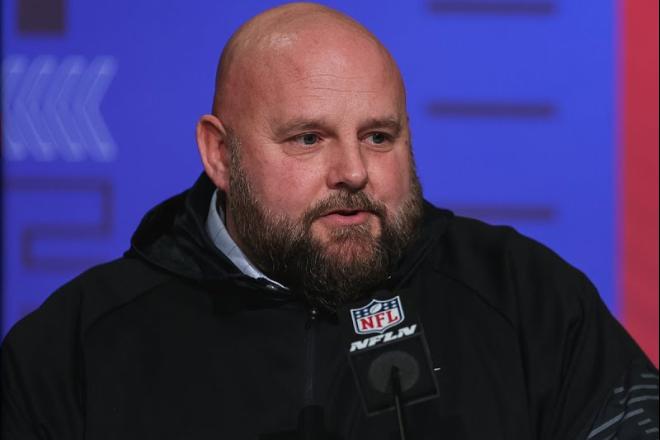 R.C. Fischer
FFM
25 July 2022
2022 New Hire NFL Head Coach Analysis #4: Brian Daboll, NY Giants
(same intro as prior coaching analysis reports)
===========
I need to address two things at the top, and I'll probably copy and paste this into every intro ahead of the new hire coaching analysis for 2022…
1: Why are your (RC's) famous coaching studies just now starting (July 2022)? You usually do them in Jan.-Feb.-Mar.?
I used to be excited to jump right on these studies but the longer I research and study the NFL, as it relates to Fantasy Football, the new head coach is not as big a factor as I thought it once was. I do some base research right away, when they are hired, to identify trends/patterns in their (and their staff's) history on offense especially -- but a full research report, as I have done for years, I am arriving at a belief that it just isn't as important as player scouting and study, so I put it off until I had the time to work on it…so, he we are.
It's a definite, purposeful lack of priority as to why I'm starting the deeper reports in the summer.
2: Why do I (RC) think the new head coaching hires are not as important as they once were?
After years and years of NFL study and observation, I've come to the most simple/obvious conclusion about a new (or any) NFL head coach importance to team wins/performance: Tell me who their quarterback is, and I'll tell you how 'good' a coach they're gonna be this season/ahead.
All my years of NFL observation, all I see is coaching failure and nonsense from the top (head coach)…out of touch philosophies, fighting with the GM, strange decisions for their starting lineups, and inability to manage a salary cap or construct a roster. Now, they do know how to do the 'job' of coaching…they know playbooks, weight rooms, stretching, dumb/cliché filled speeches, dress codes for road trips, practice schedules, blowing a whistle, coach speak press conferences, play calling from the playbook…they know how to perform the job of 'coach', but 'difference makers'? Legends? Geniuses? Name one.
Ask yourself, if head coaches are so smart and such great communicators and understand the game so well…why are ex-quarterbacks getting tens of millions of dollars to analyze the game on TV, and not ex-NFL head coaches? Have you listened to the Bruce Arians, or Jeff Fisher, or Brian Billick, or any of the ex-coaches try and call a game…or even host a pregame show or something like it? Useless. Ex-quarterbacks in the booth are always natural and detailed and understand what they are seeing and can communicate it. Ex-head coaches…well, there's Rex Ryan as a nonsensical sideshow on a dying media company's pregame show. Steve Mariucci? Are you kidding me?
We all thought we had Bill Belichick to look up to, but then we saw how he handled the Tom Brady situation and how he wanted rid of Tom, and how he's fared since Tom (and how Tom has fared without him). Who has been a better coach in the NFL? Bill Belichick or Bruce Arians? Answer = the one possessed Tom Brady, that's who.
There are better coaches than others, for sure…but it's more 'least damaging to things' is better than 'very damaging to things'. They do know how to swing a whistle on a string around their finger and bark nonsense while the players stretch out pregame/practice.
In the end, this following statement is going to make you deny it…and then when you think about it, you'll agree…and then it is sobering (for coaches): the location/geography, the weather, the stadium, the surrounding city, and the tax ramifications of that area/state are more important in attracting and keeping players than 'head coach'.
A head coach has one main characteristic they MUST possess…don't piss off the elite quarterback/you must befriend the elite quarterback.
Football fans are always so religious in their faith and defense of and promotion of their team's new head coach -- it boggles my mind. People believe in a new hire head coach, likely a guy they may have never heard of before they entered the interview cycle/media cycle, with more rigor than church goers believe in God on Sundays. You can have hope in your new head coach for your favorite team, but these coaches are mere mortals, and most doomed-to-fail (and these adoring fans will turn on them within two years of their hire)…and many of these new head coaches were not the first or even third-fourth-fifth choices during the interview process, but when these coaches land on 'your' team then the making-them-into-a-god process by the media…and thus the sheep/fans go right along for the ride.
=================
The first question I try and always ask first, of course, is…if you want to know if I think Brian Daboll will be a successful NFL head coach – tell me who his quarterback is? I think we all probably know the answer to that question, and it's depressing for him/NYG fans, but I will re-ask (and answer) this critical question in a bit.
What a Brian Daboll analysis really comes down to is – did Daboll 'make' Josh Allen or not?
That's a massive question…and an even more massive answer with massive ramifications. Key word…massive.  
Think about the full ramifications of the question/answer to that question. It's bigger than we think. In all my years, I've never seen anything like what happened to Josh Allen in the NFL. We've never seen a quarterback so erratic/inaccurate, one with a lot of physical tools, go into the league and be inaccurate for his first two seasons – and then year three he becomes wildly accurate and rises to be the best QB in the NFL. We've seen guys improve…but never have we seen 'tools' guy with lots of flaws just flip a switch three years in.
The top QBs these days are good right away. There's not much of a radical growth curve anymore…there's the 'haves' and 'have nots' right away…and nothing compared to Allen's rise to the top in the last decade or so. Herbert was instantly good. So too Burrow, Mahomes, and you could say Jalen Hurts falls in there as well…just not as talented (passing) as the other guys I just mentioned. Dak Prescott, Kyler to a degree, Tom Brady, Russell Wilson, Lamar was doing his thing right away. The Josh Allen 3-year story breaks that mold.
The Allen 'turn' is such a radical event, that it's stunning we don't take it more seriously. The best, arguably, QB in the NFL went from inaccurate college QB to inaccurate NFL QB…and then in year three in the NFL he rose to be the best QB in the game, completing 69%+ of his passes…and not via screen passes, he was a downfield assassin. How did it happen? If we could figure it out…if we could 'bottle it', we'd sell it for millions. If you had the power or prowess to take a Josh Allen and make him go from bottom 10 NFL QB with lots of questions to the best all-around QB in the game – you could name your price for your services, and you wouldn't want to be an NFL head coach…you'd just be a QB consultant, private guru and make a ton of money with 90% less stress/worries in life.
So, I ask again…did Daboll 'make' Josh Allen, or not?
If Daboll had a big hand in 'making' Josh Allen…what wouldn't you pay to get that guy in your organization? And you'd wanna jump on that ASAP…like before anyone else…as soon as you saw the proof (Josh Allen 2020). You could draft raw QBs and have Daboll turn them into monsters for years on end!!
Daboll was mentioned for/considered for some of the head coaching jobs after the Josh Allen breakout 2020 season. He got none of the available head coaching jobs.
How is that possible? Nick Sirianni did. Dan Campbell did. Robert Saleh did. Freaking David Culley did – and that's with an ex-Patriots GM who would have spent some employment time with Daboll in New England on two different Daboll 3-year stints there.
If Brian Daboll is the magician who created Josh Allen – how did he not get a 2021 head coaching job somewhere? He should have been the top candidate in the league and signed the biggest new hire coaching contract in recent years. He didn't. He was the Bills' O-C again in 2021.  
Aren't we left to conclude that no one in the NFL believes Brian Daboll 'created' Josh Allen? The 2021 new head coach hiring process certainly speaks volumes for what the NFL thinks, no?
Ok, maybe the NFL needed to sleep on it. Josh Allen had another bang-up year in 2021…so, NOW everyone will believe in Daboll, right? The Houston Texans, again…home of an ex-Patriots long-time employee close to Belichick (Nick Cesario)…he chose Lovie (freaking) Smith over Daboll, AGAIN. Jacksonville should've killed to get the QB guru/Daboll in to work with Trevor Lawrence! They went with the big backer of the current NFL pariah QB Carson Wentz coach instead.
No coaching candidate with options wanted to coach the NY Giants (i.e. Daniel Jones). But Brian Daboll took the job. He had to. He was missing out on everything else. The organization (NYG) that had all the young hot coaches turn them down (again) and that all the established ex-Patriot tie guy (Josh McDaniels) turned down – the desperate for a date to the prom, over-coveting anything ex-Belichick, reached for Brian Daboll…a coach who was shutout of all the top desired destinations with really good QBs or young/2nd-year QBs and instead lunged for the chance to work with Daniel Jones. It wasn't Danny Dimes that attracted him…it was finally a team so desperate to make an offer that the equally desperate Daboll took it.
Why am I wrong to see it that way?
How could the 'Josh Allen miracle maker' not get any job at any price he wanted? Unless he's really not the Josh Allen miracle maker. And if he isn't, then what is he? A guy who has coached in the league for a long time without much fanfare or item of success tied to him, that got lucky to be with Josh Allen's self-created evolvement, and he used that to get a head job at a failing organization, one of the worst organizations of the past 5-10 years, an organization still clinging to their Lawrence Taylor years as proof they are still relevant today.
Why am I wrong to see it that way?
Bill Parcells is not walking through that door. Bill Belichick ain't walking through that door either…but the Giants are so desperate to be tied to anyone that smelled a Parcells or Belichick fart up close – they reached for Joe Judge, and now they're reaching for Brian Daboll.
When Brian Daboll was the TE coach for NE in 2013-2016…he wasn't promoted to any greater authority on the staff. He stayed at TE coach. Tom Brady, obviously, had no interest in him being a QB coach. Despite Daboll being an O-C or QB coach for four different teams in 6 seasons prior to returning to New England. Daboll was 'shipped' to Alabama in 2017 to be the O-C and QB coach, and then went to Buffalo to be O-C in 2018.
Do you know where Brian Daboll's offenses ranked (in scoring) his first six seasons as an offensive coordinator?
#29 (2009 CLE)
#31 (2010 CLE)
#20 (2011 MIA)
#32 (2012 KC)
#30 (2018 BUF)
#23 (2019 BUF)
Is this the sign of a looming offensive genius?
In 2020, Josh Allen sprung to life and the Bills ranked #2 and then #3 in the NFL in scoring.
So, I ask again…did Daboll 'make' Josh Allen, or not?
I'm going with 'not' – and if that's correct, then this has all the makings of a disaster in New York. Daboll's 'on paper' history has been – not effective, unnoticeable, good worker (like many in the NFL coaching ranks), friendly with the head coaches…then labeled 'genius' when Josh Allen lit up. I don't think Daboll has much, if anything, to do with Josh Allen's rise to top QB in the NFL.
If Daboll is actually 'bad' for offense and not a QB guru – then Daniel Jones isn't making a radical turn, and if that's the case – this is going to be a bad 2022. If Daboll had any feel at all for QBs, he would have known Dan Dimes sucks and that he's not going to 'fix him' and he should have tried to grab Mitch Trubisky or a rookie QB of some kind or make some trade to have a fail-safe plan if Dimes dropped. The Giants, instead, spent money on the illustrious Tyrod Taylor. If Daboll is such a QB guru, shouldn't the GM or Daboll had one out and found some young, discarded 3rd-4th-string QB with a big arm/size that's just lurking round the bowels of some NFL team's depth chart and then made a cheapo deal with that team to then let Daboll try and work some magic again – even if they like D. Jones shouldn't they just try to create more QBs to have more assets to use/trade? I mean, if Daboll is a creator of these things…so, let's create!
The Giants QB depth chart (today) is: Jones-Tyrod-Davis Webb. That's some radical QB opportunities right there!
The more I researched it, the more I absolutely do not believe Brian Daboll is a QB guru, nor offensive genius. He's a good guy who is riding the Josh Allen wave, and NFL time served, to a 7-figure paycheck from a desperate, recently failing organization. And the more I research it, I have to conclude the entire NFL thinks the same – why else has Daboll missed out on jobs the past two years, and had to settle for this gig?
I watched/listened to a ton of press conferences, etc., with Daboll. He seems likable and dedicated, but not brilliant or convicted on anything. Everything about Daboll, in my observations, is that he is a nice assistant coach…an old-school coaching soul not fully relatable to the new school of coaching. Nice guy, though. Mediocre coach who won't inspire or train up a killer staff and who will go as far as his QB, and GM takes him. Daboll isn't a BAD coach…he's just not much of anything as a coach. A hundred+ other coaches could do the same job as Daboll is about to do…and they'll all go as far as their QB takes them.
I listened to a lot of new GM Joe Schoen interviews and mic'd up events of his – and, well…I'm not a fan there either. Not saying he's terrible…just nothing inspiring…just like his head coach. I look at Daboll's staff…new O-C Mike Kafka is too green for any of us to know, but what I've seen of his background/interviews/work…not impressed yet. D-C 'Wink' Martindale, I studied a bit more – again, dedicated worker…but not overly impressed. He's fine but not special. An old school 'ball coach' who looks like a standard issue high school coach…but he is in the NFL and been successful…or around success and gotten more credit.
And speaking of the D-C spot. Patrick Graham was one of the bright young coaches in the league and did a bang-up job for the Giants the past two years – and probably should've gotten the NYG head coaching job. He didn't. Daboll said he absolutely wanted to retain him, at his intro press conference. Graham is now the Raiders D-C. The Giants organization is doing 'this' to itself.
After looking at all the background of this new staff, but mostly Daboll – I feel like this is bound for failure. Especially when the answer to the question of -- who is Daboll's QB...is answered with 'Daniel Jones'.
Daboll (and the new GM) will be given a chance to pick a fresh QB in 2023…and it will likely be a rookie because no good/established veteran will want to purposefully play for/in New York…so then we're another year into 'rebuild' and Daboll will likely ride this roller coaster for three years before they ax him. If he can get lucky with a QB in the 2023 NFL Draft…he can save himself, but he'll probably get suckered into Bryce Young or C.J. Stroud, and have his fate sealed.
Meanwhile, Josh Allen will be just fine without Daboll.
Daboll's impact on Fantasy…
If Dani Dimes isn't getting any better than this offense is in trouble.
Kadarius Toney can thrive despite QB…he's his own thing, that we have to hope and pray Daboll gets him the ball. And I don't know if Daboll really is that smart…he's from the old school, so there's a chance he freezes Toney out for 'not being cool'/subservient to the friendly staff. But also, Daboll wants to 'get along' with everyone (it's a stated, top priority of his)…so he might acquiesce.
Saquon will be the everything on offense…they didn't do anything around him (at RB) to suggest otherwise. Saquon's health is the biggest factor for FF production…not Daboll. Teams unafraid of Dan Jones, and thus stacking the line is Saquon's biggest issue.
Kenny Golladay is a talent, but he can only go so far with Dan Jones…it's a bad fit for KG for consistency. If Jones flops and Daboll panics into Tyrod Taylor…KG, among others, is really screwed.
======================================
BONUS material…
*From a Vic Carucci 1/6/21 article for the Buffalo News…a slice out of the middle after an intro describing how shocking it is for a QB to improve so vastly…
'Worked his butt off'
When Allen's completion percentage dipped from 56.2% in college to 52.8% in his rookie year, a chorus of "I told you so" rang out. It didn't get all that much quieter when the number climbed to a modest 58.8% in 2019.
After completing only 52.2% of his passes in a forgettable performance in the Bills' wild-card playoff loss at Houston, Allen and his coaches knew there was plenty of work to be done. Even in an offseason when the pandemic wiped out practices at team facilities, he managed to invest enough time on his own, including his annual sessions in Southern California with personal quarterback coach Jordan Palmer, to sufficiently address his throwing mechanics.
One component of his work with Palmer was having his mechanics digitally mapped, a process that allowed Allen to better understand how throwing motion correlates to accuracy and power. As he explained early last month while appearing on "The Pat McAfee Show," the mapping showed "what was firing … (it is supposed to be) my hips, then my torso, then your elbow and your hand firing. But my hand and elbow were firing near before my hips were. I wasn't really incorporating any part of my legs in my motion."
"Being able to add my hips and make that as consistent as possible and try to slow everything else down up top and use my hand as the leverage for the speed and the accuracy has changed a lot of things," Allen said. "The accuracy has gone up, but it's actually added some mph to my throwing power, too. It's been a pretty cool process. … It was like a wake-up call. It was like, 'OK, maybe I should try to incorporate a few clubs into my bag and try to hit that 60 degrees.' It's funny that I use golf as that metaphor because I've actually learned a lot of my throwing from my swing in golf."
Additionally, in focusing on deep-ball accuracy, Palmer put Allen and his other clients through drills that had them throwing to receivers at the top of a hill or stadium bleachers. They had to get the ball to rotate and drop down, despite the target being 15 to 20 yards above them.
"What it does is it exaggerates the shoulder tilt and your spine tilting back," Palmer told The News in January. "And then we bring them down the stands. You do that over a period of a month or so and it's kind of like you develop both sides of the spectrum, both extremes. Too high and not high enough."
Passing from the bottom of an incline "kind of forces you to throw the ball with arc over the top and drop it in instead of trying to drive it," Bills quarterbacks coach Ken Dorsey told The News. "It just forces you to get elevation on the throw, and it gives you a little bit more margin of error when you do that."
‍