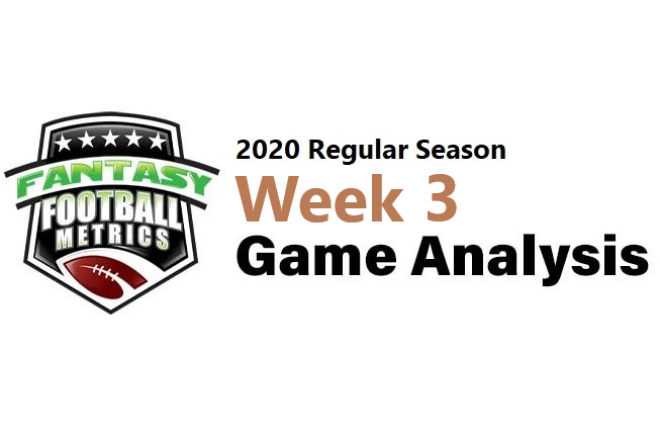 R.C. Fischer
FFM
28 September 2020
2020 Dynasty/Fantasy Week 3 Game Analysis: Dolphins 31, Jags 13
I take notes during the live watch. I re-watch the game on tape looking for hidden clues to report on. Here are my notes/takes on what I saw and how it related to FF 2020. I write anywhere from 1,000-3,000+ words on each game, and I have to move fast to get to all of them through the week…so, please forgive any typos/grammar.
When you think about Week 3…as a bettor/handicapper or for your fantasy teams…just note that Week 3 is a very big fork in the road/turning point/back against the wall kind of week for 'down' NFL teams.
When you look at two weeks of data and are sure ___ team sucks because they are (0-2) or ____ player sucks because they haven't had a nice FF game yet and/or  ____ player is now great (because he had a great week last week)…you're apt to get burned chasing yesterdays low sample size news. This game was the epitome of that.
For two weeks the Jags had played really good football…beating a top Colts team and losing close to an undefeated, Final Four 2019 season team in Tennessee. The Jags were close to being (2-0) coming into this game. All the metrics/numbers I like were with the Jags, a solid 2020 start against good teams – now they are playing Week 3 at HOME on TNF against a Miami team that has scuffled around and looked downtrodden and were missing their top cover corner.
How could the Jags not come out and make a stand, make a statement, win this game?
The Jaguars were utterly humiliated by a team led by Myles Gaskin and patchwork secondary…at home, with fans.
How is it possible? It's football. Things don't go in a straight line. Guys who score a TD one week, tend not to the next week. Teams that look terrible last week, play inspired the next week. Week 3 is usually a spot where the radical happens. Seasons are not 'over'…(0-2) teams can get right back into the game with a win. They're so desperate not to go (0-3)/just win a game and get the monkey off their backs…they tend to rise up.
I don't know that Miami played their best game more than Jacksonville crashed to earth. The Jags lost D.J. Chark before the game, which ended up one of the biggest keys to the game (because Chris Conley is the worst WR in the NFL) and then they lost two starting defenders in-game. Jacksonville was sluggish and predictable, and Miami played inspired, got a lead, and never let it go…not even close really.
Miami gets right back into the 2019 season. 10 days to let Byron Jones get back to the field. They're a (1-2) team that are a game out of the wild card on Monday morning…with 14 weeks of season to go. Miami has a choppy but more favorable schedule ahead, especially now that Week 5 at SF isn't as ominous as it would have been pre-all 49ers' getting hurt.
If Miami can use some 'home field' magic (very tough place for road teams to come in and win), plus some scheduling grace – they can be (6-6) heading into a very tough final four games of the season. It's hope, at least. Getting away from an (0-3) start and instead getting to (1-2) changes everything – for Miami, and for you (0-2) FF teams.
Jacksonville blew a great opportunity to get to (2-1) and gain respect. They fall to (1-2). They'll be an up-and-down team all season and we are projecting them to finish with 4-5 wins tops.
Fantasy Player Notes…
 -- Let's talk about these WRs for Jacksonville…
1) Chris Conley (3-34-0/8) probably played the worst game of NFL WR I've seen in a long time…or at least in the last week or so. He literally looked like he's never seen a football pass come his way and didn't know what to do with this foreign object coming at him.
Hey, but at least Gardner Minshew (30-42 for 275 yards, 0 TDs/1 INT) identified the problem with Conley's inability to catch a football and stopped throwing to him immediately.
…or, Gardner did what an idiot would do – keep throwing to Conley, and if he was doubled…no problem, still throw it. Go get it big guy! I'm sure the 8th time will be the charm.
Conley led all Jacksonville players with 8 targets. Why? I have no idea. Minshew betting on the Dolphins is the only explanation. There should be a congressional investigation.
I watched the tape, All-22, in slow-mo occasionally…there were other things open. I have no idea what Minshew was doing.
So, D.J. Chark gets 3 and 4 targets in his first two games, but 'Dropsy the Clown' gets 8 targets in his place? Seriously, this is making me re-think everything about Gardner Minshew. You can't be that dumb.
2) Because Conley was the brilliant game plan, apparently, Keelan Cole (4-43-0/5) barely saw targets.
Now, all we did was watch Cole gracefully deal with a misfired 3rd-down pass and do a 180 in the air and catch the pass near the sidelines and then drop his feet in – the best play of the night. Who wants to try and target this guy more anyway? https://youtu.be/4JPGVdQtdYI
That was catch #1, all Cole did on catch #2: https://youtu.be/ZkjspFoJpcc
After he bailed the team out again with a brilliant 1st-down-making play…he never saw a catch/target again until junk time on the final drive of the game. How can a quarterback be so stupid?
We can make fun here, but don't let it take away from the fact that Cole is a legit NFL WR. He was a top 20 WR for FF scoring going into this week/game. It's not like he's not seeing action. He's a decent WR3, one of the better WRs in the game going totally under the radar.
This is an organization who thought Dede Westbrook was better than Keelan Cole, so the stupidity-complicity is organizational.
3) You thought Laviska Shenault (5-33-0/6, 1-1-0) would be in a good spot to prosper a little bit with Chark out, but all the 'unique ways' the Jags were using Shenault got thrown out the window as the offense cratered. Must have forgot that section of the playbook for this game.
All we've heard for weeks is how highly they drafted Shenault in order to use him as a swiss army knife player to run the ball and do unique things. He did nothing unique in this game. He was his least unique when the offense needed him the most. Not his fault.
Again, there may have been several coaches/players who bet on the Dolphins this game. It's the only explanation that makes sense to throw to a guy (who was probably in on it too) who can't catch, and also don't throw to the guy catching everything (Cole), and ignoring/not using the unique stylings of the thing you can't stop talking about how unique he is (Shenault).
This week, we'll all bench Cole and Shenault…and they'll explode with career games…
If I didn't have enough to FF-worry about, now I have to worry this organization and QB not throwing the ball to Chark in the weeks to come…because they're too stupid to do so.
 -- The Jags did make sure to get the ball to their least electric option, James Robinson (11-46-0, 6-83-0/6) because there is one thing you can count on – when the head coach runs his mouth about this big, bold move he made to go with the UDFA RB he 'discovered' and cuts Leonard Fournette, and he then talks nonstop about how Robinson was so good it just made sense to dump Fournette – know then that Robinson is getting the ball all the time to justify the coach.
Nothing against Robinson, but he's every generically good RB in the NFL…he's not a game changer, franchise RB. However, Doug Marrone sold his soul to say that he is…so, he will not-not feed Robinson all he can to show you how smart he is for making the bold decision.
Only injury can stop Robinson now…only injury can take him away from his betrothed, Doug Marrone.
 -- Preston Williams (2-7-1) caught a TD pass to save a truly terrible week/game from occurring. I love Williams as a talent, and he's getting pushed around by top shutdown corners because teams don't fear DeVante Parker (5-69-0/5), but this seems to be going nowhere fast for fantasy.
I noticed at the end of the game last week (Week 2), with the game up from grabs, Preston Williams was pulled from the game into the final drive. I thought he might be hurt. Well, here in Week 3…I saw a number of times he was not out there. Then I see he played just 57% of the snaps post-game – he's being punished/sent a message whatever because of his poor play…but his poor play is more coming off the coverage he is getting (in my opinion).
I think Preston is sulking/mad/frustrated and Brian Flores is insane with player usage – it may be time to run from this to greener pastures until the smoke clears. As I wrote last week, the schedule is wobblily (for Preston specifically) ahead until past Weeks 9-10, so you can go try other things in redraft.
Williams may get it all together with coach's discipline/tough love eventually, but I'm OK to try other things in redraft right now.
Brian Flores is pulling back on Williams, Jordan Howard, Mike Gesicki and Matt Breida and playing Myles Gaskin, Durham Smythe, and Isaiah Ford more. Totally illogical decisions with a huge difference in talent…but it doesn't matter what we think or how I might see it clearly in scouting. It matters what Flores thinks.
 -- Mike Gesicki (1-15-1/3) god of Week 2…1 catch Week 3. Maybe you faced Gesicki Week 2 and not Weeks 1 or 3…why are you going to beat your FF-self up over random things happening with your opponents player's when you play them, especially if you're (0-2), just based on a sample size of two games.
I have said to a few (0-2) people this week, without knowing, but guessing – you probably lost a game due to a bad lineup call and another to your opponent having some one-time amazing event happen (like a Gesicki Week 2). You can't damn your team/season to hell after two weeks if you could've won a game with the players you have in the right lineup and took a loss from a smashing event by an opponent that all you can do is tip your cap to.
These things happen all season, just because they happened Weeks 1-2 it feels extra terrible. And then to make the terrible feeling go away, you panic deal and do crazy lineup things out of self-imposed pressure…and then send your team spiraling faster.
Sometimes you play against bad Gesicki, sometimes dumb luck has it you played him Week 2 and he smoked you.
 -- Jags DE Josh Allen (2 tackles, 1 sack, 2 TFLs, 3 QB hits) must be over his nagging injury…he was impressive getting into the backfield this game. He's going to be a 10-12+ sack guy this year. Possible sack leader in the NFL.
Snap Counts of Interest:
53 = Conley
50 = Cole
45 = Shenault
30 = C Thompson
30 = J Robinson
46 = Gaskin
11 = Breida
42 = Smythe
30 = Gesicki
24 = Shaheen
56 = DeVante
35 = Pr Williams
27 = Ford
08 = Grant