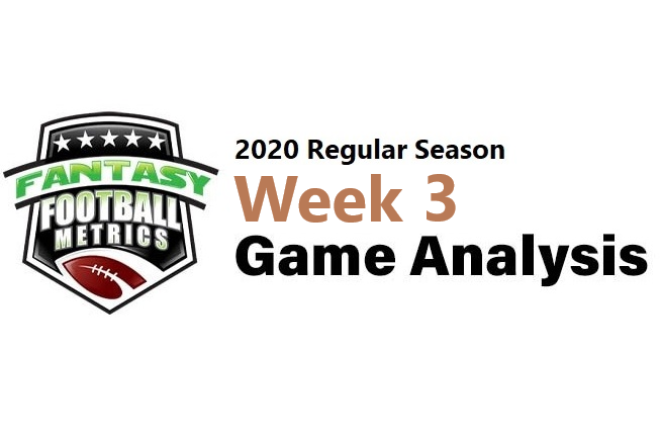 R.C. Fischer
FFM
03 October 2020
2020 Dynasty/Fantasy Week 3: Game Analysis: Steelers 28, Texans 21
I take notes during the live watch. I re-watch the game on tape looking for hidden clues to report on. Here are my notes/takes on what I saw and how it related to FF 2020. I write anywhere from 1,000-3,000+ words on each game, and I have to move fast to get to all of them through the week…so, please forgive any typos/grammar.
Re-watching this game made me feel better about the Houston Texans. It always feels like they are getting smoked in 2020 and their players are playing half-speed, but part of the issue is – the level of competition they've played is so good…but also, some of it is in our (my) mind…it makes sense to 'think things' when things aren't going well. We have to blame something…if we 'like' the team/QB, in general. Like how the football media tries to blame the Jets surrounding for Sam Darnold collapsing – in their minds, it's absolutely the reason Darnold is struggling…the Jets, not the fact he sucks. Most of the blame for Houston's bad 2020 start, as a whole, is the schedule right now.
Houston actually led this game 21-17 at the half and led 21-20 going into the 4th-quarter…I thought they were on their way to a win. Pittsburgh put the clamps on Houston in the second half and the Steelers snuck out with a quality home win. I was impressed/fine with the way Houston played…the Steelers are just better…as were the Ravens…as were the Chiefs so far this year. If Houston had played the Bears' schedule, they'd probably be (3-0) and everyone celebrating them.
Well, the schedule is finally going to let up a bit the next few weeks for Houston – MIN and JAX, a two-game homestand the next two weeks could find the Texans (2-3) heading to at TEN Week 6…where TEN might be (3-1), and if the Texans win that game (not a given) they could be (3-3) and a game behind Tennessee (and Indy) with 10 games left to go. Houston HAS to win their next two games or they're in trouble. Then Week 6 at TEN is pretty much a must win as well.
The Steelers are on the opposite end of the spectrum…they are (3-0), and they also get a nice schedule the next two weeks (after their impromptu bye week) – hosting PHI and CLE. Week 7 is the changed scheduled game at TEN. It's possible PIT will be (6-0) heading to play at BAL Week 8.
In the next/player section… I'm about to make a bigger proclamation, a more 'all chips in' move on a player…more 'chips in' than the heavy amount I already had in. I'm going all-in now, and it's important to hear for Dynasty, so you'll see that in a bit…
Fantasy Player Notes…
 -- I'm going to start off with a quick analysis of four players from this game, guys in a lot of 'question' or 'worry' or 'interest' from interactions I've had lately…
1) David Johnson (13-23-1, 2-23-0/2)
DJ looks fantastic…I mean he really does. I've not seen him this quick/nimble in years. It's great to see – just please stop playing the top run defenses in the NFL!!! Go look at his simple TD run from this game for evidence.
The Steelers are the #1 ranked run defense in the league and the Ravens are #9 (were top 5 before last week's KC game)…both teams stuffed the Houston/DJ run game.
The next three weeks DJ faces run defenses: #25 MIN, #14 JAX, #28 TEN. DJ should re-launch again ahead.
I just wish NFL people weren't so stupid…I mean, how do you purposefully acquire David Johnson and not have plays in the passing game for him. The very first play for Houston was a designed pass to DJ, but Watson was pressured and threw it at his feet. There was not an on-purpose pass to DJ the rest of the game…just a few 'he's open, I'm being rushed, I'll throw it to him' passes. Why Christian McCaffrey has a passing game built around him, but the much bigger David Johnson doesn't is everything wrong with the NFL.
We can only hope it would dawn on the Texans staff to watch tape OF THEIR OWN guys and make a better plan. Likely, that will not happen. We'll get the same stupid pass game involvement next week with Johnson as we do when Cincy perpetually wastes/does (little) with Joe Mixon in their passing game.
Coaching staffs spend weeks learning about their opponents and have not a clue of their own players over months of practicing…they just plug them into a role they have predetermined in their minds it seems.
2) Deshaun Watson (19-27 for 265 yards, 2 TDs/1 INT, 1-5-0)
I have ragged on Watson a bit during his first two weeks, and he is still not my favorite QB talent but he looked more like himself in this game and he played a really good first half, but didn't have the juice to get the team over in the second half.
It's a 'tell' that good teams are over-playing David Johnson and daring Watson to beat them…that's not a good sign to a Houston franchise that just put $400M into a 'B' grade QB who will never be better than Patrick Mahomes or Lamar Jackson or Russell Wilson…or possibly Josh Allen and Kyler Murray on top of Dak Prescott…or even current-day, aged Aaron Rodgers or Big Ben.
With that said, Watson looked better this game than his prior two…but he's still not running as much since getting paid -- 12 carries for 49 yards his first 3 games combined. That's a HUGE fantasy problem. If you have Watson as your main QB for FF 2020…you're getting beat, all season (so far and to come) by all the QBs that I listed above.
3) Rookie RB Anthony McFarland (6-42-0, 1-7-0/2).
McFarland made his NFL debut Week 3 and got in the game early and made some bigger/impact runs two times.
I like McFarland as a talent, but he didn't look 'special' to me here…or 'pending' for a James Conner takeover, he's just a relief back and passing game back type of option.
To my eye, it looked like McFarland has added bulk/muscle this offseason and that has slowed him down/made him less 'twitchy' – just a quick observation from his debut. It's too early, limited time to make that official call…it's just my gut feeling I'm sharing.
4) Jordan Akins (2-28-0/3)
The guy has one weak game, and everyone is ready to bail on him! Don't.
Akins is playing a lot of snaps. The Texans leader in targets this game had five…it got spread around a lot against a swarming defense, so Akins' 3 target game isn't as huge a crisis, especially when Houston was held to a very low 23+ minutes of possession/just 47 offensive plays.
Akins looks fine and I still say he's perhaps Watson's favorite receiver overall right now…it's where he goes when any WR throws breakdown.
Akins is going to be a TE1 over the season in PPR…as the Jimmy Graham's and Alie-Cox's fade away, Akins will ascend into the TE1 PPR group.
 -- I think I'm just going to put this out there, make it official, no holding back…
Chase Claypool (1-24-0/4) is the best rookie WR talent I've ever seen in my 10+ years of studying football. I've never seen someone so big be so smooth in movement, and he's a very good catcher of the ball with all the physical tools (size, leaping ability, 40-time, etc.) you could ever want. I wasn't this impressed by Julio Jones at first sight. However, Julio got a bigger/immediate push right away…but Claypool is getting to the point where he cannot be denied from starting.
What's lacking in guaranteeing Claypool will be a star is his draft stock (he wasn't supposed to be the best WR in the draft) – how long will it take before he gets the proper treatment/feels totally comfortable. It won't fully come together until 2021, I suspect.
I thought Bryan Edwards was in the best spot to FF-shine in 2020, but now it might be Claypool's talent just overrides everything, and Claypool is in a top place to pop some in 2020. From what I've seen, what we can all see of the team's QBs – I'd trade Edwards for Claypool in a heartbeat.
If you play Dynasty…you want to get Claypool now before everyone realizes he's just not a 'promising' WR…he's not just 'future good' – he's going to be a mega-star. Maybe even better than Diontae Johnson for fantasy, but both will be aces.
With Claypool's long TD from Week 2 fading in memory, replaced by his one catch game here and then further valuation damage via the sudden BYE week – this is a good time to make a move, an investment. I know the person who owns him loves him -- but figure it out. Make a deal.
Again, if you ask for him straight up , and/or starting things out with… "What is going to take to get Claypool?" – then red flags and alarm bells will go off and you'll have raised the price 2x+ and maybe not get it done. You're going to have to sneak around and maybe do a multi-player deal to hide your 'true desire' in Dynasty leagues. Use 2021 picks if you have to.
In 2021, the Steelers will have two of the best WRs in the NFL…Diontae and Claypool. Having Big Ben in 6pts per pass TD leagues as your #2 QB isn't a bad idea at all. Not in 2021, nor now in 2020.
In this game, Ben tried to launch it deep to Claypool 2-3 times, but one was a P.I. on the defense, the others were not open but Ben threw where only CC might have a miracle chance to get. Ben already knows what he has in Claypool…I wouldn't be surprised if Claypool scores 8-10+ TDs this year, even if most of them are in the 2nd-half of the season…and with CC not starting/playing as a #4 WR.
Claypool's one catch in this game, was a quick WR screen type play…and the moves he made after the catch were sick for someone his size.
Guess which WR played the most snaps in this game for the Steelers…a game where it was close to the end? You'll see at the end of this report…
In 2021, the Steelers will let JuJu walk to the Jets and they will have the best WR trio in the NFL with Diontae-Claypool-Washington, and the presence of Claypool helps Diontae's performance a lot…and vice-versa.
It may take until 2021 for Claypool to really pop, and there may be weeks ahead to make your move with prices down but CC is only getting better and he's going to make plays/have games where his owners aren't going to want to trade him…so beware being late to the party.
The Steelers have, arguably, the best defense in the NFL and the best WR depth chart, and a veteran/Super Bowl winning QB – they are a threat to win the Super Bowl for sure.
 -- The Steelers might have the best defense in the NFL, but will the schedule help or hurt this DST ahead?
Week 8 and 12 with Baltimore worries you. Week 9 at DAL is not great. Week 14 vs. BUF is now a worry.
The Steelers run defense rules…their passing defense is good-not-great so far.
It's a great defense that you'll need to mix and match on schedule perhaps, but we'll see Week 7 at TEN if it's a 'tell' on starting or worrying about them vs. BAL Week 8.
Snap Counts of Intertest:
61 = Claypool
58 = JuJu
49 = Washington
19 = Diontae
53 = Conner
15 = Snell
10 = McFarland
45 = David Johnson (96% of the snaps…very low snap count game for HOU)
32 = Akins
24 = Fells