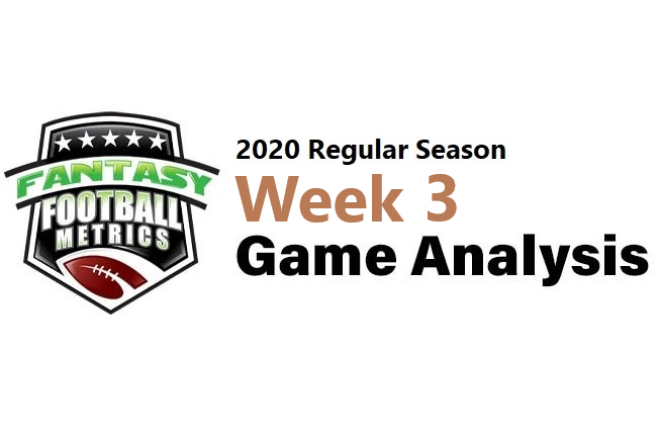 R.C. Fischer
FFM
02 October 2020
2020 Dynasty/Fantasy Week 3: Game Analysis: Bengals 23, Eagles 23
I take notes during the live watch. I re-watch the game on tape looking for hidden clues to report on. Here are my notes/takes on what I saw and how it related to FF 2020. I write anywhere from 1,000-3,000+ words on each game, and I have to move fast to get to all of them through the week…so, please forgive any typos/grammar.
The shame of this game is…you know that they're only a half a game out of first place still!
No…not the Eagles. I mean, the Bengals…if they were in the NFC East.
We've reached a point in the football universe where the Bengals are better than the Eagles, Giants, or Redskins. Bill Parcells and Joe Gibbs are rolling over in their graves that they are not technically in.
The Eagles ran for nearly 4x the yards the Bengals did. They out gained the Bengals overall. They dominated time of possession over the Bengals. The dominated thew Bengals on 3rd-downs. And, yet, Philly was lucky to tie this game. This is a Carson Wentz problem on top of the GM has supplied the team with terrible WRs and thus no depth at WR. Did they ban making trades in the NFL? Why are the NFL GMs so scared to make trades for things they need? It's 32 of them…or 31 excluding Sean McDermott. How is Philly not on the horn making some kind of low level or high level WR trade?
It's about to get very dark in Philadelphia. They have at SF, at PIT, BAL the next three weeks. The Eagles will very likely be (0-6-1) heading to face the Giants Week 7 on a Thursday night. The thing is, if they can beat NYG Week 7 and get to (1-6-1), they might only be a game or so out of first place when they host the Cowboys Week 8.
The Bengals are (0-2-1). Joe Burrow is getting hit all over the place. Yet, with an awful O-Line, weak coaching staff, and rookie QB…the Bengals are (0-2-1) but not far off of (3-0), oddly. They've had a chance to win every game late and haven't. First win might Week 4 hosting JAX, but if it isn't…they may not win a full game until Week 11-12 with Washington and NYG.
Fantasy Player Notes…
 -- What's wrong with Joe Mixon (17-49-0, 2-16-0/3)?
Nothing wrong with him that I see. I keep looking for evidence of an issue, but he looks terrific to my eye. Speed is there. Cutting ability is off the charts as usual…he's just getting no help from his O-Line and then is out on many passing situations. Why Zac Taylor goes with/throws to Gio Bernard (3-55-0/3) a lot in passing downs and not Mixon…I have no idea, but Zac Taylor isn't winning any Coach of the Year awards anytime soon. Taylor would never be considered for an SEC head coaching job, but somehow, he's an NFL head coach. The Bengals are going to be the Bengals…
Joe Mixon has rushed for 5 TDs in his last 21 games in the NFL. He has 3 receiving TDs in that span.
Under Zac Taylor, 19 games so far, Mixon has hit 15+ PPR points in a fantasy game 8 times…none in 2020. Mixon has hit 20+ PPR fantasy points in a game twice in that span, once in a meaningless Week 17 game.
Mixon looks and feels like an RB1, a guy to 'buy low'…but the results say, time and time again…you're getting a nice RB2 with limited upside (not on talent, but on situation). If you're going to buy low…it has to be LOW. He's not who you think he is…and Burrow has yet to make him FF better.
The fact that he could 'pop' because of his talent, and because this offense has more juice…that makes him a nice gamble for a (0-3) type FF team in desperation right now…hoping for that pop. The odds say it's not coming anytime soon, but the talent says it might.
 -- Jalen Hurts (2-8-0) came in for two wildcat runs. His first tote was a nice 8-yard run. Hurts looks like he added another 5 pounds of muscle since college. He looks like Jonathan Taylor playing QB.
When Hurts takes over for Wentz, in-season, my guess around Week 7-8…he's going to be a 100+ yards a game rushing threat. A power runner the likes of which, at QB, no one has ever seen.
The minute they turn things over to Hurts, the Eagles should trade Zach Ertz wherever they can get the best deal. But the NFL is too afraid to trade…they're like half your league mates in fantasy. Petrified of making a mistake to the point that doing nothing is more soothing.
It may not be coincidence that the Eagles drafted Hurts and haven't given into Ertz contract desires preseason. Someone may have seen this ripple effect of Carson Wentz's downfall coming, and they stealthily prepared for it ahead.
 -- While we still have Wentz at QB, he has no WRs to throw to…they're all hurt or suck or both.
Greg Ward (8-72-1/11) is his most reliable thing right now. It will work for PPR for a bit (until Hurts takes over).
With Dallas Goedert out, I suspect Zach Ertz (7-70-0/10) will see between 8 and 417 targets this week.
Alshon Jeffrey might be 'shot', and we don't know it yet, if he can even get onto the field.
John Hightower (2-19-0/3) is not ready for any of this…but at least he is there.
Where is the great J.J. Arcega-Whiteside? Where is Harold Carmichael when you need him?
 -- None of the Week 4 Eagles starting WRs could even make the Bengals roster/WR depth chart…that's how bad things are in Philly. The Bengals have good WRs and Joe Burrow (31-44 for 312 yards, 2 TDs/0 INT) makes things look like child's play in just three NFL starts. If he had any protection at all he'd set every rookie QB record there ever was…he still probably will.
Burrow has thrown for back-to-back 300+ yard games and 5 TDs/0 INT in that span. He is the #10 fantasy (4pts) QB on the young season already….and he's just getting comfortable with his weapons.
Speaking of his weapons…
Tyler Boyd (10-125-0/13) has emerged as Burrow's guy…this connection will be choppy all year based on matchups, but it has a chance to be a PPR WR1 year for Boyd.
Tee Higgins (5-40-2/9) looks way better than I ever thought he'd be. He has issues getting open, and the more defenses recognize him the more he can get shutoff, but when open he is showing very good hands. I've been impressed, but I had a very low opinion going in.
A.J. Green (5-36-0/6), as I said two weeks ago, is 'shot'. He's a 3rd/4th-option guy now. It's Boyd-Higgins ahead of him.
Drew Sample's (1-1-0/1) debut as a starter was a real 'winner'. I wouldn't dismiss him away just yet. He should be a solid TE2/bye week flex guy as we go.
 -- The Eagles sacked Joe Burrow 8 times, but that's on the Bengals more than anything. Cincy is now the most sacked offense in the NFL…load up your pass rushers for IDP against them right now. Week 5 CIN at BAL and Week 6 CIN at IND might get Burrow killed…and he'll still probably find a way to 300+ yards passing
Snap Counts of Interest:
78 = Hightower
76 = Ward
39 = Burnett
28 = DJax
18 = JJAW
71 = Sanders
13 = Scott
03 = Hurts
52 = Mixon
18 = Gio
57 = Higgins
55 = AJG
54 = Boyd
25 = Tate
16 = Mk Thomas
64 = Sample
09 = C Carter