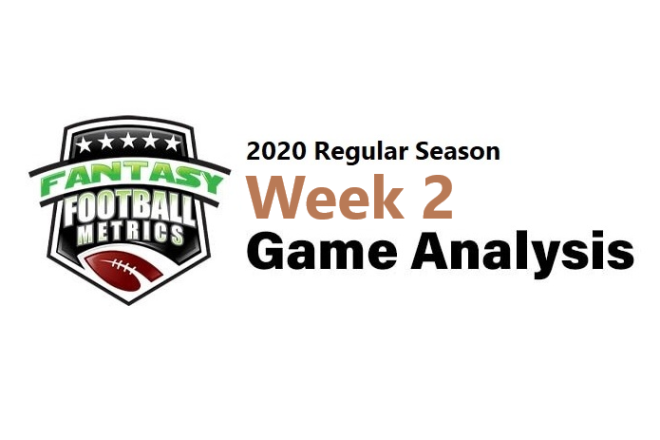 R.C. Fischer
FFM
25 September 2020
2020 Dynasty/Fantasy Week 2 Game Analysis: Chiefs 23, Chargers 20
I take notes during the live watch. I re-watch the game on tape looking for hidden clues to report on. Here are my notes/takes on what I saw and how it related to FF 2020. I write anywhere from 1,000-3,000+ words on each game, and I have to move fast to get to all of them through the week…so, please forgive any typos/grammar.
The Chargers played a perfect underdog, unorthodox role of a game here to try and outlast /rope-a-dope the Chiefs. It almost worked, but one thing you can always bet on – Anthony Lynn will find a way to ruin anything. Possibly the single worst head coach in the NFL. He may be a gem of a human and smart as a whip, I have no idea. I just watch his teams, his coaching decisions, and his press conferences and he's so self-assured of his absolutely lunacy that it's breathtaking to behold.
Adam Gase is getting a reprieve as the worst coach in the NFL the more Anthony Lynn says words to the media. Check out his answer to the question presented when this video opens up: https://youtu.be/g4PmgymlCoo?t=104
Way to pump up your QB who almost pulled off a miracle win over the defending champs!!! Anthony Lynn was PAINED to say something nice or even neutral about Justin Herbert. He was gritting his teeth and trying to find neutral niceties to move on from the subject. However, when he talks about Tyrod Taylor, he beams with pride…and you're not allowed to question it.
No one could watch Tyrod Taylor and Justin Herbert play football and seriously choose Tyrod Taylor. Not only did Lynn do that – he'll go back to Tyrod even if the Chargers win 2-3-4-5 games in a row with Herbert. This team, this offense is 100x better with Herbert, rookie and all. You cannot go with Tyrod Taylor and be a serious football mind. It's not the 1980's and 1990's…rookie QBs aren't the screw up of the time Anthony Lynn played football. Get the hell with the times, man!!!
Anthony Lynn will absolutely go with Tyrod Taylor the moment he can, and the more people complain about it…the more he will do it because you're not going to tell him what to do, you're an idiot.
…and if you don't think he's capable of doing the same jamming Justin Jackson back in over Joshua Kelley – then you are the idiot he thinks you are. You don't understand football like he does.
The early voting for NFL MVP through two weeks…
#3) Kyler Murray
#2) Russell Wilson
#1) The Chargers team doctor
That's callous, but football-wise…it's truth. Tyrod Taylor looked awful against the vaunted defense of the Cincinnati Bengals. He was the worst QB that I saw on tape Week 1. He's a joke in today's era. Dwayne Haskins has more appeal. Not throwing interceptions is nice but it doesn't mean you're a great QB if you do nothing else but NOT throw INTs.
If I were Justin Jackson, I wouldn't get near the trainer's room…the team doc isn't playing around. He knows who needs to be playing and who doesn't, apparently.
Anthony Lynn better have a wine taster at his disposal at all team meals.
The Chargers could be (2-0) right now. Really, they should be (0-2). They should've lost to the Bengals...it was a fluke/weak win. Don't be so sure Lynn won't lose to Carolina this week. LAC should beat CAR and then go on to lose two in a row at TB, at NO. They'll be (2-3) and likely on their way to (8-8) at best the way their schedule looks.
Another week in 2020, and another game the Chiefs mail in. Fortunately, they woke up and got serious when they started losing control of the game in the 4th-quarter. We'll see if the Chiefs decide to play a game seriously from kickoff on against the Ravens this week. The Ravens ain't the Chargers…Baltimore will beat the brakes off the Chiefs if they lollygag into this one. At Baltimore on a Monday Night, I suspect the Chiefs will come out to play.
Fantasy Player Notes…
 -- The shocking debut of Justin Herbert (22-33 for 311 yards, 1 TD/1 INT, 4-18-1) happened. No one saw it coming. At first, no one knew why. Tony Romo spent the first 5-10 minutes talking about the savvy of Anthony Lynn and him not being afraid to make bold moves, etc. – only to find out Tyrod was hurt last second was the reason.
Herbert looked so unfazed in his debut. Today's rookies think the NFL is child's play. The talented rookies do…that is. Joe Burrow and Justin Herbert already look like long time starters in their first game. This rookie QB wave of nice performance is going to push Tua Tagovailoa in as a starter ASAP – but I'm not sure Tua is near as ready or as talented as Burrow-Herbert. I very much think he is not, and the mainstream football media/scouting community is going to take a slap in the face on it. Tua was their unquestioned top guy at QB all along.
Herbert is decent for fantasy, but has some upside capped in an Anthony Lynn offense. Herbert probably fully can't get unleashed until Lynn is gone, and that probably won't happen for years. A bad fit/pairing of these two…unless Lynn is willing to change.
The only change Lynn wants is to change Herbert out for Tyrod Taylor.
 -- With Herbert starting…
Keenan Allen (7-96-0/10) goes back to being a top 15-20 WR for fantasy.
Hunter Henry (6-83-0/8) is viable as a TE1.
Mike Williams (2-14-0/4) drops way down because Herbert doesn't have to force things to him when he's never open. Herbert will find what's open and not just panic and float balloons to Williams like Tyrod.
Reverse all these statements when/if Tyrod returns.
 -- Josh Kelley (23-64-0, 2-49-0/3) got a lot of carries this game… Anytime a fantasy GM sees 20+ carries, their heart skips a beat. Actually, it's 20+ carries and 'is a rookie' that sends heart's a flutter -- because Frank Gore had about this same game/stat line this week and no one cared.
Anthony Lynn is going to start/use/split two running backs. He tells us this all the time, any chance he gets. Austin Ekeler (16-93-0, 4-55-0/4) is his guy and Kelley is there as '1b', for now.
If Ekeler goes down, Justin Jackson will split with Kelley in some way.
Most games it will be a 60/40 split with Ekeler-Kelley, with a commitment to stick to the run no matter what. Kelley will be 10-15 carries and 0-4 targets a game with Herbert…and 10-15 carries with 0-2 targets per game with Tyrod, as long as Ekeler is there.
There will be more running room for the RBs with Herbert at QB, because teams do not fear Tyrod…and thus crowd up on the run game.
There will be more targets to the RBs with Herbert, because Herbert knows how to play QB…Tyrod looks to float balloons downfield or scramble or throw passes blindly into crowds. He looks at one receiver and throws, and it's normally not any check downs because Tyrod doesn't have time to check down because he treats the ball as a hot potato to get rid of to a predetermined receiver before the snap.  
Your Kelley value is safe with Herbert, but it's limited most weeks. RB2 with some RB1 and RB3 weeks. His value drops with Tyrod to RB2-3 more times than not.
 -- What's funny about watching Kelley in this game and Clyde Edwards-Helaire (10-38-0, 6-32-0/8) is you couldn't tell which one was better…both look very similarly good. But one was drafted in the 1st-round because he was seen on TV a lot. The other drafted 4th-round because 'who watches PAC 12 football anyway?'
Great scouting logic and study again by the NFL.
 -- Would I bench Mahomes-Tyreek against the Ravens this week? Probably not. I don't ever bench Tyreek.
Patrick Mahomes (24-47 for 302 yards, 2 TDs/0 INT, 6-54-0)…I would consider if I had the right 2nd QB in the right matchup. But mostly, you can't sit Mahomes unless a 4pts pass TD only QB scoring league. Then you can get friskier in a matchup where the Ravens defense is very good + their offense could hold the ball for 40 minutes and be a repeat pattern of this LAC game.
 -- I was watching Chiefs rookie DE Michael Danna (3 tackles, 1 sack) work in this game…he's a pretty solid rookie getting decent playing time right off the bat. About 50% of the snaps played. I don't know that he's a star, but he's out of the gates pretty well for a rookie.
On the subject of KC DLs…Tanoh Kpassagnon (4 tackles, 1 PD), the extra tall D-End, played 94% of the snaps in this game. 83% last week…that's pretty radical for a defensive end who is usually rotational. No big numbers yet, but he's playing a lot.
 -- How good (or not) is the Chargers' defense?
#5 in points allowed (and having just played/handled KC pretty well)
#11 best in yards per play allowed.
#9 in QB hits.
Middle of the pack in run defense, sacks, 3rd-down % allowed.
Two legit top cover corners. A legit linebacker in the middle now. Good D-Line. It's a good unit overall.
Facing Teddy this week is going to be favorable.
At TB, at NO could be shaky, or could be not-so-bad. Brady and Brees aren't going to like this pressure. Not a great Weeks 4-5 play but do-able. Then Weeks 6-7 with NYJ-MIA is great if you can get to it.
Snap Counts of Interest:
47 = Ekeler
43 = Kelley
48 = Edwards-Helaire
15 = D Thompson
10 = D Williams