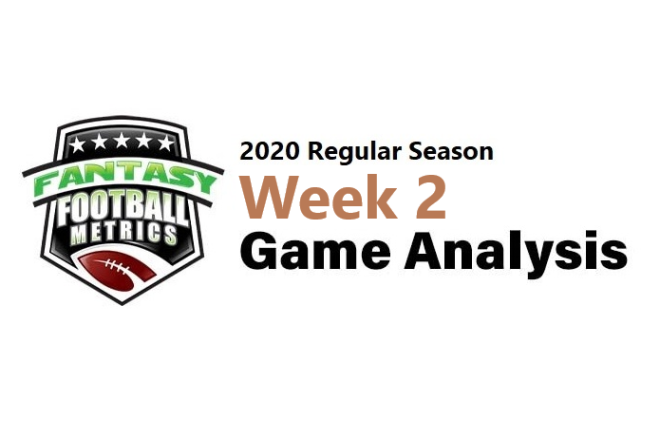 R.C. Fischer
FFM
23 September 2020
2020 Dynasty/Fantasy Week 2 Game Analysis: Bills 31, Dolphins 28
I take notes during the live watch. I re-watch the game on tape looking for hidden clues to report on. Here are my notes/takes on what I saw and how it related to FF 2020. I write anywhere from 1,000-3,000+ words on each game, and I have to move fast to get to all of them through the week…so, please forgive any typos/grammar.
I'm not sure why this game went like it did…totally unlike you would expect…
Sure, the Bills won…by not as much as you'd think.
The Bills are supposed to have this killer pass defense, and Ryan Fitzpatrick had no issues with them (and he's been a Bills killer in Miami).
Josh Allen isn't supposed to throw for 400+ yards and 4 TDs in a game…ever.
What happened?
No clue.
It was very hot and humid. It rained for a moment. The game got delayed for lightning. The whole game felt disjointed.
The core fundamentals remain true: Buffalo is very sound..and won. Miami is still a scattered, rag tag mess…and lost. Miami was chasing Buffalo the entire time. The Bills are just better coached and more disciplined and more talented…and won in a hard place to go on the road and win.
The Bills face some challenges the next few weeks – LAR, at LV, at TEN, KC. This could be a scuffling (3-3) team in a hurry.
Miami's season may get sent swirling down the drain Thursday Night at Jacksonville. We might see Tua Week 4.
Fantasy Player Notes…
 -- The main thing I did in this game study was watch every pass play from Preston Williams's (1-26-0/5) point of view. Williams's has had a beyond slow start and I'm seeing him being dropped/cut/traded away, etc. Certainly, no one wants to start him. I thought he could put up numbers right away.
Is it his ACL recovery?
Is it Fitzpatrick?
Is it Brian Flores?
Is it bad luck?
Three things to share, and do with it what you wish…
1) Williams is getting covered by the best corners in the game Weeks 1-2. Gillmore then Tre'Davious Weeks 1-2.
The Texans have faced KC-BAL out of the gates, but the Bears have faced DET-NYG…sometimes the schedule goes against you.
I had hoped/planned the NFL would cover DeVante Parker with their #1 corners, but even THEY know Preston is the best WR on this team…coming off an ACL.
2) Williams, for what it is worth, nearly had two TDs in this game.
His lone catch for 26 yards was a beauty falling at the pylon…just out of bounds before hitting the TD.
He later had a game-winner (potentially) thrown to him on 4th & 1 late at the goal line…he leapt up and botched the quick pass grab TD that literally hit him in the numbers. Cost them the game. The good news – when the money was on the line they went to Preston.
3) I watched all his pass routes/snaps…I'm here to say he is back to 100%. He looks smooth. He looks like 2019 Preston. He's getting open, but Fitz isn't looking a lot because it's not a good idea to attack those corners.
Preston Williams is going to be a star. The potential is there. But he's getting #1 corners thrown at him constantly off the bat in 2020 and he's going to get top rookie CB C.J. Henderson this week…hard to trust Williams again. Preston might get over OK on the rookie, but CJH has been really good out of the gates.
Week 4, PW might catch a break with Seattle.
Week 5, wheel's up against SF.
Week 6, back to some problems with DEN if Bouye is back/fine.
Week 7, versus LAC he might get shut down again.
Week 8, versus Ramsey…toast.
Week 9, Patrick Peterson may be an issue, but probably not.
Through Week 9, PW has two nice matchups…maybe two other OK ones. He has too many top corners to contend with to get excited though to Week 6, and then he might be working with a QB (Tua) who might be overwhelmed and can't get him the ball in such circumstances either…or could be a boom? I think more shaky than boom.
Williams is a future star stuck in a weird passing game getting ready to transition and a schedule where he keeps getting #1 corners thrown at him From Week 10 on it looks much better, but that's a long way away.
Point is, bottom line – I see a star still with Preston, but I don't know when it will happen in 2020…it could be another season. It could be that he breaks out Week 3 for a mini-spurt Weeks 3-4-5. I just know what I know – he's really promising/talented/loaded with star qualities.
 -- Isaiah Ford (7-76-0/9) is not loaded with star qualities but if Miami can't run the ball and is in constant deficit – Ford can have games like these and be a new Gage-Cole WR3/flex hopeful kinda WR.
With Williams getting shutdown so much…the ball has to go somewhere.
 -- The ball went to Mike Gesicki (8-130-1/11) a lot in this game. You have to FF-respect the fact that NFL defenses don't tend to take him seriously. In this game, Buffalo was missing their two starting ILBs and Miami took advantage.
If Tremaine Edmunds played, like normal, he probably would have shut down Gesicki. Instead, Gesicki had a star moment. Gesicki can be a TE1 on decent volume and decent TDs…I just don't see a star here, just useful erratically.
But like with T.J. Hockenson…if the team is always down and chasing and can't run the ball…lots of passes to go around.
 -- What Miami is doing with their run game is beyond me. Myles Gaskin (7-46-0, 6-36-0/7) is the lead RB while Jordan Howard (5-4-1) starts snap one and then is gone until he gets called to the goal line. Matt Breida (7-37-0, 1-2-0/2) has more juice overall…and yet he defers to Gaskin as well.
I gotta believe Breida is going to emerge from this as viable soon, for FF. Miami has to be getting desperate to win. Brian Flores has butchered this whole thing. In desperation, he might make a change of course.
 -- What Buffalo is doing with their backfield is a 60/40 split…near 50/50.
Devin Singletary (10-56-0, 2-20-0/3) looks like the clear better back. Visually, it's not right…DS should get more touches. He made a number of savvy runs/plays in this game.
Zack Moss (8-37-0) looks OK, but he's not near the gamebreaker or pass catcher (no targets for Moss here).
Singletary is in a split with the TDs going everywhere else…but he might start to pull away a little bit more from Moss when they hit this rough patch of schedule coming.
 -- Miami lost Byron Jones a few plays into this game, and Josh Allen then threw for 417 yards and 4 TDs. With no Jones Week 3 TNF…imagine what Minshew Mania will do.
 -- The 2020 Buffalo Bills defense has lost something from last year's unit (s far). They are #3 against the run, which is good…but they used to be a shutdown pass defense, like best in the league, but they are sitting #20 in the league against the pass right now…and that's after facing Darnold and Fitzpatrick.
I think it's more ILB injury/TE based getting worked in the passing game. They are still stifling WRs pretty well, but not as good as 2019…and TEs are roaring against them and RBs are doing OK in the pass game too. We'll see how they do against Goff-Carr-Tannehill-Mahomes upcoming…all quality QBs/low turnover guys.
The opportunities for DST scoring for the Bills-DST ahead is not good through Week 6.
Snap Counts of Interest:
66 = Parker
61 = Pr Williams
48 = Ford
45 = Gesicki
35 = Smythe
49 = Gaskin
16 = Breida
08 = Howard
34 = Singletary
28 = Moss