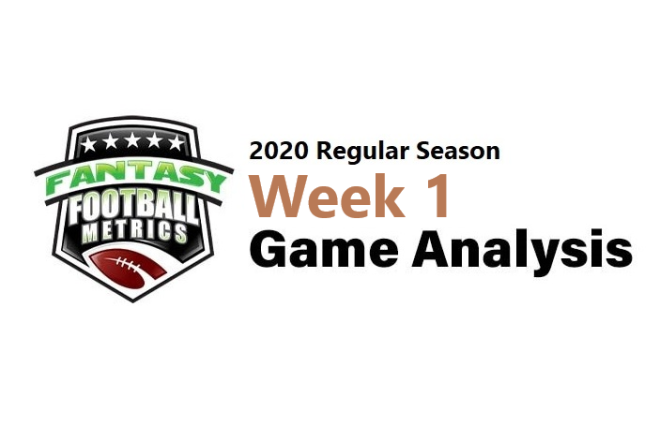 R.C. Fischer
FFM
19 September 2020
2020 Dynasty/Fantasy Week 1 Game Analysis: Seahawks 38, Falcons 25
I take notes during the live watch. I re-watch the game on tape looking for hidden clues to report on. Here are my notes/takes on what I saw and how it related to FF 2020. I write anywhere from 1,000-3,000+ words on each game, and I have to move fast to get to all of them through the week…so, please forgive any typos/grammar.
The easy narrative here is…
Russell Wilson 'got to cook' (I hate that phrase already) and Atlanta is a perpetual letdown, and thus they had another letdown in a beating to Seattle. For an added bonus, Atlanta put up a bunch of garbage time late to push nice FF numbers.
…and the world continues to spin as it is supposed to.
I know, that's what I thought walking out of Sunday's action live – this was all normal, nothing new here. When I put the game recaps in order of priority/fantasy impact to discuss…this one made it to 'last' on my list because it went the way most expected and nothing shocked anyone looking at the box score.
However, after relooking at things, I think there was a piece of data that might sail right below the surface from this game. One that should give Atlanta hope, or cause Seattle fear…or both.
If you look at total QB Hits + TFLs in any NFL game…you can usually tell who won the game/how big of a beating it was. These two stats are obvious for why I mention them…you'd know which defense is controlling/dominating the offense/blocking.
I pulled all the Week 1 games for these numbers for a reason (that I'll explain in a minute). But let's jump right in and look at the Week 1 games by combined TFLs + QB Hits:
CHI 9 (won), DET 8.5
LAR 10 (won), DAL 4
DEN 10, TEN 9 (won)
GB 8 (won), MIN 4
LV 5 (won), CAR 4
You see a pattern? You see the levels/counts? OK, let's proceed…
ARI (won) 10, SF 5…does this catch you by surprise, but then really doesn't because Arizona won?
PIT 19 (won), NYG 9.5…big number for PIT, by prior comparison, right?
LAC 12.5 (won), CIN 6
KC 11 (won), HOU 8
NE 12 (won), MIA 9
How about the pattern you notice with these five games? More double-digit+ tallies with this group…and all game winners. In case you're keeping track the QB Hits + TFL winners are (9-1) by what I've shown so far. But…
It's not a guarantee of a stat though. Look at these tallies…
TB 14, NO 12 (won)…this is why you don't write off TB and why you should get excited about their defense – they did that to a very good offense/O-Line.
NYJ 14.5, BUF 13.5 (won)…like I was saying about the scrappy/aggressive Jets defense.
CLE 12.5, BAL 10 (won) even I was shocked at this, but sometimes a huge blowout the winning team pulls up on the reins.
IND 10, JAX 7 (won)…who didn't say about this game "The Colts were better than Jags here, but…"
See the pattern among the losing teams here…bigger tallies (on both sides of the game for the most part), but all losses for the QB Hit + TFL winners. Driving this 'stat's' predictiveness to a (9-5) real win-loss record so far into our journey.
I'm missing two games. One is the SEA-ATL game. Let me share the other one that I saved for the shock value. Look at the numbers above…a total count of 8-13 is the prevailing tally for a team (win or lose). 14-15-16 tend to be the 'big boy' defenses. The Steelers with 19 total is the Week 1 leader so far.
OK, are you ready for this next one…
WAS 28 (won), PHI 16…now do you think I was being too over the top about the Washington defensive front? I've rarely seen a number over 20-22 in any game in a season. Either the Eagles are in big trouble (for obvious O-Line issues/reasons) and/or 'The Football Team' has 'something' special on defensive pressure.
Now, remember…it's Week 1. We don't know if the defense drove it…the offensive deficiencies drove it…the game plan drove it – and that with adjustments and injuries it will be all different next week. So, don't jump off a cliff here…yet. What happened Week 1 is not necessarily the fact from here on in.
Five teams, of the 30 teams I've shown so far, hit 14 or more combined QB Hits + TFLs…and only two won, but two of them played each other as well. The 14+ club from Week 1: PIT-WAS-PHI-NYJ-TB…aggressive defenses and/or big-time fronts, and/or faced a team with a bad O-Line.
The last game to show…
15 ATL, SEA 14.5 (won). 
Atlanta, of all teams, registered the 3rd-best number in the league Week 1. Is it the Seattle O-Line? The Falcons have a pass rush? Both? None…just luck? What happened?
Atlanta's 2019:
MIN 14, ATL 7 (loss)
ATL 16 (won), PHI 10
…we're about to lose six in-a-row
ATL 11.5 (loss), IND 8 (a close loss)
TEN 21.5, ATL 14 (loss)
HOU 13, ATL 4 (loss…crushed, gave up 53)
ARI 12, ATL 2 (loss)
LAR 19, ATL 12.5 (loss)
SEA 14, ATL 7 (loss)
…we're about to turn the season around post-BYE
ATL 17 (win), NO 9…remember when they shockingly crushed the Saints here?
ATL 17.5 (win), CAR 14
TB 21, ATL 6 (loss)…I sensed the trend and bet ATL heavy to lose my life here.
NO 22, ATL 3 (loss)
ATL 15 (win), CAR 8
SF 12, ATL 8 (win)
JAX 11, ATL 9 (win)
TB 20, ATL 6 (win)
Atlanta registered 15 QB Hits + TFLs vs. Seattle in Week of 2020…when they hit 15 or more last year they were (3-0). Atlanta is usually in the 7-10 range. They are usually a low sack count/low pressure defense. In 2020, Week 1, they sacked Russell Wilson 3 times before halftime…they outgained Seattle in yards by a healthy amount in the 1st-half. It was only 14-12 Seattle at the half, and Atlanta was the better/equal team in the 1st-half.
In the 3rd-quarter, on a 4th & 2 at midfield, Atlanta ran a fake punt, got the 1st-down but fumbled…and turned it over – and that changed the game. The Falcons ended up down by 19 points in the 4th-quarter. They scored to make it a two-score game 31-18 with 9+ minutes left. Still a ballgame, but Seattle drove right down and scored to put it away.
This wasn't the blowout that was (easily) portrayed. I'm not suggesting that Atlanta is great or a hot DST, but I am suggesting being ready to look for more clues Week 2 on…
‍
1) Atlanta might have a pass rush/defensive front now. Dante Fowler (4 tackles, 0.5 sacks, 1.5 TFLs) was added in the offseason.
Takk McKinley, a former 1st-round pick who has battled off-field mental issues…he registered 6 QB Hits in this game. The most by any player Week 1. He played like his hair was on fire. In his first three seasons in the NFL he registered: 10-15-13 QB Hits…for a season. He had 6 in this game.
Grady Jarrett (5 tackles, 1.5 sacks, 3 QB Hits) is one of the best DTs in the NFL.
Atlanta can't cover anyone (lost Desmond Trufant in the offseason, Kendall Sheffield hurt Week 1, and now starting a shaky rookie on one CB side already), so there's that issue – but they showed signs that they can now get to the QB.
They face Dallas Week 2…and Dallas has lost a chunk of its O-Line. Be careful logging in Dallas as an auto-victory here. It might be another McKinley breakout event with Tyron Smith out.
‍
2) OR…it could be that Seattle is awful on the O-Line.
Minus a Russell Wilson 28-yard scramble run…Seattle ran the ball 19 times for 56 yards…2.9 yards per carry. Wilson was sacked three times in the 1st-half…and hit 10 times total.
Notice where some of the Seattle offense came from…O-Line weakness plays…i.e. screen passes.
Be very afraid for Seattle v. Belichick this week.
Fantasy Player Notes…
*Other than that big defensive lead-in, all the FF players did what all these players tend to do. Let me just quickly comment on a few things that caught my eyes otherwise…
 -- Todd Gurley (14-56-1, 2-1-0/5) looked fine. Not inspired, but not slow/terrible/knee problemed. He only played 46% of the snaps is an issue to fear, potentially. Brian Hill (3-012-0, 2-8-0/2) worked 27% of the snaps and Ito Smith (1-4-0, 3-2-0/3) 20%.
It's more of a three-headed monster than you want if you are relying on Gurley.
 -- Chris Carson (6-21-0, 6-45-2/6) caught two short pass TDs. His best moment was a 19-yard screen pass TD. Aside from that 19-yard screen pass TD…11 other touches for 47 yards total. Just 6 carries. Virtually a ghost in the 2nd-half.
Carson played 45% of the snaps…his pattern of play/snaps followed Gurley's – he's in a two/three headed monster backfield.
Carlos Hyde (7-23-1) looked WAY better running the ball, and he played 34% of the snaps.
Travis Homer (3-0-0, 2-4-0/2) played 21% of the snaps.
It may have been 'game flow' but be wary of Carson again, potentially.
 -- Russell Gage (9-114-0/12) had to have the quietest 9 catches for 114 yards game in the history of football. He just doesn't look like a star to me, not even 'good', just useful…and I'd bet he's going to hurt taking a hit over the middle and missing games by midseason.
 -- Hayden Hurst (3-38-0/5) looked really good, they just didn't use him a lot. Bobby Wagner covered him well, and Jamal Adams was on him too…Hurst got some great coverage for some reason. Don't give up on Hurst yet.
 -- Will Dissly (2-8-0/2) was back for Week 1 after another season ending injury in 2019. He played 40% of the snaps and looked like he was blowing off the rust. He'll be in a 50/50 snap share with Olsen before long, and Dissly maybe more snaps because he is such a great blocker. We'll have to see if Dissly can hold up…or Olsen, for that matter.
Snap Counts of Interest:
68 = Ridley
65 = Julio
55 = Gage
11 = Zacchaeus
41 = Olsen
25 = Dissly
11 = Hollister