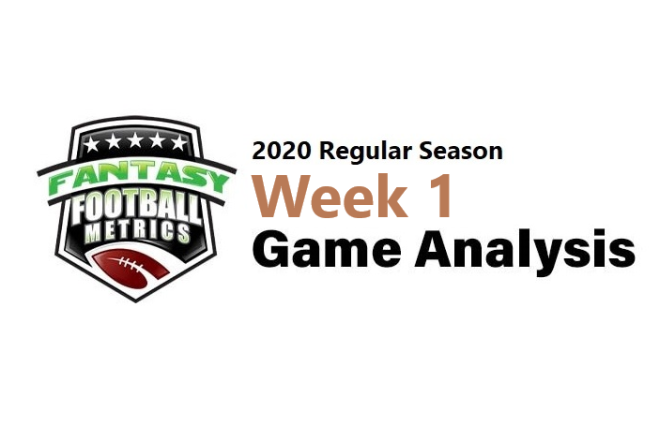 R.C. Fischer
FFM
16 September 2020
2020 Week 1 Dynasty/Fantasy Game Analysis: Saints 34, Bucs 23
I take notes during the live watch. I re-watch the game on tape looking for hidden clues to report on. Here are my notes/takes on what I saw and how it related to FF 2020. I write anywhere from 1,000-3,000+ words on each game, and I have to move fast to get to all of them through the week…so, please forgive any typos/grammar.
This was the opposite of the subdued TNF opener of KC v. HOU…these two teams, TB-NO, went AT each other full scale like a playoff game. Both sides were playing with fire. Credit the Saints with rising to the occasion, taking the first punch from Tom Brady…and then TKO-ing the Bucs from there. The Bucs tried to claw back in the 2nd-half, but the Saints pushed them back and ran away in the end.
Good effort by both teams. The Saints are just more cohesive right now. Tampa may gel in a few weeks, but the Saints were the bullies in this one.
The Saints face Las Vegas Week 2, at the debut of the Raiders' new stadium…without Michael Thomas and maybe without Janoris Jenkins. Then Week 3 vs. GB possibly without them aw well. Tough sledding ahead for NO.
The Tampa Bay easier schedule starts to kick in now…CAR, at DEN, KAC, at CHI the next four weeks.
Fantasy Player Notes…
 -- Part III of the Ronald Jones (17-66-0, 2-16-0/3) v. Leonard Fournette (5-5-0, 1-14-0/1) debate…
(1.0) After the live watch, I thought Jones looked fantastic and Fournette pretty terrible by comparison.
(2.0) After a rewatch of just the two of them…I was still impressed with Jones, and thought Fournette was not great but better than my initial/live reaction.
(3.0) After a full game rewatch, I still think Jones looked terrific and I thought Fournette was a 'C' or 'incomplete'…not as bad as my 1.0 and 2.0 reactions. I've gone from 'F' to 'D' to 'C' on judging Fournette's few touches here. Jones was an A-/B+ every time.
This is a good week to get Jones if you have Fournette. Many people are waiting for a Fournette takeover (that is not coming easily…or at all) so they are willing to sell after a so-so FF Week 1 from RoJo.
This may wind up a 60/40 type backfield eventually, but Jones has full command right now. But Fournette is not just going to sit there either.
 -- OK, enough with the TB backfield…let's talk Tom Brady (23-36 for 239 yards, 2 TDs/2 INTs.
I thought he looked fine. He lost about 50-75+ yards in defensive P.I.s that might have been catches. He looked solid, better than I expected and better when I rewatched it.
 -- The TB WR report…
Mike Evans (1-2-1/4) constantly gets owned by Marshon Lattimore, so thus this low output game…but also keep in mind Evans lost two catches for 50+ yards on Lattimore PI-ing him on opportunities. Better days ahead for Evans. He's a buy low this week if possible.
Chris Godwin (6-79-0/6) just doesn't feel like 2019 Godwin, as I feared…different role/usage/vibe with Brady v. Winston, which is logical. He's fine but not a strong WR1.
Scotty Miller (5-73-0/6) really looked solid on this rewatch. He has a good connection with Brady and plays a role Brady likes better anyway. I thought Miller was going to be erratically 'OK' week-to-week, but I think he's a legit WR3 with some WR2-2.5 potential with Brady.
 -- The TB TE report…
Gronk (2-11-0/3) looks very old and not agile/flexible…very stiff. Still viable/a TD option but no big upside I don't believe. He'll have a 2 TD game ahead and everyone will swoon…
O.J. Howard (4-36-1/6) was not a desired target on purpose. Got a bunch of late targets when the game was all but lost. His game is more hoax than not.
 -- Maybe it's me, but Drew Brees (18-30 for 160 yards, 2 TDs/ 0 INT) does not look like 'good old/great Drew Brees'. He looks like he is shot-putting his passes a bit. Not the same grip it and rip it throws of the past. I don't know if it matters much in the end, he's still playing at a high level, but Brady looks like he did years ago but Brees didn't…in a snap-shot judgement.
Brees is still playing well, but that high volume big stat guy seems to be fading…and with no Michael Thomas ahead, I wonder if he'll struggle.
 -- What will happen without Michael Thomas (3-17-0/5) for a few weeks?
Tre'Quan Smith (1-4-0/1) had the most WR snaps aside from Thomas, but that was good for his usual 1 target in a game. Brees doesn't seem to be dying to get Smith the ball…ever. But every once in a while Smith pops…he might Week 2.
Emmanuel Sanders (3-15-1/5) also is looking his age and he was nothing special here. Not sure Sanders-Brees is going to be as good, without Thomas, as people think.
I'm guessing Brees will work Kamara-Murray-Cook-Taysom more until Thomas returns.
Latavius Murray (15-48-0, 0-0-0/1) might be a surprise winner in more touches, so as not to overdo Alvin Kamara (12-16-1, 5-51-1/8) and his back issues.
 -- One of the reasons Michael Thomas had a dud FF game is Carlton Davis is a top 5-10 NFL shutdown corner…Bruce Arians said it this preseason, and he wasn't lying. He may have undersold it. Carlton Davis is coming for your #1 WRs in matchups so beware – Robby Anderson likely wiped out this week and then Courtland Sutton may return just in time to get into a war with Davis.
 -- The Saints have their own shutdown corner in Marshon Lattimore, but with Janoris Jenkins (9 tackles, 1 PD) playing at a high level again…this Saints defense is stout again. However, Jenkins suffered a concussion in this game…we'll see his status in a few days.
The Saints have a top defensive unit emerging, but they face at LV (a solid, safe offense not prone to sacks or turnovers), GB, DET the next three weeks. Not great matchups.
 -- The Bucs may be the better DST to roll with…
They held Brees to 160 yards passing and the Saints run game to 2.4 yards per carry in this game. The Saints scored 34 points but there were a few lucky breaks in there and offensive turnovers setting up things that forced the Bucs to yield points.
Facing Teddy, Lock, Tyrod, Trubisky the next 4 weeks…that's a great opportunity for the Bucs to win four straight and for their DST to emerge.
‍
Snap Counts of Interest:
55 = Mk Thomas
44 = Tre'Quan Smith
33 = Emm Sanders
44 = J Cook
36 = Josh Hill
17 = Taysom Hill
07 = Trautman
45 = Kamara
23 = Latavius
66 = Godwin
65 = Evans
43 = Miller
11 = Watson
33 = Ron Jones
25 = McCoy
09 = Fournette
54 = Gronk
37 = OJH
07 = Brate