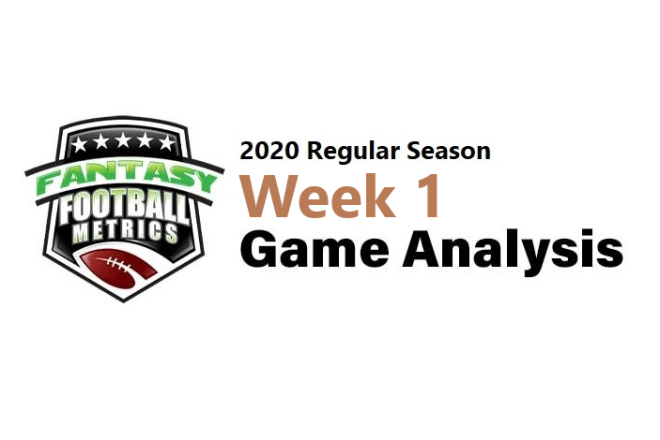 R.C. Fischer
FFM
15 September 2020
2020 Week 1 Dynasty/Fantasy Game Analysis: Bears 27, Lions 23
I take notes during the live watch. I re-watch the game on tape looking for hidden clues to report on. Here are my notes/takes on what I saw and how it related to FF 2020. I write anywhere from 1,000-3,000+ words on each game, and I have to move fast to get to all of them through the week…so, please forgive any typos/grammar.
This may be the most important write-up of Week 1, for a few reasons…but mostly because several Lions' players may save your lost (after one whole week) fantasy season. We'll get into that in the player's section.
As far as this game goes…two bad teams, in general, played each other -- the one missing their most key offensive weapon (Kenny Golladay) had a nice 23-6 lead late in the 3rd-quarter AND then lost the game somehow. They lost the big lead and game to a QB that I swear I thought was going to get pulled for Nick Foles in the 4th-quarter. Instead, Mitch ends up dropping another 3 TD game on the Lions and is hailed as a hero (he wasn't…we'll get into that too).
The Bears defense was the best thing I saw on the field this game, but it wasn't dominant…and helped by Kenny Golladay not being there and D'Andre Swift's inability to catch a football.
The Bears team, as an entire group/organization, is a fraud…this win is smoke-and-mirrors. However, they play the Giants and Falcons the next two games. They have a chance to be 3-0/2-1 after three weeks – but, believe me, they are not good. This is not a sneaky playoff contender…but before I write that in stone, let me see what happens when Foles takes over around Week 5-6.
Fantasy Player Notes…
 -- Here's how the Lions FF players can benefit you richly ahead…
1) The Lions have arguably the worst pass defense in the NFL to begin with, and then in this game they lost one starting CB for sure (Justin Coleman) and two others are questionable with hamstring issues this week (Okudah and Trufant). The poor get o]poorer.
…however, this is good for fantasy numbers from the Lions' offense. The Lions, per usual, are going to have to throw a lot playing from behind. They're going to give up a lot of points and their offense is capable of playing in shootouts. 
And then the key part…
From Weeks 2-12, they play some of the worst pass defenses in the NFL (in my estimation). Week 4 vs. NO is not great but doable and Week 5 is bye. Outside of that they are looking great for output. Not for NFL wins…for output for FF. In that 10-game span (Weeks 2-12), they will play in a dome seven times (also conducive for offense). The three non-dome games are at GB this week (where it will be mild temps), Week 6 at Jacksonville is favorable weather typically, and Week 11 at Carolina which should be great outdoor football conditions.
You want in on this passing game ahead.
2) Matt Stafford (24-42 for 297 yards, 1 TD/1 INT) is part of what you want if you need it. He should've had 350+ yards and 2-3 passing TDs in this game, against a decent pass defense. D'Andre Swift dropped a 20+ yard (game winning) TD. Stafford had near misses/drops on a few other passes in-game. He really missed Kenny Golladay. If he had Golladay, he might have thrown for 400+ yards here.
Stafford is about to be 'Matt Ryan north' (again, like Weeks 1-8 last year) – dome/home, bad defense, throwing in garbage time a lot.
3) Of course, you'd love to have (healthy) Kenny Golladay with all this…but there are other beneficiaries.
As soon as KG is back, Marvin Jones (4-55-0/8) is going to take off. He looked great here. Don't blame him that the Bears (smartly) doubled him a lot and always in the end zone. Many of you have Marvin, because he was high on our list preseason – but you see him in this stat line and wince and think you have a WR problem. You don't. It's a 'you' problem. It's your negativity-colored glasses you wear anytime anyone doesn't score 2 TDs with 100+ yards each week. Be patient…you have a STRONG WR2 in Marvin, in all formats. Kenny G. back will help launch this.
You should be buying ALL the cheap Marvin stock you can find right now.
You should also not already have him and be whining about how bad your WRs are. Stop. You're taking Week 1 and times-ing it by 16 and assuming that's their season. You're making a HUGE FF mistake…one that ALWAYS gets FF owners in trouble after Week 1.
Go get Marvin this week, pay little for it. An (0-1) team will cough him up in the right deal. Don't ask for it by name upfront and drive the price up…just slide in casually and let them dump Marvin on you.
4) The Lions are like the Falcons, for FF, for all the reasons I mentioned prior (dome/home, bad defense, throwing in garbage time a lot)
Stafford = Ryan
Golladay = Julio
Marvin = Ridley (yes, he does)
Amendola = Gage
Hockenson = discount, old Hooper 2018-19…and I'm not a TJH guy, but he's in a good spot the next 10 games.
If you saw the Lions' players that (Falcons') way, for real, it would change your perspective on them for FF. People love Ridley and Gage, and they whistle right past Marvin and Amendola as nobodies.
10.3 FF PPG, 15.2 PPR PPG on 4.8 rec., 66.6 yards, 0.53 TDs per game = Ridley 2019
10.2 FF PPG, 14.9 PPR PPG on 4.8 rec., 59.9 yards, 0.69 TDs per game = Marvin 2019
You're the one with a vision problem…not Marvin.
Marvin also did about half his 2019 work with not-Stafford.
What is the real-world value differential between Marvin and Ridley? A lot more than what the stats say/what reality says.
But…Ridley was better in Week 1 in 2020, so now in frustration of Week 1 let's cut Marvin Jones in anger and chase Russell Gage hard in waivers. What? Have some patience – if you own Marvin. Go get Marvin if you don't have him. The price is amazing right now. Some weak hands may cut him in 10-team leagues.
 -- Notice, I didn't include any Lions' RBs in that 'Lions with benefits' info above. What about D'Andre Swift (3-8-1, 3-15-0/5)?
He should be on that list.
But I can't put him on just yet because he was the worst looking rookie RB Week 1 of all the big names. Somehow UDFA James Robinson was completely unfazed in his big-spot debut and Swift looked like a deer in headlights as a backup. It wasn't just the dropped TD. He got into space in all the wrong ways on a few other passes. Dropped a potential catch besides the TD drop. And when he ran the ball, he looked stiff/nervous/non-instinctual…like I saw at Georgia against better defenses.
It might be rookie/debut jitters. He played the most snaps of all the Detroit RBs. He should be a 'winner' here, but he might struggle the next few weeks to get comfortable. He's more of a gamble then a sure thing the next week or two. You might buy lower in two weeks.
 -- To wrap up the Lions' offensive notes…
Rookie WR Quintez Cephus (3-43-0/10) looked way more ready than Swift, or many other rookies Week 1. An emergency fill-in for Golladay, he looked promising. He's an odd scouting event…terrible measurables, but the tape was good/great.
He looked like a solid #4 WR here for the Lions, a guy who will start when Marvin moves on in a year or two. The Bears doubled Marvin and dared Cephus to beat them…and he couldn't/he's not ready yet. Not enough speed to get open in a raw sense either. He needs to get more polished on toutes/playbook because the speed is lacking.
 -- While we're speaking of rookie WRs…Darnell Mooney (3-38-0/3) is already better than Anthony Miller (4-76-1/6), and I think the Bears coaches know it. The presence of Mooney will put a lid on Miller excitement the next few weeks, in the good matchups Weeks 2-3. Miller would be the play, but Mooney is going to be lurking.
Mooney played 21 snaps and made a couple nice plays this game. Miller played 27 snaps, and to his credit he made an amazing game winning TD catch late.
 -- You thought I was going to come in hot defending Mitchell Trubisky (20-36 for 242 yards, 3 TDs/0 INT, 3-26-0), but you would be wrong.
I still believe Trubisky is maligned too much. And I believe Trubisky has incredible tools that could've (maybe) been made golden by a Kyle Shanahan tutelage. I like Mitch more than anyone, but I did not see any growth or high-end QB play in this game.
Mitch threw two types of passes all game…
1) Off-target throws that his WRs saved the day on a lot…and he still only completed 55% of his passes.
2) Saw the one-on-one matchups and air mailed bombs at it hoping for gold or an incompletion. He got a couple great WR catches on them to help save this day.
I usually see the good in Trubisky, in games…but this game was not good by my pro-Trub standards. He's still too jumpy. Throwing into traffic too much, off-target and just throwing prayers hoping they are answered. I really thought they might pull him when they were down 23-6 late in the 3rd-quarter…it was that rough, and he has perpetual media heat on him anyway so it's coming. He got bailed out by receivers here…which is not a crime, many QBs only exist that way. But I assure you, Trubisky did not take a step forward or find another level here. He was lucky. He was minutes away from being benched I think.
I want to hate Trubisky for Week 2 but hosting the Giants…it might work again. However, I will be betting the Giants and I don't even know the line as I type this. I'm going to guess -5.0. Let me go look…it's Bears -5.5. I'll take the G-Men.  
 -- Trubisky isn't getting any better, nor is David Montgomery (13-64-0, 1-10-0/3).
If Trubisky is one of the five worst starting QBs in the NFL (full of untapped potential or not…he plays like he's bad) and if Montgomery is one of the five worst starting RBs in the NFL – how can you like the Bears as -5.5 favorites over anyone?
You would be wise to try to trade your David Montgomery stock in for an RB2 equivalent you like better or DM + ___ for a ____ you reach for/like. Montgomery slimmed down this offseason…and now looks like a too small, too slow, bad starting RB. Cordarrelle Patterson (4-19-0, 1-12-0/1) looks way better at tail back.
 -- Tarik Cohen (7-41-0, 2-6-0/2)…two targets. How is this possible?
Why hasn't Trubisky gotten better? Why is Cohen underutilized? Why is Cordarrelle always underutilized? Why do they insist on feeding a terrible RB in Montgomery? Why did they draft Riley Ridley? Why did they pay Jimmy Graham so much money when he's a shell of his former self? Why is Anthony Miller a #2 WR for this team? Why has Khalil Mack disappeared (memba that trade that was so stupid for the Raiders?)?
Matt Nagy is awful, and so is the GM.
They won't use Cohen consistently, which makes Trubisky and/or Nagy incredibly bad at their jobs. It won't change, even if it hits for a week…it won't the next. Your Cohen FF-cards are near worthless.
 -- Tracy Walker (9 tackles, 2 TFLs, 1 PD) had a great 2019, but was being moved between 1st and 2nd team in the preseason for 'reasons'. He played 83% of the snaps here and had a nice IDP effort, but they aren't in love with Walker like before. Patricia is into ex-Patriot Duron Harmon (100% of the snaps/5 tackles) and also loves Wil Harris (5 tackles). Beware on Walker.
They have so many DBs hurt. Walker has to play more even if it's not the full plan.
Snap Counts of Interest:
71 = Marvin
62 = Cephus
43 = Amendola
34 = Swift
24 = AP
20 = Kerryon
30 = Cohen
29 = Montgomery
10 = Patterson
53 = ARob
28 = Ginn
27 = Miller
23 = Mims
21 = Mooney