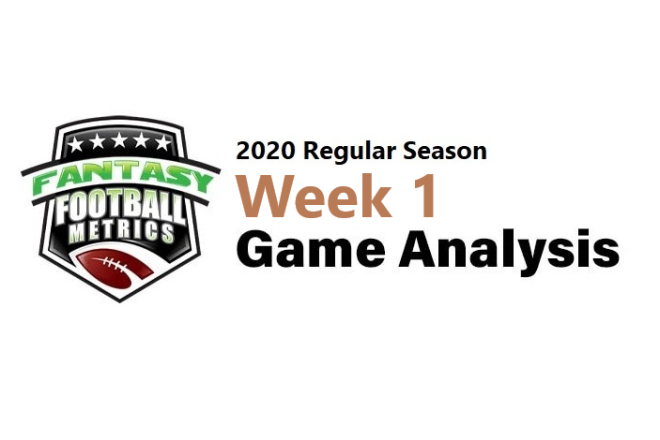 R.C. Fischer
FFM
18 September 2020
2020 Dynasty/Fantasy Week 1 Game Analysis: Packers 43, Vikings 34
I take notes during the live watch. I re-watch the game on tape looking for hidden clues to report on. Here are my notes/takes on what I saw and how it related to FF 2020. I write anywhere from 1,000-3,000+ words on each game, and I have to move fast to get to all of them through the week…so, please forgive any typos/grammar.
The reports on this game are true. Not much more I can add. The Packers/Aaron Rodgers destroyed the Vikings and it was nowhere near as close as the final score made it appear. The Pack led 29-10 going into the 4th-quarter and then a garbage all-pass shootout erupted to the finish (good for FF numbers if you were in on it).
Matt LaFleur has Mike Zimmer's number…now 3-0 against him and the gap between the two teams seems wider than ever. How bad was this by MIN? Well, the GB passing game has been regressing for a while now…it only has spasms against bad pass defenses/terrible teams. Well, what does that make the Vikings then…because they got destroyed here? Before we crown Aaron Rodgers as 'back', let's see him against a better defense...like Week 3 @NO. They schedule is very good for Rodgers through Week 11/pretty much all year though...
A lot of young/new corners playing for the Vikings; a needed flushing by Zimmer. It might take 4-6 weeks for the Vikings D to get rolling to 'decent', and they need to get Danielle Hunter back…but it might be too late by then.
The Vikings are in a 2020 do-or-die kinda game this week with Indy, at Indy. Lose that one and then three 2019 playoff teams are on the schedule next. The season may be over by the time Hunter returns and the CBs are improved, unfortunately for them. Minnesota has to win this week…but so does Indy.
The Packers have established themselves as the best team in a suddenly awful division. They may go 6-0 in division this year. It should be another Air Raid on Detroit this week.
Fantasy Player Notes…
 -- With a huge passing game effort this week, I hoped to see Allen Lazard (4-63-1/4) go off with a big game and big targets. But then I saw just four targets…and I got depressed.
And then I watched the tape and realized – Allen Lazard is a Pro Bowl caliber WR talent. He was terrific in this game. The only thing standing in the way of him and fantasy goodness is the target levels. Lazard is now taking WR-in-motion flick/pitch passes in front of the QB, like a running play but counts as a pass catch type thing. He also took a jet sweep here – which all these types of plays are a GREAT sign that they KNOW what they have here. Lazard ran 19-yards on his jet sweep and his pitch pass sweep was 10+ yards as well. A 6'5"/225+ WR coming around the edge with a full head of steam and looking like a great tailback…it was sweet to see.
We just need to see more of it. I think we will, but I always think that…and it never happens. I think you want in on Lazard as a #4-5 WR on your roster because we could wake up in 1-2-3 weeks and he's a full-fledged star/strong WR2. I can feel it. This game was initially depressing at a box score level, but now I'm hopeful he's about to 'arrive' after watching the tape.
Again, I say, if Davante Adams goes down…Lazard will be a WR1 in an instant.
Marquez Valdes-Scantling (4-96-1/6) is cute, but he cannot hold a candle compared to Lazard. Have some patience with Lazard for another week or two and see if I'm right that he pops to a strong WR2…a better-than-Darrius Slayton, Darrius Slayton-type WR in 2020.
 -- I'd be worried about Aaron Jones's (16-66-1, 4-10-0/6) true upside in this offense ahead in 2020. Nothing on Jones but I see Green Bay is still into Jamaal Williams (7-21-0, 4-21-0/4) as a pass protector, rotational guy. Still, Jones rules the touches between them…and we got our first A.J. Dillon (2-14-0) glimpses and he's already the best power back on the team, and he'll emerge a little bit more each week.
Additionally, the Packers are in love with Tyler Ervin (3-38-0, 1-6-0/1) taking touches too.
Not that Jones is terrible, but that he'll be crowded out on some touches enough where he doesn't hit top 5 fantasy RB status as we go forward through the season…maybe he is 'just' top 10-15-20. If Jones ever goes down, the Packers will find they won't miss him for two seconds. Also, note…all these lead RBs are getting paid ahead of free agency (Mixon, Cook, Kamara)…but the Packers haven't done a thing with Jones (who is in a similar boat). They know…
 -- A lot was made of rookie Josiah Deguara (1-12-0/2) starting at TE, but note a couple of things…
1) The Packers haven't had a good FF tight end since like Jermichael Finley. Remember how great Jimmy Graham was going to be here? No, you don't…because it never happened. Not even close.
2) Deguara is solid, but Robert Tonyan (0-0-0/0) played the most TE snaps…for whatever that's worth.
3) It speaks to what a waste of space Jace Sternberger is.
 -- Justin Jefferson (2-26-0/3) played more snaps than I realized…he out-snapped starter Bisi Johnson (3-56-0/4), and still not much FF numbers in the game.
Watching Jefferson for the first time on the pro level…
1) He's not in sync with Cousins yet, and probably won't be for several weeks if not until 2021.
2) He looks much smaller in the pro backdrop. Looks more average/forgettable, at a glance.
3) He had no business being a 1st-round pick…the power of Joe Burrow made him, as you're seeing already from Burrow's pro debuts who was the driver in that situation.
Jefferson is an overrated WR prospect. He's good enough but way overrated. This WR class was scouted entirely wrong by all the analysts and scouts and team GMs.
 -- You'd think Irv Smith (1-11-0/1) might pop this year with the void in receivers after Adam Thielen, but…nope…one catch. We should all be moving on to other lesser TEs for TE fantasy roster depth who actually are involved in the offense more consistently.
 -- MIN LB Eric Wilson (3 tackles) only played 56% of the snaps as a starter this game, which is infuriating…but he might have been out because of the passing air raid happening. Let's see if he plays more Week 2 before I give up having IDP hope in him.
 -- Odd IDP item…
Packers UDFA rookie LB Krys Barnes (7 tackles, 2 TFLs) somehow started this week…a guy elevated off the practice squad due to the COVID exception to do such things, he was brought up right before the game.
I didn't see him as a Week 1 starter coming, but then he only played 15 snaps in this game…but then with those 15 plays…he made 7 tackles and had 2 TFLs??? He's either amazing or lucky. He actually looked really solid/good. Put him on a watch list in deeper roster IDP leagues.
Snap Counts of Interest:
50 = Thielen
36 = Jefferson
33 = Bisi
32 = Rudolph
31 = Irv Smith
70 = Adams
68 = Lazard
42 = Marquez Valdes-Scantling
42 = A Jones (54%)
40 = J Williams
14 = Ervin
05 = Dillon